Once the Lift Axle Option hardware has been installed, the Lift Axle option must be activated using WABCO TOOLBOX software version 12.2 or later. When installing the Lift Axle option on new or replacement ECUs, the activation process is part of your normal programming procedure. Refer to the procedures in this manual or Installation Guide TP0887, Trailer ABS with Roll Stability Support (RSSplus™) for Trailers with Air or Mechanical Suspensions, for step-by-step instructions on programming and conducting the End-of-Line test.
Preparations:
Meritor Wabco Toolbox v13.6 v12 Diagnostic Software Download
Procedures:
1.Activate the Roll Stability portion of TOOLBOX™ Software. From the top menu bar, go to the System pull-down menu and select Edit Parameters from ECU.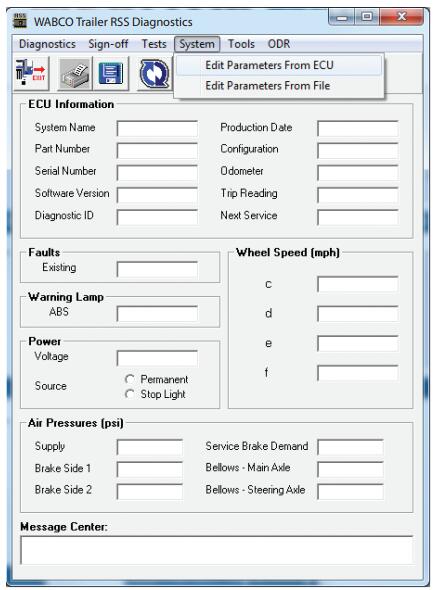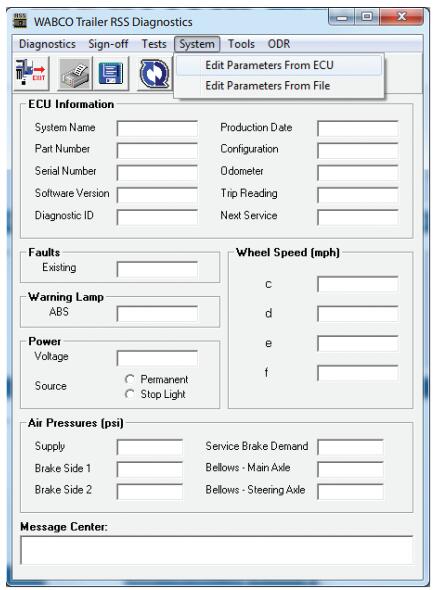 2.From the first parameter screen labeled RSS System Parameters, ensure that the settings are correct. Within the Axle Definition area, if the lift axle is a sensed axle, be sure that sensors "e" and
"f" are on the lift axle and that the "Sensors e-f Used On Lift Axle" box is checked. If the lift axle is not sensed, indicate "e" and "f" on the appropriate axle and do not check the box. Once all the settings are correct, press the Next button.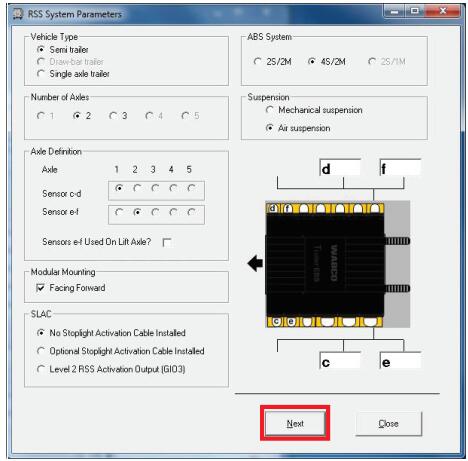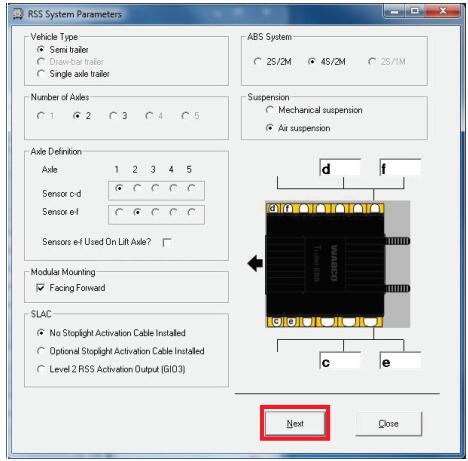 3.The GIO Selection screen appears. Click the Lift Axle check box. Ensure that a check appears in the
box. Then press the Next button at the bottom of the screen.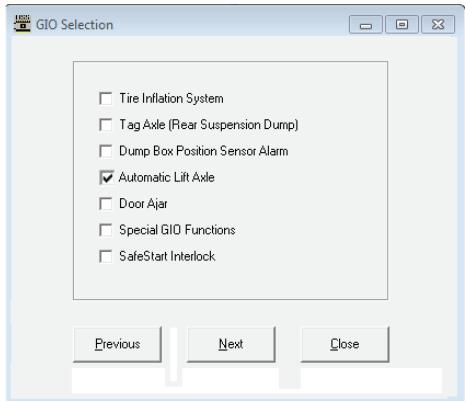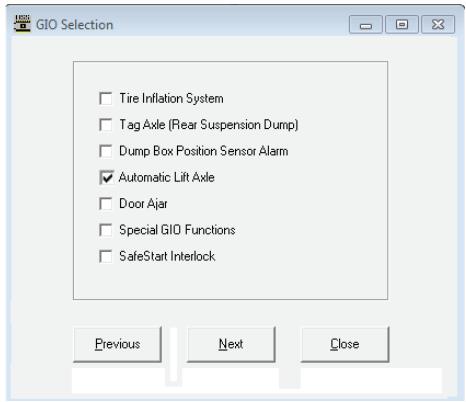 4.The Lift Axle Lowering/Lifting Pressures screen appears. Enter in the correct lift and lowering values for the Lift Axle, based upon the trailer's specific requirements (these values may only be obtained directly from the suspension manufacturer). Note: Inputting anything other than the trailer specific values can result in improper functioning of the lift axle.
Type the Lowering and Lifting Pressures in the fields provided. The values must fall within the following restrictions:
" Valid range: 5-100 psi
" Lowering Pressure must be greater than Lifting Pressure
" Lowering and Lifting Pressures must differ by at least 15 psi
Press the OK button at the bottom of the window. You will be returned to the GIO
Selection screen where you will press the Next button.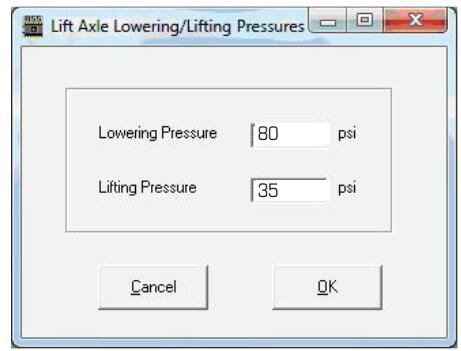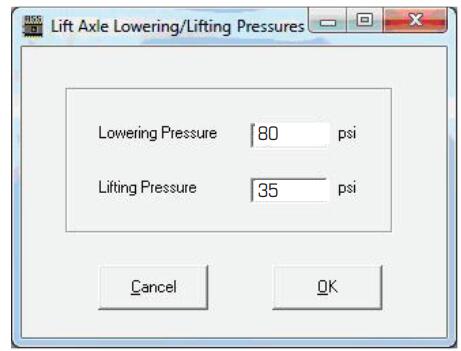 5.From the screen labeled RSS LSV Parameters, press the Next button at the bottom of the screen.
There is no need to change the values if you are using the default settings.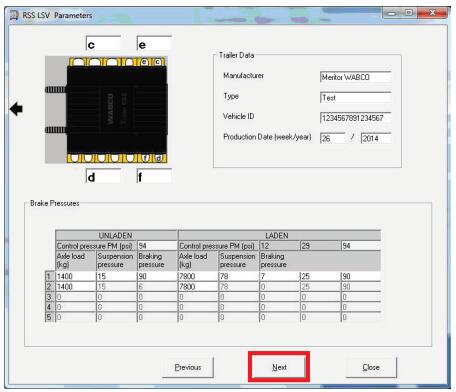 6.From the screen labeled RSS/ABS Parameters, press the Save to ECU button at the bottom of the screen. NOTE: Ensure that one of the RSS On options is selected.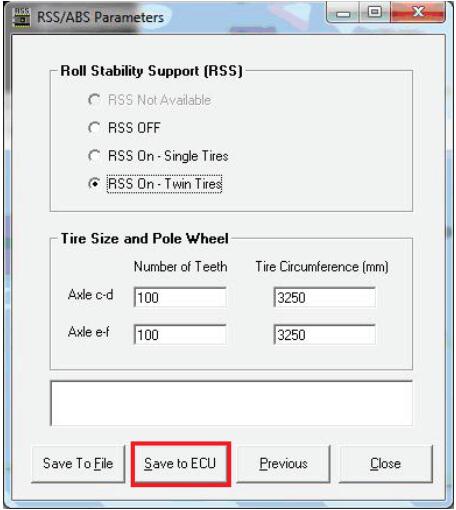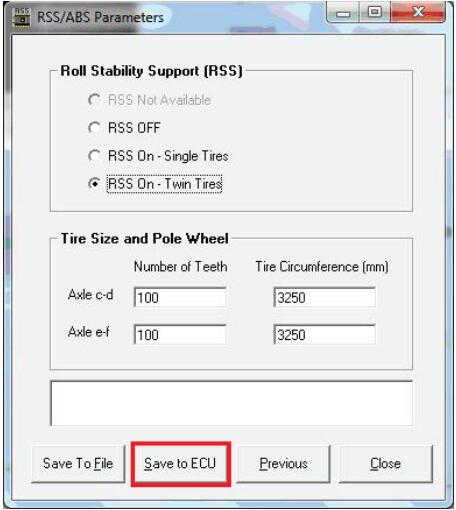 7.Once a message appears confirming a successful save, you may exit the TOOLBOX™ Software. Besure to cycle the power on the trailer in order to reset the ECU. The End-Of-Line test that is required on new ECU's is not necessary for a previously programmed ECU.
Visited 4 times, 1 visit(s) today