After long journey you need to change oil for ZF-ASTRONIC transmission.In this post,car-auto-repair.com show you guide on how to change oil for ZF-ASTRONIC transmission without ZF intarder.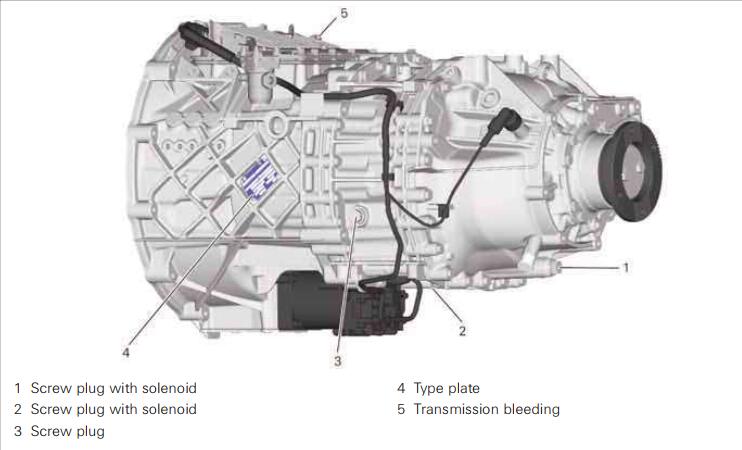 Related Contents:
ZF Testman Pro 10.5 Transmission Diagnostic Software Free Download
Oil may only be changed when the vehicle is horizontal and the engine is switched off.
Always change the oil after a long journey while the transmission oil is still at operating temperature and thin.
Draining Oil
1 Remove screw plugs (1, 2 and 3) from transmission and collect transmission oil in a suitable
container and dispose of in accordance with environmental regulations.
2 Clean screw plug solenoid and replace sealing rings.
3 Tighten screw plugs (1 and 2).
Tightening torque: 60 Nm
Filling Oil
1 Fill in oil through oil filling point (3).
2 The oil level is correct when the oil has reached the bottom edge of the oil filler hole and/or
when oil is already escaping out of the oil filler hole.
3 Tighten screw plug (3).
Tightening torque: 60 Nm.
Oil-Level Check
DANGER !
Too little oil in the transmission will result in transmission damage. RISK OF ACCIDENT!
Check the transmission oil level as part of vehicle servicing:
• Undertake oil level check when vehicle is parked on horizontal ground.
• Do not check the oil level right after travel (incorrect measurement result). Only check
once the transmission oil has cooled down (< 40°C).
• Remove screw plug (3).
• If the oil level has fallen below the oil filler hole,the oil must be topped up (refer to Chapter on
"Filling Oil").
NOTE
Whenever checking the oil level, also inspect the transmission for leaks.
Type Plate
The type plate contains the key data. It is located on the left of the transmission when viewed from the output.
The following details must always be given when making inquiries or for repairs:
▪ Transmission type (model)
▪ Transmission parts list no.
▪ Transmission serial no.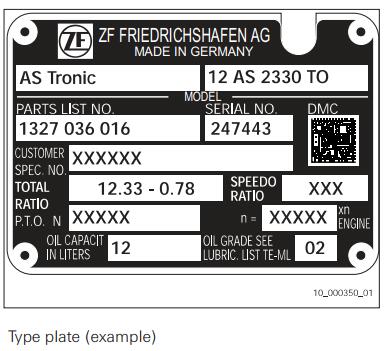 More topics for ZF transmission,please refer to:ZF Transmission Trouble Repair
Visited 21 times, 1 visit(s) today