What is ZF Testman Pro?
ZF-Testman Pro checks the functionality of all electronically controlled ZF products. All transmission-specific data required for a fast and comprehensive diagnosis are retrievable by the ZF diagnosis system Testman.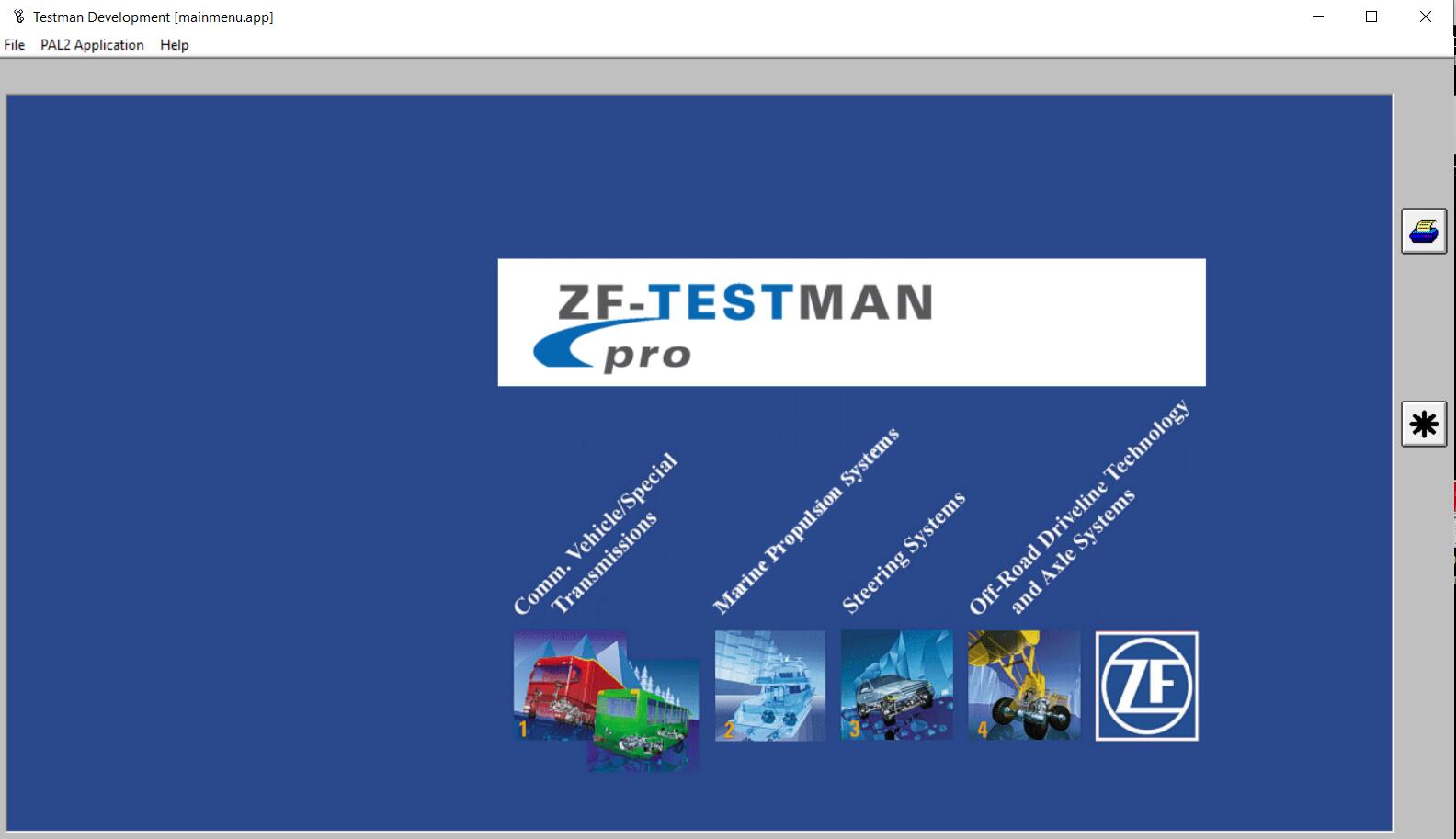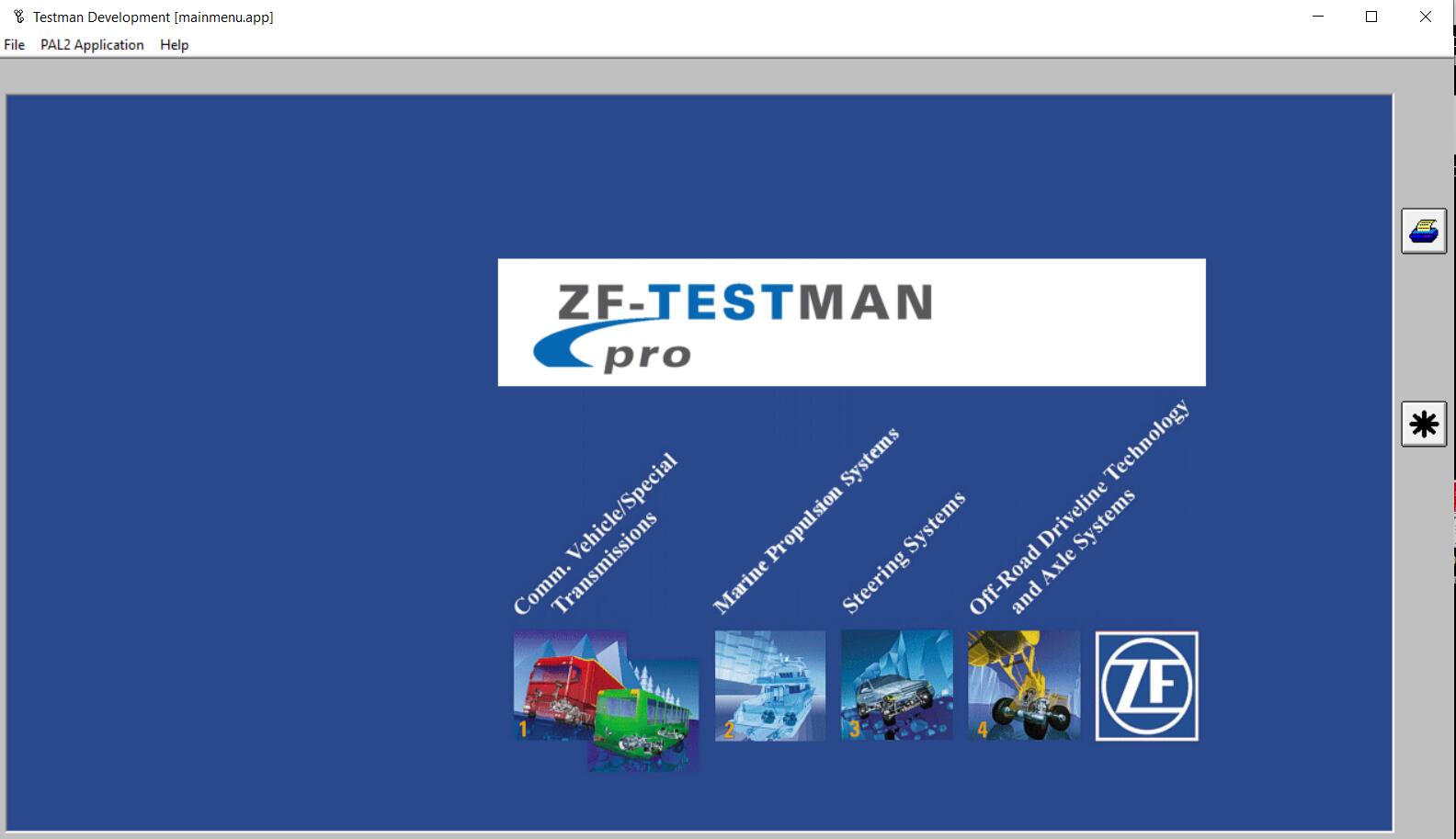 With the assistance of the ZF-TESTMAN, you are best equipped for present and  future challenges and will profit directly from the expertise of ZF, a leading worldwide company in driveline and chassis technology. You will ensure your competitive position in the long term and set yourself apart from your competitors by way of efficient and precise diagnosis.
ZF Testman Pro Functions List:
Diagnose:
• Current errors;
• Read error memory;
• Delete error memory;
• Read identification block;
• Vehicle data sheet;
Test Inputs and Outputs:
• System-check standstill;
• System-check run;
• Test unit (indication of all digital inputs and outputs);
• Indication of all digital and analog values such as speeds, currents and voltages
Repair support:
• Tightening torques;
• Setting data;
• Special tools;
• Test equipment;
• Maintenance;
• Repair work;
• Pressures;
• Circuit diagrams;
• Electrical readouts;
• PDF format
ZF Testman Pro Features:
Type: Diagnostic Software
Region: All Regions
Languages: English, German, French, Spanish, Italian, Portuguese.
Operating System OS : Windows 10 , 8.1 8, 7,  32 bit (x86) &  64 bit (x64)
Download size 2.5 GB
Date of update: 12-2019
ZF Testman Pro Models Covered:
Passenger cars
Light commercial vehicles
Trucks
Buses
Rail
Agricultural machinery
Construction machinery
Marine
Supported commercial vehicle/special transmissions:
• ASTRONIC (1, 2, mid, lite, lite test rig, 2 assembly inspection, 2 test rig)
• ECOMAT (1, 2/4, HP 260 CAN-Converter)
• INTRADER (EST32, EST42/48)
• AVS
• eTRONIC
• WSK EST 41/61
Supported marine propulsion systems:
• BW
Supported commercial vehicle steering systems:
• ZF Servocom RAS-EC (RAS-EC ISO, RAS-EC KWP)
• ZF Servocomtronic (Servotronic F)
Supported automobile car steering systems:
• EHPS (BMW R50, OPEL EP2)
• ZF Servolectric (BMW E85, APA E72, APA E90, VW PQ35/45 + Audi TT, VW PQ35-3)
• ZF Active Steering (BMW E60 PL1, E70 PL4, E90 PL2)
• ZF Servotronic (Servotronic F)
Supported off-road driveline technology and asle systems:
• ERGOPOWER (WG110-WG311, 2-3 WG-94, EST 117/125 – 119/126)
• T7000 (T7100 EST38, T7200 EST38, T7300 EST38, T7000 EST45/57/57A/ PVS LS EST57A)
• ECCOM (John Deere, Claas)
• T557 EST57A
• HC 85
ZF Testman Pro Free Download
Old version:
https://mega.nz/file/NvwjnZQJ#jI2wkiodP1sKkk-_zFKM1JlknQcwUaphH_9uJE_B650
ZF-Testman Pro 10.5 Installation 100% Work (paid version)
Visited 98 times, 1 visit(s) today