VCP System can coding the video in motion value for VW vehicles,VCP manager VIM manager replaces the aforementioned possibility to carry out the video image activation via ZDC Container Files with an option to perform a direct configuration of the screen lock or other options (DAB Slideshow, SMS reading function etc. p.p.).
VIM Manager provides the user with an important advantage: the file-based management processes become a lot less complicated (File download via the File Manager, file upload via Config data uploader) and the configuration of the video image threshold can be performed faster.
VIM Manager–currently supported vehicles / Infotainment ECUs
MMI 3GP (MMI Navigation PLUS)
Audi A4 8K Facelift, Audi A5 8K Facelift, Audi Q5 8R Facelift, Audi A8 4H, Audi A6 4G, Audi A7 4G, VW Touareg II 7P Facelift
MIB 1
MQB: Audi A3 8V, Audi TT 8S, VW Golf 7, Seat Leon 5F, Skoda Octavia III 5E, Skoda Superb 3V, etc. (Note: Not all software versions are supported by MIB 1 devices, however, the appropriate ZDC files can be used as usual.)
MIB 2
MQB: Audi A3 8V, Audi TT 8S, VW Golf 7, Seat Leon 5F, Skoda Octavia III 5E, Skoda Superb 3V, etc MLB: Audi A6 4G Facelift, Audi A7 4G Facelift, Audi A8 4H Facelift MLB Evo Platform: Audi A4 8W, Audi Q7 4M, Audi A5 8S, etc.
RMC
Audi A1 8X, Audi Q3 8U, Audi A6 4G
Preparations:
How to Install VCP System Diagnostic Tool Software
VCP System Professional Diagnostic Tool Software Download
And for more projects,you can check here:Video In Motion Projects
Procedures:
Select VIM Manager in the Guided functions menu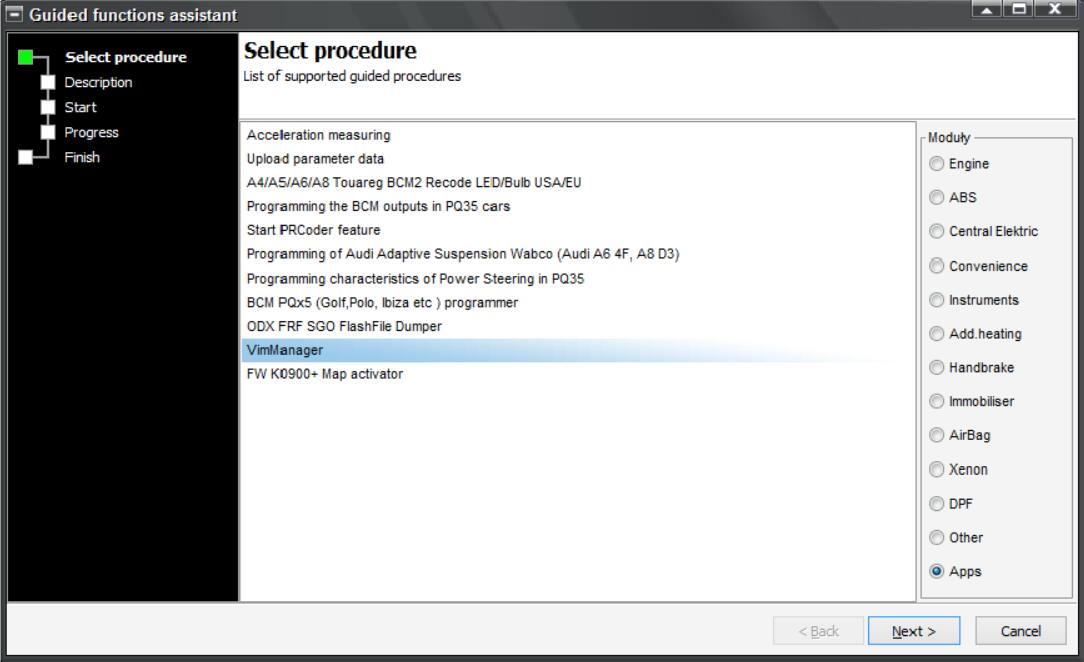 Connect with ECU (1)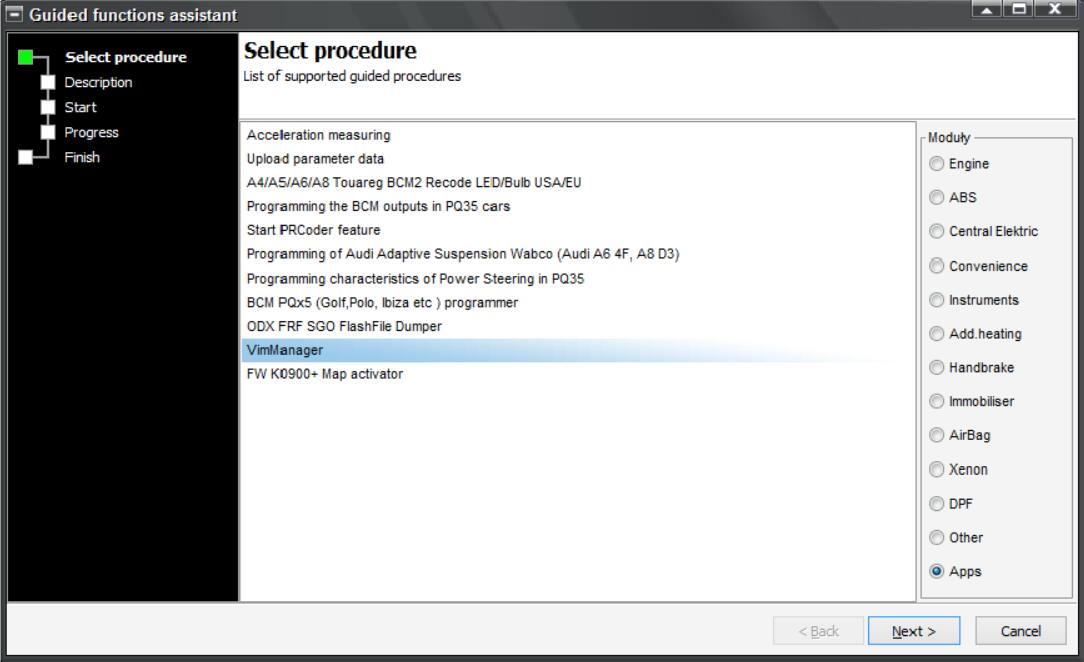 If STG 5F is unavailable, the "Connection error" message will be displayed.
Enter the appropriate value (3) and save the settings (4). A successful setting of values will be confirmed with a message in the status bar (5)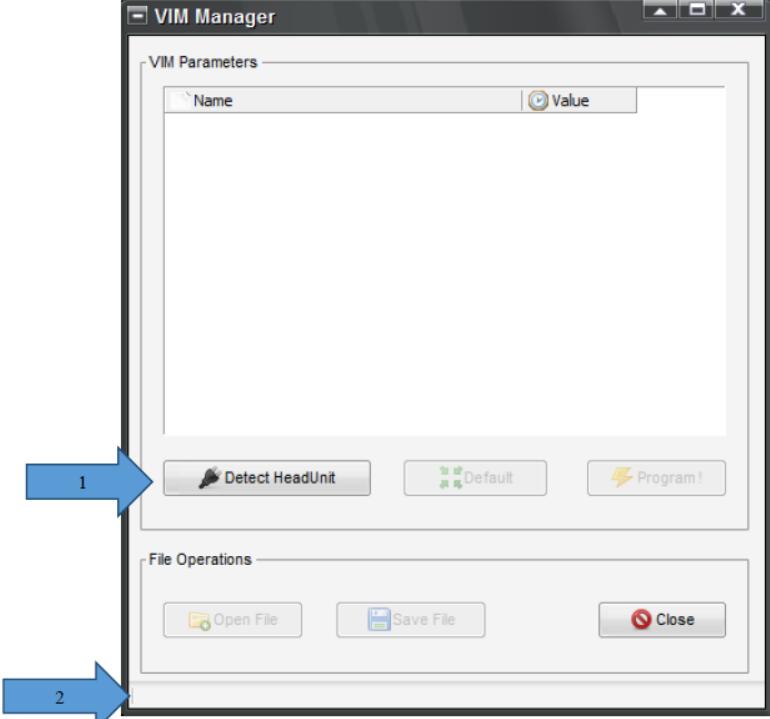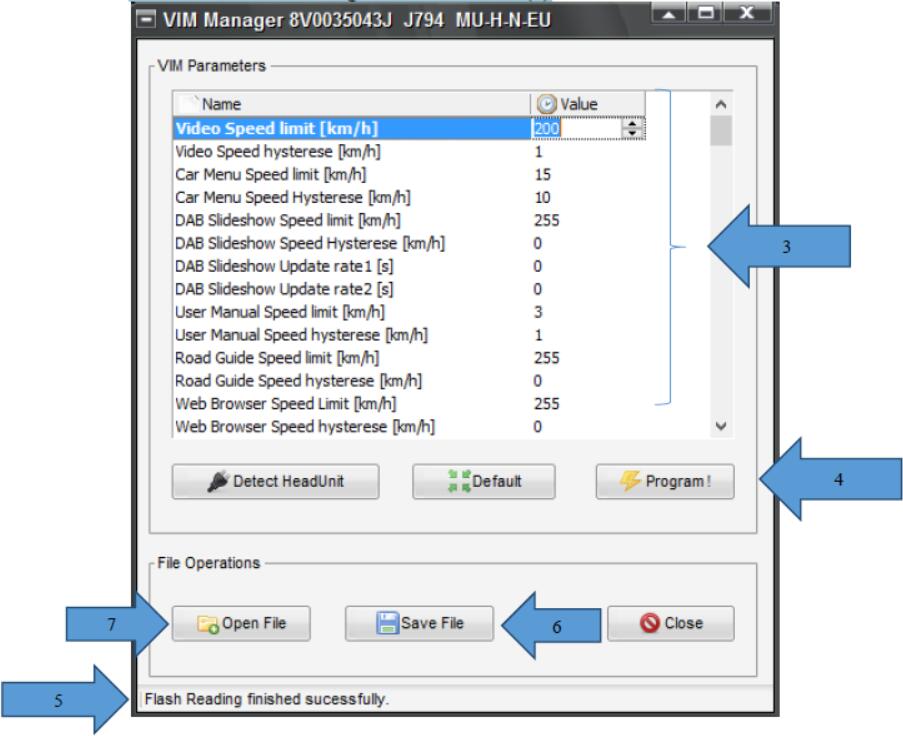 Using the Save data (6) and Open data (7) buttons you can create (and save) templates for different ECUs (HW ID) or load the already existing templates.
Possible settings
Video cut-off threshold Standard value between 0 and 3 km/h arbitrarily set as desired; Value range: 0-255
Video hysteresis
Car menu cut-off threshold
Car menu hysteresis
DAB Slideshow cut-off threshold
DAB Slideshow hysteresis
DAB Slideshow Display time 1
DAB Slideshow Display time 2
Log book cut-off threshold
Log book hysteresis
Travel guide cut-off threshold
Travel guide hysteresis
Broadcast-Website (Browser) cut-off threshold
Broadcast-Website (Browser) hysteresis
Destination input cut-off threshold
Destination input hysteresis
BT-bonding cut-off threshold
BT-bonding hysteresis
Messaging Text Editor cut-off threshold
Messaging Text Editor hysteresis
Radiotext / Tooltip cut-off threshold
Radiotext / Tooltip hysteresis
Radiotext / Tooltip display time
Sample standard values for Audi A3 8V MMI Navigation PLUS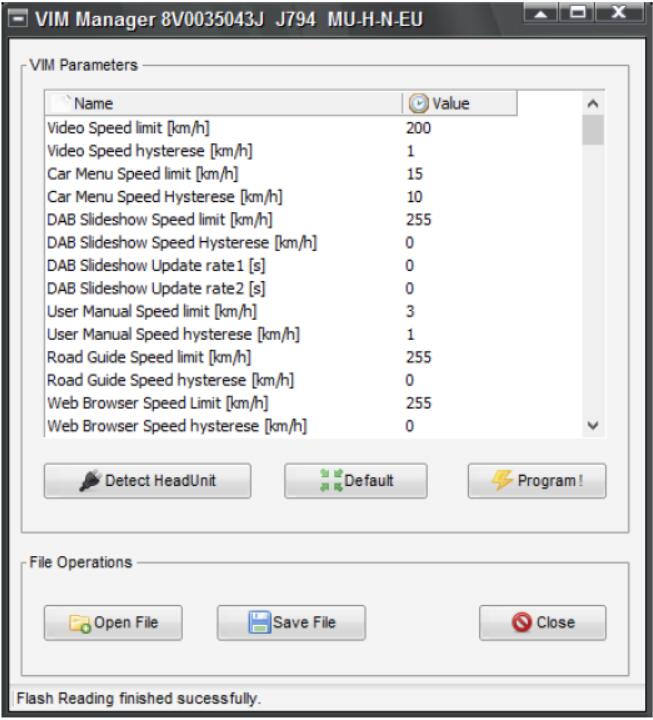 Sample standard/adjusted values for Seat Leon 5F Navigation PLUS 6.5