What is Scania SOPS Encrypt/Decrypt?
Scania SOPS file name stands for–Scania Onboard Product Specification. It's a file format that you can download (export) from Scania vehicle to your computer with Scania SDP3 software and Scania VCI2 diagnostic adapter. To modify these files you need to convert them to editable XML file, that's why you need SOPS file encryptor/decryptor software.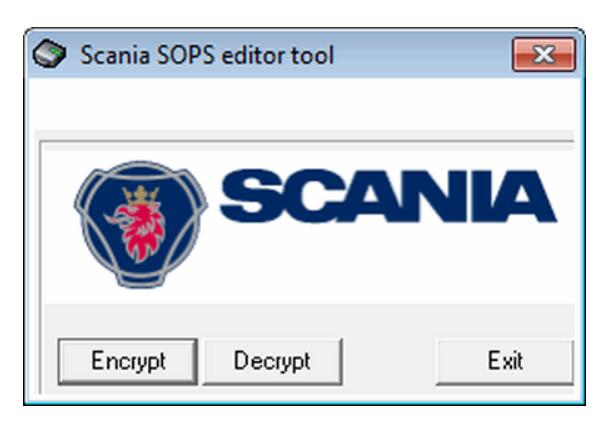 Scania Sops File Encryptor/Decryptor Features:
1Decrypt SOPS export file to XML format
2Portability USB key included
3Edit XML file with any XML editor
4Download with SDP3 from truck SOPS export file
5Encrypt XML file to SOPS import
6Upload SOPS import file to truck with SDP3
7Modify more than 300 parameters, like AdBlue, EGR, NOx Control
Scania Sops File Encryptor/Decryptor Support Languages:
English, German, Spanish, French, Japanese, Dutch, Persian, Polish, Portuguese,Swedish, Norwegian, Suomi, Turkish, Italian, Czech, Russian, Chinese.
Scania Sops File Encryptor/Decryptor O.S Requirements:
O.S : Windows XP; Windows Vista; Windows 7; Windows 8
CPU : Pentium/Athlon 800 MHz or higher
RAM : 256 MB of system memory
Hard Drive : 10 MB of available space
Scania Sops File Encryptor/Decryptor Download:
SOPS XML Editor:
http://diagnostic55.com/sops/SOPSXMLEditor.zip
Scania Sops File Encryptor/Decryptor
https://mega.nz/#!8BcAkSIT!koAr0j1raxxx3nIHXzhD99dnVPAP0eZhkfgtwh7YBLY
Scania Sops File Encryptor/Decryptor (Editor) V0.2 With Dongle (Tested Work 100%)
http://www.uobdii.com/wholesale/scania-sops-file-encryptor-decryptor-editor-v02-with-dongle.html
Scania Sops File Encryptor/Decryptor Support :
Disable Adblue
Disable EGR
Disable Immobiliser
Disable VIN
Disable Nox Control
Disable Torque Reduction NOx Control
Disable Modify more than 300 other paramter
and so on
Scania SOPS File Parameter List : 
ACC PartNo
ACS PartNo
Air pipe flow area
Air tank front
Air tank rear
Air tank volume
Air tank volume, extra
Alternator charge
APS PartNo
AWD
AxleDistance
BCS part no
BMS PartNo
COO PartNo
Coolant target temperature
Coolant temperature high level
Coolant temperature high level
DIS PartNo
DriveTyreCircum
EMS PartNo
EMS system partnumber
Engine rev
Exhaust Emission Ctrl part no
Fan, gear ratio
Fifth wheel position
FrontTyreCircum
Fuel volume
Fuel volume, left side
Fuel volume, right side
GMS PartNo
High idle speed offset
ICL PartNo
LAS PartNo
LDW partNo
Low idle speed
Max acceleration at 0 km/h
Max acceleration at 90 km/h
Oil level ind
Rear axle ratio
RET PartNo
Speed limit second
SpeedLimit
SpeedLimit EOL
TagBTyreCircum
TCO PartNo
Temp limit shut off
Temp limit torque reduction
Tyre rolling circumference
TPM partno
Transmission sensor constant
VIS PartNo
Wheel config final for EOL
0.8bar location
ABS_conf_r_axle
ABS/EBS System
AC press sensor
ACC
Acceleration limiter
ACS
ACS environment
ACS Gateway
Adaptive cruise
AdBlue tank
AddBlue
ADR Designation
AHA
AHW
Air conditioning
Air filter clogged indicator.
Air intake
Air processing system environment
Air spring cont
Air susp.lo.pa
Air tank front
Air tank rear
Air tank volume, extra
Airbag in steering wheel
All wheel drive system
AltPreChLev
An engine protection function
Anti theft remote
APS
APS cold mode parameter
APS pressure level
AUS
Autom. hill hold
Automatic climate control system environment
Auxiliary heating
AWD
Axle load disp
Backväxelilägg.
BCS
BCS Environment
Blackout lighting
Bluetooth
BMS
Bodybuilder information in ICL
Brake category
Bus stop brake
Bus stop brake activation speed
Bus stop emergency brake
BWS
C-lock + alarm
Cab floor type
Cab length
Cab special adaptation
Cab type
CAN controlled starter motor
CC Display
Chassis adaptation
Chassis class
Chassis front end width
Climate system control
Clutch overload warning
Clutch System
Clutch slip
Clutch wear measuring
Clutch wear protection
Collision warning
Communicator
Compressor extra
Compressor man
Compressor ratio
Configuration
Controlled acceleration
ConverterSystem
COO
COO environment
Cool req prot
Coolant pump flow
Coolant target temperature
Coolant temperature high level
Cooling package
Country code according to ISO
Crankcase vent.
Cruise Control Protocol
Cruise control switches
CSS
CTS
Daytime running light
Daytime running light function
DAS system
Defr fan rpm
Diff. Lock
Differential lock control
Direction indicator activation
Direction indicator sound
DIS environment
DIS position
DIS system
Downhill speed controle switch
DPF active regeneration control.
DPF aktiv regenerering
DPF exh gas temperature sensor
DPF exhaust flow type
DPF particulate filter
Droop setting all speed engine
Ecocruise Generation
Ecocruise max speed
EGR System
Emergency stop
Emission level
EMS environment
Endpos.protect
Eng stroke vol
Engine location on buses
Engine management system
Engine PTO-ED Control
Engine reaction to high coolant temp.
Engine reaction with low coolant level
Engine reactionto defect accelerator pedal
Engine rev
Engine stop request
Engine type
ESP
Exhaust brake
Exhaust brake control
Exhaust Emission Control
Ext L storage c
External storage compartment
Extra AC
Fan control
Fan hub solenoid frequency
Fan, driving
Fan, gear ratio
Fast air regeneration
FMS interactor
FMS prep
FMS System
Fog Lamp Front
Front wh drive
Fuel
Fuel level sen
Fuel volume
Gear box type
Gear shift ctrl
Gear shift prog ZF aut
Gearbox management system
Gearbox management system environment
Gearbox max input torque/ratio
Gearbox PTO-EK Control
Gearbox_PTO_EG2_Control
GMS
Guard/sensor coolant level
Headlamp cleaning
Headlamp type
HeadLampWarning
High (APS) air consumption mode
High charge temp reaction
High idle speed offset
High-mounted headlamp control
Hybrid management system
How the engine shall react due to low oil pressure
How the engine shall react on the accelerator pedal
HVAC ov.fl valv
HVAC system
HVAC water valv
ICL
ICL environment
If an accelerator pedal without safety switch is used or not
Immobiliser
Indoor temperature display
Instrument cluster
Instrument panel
Interactive driver training
Kick down sign.
Kickdown
LAS
LDW
LDW environment
LDW signal type
Level stand-by
Load sens valve
Load sensing
Load transf. ma
Load transfer
Locking and alarm system environment
Max acceleration at 0 km/h
MILTelltale
Neutral Position Sensor
NOx Control
NOx sensor type downstream
NOx sensor type upstream
NOx sensor upstream
Number of alternatiors
ODB temp
Oil cooling for gearbox
Oil level sens
Oil level sensor monitoring
Oil temperature sensor gearbox.
OPC shift brake
Opticruise
Outdoor temperature sensor 2nd
Overdrive
P-brake warning
Parked vehicle guide light
Particle trap
Passenger door position
Power shift program
Preparation for wheel config
Product class
PTO – GMS communication version.
PTO AWD prep
PTO ED prep
PTO EG3 Control
PTO split prep
PTO total amount
PTO-EG Conf
Radio
Range/Split solenoid ctr type
Rear axle
Rear axle gear ratio
Rear wheel steering manag.syst
Refrigerant EGR cooler
Refrigerant o.c
RET
Retarder
Retarder control device
Retarder System
Retarder system environment
Reverse speed
Roof hatch
Roof height
Safety belt reminder
SCR exh gas temperature sensor
SCR heating system
SCR red el hose heater output1
SCR red el hose heater output2
SCR red el hose heater output3
SCR red el hose heater output4
Security central locking
Selective Catalytic Reduction
Service indicat
SMA
SMS
Speed lim.third
Speed sign ampl
SpeedLimit EOL
Steering system
Steering wheel position
Steering wheel switches gen.
Tachograph
Tachograph system
Tag axle, behind
TCO environment
Type of order
Torque converter
Torque converter
Torque reduction NOx control
Tot .rais.lower.
TPM
TPM 1st axle
TPM 4th axle
TPM envrionment
Trailer brake coupling
Trailer hand control valve
Transfer gear case
Transmission sensor constant
Variable idling
Variable volt
VIS
VIS environment
Wheel assy rear
Wheel brake
Wheel config. EOL
Wheel mo tag ax
White smoke limiter
WIFS Water in fuel sensor