What is Scanica SDP3?
Scania SDP3 is a PC-based diagnostics application software for Scania trucks, bus chassis and Scania engines. The Scania SDP3 application includes fault code reading, assisted trouble shooting, parameter settings and more. SDP3 shall be installed on a PC/Windows platform, and connect to the vehicle through a vehicle communication interface (VCI).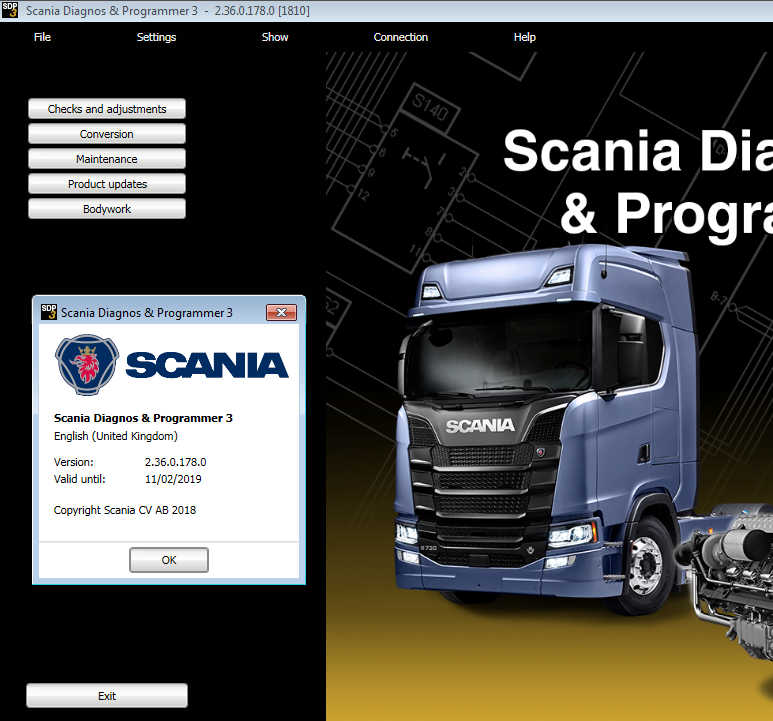 Why Choose Scanica SDP3?
Today's vehicles and especially today's electrical systems with their control units and distributed functions place greater demands on tools and technicians. It is both time-consuming and complicated to carry out troubleshooting on vehicles of such complexity. SDP3 has therefore been designed to support the mechanic during troubleshooting and thus reduce downtime.
SDP3 also supports the troubleshooting of industrial and marine engines.An advantage of SDP3 is that there are more possibilities than before for the individual item, i.e. the vehicle or engine to which you are connected, to give a description of itself. SDP3 makes use of this and only displays information relevant to the vehicle/engine to which it is connected.
Scania SDP3  Software Function List:
Check and adjustments
Conversion
Maintenance
Campaign
Bodywork
Fault Codes
Fault Reporting
Programming of Control units
Scania SDP3  supported modification of ECU data
EMS – Engine management system.
GMS – Gearbox management system.
RET – Retarder system.
AWD – All wheel drive system.
CLS – Clutch Control.
EEC – Exhaust Emission Control.
COO (COO7) – Coordinator.
BWS (BCI1) – Bodywork system.
Scania SDP3  supported resolving trouble codes to text description:
EMS (S6, S7, S8).
GMS (OPC4, OPC5).
RET (RET1, RET2).
AWD (AWD1).
EEC (SCR1, EEC3).
COO (COO6, COO7).
HMS (HMS1).
Scania SDP3  interesting options:
AdBlue ON/OFF.
EGR ON/OFF.
Chassis ID/VIN Change.
Immobilizer ON/OFF.
Truck Power INCREASE.
ECU Recovery.
ECU Reset.
ECU Unlock.
Scania SDP3 Support Language:
English, German, Spanish, French, Japanese, Dutch, Persian, Polish, Portuguese, Swedish, Norwegian, Suomi, Turkish, Italian, Czech, Russian, Chinese.
Scania SDP Installation Requirement:
Support Win7 64 bit system.WIN 10 32bit WIN10 64 bit (Tested by individual, so try on your own risk).
Need Netframework 4.5 installed on system. windows 7 or 8 will be better.
In order to install SDP3, administrator rights are required.
Note: The USB key and VCI must not be connected to the computer during the installation of SDP3, especially  if SDP3  is not installed for the first time.
Scania SDP  Hardware Compatibility:
Newest Scania SDP3 V2.42.2 Download (100% paid version)
2020 Scania SDP3 2.42.2 Diagnosis & Programming Software
Scania SDP3 2.40.1 free download
https://share.weiyun.com/5RRyFLs
pass: c1ev49
Scania SDP V2.39 Software Download:
https://mega.nz/#!zJREQQRS!1Tye4NRNiTMBY5xteTGTkuap1Md8Le1dQGrfu3P2GFk
Size: 762.3 MB
Works on:
Win7 sp1 ultimate edition 32 or 64
Win7 pro sp1  just 32 bit
Win10 pro
Installation & Activation: remote assistance via Teamviewer (one time free activation), easy and save time.
Scania SDP V2.36 Software Download:
https://mega.nz/#!CNICwK6K!z7b1_aX22CEQmCvCUu-eOnxom8HZc07KK9_Vu8hnSjQ
751.5MB
Password: @scania@
Win7 sp1 ultimate edition 32 or 64; Win7 pro sp1  just 32 bit ; Win10 pro