What is PSI PowerLink?
PSI PowerLink is a standalone PC application that gives users the power to quickly diagnose and troubleshoot any heavy-duty vehicle with a PSI engine. The application provides PSI-specific diagnostic trouble codes as well as PSI-specific engine information in less than a minute.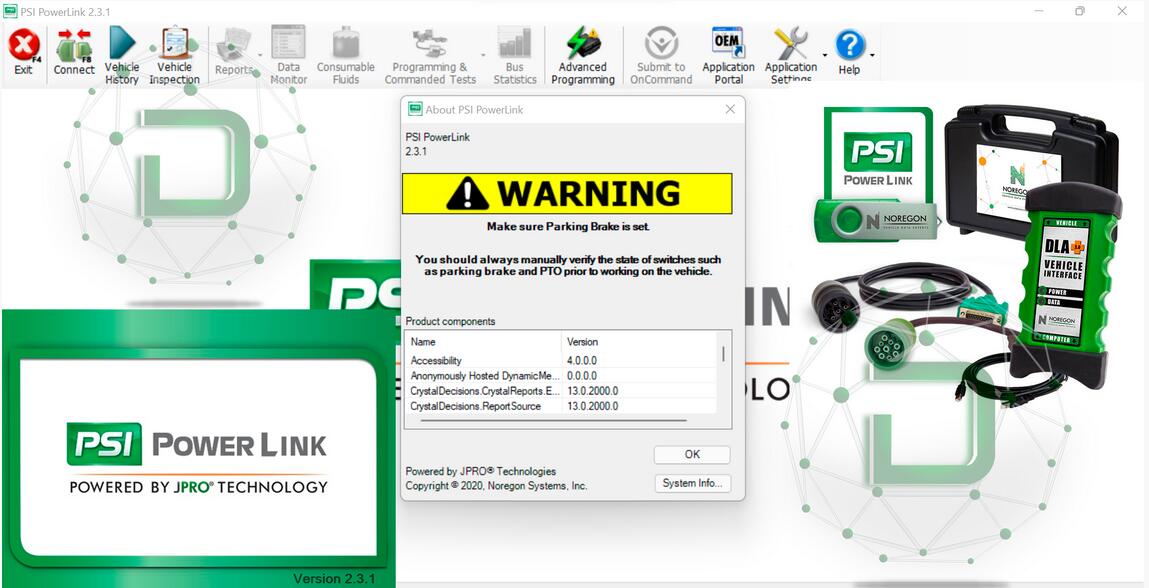 PSI PowerLink Functions:
Displays custom OEM error codes for PSI engines.
Low consumption of liquid (s)
Active faults present
Shows the calibration and CVN for PSI engines
And more.
PSI PowerLink Features:
Heavy-Duty Features
• Supports standard Heavy-Duty vehicles equipped with PSI engines.
• Supports the Heavy-Duty SAE J1587/J1708, J1939, ISO 15765 and KWP2000 messages.
• Graphically displays data using thermometers, gauges, etc. on the Data Monitor.
• Display of data related to reported faults in Data Monitor.
• Fault Status Assistance providing technician friendly descriptions for fault status values from both the Fault Display and the Data Monitor.
• FMI Assistance providing technician friendly descriptions for fault code FMI values from both the Fault display and the Data Monitor.
• •
Diagnostic connector pinout diagrams for Heavy-Duty cable connectors to aid in troubleshooting connection issues.
• Ability to define custom groups of related data parameters to display in Data Monitor.
• Clear indication of overall vehicle health considering:
✓ No 1939 Data (on 2009 or newer vehicles)
✓ Cannot Detect Engine
✓ Active Faults Present
✓ Consumable Fluid(s) Low
✓ Battery Voltage Low
✓ Cannot Detect ABS (on 2001 or newer vehicles)
• Search mechanism to link to troubleshooting guides.
• Provides data bus utilization statistics on live heavy-duty vehicle connections.
• Displays CAN error frame data to aid in diagnosing communication issues.
• Launches OEM component diagnostic applications in Fault Code Information.
Simply click on the OEM application icon to launch the application for more
information about that component.
• Displays the trailer lamp status on tractor brake key data point's window.
• Consumable Fluid screen to monitor fluids used by vehicle and inform user of low levels.
• Support for reading and display of HD-OBD Emissions faults in standard fault display.
• Support recording and playing back vehicle data.
PSI PowerLink Components
• Support for PSI engine harness (SKU 32146).
• Support for proprietary sensor data.
• Support reading SAE and proprietary fault codes.
• Support clearing SAE and proprietary fault codes.
• PSI Engine Calibration Programming and Calibration Re-Flash with ability to
download new calibrations from the cloud.
• Vehicle Electronic Programming Stations (VEPS) System Specification for
programming PSI Engine parameters.
• Support for PSI Hydramatic Transmission Control Module (TCM)
o Read parameters and sensor data
o Read and clear fault codes
• Support for PSI Cruise Control Module (CCM)
o Read parameters and sensor data
o Read and clear fault codes
• Commanded Tests support for PSI engines:
PSI PowerLink Support Protocols:
➢ SAE J1587/J1708 (Low Speed data bus)
➢ J1939 (High Speed data bus)
➢ ISO 15765 (CAN-based)
➢ ISO 14229 (CAN-based)
➢ GMLAN (CAN-based)
➢ KWP 2000 (CAN-based or ISO 14230 K-Line)
PSI PowerLink Free Download:
https://mega.nz/file/i1Q0lbaI#1bsQVPlaIdjyE5Gvwu_S_Ho4gQGbjBVPkbgArNawprg
Note:PSI need to be licensed by Noregon,otherwise it can not work
Visited 125 times, 10 visit(s) today