Nexiq eTechnician™ 2.0 gives you the data and the support required to stay competitive in today's trucking industry. Heavy-duty diagnostics on your PC was never this good—until now. We've combined extensive coverage for everything from commercial vehicles right down to light and medium-duty trucks. That gives you diagnostic capability for engines, transmission, brakes, body and chassis, and more. And we've added cloud-based, fleetwide vehicle history to give you access to data for every diagnostic session for every vehicle in your fleet, regardless of location.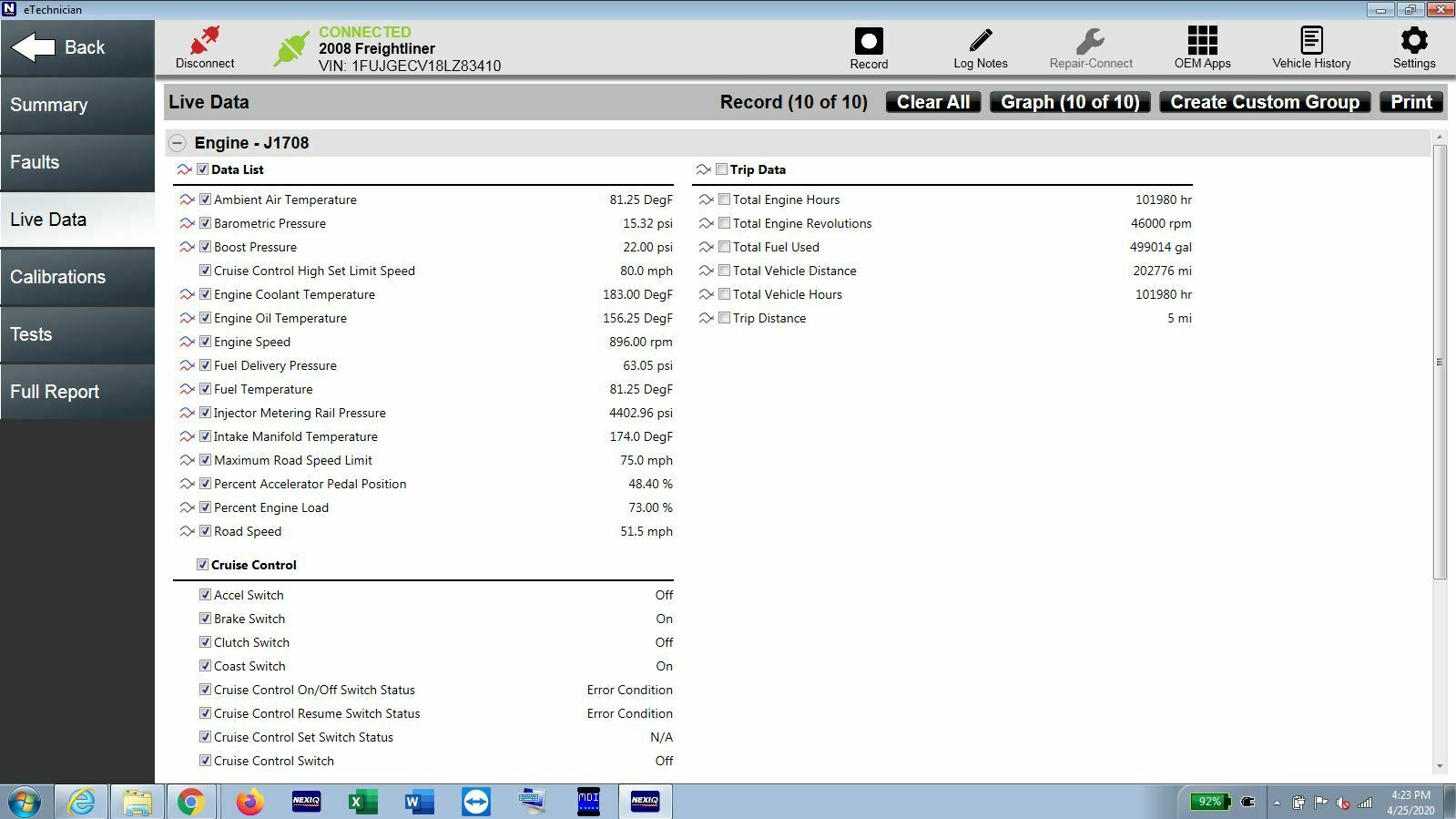 Nexiq eTechnician Functions List:
Read Active Fault Codes
Read and Clear Inactive Fault Codes
Graph Parameters
Log Fault Codes and Parameters
Create Log Notes and Save to Vehicle History
Scans All Electronic Modules On the Vehicle (HDS)
Create Custom Parameter Lists (HDS)
View Engine, Brakes, and Transmission Data (LMT)
Includes Generic OBD II (LMT)
Note: eTechnician HDS does not clear fault codes on Caterpillar® electronic engines.
Nexiq eTechnician Installation PC Requirements
Internet Availability
4 GB RAM
500 MB of Free Hard Drive Space
i5 Processor (or equivalent)
1 Available USB Port
1024 x 768 Monitor Resolution
Nexiq eTechnician Vehicle Coverage:
LMT Vehicle Coverage
eTechnician LMT provides support for a wide array of light and medium-duty trucks.
Navistar® CV Truck
6.6L Duramax—L5D (2019)
Allison Transmission® (faults only)
Body Control Module
Chassis
Glow Plug
Instrument Cluster
PTO
Workhorse™
3.9L (2004–2005)
4.3L (1999–2005)
4.8L (2004–2012)
5.0L (1999–2000)
5.7L (1999–2004)
6.0L (2003–2012)
6.5L Diesel (1999–2005)
6.5L Turbo Diesel (1999–2002)
6.6L Duramax (2005–2006)
7.4L (1999–2000)
8.1L (2001–2012)
Isuzu® Engines
6.0L (2005–2019)
5.2L (2005–2019)
3.0L (2011–2018)
Isuzu® Brakes and Transmissions (2005–2019)
Dodge®/RAM® Engines
6.7L Cummins® (2007–2019)*
5.9L Cummins® (2006–2007)
5.7L HEMI (2006–2019)*
6.4L HEMI (2014–2019)*
3.6L V-6 VVT (2006–2019)
*Tests not available for these models for years 2018–2019
Dodge®/RAM® Brakes, Transmissions, and Body Control Module (BCM)
RAM® 1500–5500 (2006–2019)
GM® Engines
3.0L (2019)
4.3L (2000 and 2014–2019)
4.8L (2011–2019)
5.2L Duramax® (2004–2009 and 2017–2019)
5.3L (2014–2019)
6.0L (1999–2019)
6.2L (2017–2019)
6.6L Duramax® (2001–2019)
7.8L Duramax® (2004–2009)
8.1L (2001–2009)
GM® Brakes and Transmissions (2001–2019)
C1500–C7500
K1500–K3500
T4500–T7500
P Chassis
W4 Chassis
Workhorse
Ford® Engines
3.2L PowerStroke (2015–2019)
3.5L (2011–2019)
3.7L (2011–2019)
4.2L (2000–2008)
4.6L (2000–2016)
5.0L (2011–2019)
5.4L (2000–2016)
6.0L PowerStroke (2003–2010)
6.2L (2010–2019)
6.4L PowerStroke (2008–2010)
6.7L PowerStroke (2011–2019)
6.8L (2000–2016)
7.3L PowerStroke (2000–2003)
Ford® Brakes and Transmissions (2000–2019)DEERE
LMT Diagnostic Tests: A Partial Listing
MANUFACTURER
DIAGNOSTIC COVERAGE
Ford
Engine Tests
Power Balance Test
KOEO Tests
KOER Tests
Relative Compression
Injector Buzz Test
Fuel Lift Pump Relay
DPF Regen
Transmission Tests
ABS Tests
GM
Engine Tests
Injector Cutout
DPF Tests
DEF Tests
Transmission Tests
ABS Tests
Isuzu
Engine Tests
Transmission Tests
ABS Tests
Dodge/RAM
Engine Tests
Cylinder Cutout
Cummins Engine
DPF Test
DEF
VGT Calibration
Program Injector Codes
Stationary De-soot (DPF Regen)
Transmission Tests
ABS Tests
Nexiq eTechnician Free Download:
Nexiq eTechnician v1.1 download:
https://mega.nz/file/HDpkQD5B#WiUbg8A6roUhUXeMPUddzackvvp20Ulx_Nxjr563D-w
Nexiq eTechnician v2.0:
2023 Nexiq eTechnician 2.8 2.1 100% Work Solution+Install Instruction (paid version)
Visited 77 times, 1 visit(s) today