This instruction show you guide on how to perform signal valve pressure test for New Holland T6030,T6050,T6070,T6080,T6090 tractors.
Related Contents:
2023 CNH EST 9.8 9.2New Holland Diagnostic Software Free Download
New Holland Agricultural & Construction Parts+Service Manual Free Download
Procedures:
NOTICE:Before performing any pressure or flow testing operate the tractor until the oil in the rear axle is at normal operating temperature. 65 °C ( 145 °F).
1.This test demonstrates how to check that the load sense lines which signal the hydraulic pump to go on and off load are functioning.
The load sense line is located on the left hand side of the rear remote valves and runs forward connecting to a "Tee" going into the compensating valve on the top of the transmission housing.
2.Disconnect the load sense line from the rear remote valve stack.
NOTE: It may be necessary to remove a solenoid for access to disconnect the load sensing line at the remote valves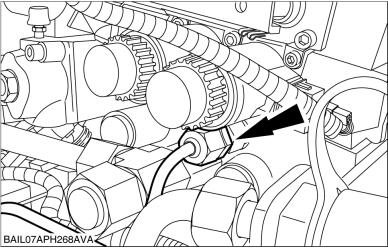 3.Disconnect the load sense line (1) from the compensating valve and replace it with flexible hose (2) part no 87391563.
NOTE: The load sensing line is metal and will not flex enough to allow installation of the Tee adapter. It will be necessary to replace the load sense line with a suitable flexible load sense line hose.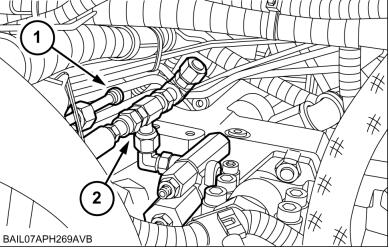 4.Install the Tee adaptor (1) 297603, and the quick release fitting (2) 297240, between the remote valve stack load sense line and flexible hose part no 87391563.
With the test equipment installed as shown the load sensing circuit to the hydraulic remote valves is being tested. To test other load sense circuits it is necessary to install the test equipment in the load sense line of the specific circuit to be tested.
NOTE:When checking the loads sense line for the suspension or mid mount valve, it is not necessary to fit hose 87391563 you can Tee into the relevant existing line as flexible hoses are used.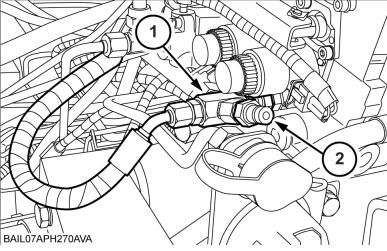 5.Connect 0 – 250 bar ( 0 – 3600 lbf/in2) pressure gauge (3) 293244, using the hose (2) 292246, and the quick release coupler (1) 291924,.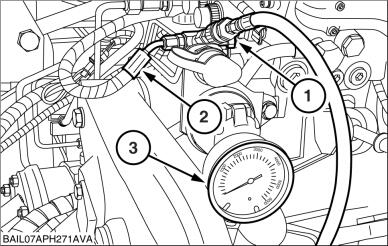 6.Set engine speed to 1500 rev/min. Operate in turn each of the remote valves. As each valve is operated the pressure should rise from 0 bar ( 0 lbf/in2) to a maximum pressure of 210±5 bar (
3046±73 lbf/in2). Changes in pressure indicate that the load sensing line to each valve is operating.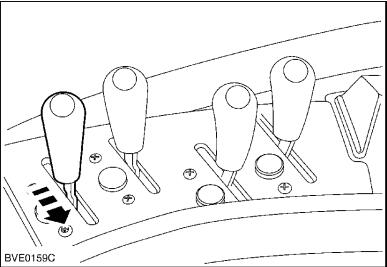 More topics for New Holland repair,pls refer to:New Holland Trouble Repair
(Visited 7 times, 1 visits today)