What is Carprog?
Carprog is a universal diagnostic, tuning and adjustement tool for car radios, odometers, dashboards and immobilizers repair. Including advanced functions like EEPROM and microcontroller programmer and key transponder programmer.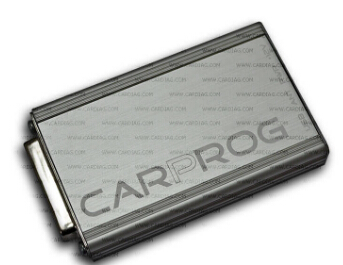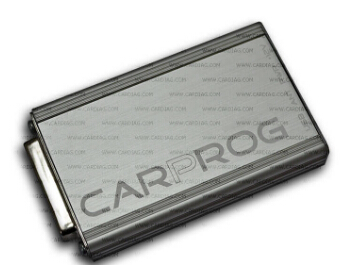 Carprog Support Function List:
Airbag Reset
Dashboard
Immobilizer
MCU/ECU Processor
EEPROM
Car radio
Carprog Original:
Carprog original from http://codecard.eu/.It almost cost you about $500-$2000 for the exact same job.
Carprog User Manual
Download the carprog usermanual,at below download link,it content:
https://mega.nz/#!Ok9niAbC!WzPaV3N45dXDxCa9AmAw80nIemGeD1k7F1yPfIRtmYk
CarProg user manual
CarProg BMW Airbag Reset manual
CarProg CR16 Airbag Reset manual
CarProg Ford Airbag Reset manual
CarProg GM Airbag Reset manual
CarProg Mercedes Benz Airbag Reset manual
CarProg VW-Audi Airbag Reset manual
CarProg Opel ECU programmer manual
CarProg BMW key programmer manual
CarProgDaihatsu immo manual
CarProg Lexus immo manual
CarProg MB key programmer manual
CarProg Renault key programmer manual
CarProg Toyota immo manual
CarProg Motorola HC05 programmer manual
CarProg Motorola HC08 programmer manual
CarProg Motorola HC11 programmer manual
CarProg Motorola HC12 programmer manual
Carprog V13.77 Download
https://disk.yandex.com/d/wkom65WB3LRGC8
Carprog V12.43 Download
Carprog v10.93 Free Download:
https://mega.nz/#!fxE3RboZ!UsRFJapbnB9s2Sm_2dT013wPHxoKQuZOJgAHe5vRLAU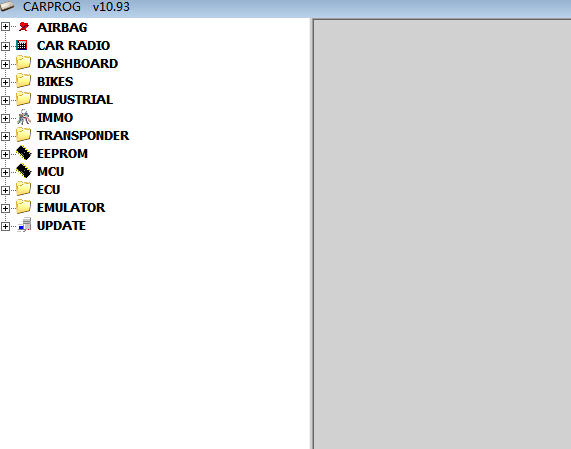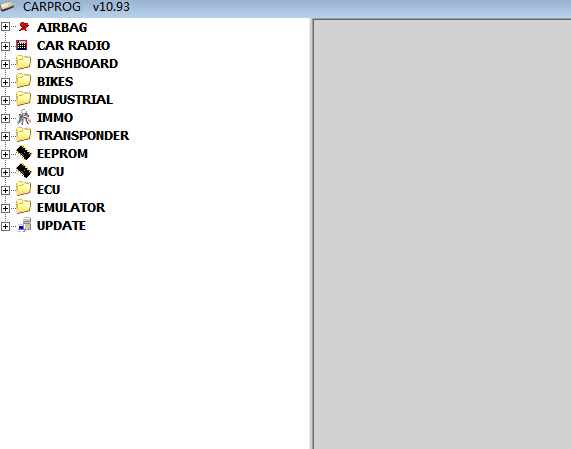 Carprog Car List:
Alfa Romeo, Audi, BMW, Citroen, Daewoo, Daihatsu, Fiat, Ford, GM, Honda, Hyundai, Infiniti, Kia, Lexus, Mazda, Megane, Mercedes, Mitsubishi, Nissan, Opel, Peugeot, Porsche, Renault, Rover, SAAB, SEAT, Skoda, Ssangyong, Subaru, Suzuki, Toyota, VW (Volkswagen), Volvo
How to use Carprog:


Powering up the device. CarProg can be used with external power supply (+7 – +12Vstabilized), only with USB connection or with diagnostic cable ( for ex. OBDII)
Standard power socket (positive in the middle) voltage in range +7…14V stabilized can be used in any cases. Use it when +12V voltage is required (Transponder read/write, some MCU`s read/write)


USB power from PC – 5V, 100mA. Always must be connected because USB cable is used for Device – PC communication. Is enough for small power consumption operations (i.e. EEPROM read/write).


Using standard Car diagnostic Cable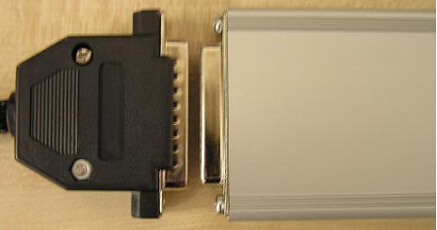 Installing software. Copy software from CD or from your support page .lt to any directory on your PC. Main CarProg file can be older version, just click on Update-Internet and CarProg will by updated automatically.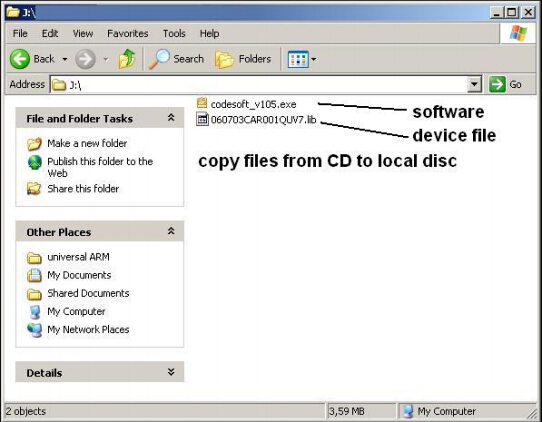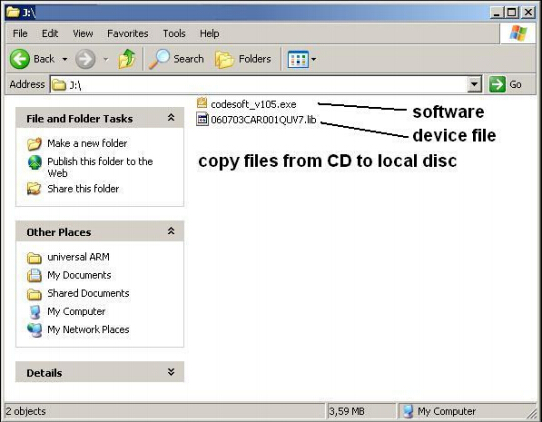 After update CarProg software must restart automatically and CarProg hardware update must be done. Don't disconnect CarProg USB cable while update process. If updates fail,try again.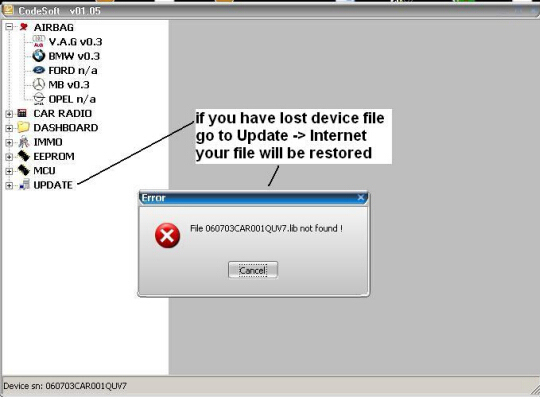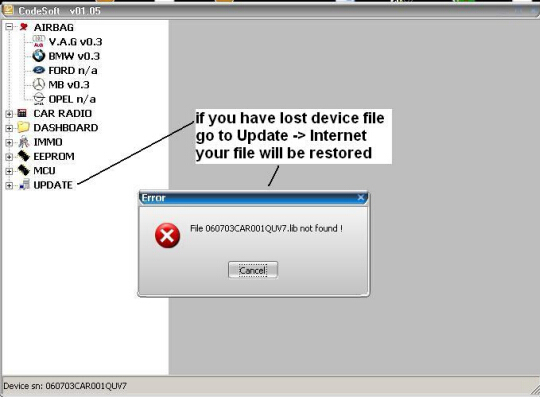 Note:If you have lost device file go to update–>Internet your file will be restored
Current software version v1.05
Device sn# 060703CAR001QUV7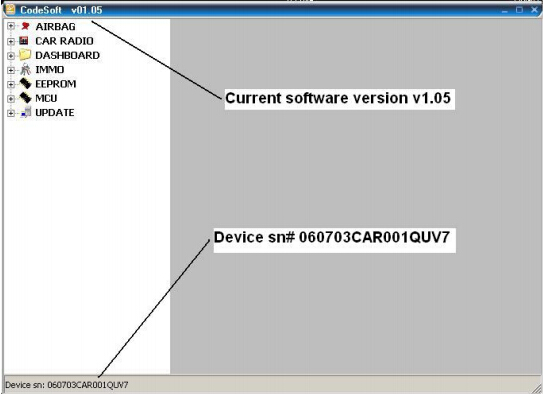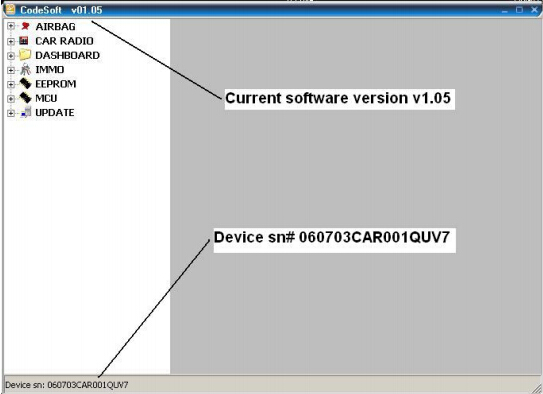 And click the catalogue to view the functions software version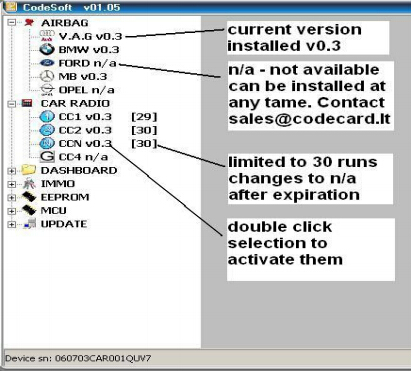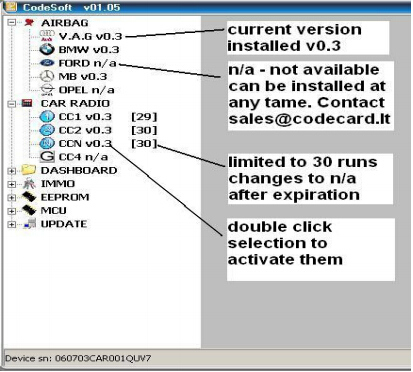 The figure show
"current version installed v0.3
N/a-not available can be installed at any time.
Iimited to 30 runs change to n/a after expireation
Double click selection to activate them"
Note:The crack version is not limited without token.
Carprog Software Update:
If your carprog is original carprog,you can update it by internet(update online)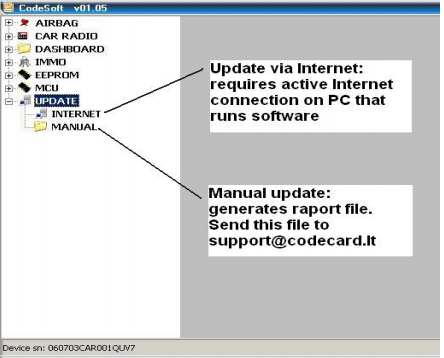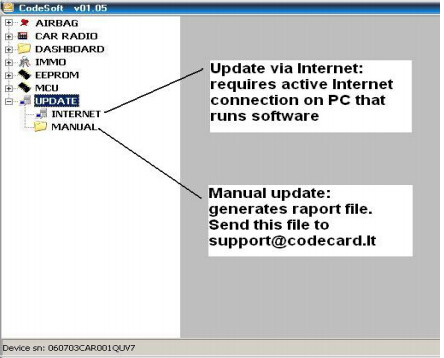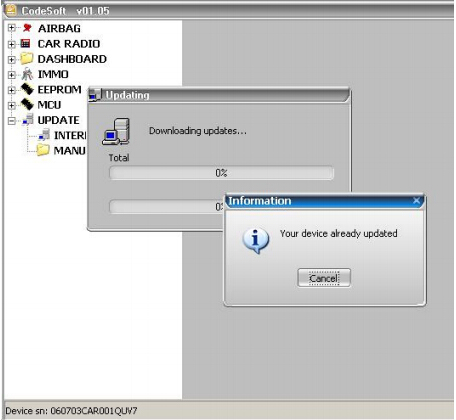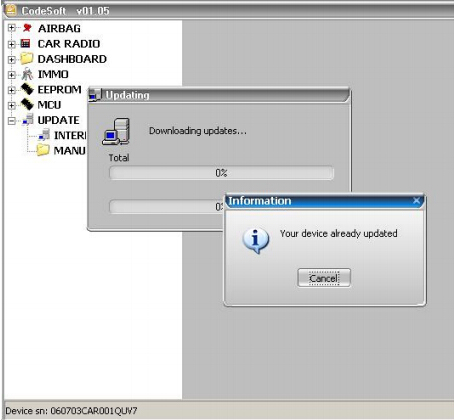 Else,you need get the update version only by your dealer
Carprog Reviews:
Review 1:
Carprog Full ECU Chip Tuning,airbag resetting,mileage tool works with both solution, obd and welding to read the EEPROM. Some airbag crash can be repaired by obd but in general we have to and pass by the box desoldering of EEPROM. The Carprog Full advantage has a database of clear crash for some model, an original radio code generator; this is a good program to start.
CARPROG full v7.28 with everything and explained in the software, and it comes with several connectivity number. As selecting a function that we want to use it tells us what connectors used. It is even illustrated with photos very nice.
Review 2
For me, it's not bad to begin with, the basic equipment (hot air station, flux pen, soldering iron with a fine tip) ismandatory to exploit
Review 3
Beginners opt for CARPROG. It offers a lot of opportunity, it does not cover all but a good party. Simple handling,intuitive app. it is polivalent dash, immo, radio ..
Review 4
Good flash. I used to virginiser of BSI, I also managed to modify a 2002 vehicle en dash (just to test, I delivered as it was before)
I also managed to lire OF 5p08 (95p08) and write off properties not bad for beginners, less effective than Xprog M or UPA but easier to use.
Review 5
I've used a recommend Chinese version Carprog full, it is very well and have a very proper customer relationship. And the clone functionality level, we can estimate how many percent compared to the original (if quantifiable)? Gadget or good tool to start?
It is 40% of the original on the radio codes ok but the dashboard there is not any lack of image the rest is a very fragile CARPROG use it after several silliness more communication with the interface, it must be used with a PC without internet with a stable and xp ca va …
F6. Super good tools began frankly I'm very happy easy to use but it's still the lolll brol as a tool that makes
Review 6:
I had used Carprog full to read 24Cxx serious and 93xx series EEPROM successfully. I was satisfied with this tool.But my friends also told me it could not reset or copy the UCH for Renault scenic 2000.I thought it was really good at opel airbag and pin code reading. Other function was not good. I knew it was desinged for car airbag reset. If someone had the need to do this function, Carprog full V9.31 would be your best chose.
I bought a carprog full online and during my operation, I met the error "infromation: 130-units left. Connect update server to synchronize".I did't know why and asked the custome services. They told me not to update software online, not to use softweare from other shops. If the error still existed, the device had to be repaired.
Visited 292 times, 3 visit(s) today