Sometime when you run Volvo PTT with offline,it will prompt you with a error message "No Authorisation:You are not authorised to run Tech Tool on this client.Connect to central systems to update the list of user profiles or contact your local administrator."Here car-auto-repair.com show you guide on how to solve this "No Authorisation" error.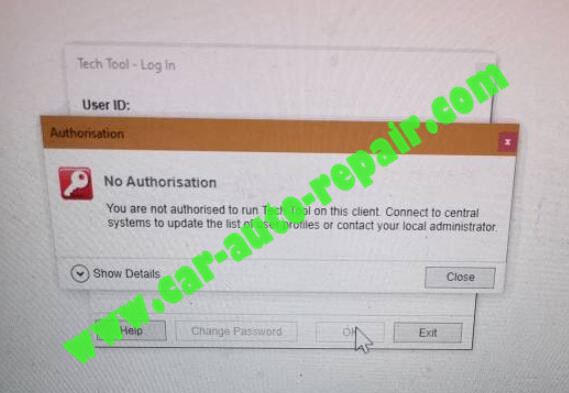 Related Contents:
2022 Volvo PTT Premium Tech Tool PTT 2.8.150 & 2.7.116 & 2.6 All Version Free Download
Procedures:
Method 1:
Download below TechToolCoreDevelopmentContent.msi plugin
https://networkupdatefilespublic.it.volvo.com/TechToolInstallation/Releases/2.04/MainInstallationPackages/TechToolCoreDevelopmentContent.msi
Double click to install it,wait installation finish.

Now go to "Task Manager" to end all process of Tech Tool
After then run Volvo PTT and login with offline,you will find "No Authorisation" solved
Method 2:
open techtool log manager (in techtool folder)
stop all services
clean all log files
check log folder – you should have only one configuration file
close techtool log manager
start activator as admin(using cmd)
press "Erase DB full" 4-5 times
activate+patch .
(Visited 54 times, 1 visits today)