What is FORScan?
FORScan is software used in conjunction with a specific type of OBDII adapter that enables you to make changes to your truck's default modules' settings. Some popular things that can be changed are: adding heated and/or cooled seat icons & heated steering wheel to Sync 2 & Sync 3 home screen & climate menu, disabling the Powerpoint 12V timeout or setting it to whatever you want, adding engine/trans temps above the gauge, disabling the double honk, enabling autofold mirrors, enabling global window open/close , changing heated steering wheel to full hot, enabling radio to be turned on with vehicle completely off (2015's), adding the ability to view/reply to text messages and enter NAV destination while in motion.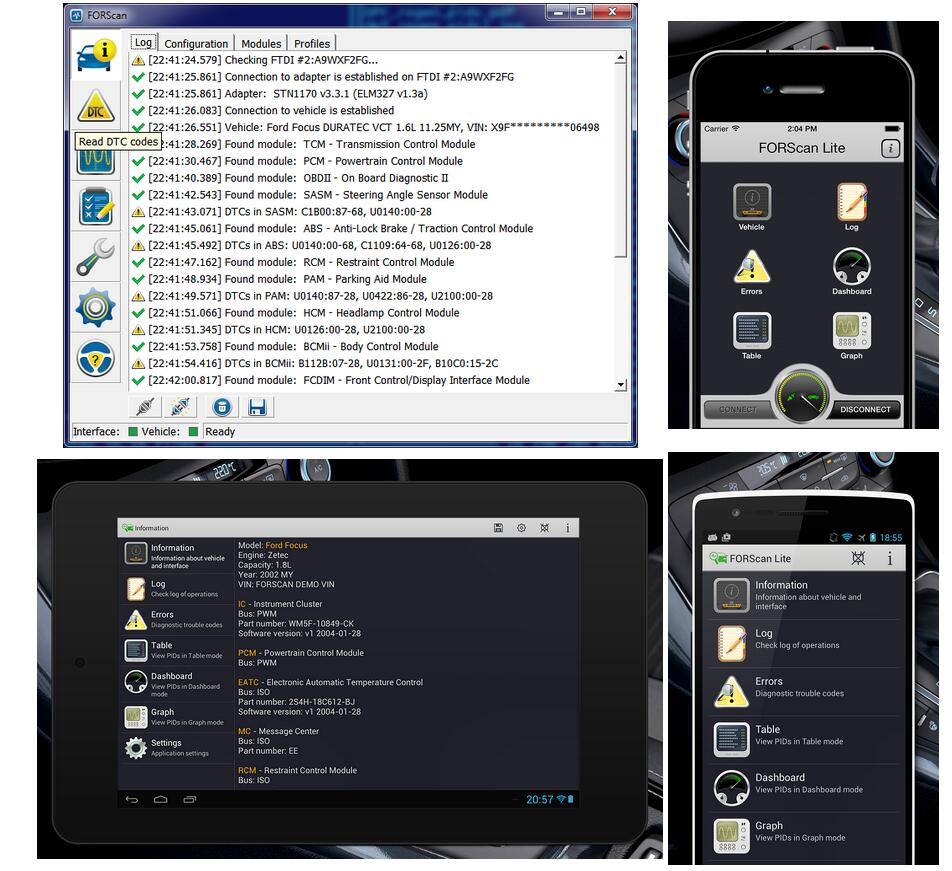 FORScan Features:
Detect vehicle on-board network configuration
Read and reset Diagnostic Trouble Codes from all modules
Reading of modules' sensors' data
Run test diagnostic procedures (not supported in FORScan Lite yet)
Run service procedures (not supported in FORScan Lite yet)
FORScan Supported Vehicle Models:
All Ford, Mazda, Lincoln, Mercury vehicles that can be addressed by supported adapters. It is 99% of models after 2000 and around 92% of models after 1996 (the year when OBD2 became a standart in USA).
FORScan Supported Adapters:
J2534 Pass-Thru
CANtieCAR (in "FORScan" mode)
OBDLink SX/MX (STN11xx)
ELS27 (STN1170)
FORScan Supported Modules:
Powertrain Control Module (PCM)
Anti-Lock Brake / Traction Control Module (ABS)
Hybrid Electronic Cluster (HEC)
Left High Intensity Discharge Lamp (LHID)
Right High Intensity Discharge Lamp (RHID)
Vehicle Dynamics Module (VDM)
4X4 Control Module (4X4M)
Air Conditioning Control Module (ACCM)
Audio Control Module (ACM)
Audio Control Unit (ACU)
Alternative Fuel Control Module (AFCM)
Adaptive Front Lighting System / Auto Leveling Module (AFS/ALM)
Adaptive Front Lighting System (AFS)
Auxiliary Heater Control Module (AHCM)
Audio Interface Module (AIM)
Auto Leveling Module (ALM)
Amplifier Module (AM)
Accessory Protocol Interface Module (APIM)
Automatic Ride Control (ARC)
A-STOP System (No Idling System) (A-STOP)
All Terrain Control Module (ATCM)
All Wheel Drive Module (AWD)
Battery Charger Control Module (BCCM)
Battery Control Module (BCM)
Body Control Module (BCMii)
Body Control Module / Generic Electronic Module (BCM/GEM)
Body Control Module B (BCMB)
Battery Energy Control Module (BECM)
Body Electronic Module (BEM)
Bluetooth Phone Module (BPM)
Security module (CSM)
Blind Spot Monitoring (Left) (BSML)
Blind Spot Monitoring (Right) (BSMR)
Remote Climate Control (RCC)
Cruise-Control Module (CCM)
Circuit Deactivation Ignition Module (CDIM)
Compact Disc Player (CDP)
Instrument cluster (INST)
Column Lock Module (CLM)
Camera Module Rear (CMR)
Connectivity Master Unit (CMU)
Cellular Phone Module (CPM)
Central Timer Module (CTM)
Convergence Telematics Module (CTMii)
Digital Audio Broadcast Module (DABM)
Digital Audio Control Module C (DACMC)
DC to DC Converter Control Module (DCDC)
Driver/Dual Climate-Control Seat Module (DCSM)
Reductant Control Module (DCU)
Driver Door Control Unit (DFDM)
Drivers Door Module (DDM)
Driver's Seat Module (DSM)
(Audio) Digital Signal Processing Module (DSP)
Electronic Automatic Temperature Control (EATC)
Rader Brake Support (EBS)
Electronic Crash Sensor (ECS)
Electric Parking Brake (EPB)
Electronic-Controlled Power Steering (EPS)
Anti-Lock Brake / Traction Control Module (ESOF)
Front Body Control Module (F_BCM)
Fuel Additive Control Module (FACM)
Front Control/Display Interface Module (FCDIM)
Front Controls Interface Module (FCIM)
Front Display Interface Module (FDIM)
Front Distance Sensing Module (FDSM)
Transmission Control Module (TCM)
Fuel Fired Coolant Heating Module (FFH)
Passive Anti-Theft System (PATS)
Front Electronic Module (FEM)
Fuel Injection Control Module (FICM)
Fuel Indication Module (FIM)
Fuel Injection Pump (FIP)
Front Lighting Control Module (FLM)
Fuel Operated Heater (FOH)
Forward Sensing Camera (FSC)
Fire Suppression System Module (FSSM)
Folding Top Control Module (FTCM)
Generic Display Module (GDM)
Generic Electronic Module / Smart Junction Box (GEM/SJB)
Generic Electronic Module (GEM)
Generic Function Module (GFM)
Global Positioning System Module (GPSM)
Gear Shift Module (GSM)
Gateway Module A (GWM)
Headlamp Control Module (HCM)
Headlamp Control Module 2(B) (HCM2)
Headlamp Leveling Module (HD_LVL)
Instrument Cluster (IC)
HVAC Integrated Module (HIM)
Heated Steering Wheel Module (HSWM)
Head Up Display (HUD)
Heated Steering Wheel Module (HV)
Heating Ventilation Air Conditioning (HVAC)
Integrated Air Bag Module (IABM)
Smart City Brake Support (ICA)
Intelligent Cruise Control Module (ICCM)
Information Center Module (ICM)
Injector Control Unit (ICU)
Interior Lighting Control Module (ILCM)
Instrument Panel Control Module (IPC)
Intelligent Power Distribution Module (IPDM)
Image Processing Module A (IPMA)
Lighting Control Module (LCM)
Left Power Sliding Door Module (LPSDM)
Liftgate / Trunk Module (LTM)
Message Center (MC)
Multifunction Steering Wheel (MFSW)
Multi-Information Display (MID)
Motor Pretensioner Module (MPM)
Navigation Controller (NAV)
Air Suspension (4WAS)
Air Conditioning (AC)
Cruise Control (CCM)
Steering Column Locking Module (SCLM)
4 Wheel Steering (WS4)
Next Generation Speed Control Module (NGSC)
Battery Control Module (OBD_BCM)
Fuel Injection Control Module (OBD_FICM)
Occupant Classification System Module (OCS)
Overhead Trip Computer (OTC)
Parking Aid Module (PAM)
Park Brake Control Module (PBM)
Passenger Climate-Control Seat Module (PCSM)
Passenger Climate-Control Seat Module 2 (rear) (PCSM2)
Passengers Door Control Unit (PDM)
Power Running Board (PRB)
Power Steering Control Module (PSCM)
Passenger Front Seat Module (PSM)
Rear Body Control Module (R_BCM)
Rear Audio Control Module (RACM)
Remote Anti-Theft / Personality Module (RAP)
Rear Air Suspension Module (RASM)
Rear Air Temperature Control (RATC)
Restraint Control Module (RCM)
Audio Rear Control Unit (RCU)
Rear Electronic Module (REM)
Remote Emergency Satellite Cellular Unit Module (RESCU)
Rear Seat Entertainment Module (RETM)
Remote Function Actuator (RFA)
Rear Gate/Trunk Module (RGTM)
Retractable Hard Top (RHT)
Rear Heating Ventilation Air Conditioning (RHVAC)
Remote Keyless Entry (RKE)
Rear Lighting Control Module A (RLCMA)
Rear Left Door Control Unit (DRDM)
Right Power Sliding Door Module (RPSDM)
Rear Right Door Control Unit (PRDM)
Tire Pressure Monitor (RTM)
Rear Vehicle Monitoring (RVM)
Steering Angle Sensor Module (SASM)
Smart Brake Support/Mazda Radar Cruise Control (SBS/MRCC)
Steering Column Control Module (SCCM)
Steering Column/Instrument Panel/Lighting (SCIL)
Seat Control Module E (SCME)
Seat Control Module G (SCMG)
Seat Control Module H (SCMH)
Selective Catalytic Reduction (SCR)
Satellite Digital Audio Receiver System (SDARS)
Steering Effort Control Module (SECM)
Secondary OBD Control Module A (SOBDM)
Secondary OBD Control Module C (SOBDMC)
Side Obstacle Detection Control Module – Left (SODL)
Side Obstacle Detection Control Module – Right (SODR)
Speech Recognition Module (SRM)
Supplemental Restraint System (SRS)
Smart Start Unit (SSU)
Trailer Brake Control Module (TBC)
Energy Management Module (EMM)
Tracking and Blocking Module (TBM)
Transfer Case Control Module (TCCM)
Telematic Control Unit Module (TCU)
Tire Pressure Monitor (TPM)
Transmission Range Control Module (TRCM)
Trailer Module (TRM)
Variable Assist Power Steering (VAPS)
Vehicle Emergency Messaging System (VEMS)
Virtual Image Cluster (VIC)
Vehicle Security Module (VSM)
FORScan Support Protocols and Bus:
FORD HS CAN
FORD MS CAN (only for J2534-2, CANtieCAR, OBDLink MX, ELS27 or modified ELM327)
FORD SCP
FORD 9141
FORD UBP (only for Ford VCMII)
FORScan Installation Requirements:
Windows 2000/XP/Vista/7/8/8.1/10 (COM, USB, Bluetooth and WiFi adapters)
iOS v6.0 and higher (WiFi adapters)
Android v4.0 and higher (Bluetooth and WiFi adapters)
FORScan Free Download:
FORScan Viewer for iOS – free, please use it to check compatibility before purchasing FORScan Lite for iOS
FORScan Demo for Android – free, please use it to check compatibility before purchasing FORScan Lite for Android
FORScan version 2.3.18 beta for Windows – free
FORScan Download Paid:
FORScan Lite 1.4.4 for iOS (Core 2.3.18) – Paid