This article show a guide on how to retrofit Ford F150 Overhead Console Intrusion Sensor,then use FORScan to reprogramming it.
For this and any other modifications requiring work on your trucks electrical system, disable the Battery before starting any work to the vehicle.
Your vehicle must be equipped with Ford's Perimeter Alarm system currently for the intrusion sensors to work.
Disclaimer: You are doing this installation at your own risk – BGG, myself, as well as any other contributor to this guide will not be responsible for any damages that may occur to your vehicle while attempting this modification. We strongly advise obtaining a service manual; it will prove to be a useful tool for information regarding your particular truck.
Parts Required:
• Overhead console with Intrusion Sensors (Part # varies according to your options, trim color, etc.)
• For connector C2280C – Pigtail Kit # DU2Z-14474-DA or if you prefer to make your own connections, Molex MX-150 Part #: 3044983
• For connector C2280E – Pigtail Kit # DU2Z-14474-AA or if you prefer to make your own connections, TE Connectivity terminals Part #: 1924955-3
• TE Connectivity connector Part #: 1241634-1, (Sensor connector plug) One connector needed
• TE Connectivity Terminal Part # TE-928999-1 (Female Terminals for above listed connector) Three terminals needed
• 22 ga. Wire
Intrusion Sensor Part numbers – There have been some members attempt this mod only to find they cannot clear the DTCs to complete configuration of the sensors. These sensor part #'s may prove helpful in getting the correct sensor for your particular vehicle.
For vehicles manufactured 10/20/2014 to 8/01/2015 – use part # FL3Z-15K609-A
For vehicles manufactured 8/01/2015 to 10/09/2016 – use part# FL3Z-15K609-B
*NOTE: Several of the major parts sites list the "B" sensor as a replacement for the "A" version*
For vehicles manufactured 10/10/2016 to 7/17/2017 – use part# HC3Z-15K609-A
For vehicles manufactured 7/17/2017 and after – use part# HC3Z-15K609-B
*2016BoostedGreyGoose has purchased the required parts to build ready-to-install harnesses for anyone that would rather not build their own. As you know from his Raptor Wheel harnesses, his work is top notch.
Also, from time to time he may even have consoles available to go with his harnesses….again this is for the ones that would prefer not to have to source parts to make their own.
BCM Wiring Locations: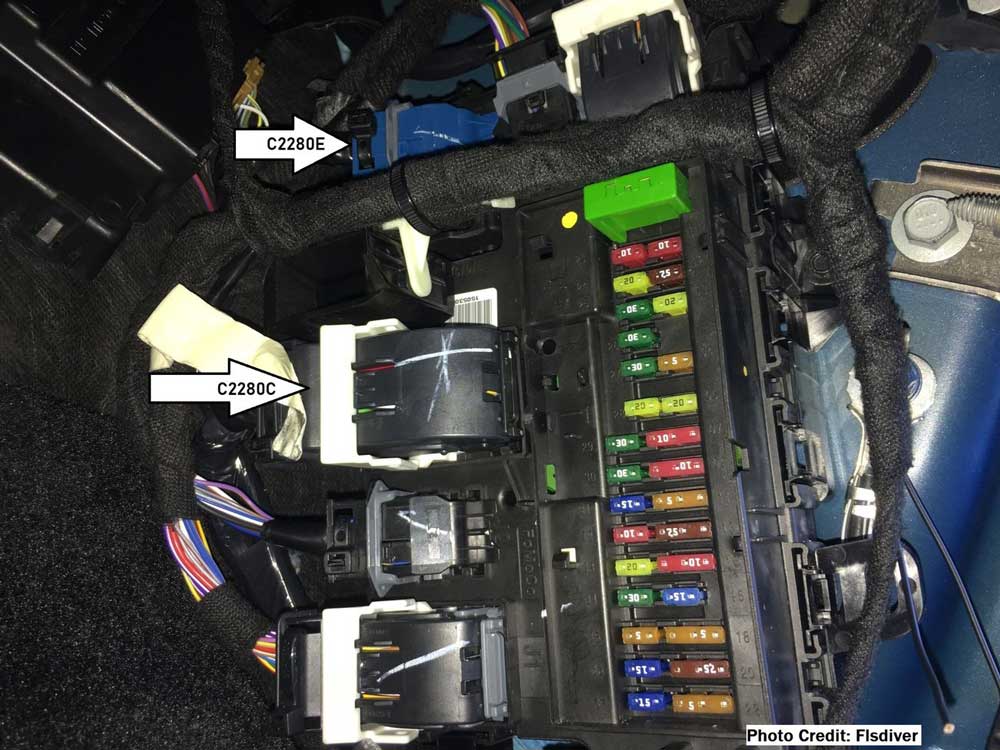 C2280C – You will need to add a terminal to pin # 15 (Fuse # 11), which will be the power wire for the sensor connector in location # 1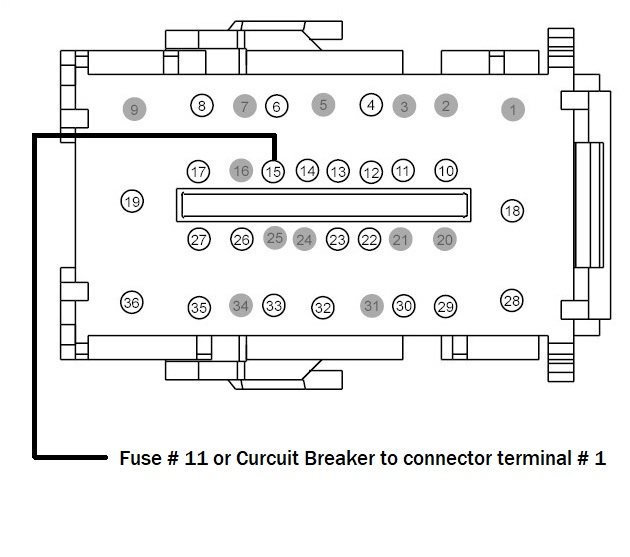 C2280E – you will need to add a terminal to pin # 36 (LINbus # BCM # 3), this will go to the sensor connector location # 2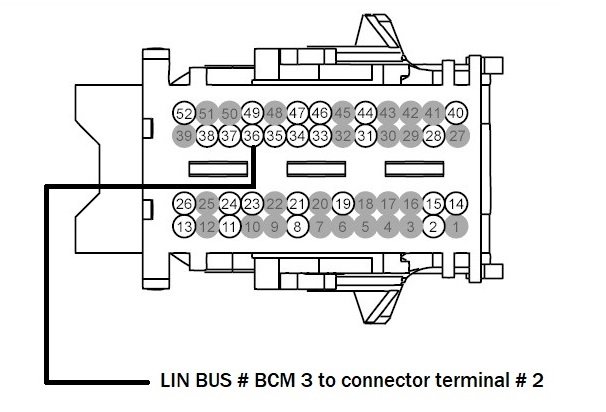 Ground Wire: sensor connector location # 3 is run to a ground location within the truck; I chose a frame bolt near the BCM for this connection.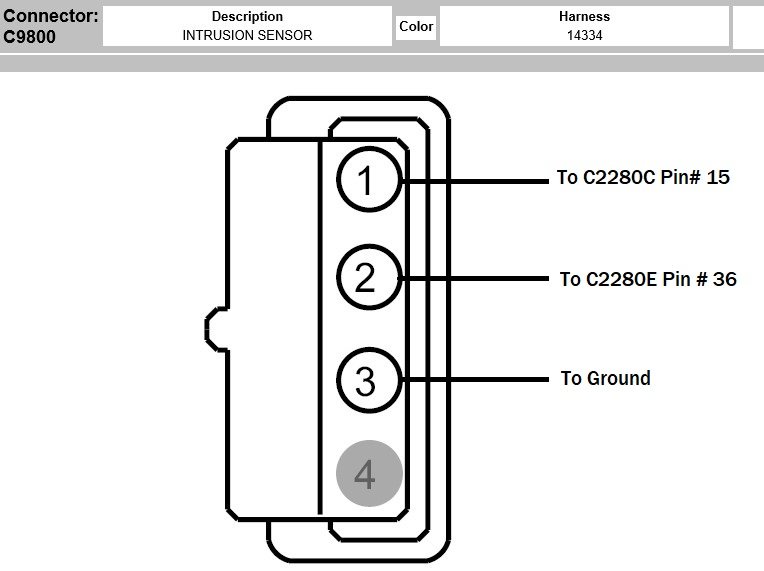 I chose to run the wires up the A-pillar behind the side airbag, then straight over to the overhead console.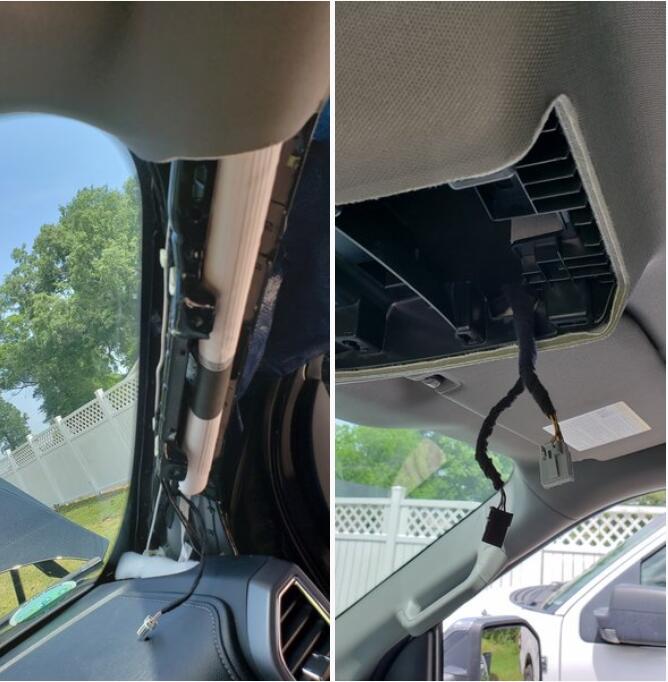 FORScan Changes:
• IPC
720-02-02-5xxx-xx
• BCM
726-02-01-xxxx-x1xx-xxxx
726-34-01-x1xx-xxxx-xxxx
726-39-02-x1xx-xxxx-xxxx
Some contents you may need when you perform FORScan:
FORScan Android/iOS/Window Free Download
How to Install & Configure FORScan for OHP ELMconfig
How to Use FORScan to Backup Module Data File
OBDLink MX Bluetooth or OHP Ford ELMconfig USB
After making the necessary FORScan changes, under the wrench icon run BdyCM Local Interconnect Network New Module Calibration. After successful completion of this, follow up by going to the clipboard icon and running the BdyCM On Demand Self Test. Clear the Diagnostic Trouble Codes (DTCs) and then retrieve the DTCs from the BdyCM to confirm all DTCs have been cleared.
If you have any DTCs in the Body Control Module the LINbus configuration will not complete successfully.
Visited 1 times, 1 visit(s) today