This instruction show you guide on how to perform drag torque test for Bendix EC-60 EC80 by JPRO Diagostics.
Related Contents:
JPRO Noregon Commercial Fleet Diagnostics 2023 2021 Free Download
The Drag Torque Test is available on:
✓ Bendix EC-60 Premium or Advanced braking systems
✓ Bendix EC-80 ATC or ESP braking systems
This test raises and lowers torque limits and tests how the engine responds.
Procedures:
Select the Drag Torque Test and press Enter or the Start button.
The test dialog will be displayed.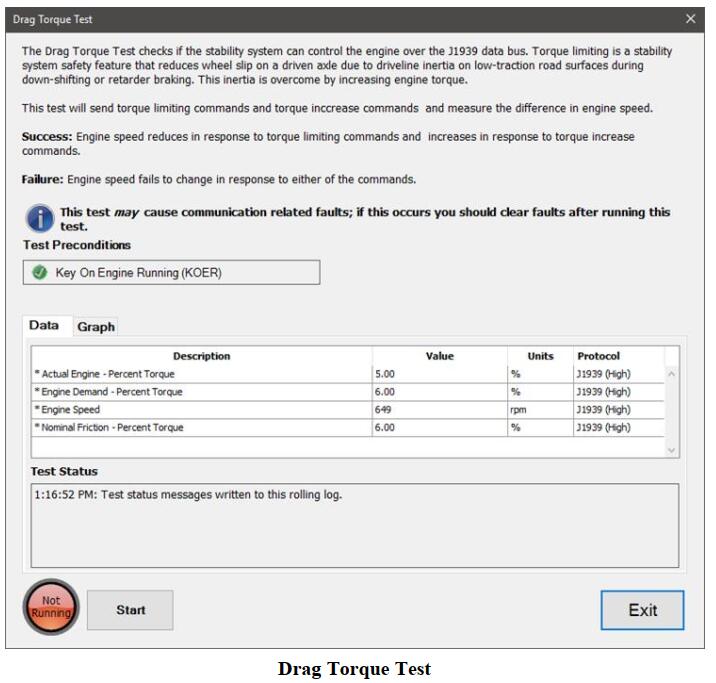 Select the Start button to initiate the test. Test Status will display the commands as they are sent to the engine.
A difference in engine speed and torque values can be observed as well as a change in engine sound. Click the
Graph tab at any time to view a graph of the monitored data values.JPRO DLA+ 2.0
4. Select the Stop button to stop the test at any point. The test will automatically stop after it has performed an
increase and decrease cycle twice. The braking system will reset when the test ends which can be observed by
audible clicking from the brake modulator valves.
5. When done, press the Exit button to return to the test selection dialog.
More topics about JPRO Diagnostic,please refer to:JPRO Diagnostics Guide
Visited 14 times, 1 visit(s) today