This article show a wiTech MicroPod 2 v17.04.27 free download link,it can work perfect on wiTech MicroPod 2 Clone.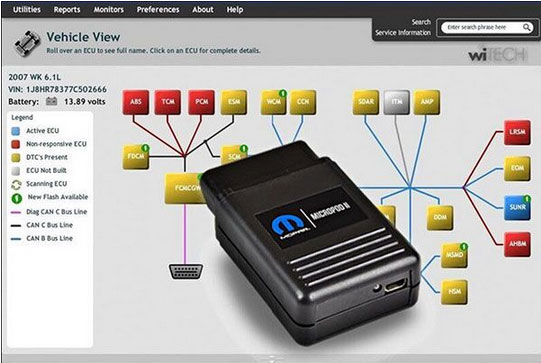 What is wiTech MicroPod 2?
wiTech MicroPod2 is a vehicle diagnostic software that diagnosing and programming for Chrysler, Dodge, Jeep, and Fiat (North America).
wiTech MicroPod 2 Support Languages:
English, French, Spanish, German, Italian, Russian, Japanese, Korean and Chinese
wiTech MicroPod 2 Vehicle List:
Although small in stature, this dongle-style device offers 100% CAN – equipped coverage to 2016 for Chrysler, Dodge, Jeep, and Fiat vehicle platforms
wiTech MicroPod 2 Free Download:
https://mega.nz/#!Nm5QRQYR!fVPAE7SNtYa2iE5eqQaZ1zyW7A1nh94-vPGpK1Iu3lg
Application Version: 17.04.27
Release Date: 5/2017
wiTECH VCI POD OS Version: 4.6.1
wiTECH MicroPOD II OS Version: 2.4.1
Note:Do not connect to network when you use the device.
How to install WiTech MicroPod 2 software 17.04.27 on Windows 7?
Step 1: install AdobeAIRInstaller.exe
Step 2: install jre-6u45-windows-i586.exe
Step 3: install wiTECH_Install_17.04.27.exe
Step 4: restart the computer
Pay attention:
The computer date must be set to that day. (The day you install WiTech MicroPod 2 17.04.27)
The computer must be connected to the Internet.
Connect the MicroPod 2 to computer to open the software.
When it pop up registration tips, turn off the software and turn it on  repeatedly then you can use it.
(Visited 879 times, 1 visits today)