What is Allison DOC?
Allison DOC is the dealer level software for connecting, communicating, and troubleshooting Allison Transmissions. Allison typically comes out with a new version once per year, and as of the date of this posting, they have officially released Allison DOC v13. To use this software, you must have both a laptop/computer and a communication device such as a DG Tech DPA5 or Nexiq USB Link, although any device that does J1939/J1708 will function properly. The Allison DOC software will read all the codes, has built-in troubleshooting, and can perform bi-directional functional tests such as resetting the adaptive shift.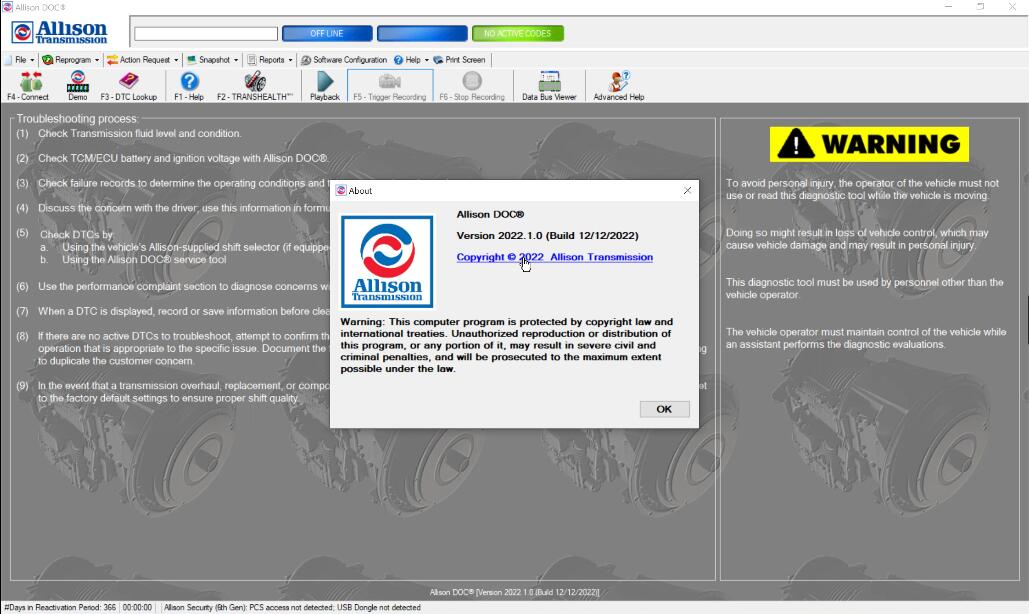 Allison DOC Features:
1.Security measures to control reprogramming TCM/ECU parameters
2.Integrated Help with training videos
3.Diagnostic Trouble Code information with a direct link to Troubleshooting Manuals for CEC 2, 41000/2000 Product Families, 3000/4000 Product Families, CEC3 Product Families, and TC10 Product Families.
4.A demo mode using prerecorded data
5.SmartConnect for detecting the PC-to-vehicle translation device and communication link
6.Communication troubleshooting wizard for those cases where the tool is unable to connect to a control module
7.Allison DOC For PC—Service Tool is compliant with applicable TMC Recommended Practices, SAE Standards, and CE Standards
8.Allison DOC For PC—Service Tool is RP1210A compliant
Allison DOC Function List:
1.Monitors 3000/4000 Product Families Transmission Control Module (TCM) data
2.Monitors 1000/2000 Product Families Transmission Control Module (TCM) data
3.Monitors CEC2 and CEC3 (Off-Highway) data
4.Monitors TC10 data
5.Monitors CEC (ATEC) Electronic Control Units (ECU) data using a proprietary protocol and the 6Noregon Wireless/USB Translator – All Allison Products device and Nexiq USB-Link
7.Displays multiple transmission parameters
8.Displays a graphical instrument panel with analog and digital gauges
9.Displays a graphical strip chart
10.Records and plays back diagnostic sessions
11.Prints diagnostic reports
12.Reprograms selected TCM parameters (requires completion of Allison Transmission training)
Allison DOC Support Language List:
It supports English, French (Canada), French (France), German, Italian, Japanese, Korean, Polish, Portuguese, Russian, Simplified Chinese, Spanish, and Thai.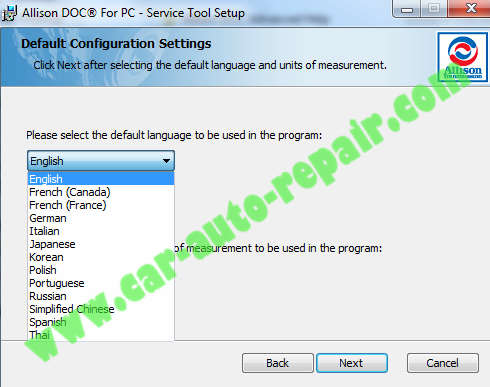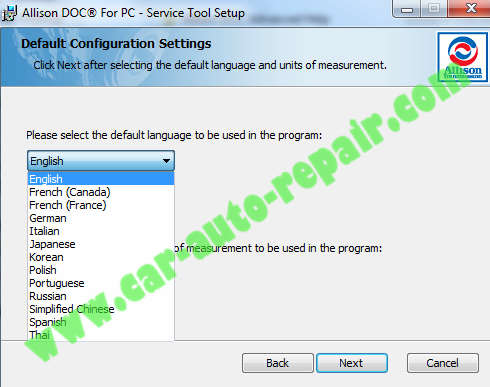 What is New in Allison DOC V14?
The Universal Allison DOC V14.0.0 has these exciting new features:
Adds support for 1/2/3/4000 5th Gen Controller and TC10 MY16 (B/C/D 161) changes
Adds support for Off-Highway CEC5 5th Gen Controller
Adds support for Windows 10 Operating System
Operating System and PC Requirements:
Microsoft Windows 7, Windows 8, Windows 10
20 GB Hard Drive (40 GB or greater recommended)
3 GB free hard drive space required to install the program (after software installation, the operating system requires sufficient free hard disk space to run the program)
Operating System
Recommended CPU
Recommended RAM
Windows 7
2.0 GHz or Faster
4 GB or Greater
Windows 8
2.0 GHz or Faster
4 GB or Greater
Windows 10
2.0 GHz or Faster
4 GB or Greater
Monitor capable of supporting a resolution of 1280×768 or higher recommended
DVD-ROM or USB port depending on installation media
Full administrative privileges are required to install, use, and update the Allison DOC For PC–Service Tool
Internet broadband connection capability (Internet Explorer 8 or greater) for activation/reactivation, receiving updates and file downloads
Network card
2022 Allison DOC Transmission+GEN5 Diagnostic Software Installation Service (Tested 100% work)
Allison DOC 2019 Free Download:
https://mega.nz/folder/DWpSGIgL#Z1IUvKSqUgwh2vbZpcU3Xw
Allison DOC 2014 Free Download:
Download Link 1:
https://mega.nz/#F!5hBBEIAJ!_WRJj1_10eAPnsFC-XJL5w
Download Link 2:
https://allison.noregon.com/downloadsite14/
(Visited 73 times, 1 visits today)