Here's an EDIABAS.ini Configurator. Many have this already installed in their ediabas directory but some ediabas versions did not include this. And also many may not even know what this does.
This is a really good tool to use when switching interfaces when using INPA/WinKFP/NCSExpert/etc to E-SYS for example.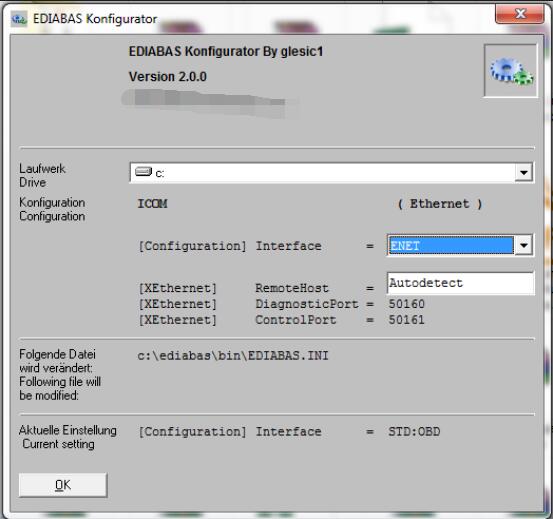 How to Install Ediabas Konfigurator
Step 1:
Download and extract folder to your ediabas root directory (c:\ediabas) so address should look like this once done… C:\ediabas\Ediabas-Konfigurator
Step 2:
Create a shortcut to your desktop or somewhere accessible instead of navigating into the directory each time.
Step 3:
Run Ediabas-Konfigurator.exe and select the interface you would like to use in the Interface drop down menu for example I used ENET
Step 4:
Click "Ändern" which translates to "Change"
Step 5:
You will receive another popup showing "Das Interface wurde auf "ENET" geandert" which translates to "the interface has been changed to ENET" if you get this message your ediabas.ini has successfully been changed.
Ediabas Konfigurator 2.0.0 exe:
https://mega.nz/#F!Kc4V2CpI!O9lDFV17Gqo2uDSLXV3gvA?WdZFgCQA
(Visited 1,723 times, 2 visits today)