Replaced version of the truck control unit (FZS)Description
ln view of the further development and implementation of the legal regulations (directive2006/42/EC), the truck control unit with software version 1.98/hardware version 1.7 (version without seat switch, spare part order number:8433056/50183601300) will no longer be able to be supplied as of quarter 2 in 2012.
Related Contents:
2022 STILL STEDS Forklift 8.21 8.18 EPC & Diagnostics Free Download
Measure:
lf a truck control unit has to be replaced during servicing, you will be supplied with control units featuring software version 2.06/hardware version1.9 or higher.The truck control unit hardware is designed so that it is backwards-compatible with the previous software versions.
Truck control unit(SW 2.06/HW 1.9)Order number: 51813601300
Please see below for a list of the repair options and the corresponding steps for trucks with the specified manufacturing years.
Trucks manufactured up to 12/2009(without seat switch)
Option 1:
Retain the original truck design
– lf it is still possible to communicate with the faulty control unit, export and save the parameters and options using DiaMon (ParaDigFMx)- Disconnect the truck power supply, install anew control unit and restore the power supply- Establish communication with the new control
unit and use WinFlash to install software SR1.98/UE1.02
– import saved parameters and options. lf
the parameters and options are no longer
available, please use the standard parameters and adjust manually according to customer requirements. Afterwards, carry out the teach-in procedures
Option 2:
Upgrade trucks to the status of those manufactured in 2010(equipped with a seats witch)
– Disconnect the truck from the power supply
– install the seat switch with wiring harness retroactively
The truck must be connected electrically in accordance with the circuit diagram excerpt in Figure Please use the following spare parts for the conversion:


– install new control unit (8U60)- Restore the power supply
-import parameters and options
– Update the FPS 3 software to software version SR3.80
– Carry out the teach-in procedures
Trucks manufactured from 01/2010
(equipped with seat switch)
if control unit 8U60 must be replaced when trucks manufactured during this time frame are being serviced, the truck hardware and software do not have to be changed.
Control unit 8U60 must be replaced according to the following procedure:
– if it is still possible to communicate with the
faulty control unit, export and save the parameters and options using DiaMon(ParaDigFMx)- Disconnect the truck power supply, install a
new control unit and restore the power supply
– import saved parameters and options. lf the parameters and options are no longer available, please use the standard parameters and adjust manually according to customer requirements. Afterwards, carry out the teach-in procedures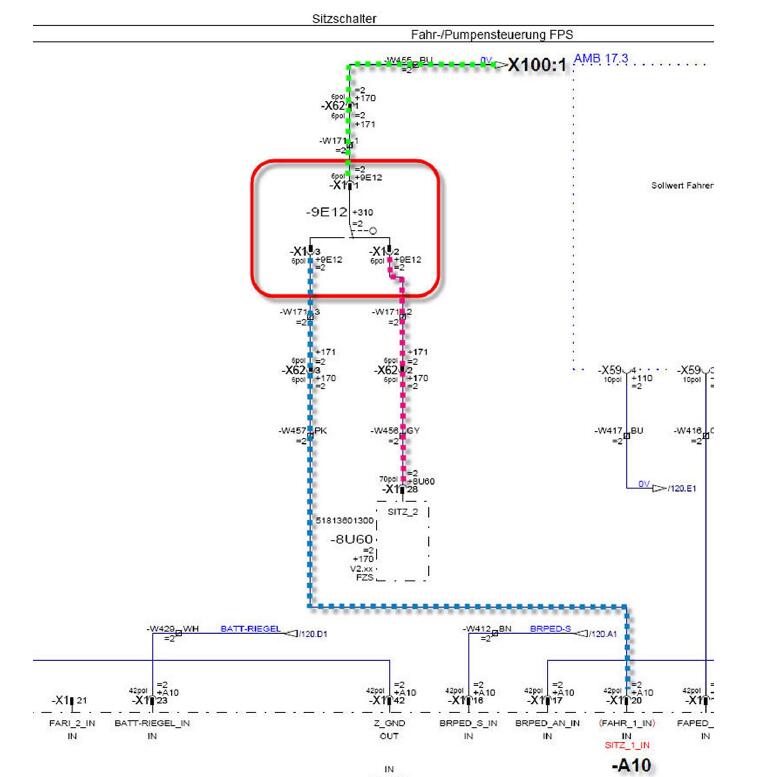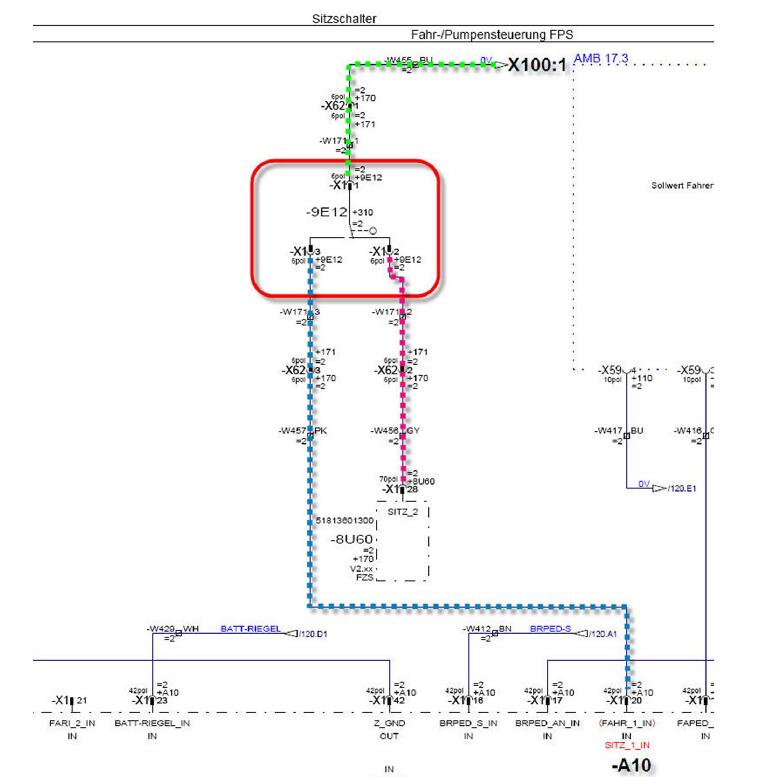 Connection diagram for the retroactive installation of
-8U6O Truck control unit the seat switch
-9E12Driver's seat unit with seat switch
-A10FPS control unit
-X100:1 Main current negative terminal
Visited 14 times, 1 visit(s) today