An error of "Headlamp not coded/programmed" will be generated after replacing the headlamp functional module on Mercedes-Benz E-serial models. It is necessary to perform the headlamp coding at this time. Otherwise,the headlamp can only provide the lighting function and won't be able to adjust the low beam and high beam.Here comes the easy guide on how to coding headlight for Mercedes Benz E-series(Chassis 212,207).And watch the video guide at end of article to get more detail.Let's make a deep breathe…and here we go
Here are some articles about headlight,maybe you also like:
BMW X5 3.0Si Self-adaptive Headlights Repair
How to restore headlight by yourself
What device you need for coding headlight on Benz E-series?
There are many device you can choice to do this function,and here I take the X431 device as example.
NOTES:
1. If still unable to work normally after the coding completed, turn ignition off, then on again in about 1 minute, and try to switch between the high beam and low beam again. It will work.
2. If only one side headlamp has been replaced, the other side works normally, first enter the normal headlamp system to read and record all codes. Then enter the abnormal headlamp system to code. Set the code same as that in normal side system.
3. If the code is set incorrectly by accident, select the correct code and reset. The code can be changed repeatedly under this function.
Procedures of Benz E-series headlight coding guide:
Connect X431 device to vehicle,and enter menu to select MERCEDES-Benz V48.20.
Note:This program diagnose Mercedes electronic control systems,including:Power,Chassis,Body,Info,Seat & Door,AC/etc.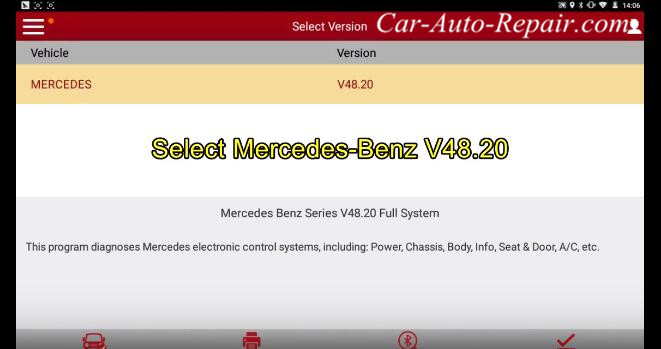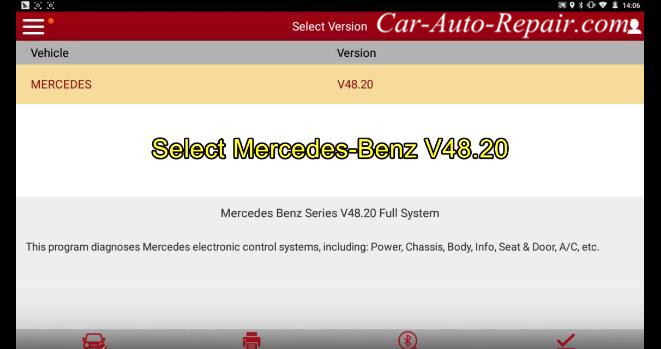 Select "Manually Select"
Select "2112-E Class"
Screen show that"Now is reading mileage from ECU,Please wait…"
Select "Sedan"
Select "Gasoline Engine"
Select "Left Hand steering"
Select "Chassis 212.056–E 350"
Select "Select "Control Units"
Select "Body"
Select "XALWA-L-Left Xenon Headlamp(E1n1)"
Scanning CAN system,please wait…
Select function of "Variant Coding
Select "Vehicle data record-General"
The above items will be listed
Select each menu in sequence to proceed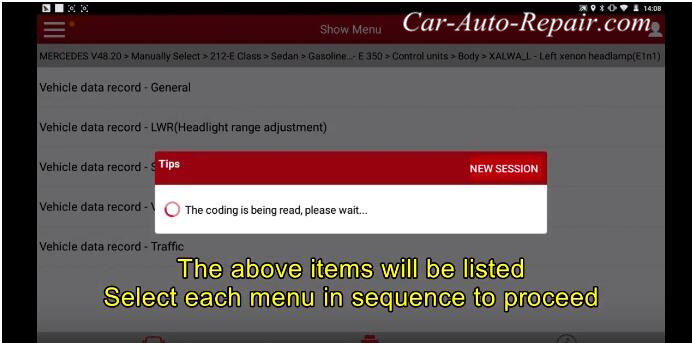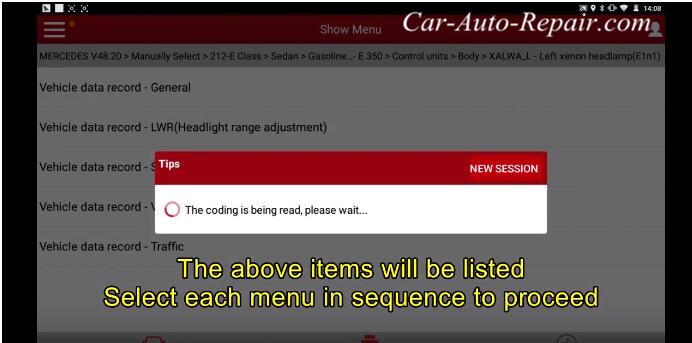 Select "Vehicle data record-General"
Select "BiXenon"
Select "Write Coding" button
Click "No",no operation will be performed
Clcik "Yes",it performs "write code" and displays "turn ignition off"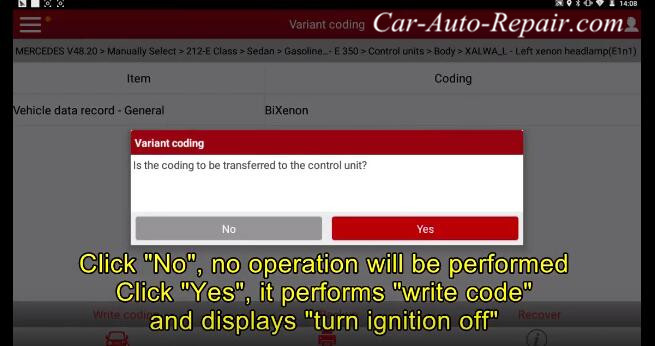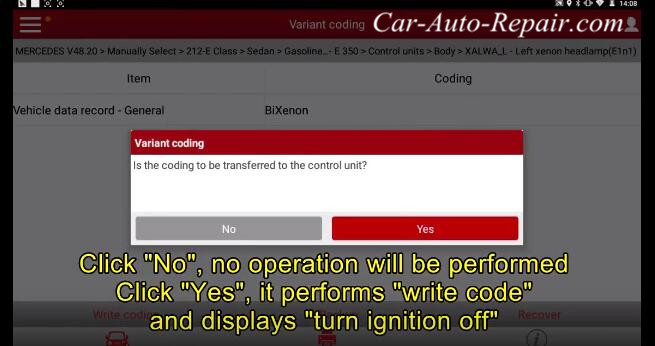 After turnning ignition off,click OK,then it shows "turn ignition on"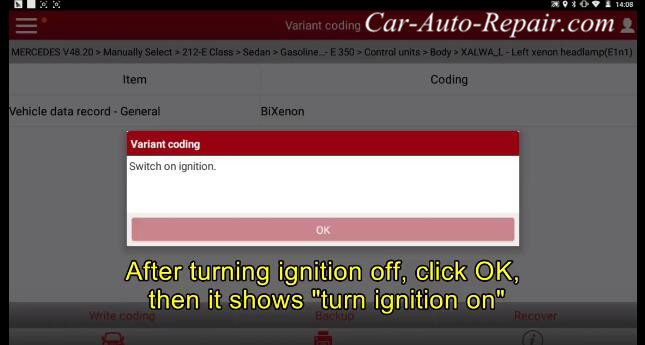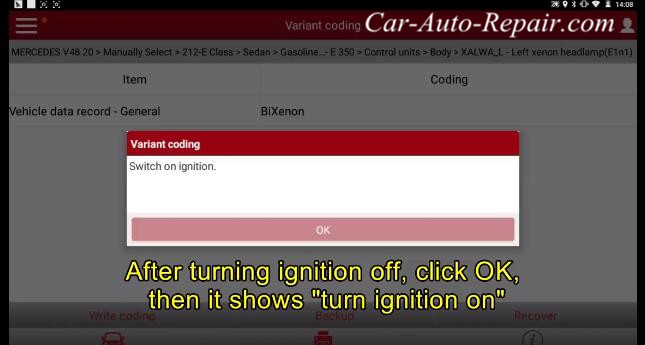 The coding has been performed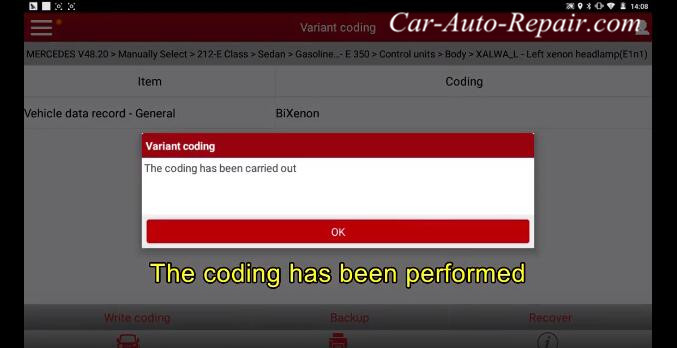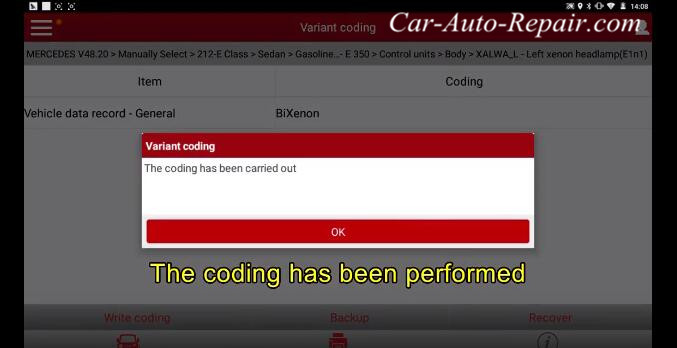 Done!
Video guide on Mercedes Benz E-series(212,207) 2010 Headlight Coding
(Visited 131 times, 1 visits today)