The headlight plays a important role when we driving at night.Our driving safety depends on the stability of headlight working state.In this article you get skill about how to restore headlight by yourself.
Tool You Need:
1.Sandpaper with values:P400,P600,P2000.
2.Spray bottle
3.Isopropyl rubbing alcohot
4.Gloss clear(non-yellowing uv resistant)
5.tape,scissor,a piece of blace plastic cloth,normal paper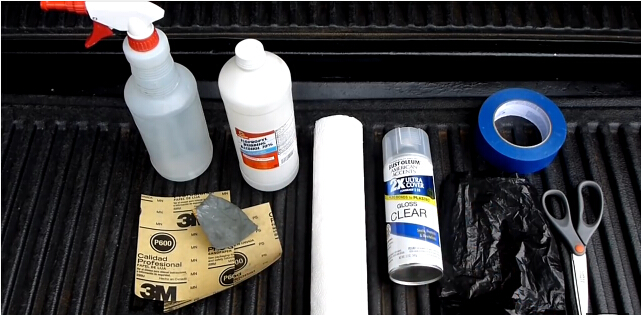 Step 1: We need to tap up the area all around the headlight.And make sure to tape up any and all paint surrounding the headlight.And then use water bottle to spray water on headlight while you use sandpaper sanding the headlight. It will take you a lot time to do it,pls be patient.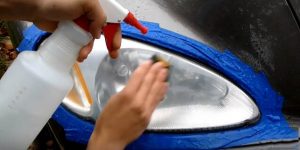 Note:First use P400 sandpaper,then use P600,finally use 1000.Sand in one direction. This makes it easier for you to check and see that your lines are consistent and that you have sanded the headlight evenly. It also helps to see anything you might have missed.Make sure to sand all the edges and all the corners. Do this for both headlights, making sure not to reuse the sandpaper from the opposite headlight. 1-1/4 piece of sandpaper per headlight.
Step 2: Wipe the headlight with paper sticky isopropyl.Cover the headlight with the black plastic cloth and tape it.After it dry use scissor cut out the headlight,tape the black plastic cloth around of headlight.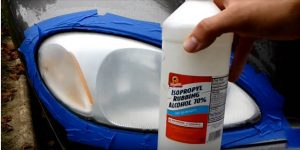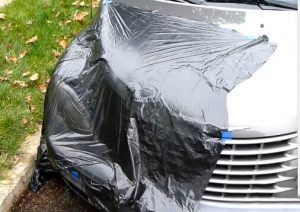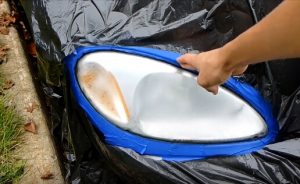 Step 3:Spray Gloss clear on the headlight,and spray after several minutes again.
Watch Video to Get More detail:
(Visited 8 times, 1 visits today)