What is Jungheinrich JETI ET?
Jungheinrich Jeti ET is a special electrical spare parts catalogue for Jungheinrich Forklifts,contains The Complete Spare Parts Catalog.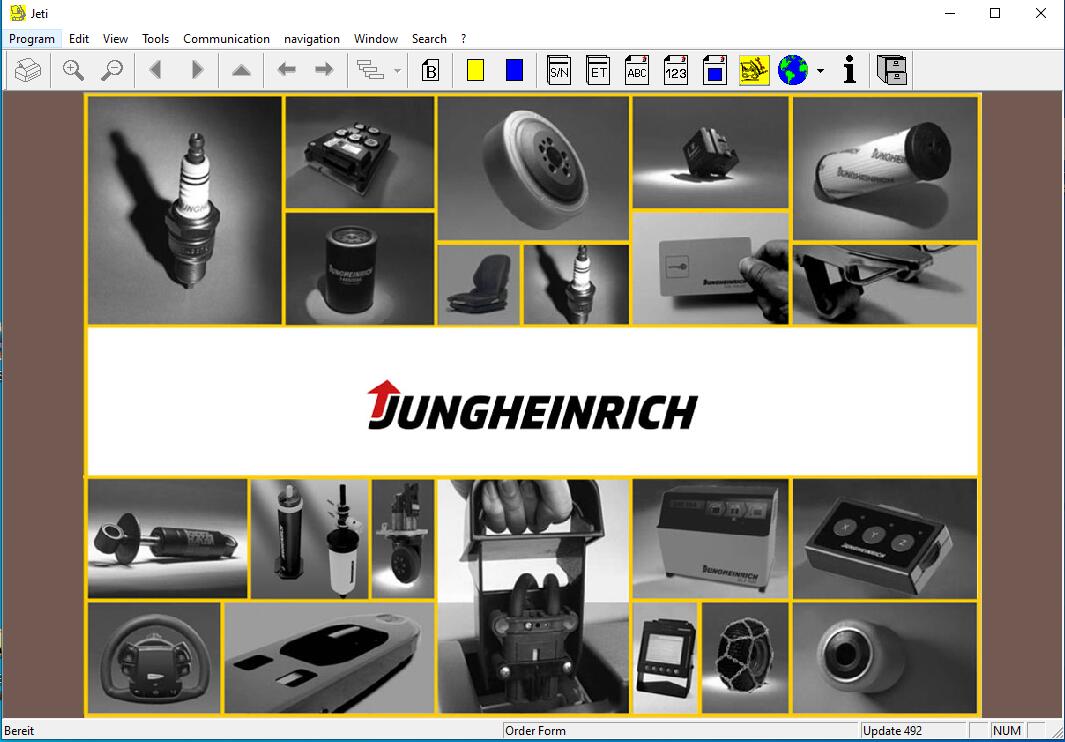 Jungheinrich JETI ET Support OS:
Window 7,Window 8,Window 10 and Windows 11
Related Contents:
Jungheinrich JETI ForkLift Judit-4 v4.37 4.34 2022 Free Download
Jungheinrich Forklift JETI SH v4.36 v4.34 Service Free Download
Jungheinrich JETI ET Support Languages:
Languages: English, Hungarian, Dutch, Danish, Spanish, Italian, German, Dutch, Norwegian, Polish, Russian, French, Czech, Swedish.
Jungheinrich JETI ET Cover system:
Trading unit
Technical equipment
Starter sets
Forks
Battery accessories
Tools
Shock sensor, Kit
Battery configurator
Miscellaneous
Attachments Part No.
Attachments Serial No.
Accessory-hose, hydraulic
Jungheinrich JETI ET Support Models:
Jungheinrich Forklift AM Spare Parts Catalog
Jungheinrich Forklift AME Spare Parts Catalog
Jungheinrich Forklift Ameise Spare Parts Catalog
Jungheinrich Forklift Attachments Spare Parts Catalog
Jungheinrich Forklift Automatikanl. (ASRS) Spare Parts Catalog
Jungheinrich Forklift Batterien Spare Parts Catalog
Jungheinrich Forklift ECC Spare Parts Catalog
Jungheinrich Forklift ECD Spare Parts Catalog
Jungheinrich Forklift ECP Spare Parts Catalog
Jungheinrich Forklift ED Spare Parts Catalog
Jungheinrich Forklift EFG Spare Parts Catalog
Jungheinrich Forklift EFX Spare Parts Catalog
Jungheinrich Forklift EJB Spare Parts Catalog
Jungheinrich Forklift EJD EMD Spare Parts Catalog
Jungheinrich Forklift EJE KMS Spare Parts Catalog
Jungheinrich Forklift EJG Spare Parts Catalog
Jungheinrich Forklift EJR Spare Parts Catalog
Jungheinrich Forklift EJZ Spare Parts Catalog
Jungheinrich Forklift EKD Spare Parts Catalog
Jungheinrich Forklift EKE Spare Parts Catalog
Jungheinrich Forklift EKM Spare Parts Catalog
Jungheinrich Forklift EKS Spare Parts Catalog
Jungheinrich Forklift ELE Spare Parts Catalog
Jungheinrich Forklift ELS Spare Parts Catalog
Jungheinrich Forklift EMC EMB Spare Parts Catalog
Jungheinrich Forklift EME Spare Parts Catalog
Jungheinrich Forklift ERC Spare Parts Catalog
Jungheinrich Forklift ERD Spare Parts Catalog
Jungheinrich Forklift ERE Spare Parts Catalog
Jungheinrich Forklift ERV Spare Parts Catalog
Jungheinrich Forklift ES Spare Parts Catalog
Jungheinrich Forklift ESD Spare Parts Catalog
Jungheinrich Forklift ESE Spare Parts Catalog
Jungheinrich Forklift ESP Spare Parts Catalog
Jungheinrich Forklift ET- Spare Parts Catalog
Jungheinrich Forklift ETH Spare Parts Catalog
Jungheinrich Forklift ETR Spare Parts Catalog
Jungheinrich Forklift ETX Spare Parts Catalog
Jungheinrich Forklift EZS Spare Parts Catalog
Jungheinrich Forklift EZW Spare Parts Catalog
Jungheinrich Forklift FB Spare Parts Catalog
Jungheinrich Forklift FTS AGV Spare Parts Catalog
Jungheinrich Forklift GTE GTP Spare Parts Catalog
Jungheinrich Forklift HC Spare Parts Catalog
Jungheinrich Forklift Hubgerüste E-Stapler Spare Parts Catalog
Jungheinrich Forklift IPC Spare Parts Catalog
Jungheinrich Forklift JE Spare Parts Catalog
Jungheinrich Forklift KE Spare Parts Catalog
Jungheinrich Forklift KmS Spare Parts Catalog
Jungheinrich Forklift LE Spare Parts Catalog
Jungheinrich Forklift LRK PRK Spare Parts Catalog
Jungheinrich Forklift Ladegeraete Spare Parts Catalog
Jungheinrich Forklift MW- Spare Parts Catalog
Jungheinrich Forklift Mobiler Arbeitsplatz Spare Parts Catalog
Jungheinrich Forklift Multi Vendor Service Spare Parts Catalog
Jungheinrich Forklift OEM Spare Parts Catalog
Jungheinrich Forklift PE Spare Parts Catalog
Jungheinrich Forklift Regale Spare Parts Catalog
Jungheinrich Forklift SM Spare Parts Catalog
Jungheinrich Forklift SW Spare Parts Catalog
Jungheinrich Forklift TM Spare Parts Catalog
Jungheinrich Forklift Trolley Spare Parts Catalog
Jungheinrich Forklift UPC Spare Parts Catalog
Jungheinrich Forklift VFG Spare Parts Catalog
Jungheinrich Forklift VFG (FNxxxxxxx) Spare Parts Catalog
Jungheinrich Forklift VFG HG-A 1,6-2,0 to Spare Parts Catalog
Jungheinrich Forklift VFG HG-A 2,0-3,0 to Spare Parts Catalog
Jungheinrich Forklift VFG HG-C 3,5-5,0 to Spare Parts Catalog
Jungheinrich Forklift WA Spare Parts Catalog
Jungheinrich Forklift WD Spare Parts Catalog
Jungheinrich Forklift WJ Spare Parts Catalog
Jungheinrich Forklift WL Spare Parts Catalog
Jungheinrich Forklift WM Spare Parts Catalog
Jungheinrich Forklift WO Spare Parts Catalog
Jungheinrich Forklift WP Spare Parts Catalog
Jungheinrich Forklift WQ Spare Parts Catalog
Jungheinrich Forklift WR Spare Parts Catalog
Jungheinrich Forklift Zub. Arbeitskleidung Spare Parts Catalog
Jungheinrich Forklift Zub. Schilder Spare Parts Catalog
Jungheinrich Forklift Zub. Starter Sets Spare Parts Catalog
Jungheinrich Forklift Zub. Steckersysteme Spare Parts Catalog
Jungheinrich Forklift Zub.Batt.-behoer Spare Parts Catalog
Jungheinrich Forklift Zubehoer Spare Parts Catalog
Jungheinrich JETI ET Free Download:
Jungheinrich JETI ET 4.34 Free Download
https://mega.nz/file/yKpX2ZaJ#s3zT2J41ogO4OwJaXRjrMBcYaMqSGvskk2iF72zbg4s
Jungheinrich JETI ET 4.37 2023 492 Updated 100% Work
(Visited 341 times, 3 visits today)