The brake lines used are manufactured in accordance with DIN74234 and are only used with 4.75 mm outer diameter and 0.7 mm thickness.
Related Contents:
Jungheinrich JETI ForkLift Judit-4 v4.37 4.34 2023 Free Download
Jungheinrich JETI ET 4.37 4.34 EPC 2023 Free Download
2022 Jungheinrich Forklift JETI SH v4.36 v4.34 Service Free Download
Guidelines for Laying Brake Lines
Brake lines must be protected against external damage.2.Line bends of r ≤ 25 mm must not be used.To eliminate the danger of cross-sectional restrictions, line bends must be manufactured in a cold forming process with line bending pliers.
Line end pieces must not be used.These could create air pockets.
To avoid chafing caused by line clamps, all clamps must be coated with shrink-resistant material (rubber, plastic, leather etc.)
Preparation of Brake Line Connections
1.The line connections must form a conical connection ("F" flange) with spigot FS M 10 x 1 to DIN74 234.A flanging device is required to make a compliant flange.
2.Cut the brake line with a saw at right angles, remove any splints and chippings from the inside and outside.Apply water-free pressurised air to the line.
3.Insert blocks (1 ) for line  4.75 mm in the flanging device,45° side to the flange spindle (4). lInsert the brake line in theblock as far as the spacer pin (2).Fit the flange insert for line4.75 mm in the flange spindle (4) and create the flange.4.Before tightening the spigot (line nut) coat the outer flange surface with brake fluid.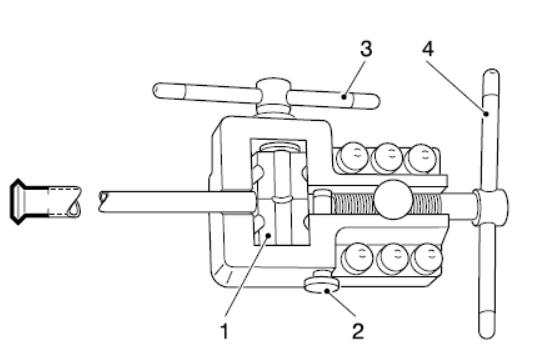 For more Jungheinrich trouble repair case,please refer to Jungheinrich Trouble Repair
Visited 1 times, 1 visit(s) today