In some repair situation you need to perform neutral zone adjustment,this post show you guide on how to adjust neutral zone for Jungheinrich ETM/V 10-12 forklift.
Related Contents:
Jungheinrich JETI ForkLift Judit-4 v4.37 4.34 2023 Free Download
Jungheinrich JETI ET 4.37 4.34 EPC 2023 Free Download
2022 Jungheinrich Forklift JETI SH v4.36 v4.34 Service Free Download
The adjustment to the neutra1 zone becomes mandatory when the fo1lowing repairs have been carried out on the motor :
a)After exchanging the commutator bearing plate
b)After displacing or mounting the brush bracket
c)when the armature has been renewed
d)when the field coils have been renewed
Adjustment procedure neutral zone
In order to get a better understanding of the procedure one can regard the motor as a transformer. Here the field performs the function of the primary winding and the armature that of the secondary winding.
A multimeter is connected to two next to each other positioned brushes having been set to mV or mA alternating current range. one of the two field connections(- F) is connected to a 2 V battery cell and with the second cable the plug pole is touched.This induces a voltage jump in the armature winding.
By adjusting the brush bracket the voltage is reduced to a minimum which indicates that the brushes are positioned in the neutral zone. This pertains to driving motors which operate in both directions.
Pump motors are adjusted accordingly only the brush bracket is set to one commutator segment opposite to the turning direction to the left as the pump motor always turns to the right. Furthermore the field coil connections of the brush bracket must be disconnected and bridged externa11y.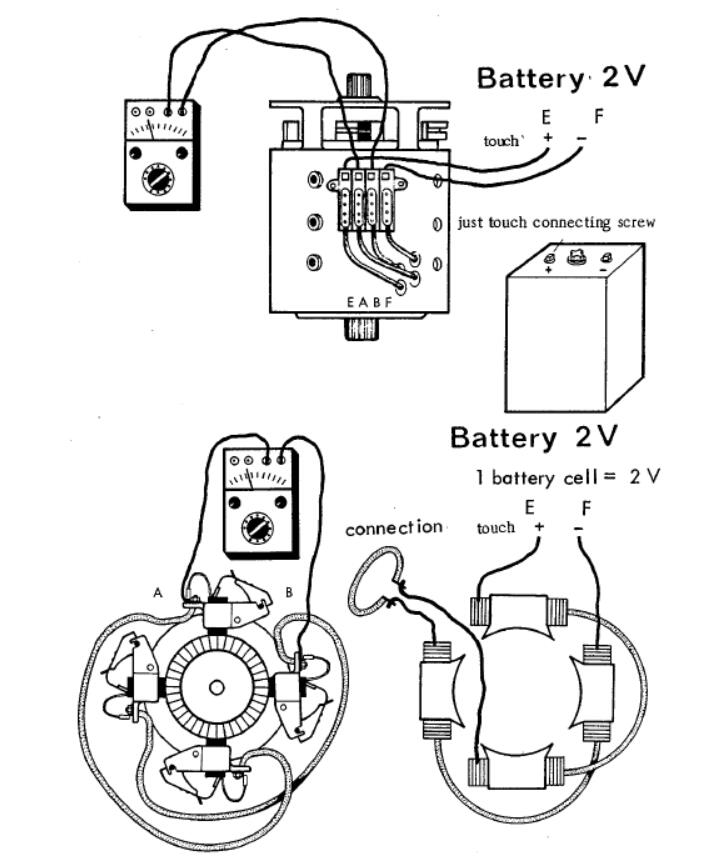 For more Jungheinrich trouble repair case,please refer to Jungheinrich Trouble Repair
Visited 3 times, 1 visit(s) today