What is Chrysler FCA5 EPC?
Chrysler FCA5 EPC original spare parts catalog (Snap-on EPC) for Chrysler FCA vehicles, Jeep, Dodge, Ram Trucks, Fiat USA, Plymouth, Eagle, SRT, that manufactured to all Markets worldwide from 1984-2023.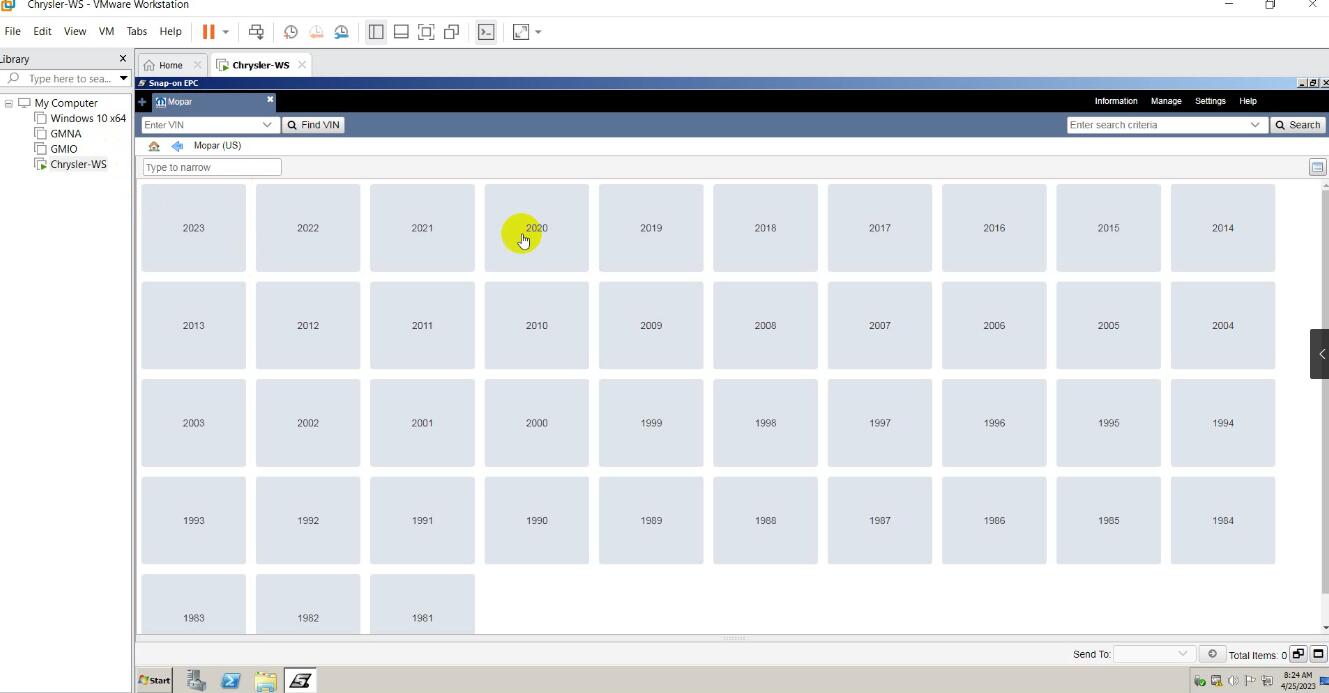 Chrysler FCA5 EPC Features:
Size: 81.6GB (Winrar files)
Type of software: Original electronic part catalog for Chrysler FCA vehicles
Database Languages: Deutsch, English, Espanol, Francais (Canada), Francais (France), Italiano, Portuges
Interface Languages: Multi Languages (BG, CS, DA, DE, EL, EN (US), EN_GB (UK), ES, ES_MX, FI, FR, FR_CA (CA), HR, HU, IT, JA, KO, NL, NO, PL, PT, PT_BR, RO, RU, SK, SL, SV, TH, TR, VI, ZH, ZH_TW)
Region: CKD, CANADA, EXPORT, MEXICO, US
OS: Windows 7, Window 8, Window 10 64bit (All windows can use Vmware Workstation 15.5)
Expired Year: 2035
Chrysler FCA5 EPC Functions:
• VIN decoding VIN filtering at the illustration and part level to improve
search accuracy.
• Advanced parts data content
• Parts price data always up to date.*
• User notes and OEM notes.*
One Search functionality
• A single search interface for the part name, part number,
and synonym searches.
• Additional EPC productivity benefits
• Type to Narrow search.
• Work on multiple jobs simultaneously.
• Easy-to-use illustrations.
• Quickly email illustrations and part lists.
SEARC
• Create customer estimates.
• Copy part number with mouse right-click.
• Migrate user notes.
• Manual filters.
• Parts lists.
• Reverse lookup.
Chrysler FCA5 EPC Support Systems:
Accessories
Front Suspension
Differential and Drive Line
Brakes
Cooling
Electrical
Engine
Restraints
Exhaust
Frame,Bumper and Fascia
Fuel
Rear Suspension
Steering
Transfer case and power transfer unit
Transmission
Wheels
Air Conditioners and Heaters
Emission Controls
Labels Glass
Doors,Door Mirrors and related Parts
Exterior ornamentation
Interior Trim
Body Sheet Metal except doors
Chrysler FCA5 EPC Free Download:
Chrysler FCA5 EPC 2018
https://mega.nz/file/3L5DwSQD#lfg54vO2tW_sGXVFcnWT6DClEDxWeX41H3l77-ZH41k
Chrysler FCA5 EPC 2023 is paid version:
Jeep Dodge Chrysler EPC 03.2023 Snap-on 100% Work Solution VMware Version
Chrysler FCA5 EPC Model List
2020
4C – ALFA 4C COUPE/CONV
BA – FIAT SPIDER (CONY)
BV – JEEP RENEGADE
DT – RAM 1500 PICKUP
GU – ALFA ROMEO STELVIO
JL – JEEP WRANGLER
JT – JEEP GLADIATOR
KL – JEEP CHEROKEE
RU – CHRYSLER PACIFICA/VOYAGER
VF – RAM PROMASTER
VM – RAM PROMASTER CITY
WD – DODGE DURANGO
WK – JEEP GRAND CHEROKEE
2019
4C – ALFA 4C COUPE/CONV
BA – FIAT SPIDER (CONY)
BG – FIAT 500L
BV – JEEP RENEGADE
D2 – RAM 3500 PICKUP
DD – RAM 3500 CAB CHASSIS
DF – RAM 3500 <10K LB. CAB CHASSIS
DJ – RAM 2500 PICKUP
DP – RAM 4500/5500 CAB CASSIS
DS – RAM 1500 PICKUP
DT – RAM 1500 PICKUP
FD – FIAT 500 X
FF – FIAT 500
GA – ALFA ROMEO GIULIA
GU – ALFA ROMEO STELVIO
JC – DODGE JOURNEY
JL – JEEP WRANGLER
KL – JEEP CHEROKEE
LA – DODGE CHALLENGER
LD – DODGE CHARGER
LX – CHRYSLER 300
MP – JEEP COMPASS
RT – CARAVAN/TOWN & COUNTRY
RU – CHRYSLER PACIFICA/VOYAGER
VF – RAM PROMASTER
VM – RAM PROMASTER CITY
WD – DODGE DURANGO
WK – JEEP GRAND CHEROKEE
2018
4C – ALFA 4C COUPE/CONV
BA – FIAT SPIDER (CONY)
BG – FIAT 500L
BU – JEEP RENEGADE
D2 – RAM 3500 PICKUP
DD – RAM 3500 CAB CHASSIS
DF – RAM 3500 <10K LB. CAB CHASSIS
DJ – RAM2500 PICKUP
DP – RAM 4500/5500 CAB CASSIS
DS – RAM 1500 PICKUP
FB – FIAT 500X
FF – FIAT 500
GA – ALFA GIULIA
GU – ALFA STELVIO
JC – DODGE JOURNEY
JK – JEEP WRANGLER
JL – JEEP WRANGLER
KL – JEEP CHEROKEE
LA – DODGE CHALLENGER
LD – DODGE CHARGER
LX – CHRYSLER 300
MP – JEEP COMPASS
RT – CARAVAN/TOWN & COUNTRY
RU – CHRYSLER PACIFICA/VOYAGER
VF – RAM PROMASTER
VM – RAM PROMASTER CITY
WD – DODGE DURANGO
WK – JEEP GRAND CHEROKEE
2017
4C – ALFA 4C COUPE/CONV
BA – FIAT SPIDER (CONY)
BF – FIAT 500L
BU – JEEP RENEGADE
D2 – RAM 3500 PICKUP
DD – RAM 3500 CAB CHASSIS
DF – RAM 3500 <10K LB. CAB CHASSIS
DJ – RAM 2500 PICKUP
DP – RAM 4500/5500 CAB CHASSIS
DS – RAM 1500 PICKUP
FB – FIAT 500X
FF – FIAT 500
GA – ALFA GIULIA
JC – DODGE JOURNEY
JK – JEEP WRANGLER
KL-JEEP CHEROKEE
LA – DODGE CHALLENGER
LD – DODGE CHARGER
LX – CHRYSLER 300
MK – JEEP COMPASS/PATRIOT
MP – JEEP COMPASS
RT – CARAVAN/TOWN & COUNTRY
RU – CHRYSLER PACIFICA/VOYAGER
UF – CHRYSLER 200
VF – RAM PROMASTER
VM – RAM PROMASTER CITY
WD – DODGE DURANGO
WK – JEEP GRAND CHEROKEE
ZD – DODGE VIPER
2016
4C – ALFA 4C COUPE/CONV
BF – FIAT 500L
BU – JEEP RENEGADE
D2 – RAM 3500 PICKUP
DD – RAM 3500 CAB CHASSIS
DF – RAM 3500 <10K LB. CAB CHASSIS
DJ – RAM 2500 PICKUP
DP – RAM 4500/5500 CAB CHASSIS
DS – RAM 1500 PICKUP
FB – FIAT 500X
FF – FIAT 500
JC – DODGE JOURNEY
JK – JEEP WRANGLER
KL-JEEP CHEROKEE
LA – DODGE CHALLENGER
LD – DODGE CHARGER
LX – CHRYSLER 300
MK – JEEP COMPASS/PATRIOT
PF – DODGE DART
RT – CARAVAN/TOWN & COUNTRY
UF – CHRYSLER 200
VF – RAM PROMASTER
VM – RAM PROMASTER CITY
WD – DODGE DURANGO
WK – JEEP GRAND CHEROKEE
ZD – DODGE VIPER
2015
4C – ALFA 4C COUPE/CONV
BF – FIAT 500L
BU – JEEP RENEGADE
D2 – RAM 3500 PICKUP
DD – RAM 3500 CAB CHASSIS
DJ – RAM 2500 PICKUP
DP – RAM 4500/5500 CAB CHASSIS
DS – RAM 1500 PICKUP
FF – FIAT 500
JC – DODGE JOURNEY
JK – JEEP WRANGLER
KL-JEEP CHEROKEE
LA – DODGE CHALLENGER
LD – DODGE CHARGER
LX – CHRYSLER 300
MK – JEEP COMPASS/PATRIOT
PF – DODGE DART
RT – CARAVAN/TOWN & COUNTRY
UF – CHRYSLER 200
VF – RAM PROMASTER
VM – RAM PROMASTER CITY
WD – DODGE DURANGO
WK – JEEP GRAND CHEROKEE
ZD – DODGE VIPER
2014
BF – FIAT 500L
D2 – RAM 3500 PICKUP
DD – RAM 3500 CAB CHASSIS
DJ – RAM 2500 PICKUP
DP – RAM 4500/5500 CAB CHASSIS
DS – RAM 1500 PICKUP
FF – FIAT 500
JC – DODGE JOURNEY
JK – JEEP WRANGLER
JS – AVENGER/200/FLAVIA
KL – JEEP CHEROKEE
LC – DODGE CHALLENGER
LD – DODGE CHARGER
LX – CHRYSLER 300
MK – JEEP COMPASS/PATRIOT
PF – DODGE DART
RT – CARAVAN/TOWN & COUNTRY
VF – RAM PROMASTER
W3 – GRAND CHEROKEE (EGYPT CKD)
WD – DODGE DURANGO
WK – JEEP GRAND CHEROKEE
ZD – DODGE VIPER
2013
D2 – RAM 3500 PICKUP
DD – RAM 3500 CAB CHASSIS
DJ – RAM 2500 PICKUP
DP – RAM 4500/5500 CAB CHASSIS
DS – RAM 1500 PICKUP
FF – FIAT 500
JC – DODGE JOURNEY
JK – JEEP WRANGLER
JS – AVENGER/200/FLAVIA
LC – DODGE CHALLENGER
LD – DODGE CHARGER
LX – CHRYSLER 300
MK – JEEP COMPASS/PATRIOT
PF – DODGE DART
RT – CARAVAN/TOWN & COUNTRY
WD – DODGE DURANGO
WK – JEEP GRAND CHEROKEE
ZD – DODGE VIPER
2012
D2 – RAM 3500 PICKUP
DD – RAM 3500 CAB CHASSIS
DJ – RAM 2500 PICKUP
DP – RAM 4500/5500 CHASSIS
DS – RAM 1500 PICKUP
FF – FIAT 500
JC – DODGE JOURNEY
JK – JEEP WRANGLER
JS – AVENGER/200/FLAVIA
KK – JEEP LIBERTY
LC – DODGE CHALLENGER
LD – DODGE CHARGER
LX – CHRYSLER 300
MK – JEEP COMPASS/PATRIOT
PF – DODGE CALIBER
RT – CARAVAN/TOWN & COUNTRY
WD – DODGE DURANGO
WK – JEEP GRAND CHEROKEE
2011
D2 – RAM 3500 PICKUP
DD – RAM 3500 CAB CHASSIS
DJ – RAM 2500 PICKUP
DP – RAM 4500/5500 CHASSIS
DS – RAM 1500 PICKUP
JC – DODGE JOURNEY
JK – JEEP WRANGLER
JS – AVENGER/200/FLAVIA
KA – DODGE NITRO
KK – JEEP LIBERTY
LC – DODGE CHALLENGER
LD – DODGE CHARGER
LX – CHRYSLER 300
MK – JEEP COMPASS/PATRIOT
ND – DAKOTA
PM – DODGE CALIBER
RT – CARAVAN/TOWN & COUNTRY
WD – DODGE DURANGO
WK – JEEP GRAND CHEROKEE
2010
D2 – RAM 3500 PICKUP
DC – RAM 3500 CAB CHASSIS
DJ – RAM 2500 PICKUP
DM – RAM 4500/5500 CAB CHASSIS
DS – RAM 1500 PICKUP
JC – DODGE JOURNEY
JK – JEEP WRANGLER
JS – AVENGER/200/FLAVIA
KA – DODGE NITRO
KK – JEEP LIBERTY
LC – DODGE CHALLENGER
LX – CHRYSLER 300
MK – JEEP COMPASS/PATRIOT
ND – DAKOTA
NM – MMC RAIDER PICKUP
PM – DODGE CALIBER
PT – CHRYSLER PT CRUISER
RT – CARAVAN/TOWN & COUNTRY
WK – JEEP GRAND CHEROKEE
XK – JEEP COMMANDER
ZB – DODGE VIPER
2009
D1 – RAM 3500 PICKUP
DC – RAM 3500 CAB CHASSIS
DH – RAM 2500 PICKUP
DM – RAM 4500/5500 CAB CHASSIS
DS – RAM 1500 PICKUP
HB – DODGE DURANGO
HG – CHRYSLER ASPEN
JC – DODGE JOURNEY
JK – JEEP WRANGLER
JS – AVENGER/200/FLAVIA
KA – DODGE NITRO
KK – JEEP LIBERTY
LC – DODGE CHALLENGER
LX – CHRYSLER 300
MK – JEEP COMPASS/PATRIOT
ND – DAKOTA
NM – MMC RAIDER PICKUP
PM – DODGE CALIBER
PT – CHRYSLER PT CRUISER
RT – CARAVAN/TOWN & COUNTRY
VB – SPRINTER
WK – JEEP GRAND CHEROKEE
XK – JEEP COMMANDER
ZB – DODGE VIPER
2008
CS – PACIFICA
D1 – RAM 3500 PICKUP
DC – RAM 3500 CAB CHASSIS
DH – RAM 2500 PICKUP
DM – RAM 4500/5500 CAB CHASSIS
DR – RAM 1500 PICKUP
HB – DODGE DURANGO
HG – CHRYSLER ASPEN
JK – JEEP WRANGLER
JS – AVENGER/200/FLAVIA
KA – DODGE NITRO
KK – JEEP LIBERTY
LC – DODGE CHALLENGER
LX – CHRYSLER 300
MK – JEEP COMPASS/PATRIOT
ND – DAKOTA
NM – MMC RAIDER PICKUP
PM – DODGE CALIBER
PT – CHRYSLER PT CRUISER
RT – CARAVAN/TOWN & COUNTRY
VB – SPRINTER
WK – JEEP GRAND CHEROKEE
XK – JEEP COMMANDER
ZB – DODGE VIPER
ZH – CROSSFIRE
2007
CS – PACIFICA
D1 – RAM 3500 PICKUP
DC – RAM 3500 CAB CHASSIS
DH – RAM 2500 PICKUP
DR – RAM 1500 PICKUP
HB – DODGE DURANGO
HG – CHRYSLER ASPEN
JK – JEEP WRANGLER
JS – AVENGER/200/FLAVIA
KA – DODGE NITRO
KJ – JEEP LIBERTY
LX – CHRYSLER 300
MK – JEEP COMPASS/PATRIOT
ND – DAKOTA
NM – MMC RAIDER PICKUP
PM – DODGE CALIBER
PT – CHRYSLER PT CRUISER
RS – CARAVAN/TOWN & COUNTRY
VB – SPRINTER
WK – JEEP GRAND CHEROKEE
XK – JEEP COMMANDER
ZH – CROSSFIRE
2006
CS – PACIFICA
D1 – RAM 3500 PICKUP
DH – RAM 2500 PICKUP
DR – RAM 1500 PICKUP
HB – DODGE DURANGO
JR – STRATUS/SEBRING
KJ – JEEP LIBERTY
LX – CHRYSLER 300
ND – DAKOTA
NM – MMC RAIDER PICKUP
PT – CHRYSLER PT CRUISER
RS – CARAVAN/TOWN & COUNTRY
TJ – JEEP WRANGLER
VA – SPRINTER
WK – JEEP GRAND CHEROKEE
XK – JEEP COMMANDER
ZB – DODGE VIPER
ZH – CROSSFIRE
2005
CS – PACIFICA
DH – RAM 2500 PICKUP
DR – RAM 1500 PICKUP
HB – DODGE DURANGO
JR – STRATUS/SEBRING
KJ – JEEP LIBERTY
LX – CHRYSLER 300
ND – DAKOTA
PL – NEON
PT – CHRYSLER PT CRUISER
RG – VOYAGER (GRAZ)
RS – CARAVAN/TOWN & COUNTRY
ST – STRATUS/SEBRING
TJ – JEEP WRANGLER
VA – SPRINTER
WH – JEEP GRAND CHEROKEE (STEYR)
WK – JEEP GRAND CHEROKEE
ZB – DODGE VIPER
ZH – CROSSFIRE
2004
AN – DAKOTA
CS – PACIFICA
DR – RAM 1500 PICKUP
HB – DODGE DURANGO
JR – STRATUS/SEBRING
KJ – JEEP LIBERTY
LH – INTREPID/CONCORDE/300M
PL – NEON
PT – CHRYSLER PT CRUISER
RG – VOYAGER (GRAZ)
RS – CARAVAN/TOWN & COUNTRY
ST – STRATUS/SEBRING
TJ – JEEP WRANGLER
VA – SPRINTER
WG – GRAND CHEROKEE (STEYR)
WJ – JEEP GRAND CHEROKEE
ZB – DODGE VIPER
ZH – CROSSFIRE
2003
AB – VAN/WAGON – FULL SIZE
AN – DAKOTA
DN – DURANGO
DR – RAM 1500 PICKUP
JR – STRATUS/SEBRING
KJ – JEEP LIBERTY
LH – INTREPID/CONCORDE/300M
PL – NEON
PT – CHRYSLER PT CRUISER
RG – VOYAGER (GRAZ)
RS – CARAVAN/TOWN & COUNTRY
ST – STRATUS/SEBRING
TJ – JEEP WRANGLER
VA – SPRINTER
WG – GRAND CHEROKEE (STEYR)
WJ – JEEP GRAND CHEROKEE
ZB – DODGE VIPER
2002
AB – VAN/WAGON-FULL SIZE
AN – DAKOTA
BE – QUAD & CLUB CAB PICK-UP
BR – REGULAR CAB PICK-UP
DN – DURANGO
DR – RAM 1500 PICKUP
JR – STRATUS/SEBRING
KJ – JEEP LIBERTY
LH – INTREPID/CONCORDE/300M
PG – PT CRUISER
PL – NEON
PR – PROWLER
PT – CHRYSLER PT CRUISER
RG – VOYAGER (GRAZ)
RS – CARAVAN/TOWN & COUNTRY
SR – VIPER
ST – STRATUS/SEBRING
TJ – JEEP WRANGLER
VA – SPRINTER
WG – GRAND CHEROKEE (STEYR)
WJ – JEEP GRAND CHEROKEE
2001
AB – VAN/WAGON-FULL SIZE
AN – DAKOTA
BE – QUAD & CLUB CAB PICK-UP
BR – REGULAR CAB PICK-UP
DN – DURANGO
JR – STRATUS/SEBRING
LH – INTREPID/CONCORDE/300M
PL – NEON
PR – PROWLER
PT – CHRYSLER PT CRUISER
RG – VOYAGER (GRAZ)
RS – CARAVAN/TOWN & COUNTRY
SR – VIPER
ST – STRATUS/SEBRING
TJ – JEEP WRANGLER
WG – GRAND CHEROKEE (STEYR)
WJ – JEEP GRAND CHEROKEE
XJ – JEEP CHEROKEE
2000
AB – VAN/WAGON-FULL SIZE
AN – DAKOTA
BE – QUAD & CLUB CAB PICK-UP
BR – REGULAR CAB PICK-UP
DN – DURANGO
FJ – AVENGER/TALON/SERBRING
GS – VOYAGER (GRAZ)
JA – BREEZE/STRATUS/CIRRUS
JX – SEBRING JXI CONVERTIBLE
LH – INTREPID/CONCORDE/300M
NS – CARAVAN/VOYAGER/T&C/LIMITED
PL – NEON
PR – PROWLER
SR – VIPER
TJ – JEEP WRANGLER
WJ – JEEP GRAND CHEROKEE
XJ – JEEP CHEROKEE
1999
AB – VAN/WAGON-FULL SIZE
AN – DAKOTA
BE – QUAD & CLUB CAB PICK-UP
BR – REGULAR CAB PICK-UP
DN – DURANGO
FJ – AVENGER/TALON/SERBRING
GS – VOYAGER (GRAZ)
JA – BREEZE/STRATUS/CIRRUS
JX – SEBRING JXI CONVERTIBLE
LH – INTREPID/CONCORDE/300M
NS – CARAVAN/VOYAGER/T&C/LIMITED
PL – NEON
PR – PROWLER
SR – VIPER
TJ – JEEP WRANGLER
WJ – JEEP GRAND CHEROKEE
XJ – JEEP CHEROKEE
1998
AB – VAN/WAGON-FULL SIZE
AN – DAKOTA
BE – QUAD & CLUB CAB PICK-UP
BR – REGULAR CAB PICK-UP
DN – DURANGO
FJ – AVENGER/TALON/SERBRING
GS – VOYAGER (GRAZ)
JA – BREEZE/STRATUS/CIRRUS
JX – SEBRING JXI CONVERTIBLE
LH – INTREPID/CONCORDE/300M
NS – CARAVAN/VOYAGER/T&C/LIMITED
PL – NEON
SR – VIPER
TJ – JEEP WRANGLER
XJ – JEEP CHEROKEE
ZG – GRAND CHEROKEE (STEYR)
ZJ – GRAND CHEROKEE
1997
AB – VAN/WAGON-FULL SIZE
AN – DAKOTA
BR – REGULAR CAB PICK-UP
FJ – AVENGER/TALON/SERBRING
GS – VOYAGER (GRAZ)
JA – BREEZE/STRATUS/CIRRUS
JX – SEBRING JXI CONVERTIBLE
LH – INTREPID/CONCORDE/300M
NS – CARAVAN/VOYAGER/T&C/LIMITED
PL – NEON
PR – PROWLER
SR – VIPER
TJ – JEEP WRANGLER
XJ – JEEP CHEROKEE
ZG – GRAND CHEROKEE (STEYR)
ZJ – GRAND CHEROKEE
1996
D – TALON/AVENGER/SEBRING
I – IMPORT
J – JEEP
L – CONCORDE/NEWYORKER/LHS/INTERPID/VISION
P – PASSENGER
T – TRUCK
V – VIPER
1995
D – TALON/AVENGER/SEBRING
I – IMPORT
J – JEEP
L – CONCORDE/NEWYORKER/LHS/INTERPID/VISION
P – PASSENGER
T – TRUCK
V – VIPER
1994
D – LASER/TALON
I – IMPORT
J – JEEP
L – CONCORDE/NEWYORKER/LHS/INTERPID/VISION
P – PASSENGER
T – TRUCK
V – VIPER
1993
D – LASER/TALON
I – IMPORT
J – JEEP
L – CONCORDE/NEWYORKER/LHS/INTERPID/VISION
P – PASSENGER
T – TRUCK
V – VIPER
1992
D – LASER/TALONE – PREMIER/MONACOI – IMPORTJ – JEEPP – PASSENGERT – TRUCKV – VIPER
1991
D – LASER/TALONE – PREMIER/MONACOI – IMPORTJ – JEEPP – PASSENGERT – TRUCK
1990
D – LASER/TALONE – PREMIER/MONACOI – IMPORTJ – JEEPP – PASSENGERT – TRUCK
1989
D – LASER/TALONE – PREMIER/MONACOI – IMPORTJ – JEEPP – PASSENGERT – TRUCK
1988
E – PREMIER/MONACOI – IMPORTJ – JEEPP – PASSENGERT – TRUCK
1987
I – IMPORTJ – JEEPP – PASSENGERT – TRUCK
1986
I – IMPORTJ – JEEPP – PASSENGERT – TRUCK
1985
I – IMPORTJ – JEEPP – PASSENGERT – TRUCK
1984
I – IMPORTJ – JEEPP – PASSENGERT – TRUCK
1983
I – IMPORTJ – JEEPP – PASSENGERT – TRUCK
1982
I – IMPORTJ – JEEPP – PASSENGERT – TRUCK
1981
J-JEEP
Visited 96 times, 3 visit(s) today