This instruction show you guide on how to remove and install M62 engine for BMW 7 series E38.For more repair case of BMW,please check BMW Trouble Repair.
All repair information collection:
2023.05 BMW Rheingold ISTA+ 4.41.21 4.23.14 ISTA-P 3.70 Free Download
Procedures:
Lift engine hood into assembly position.
Disconnect damper on hood, open hood fully and secure with a screw on left and right sides.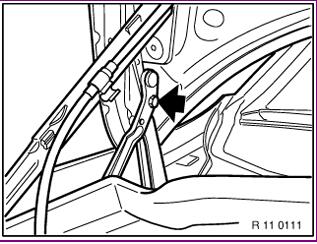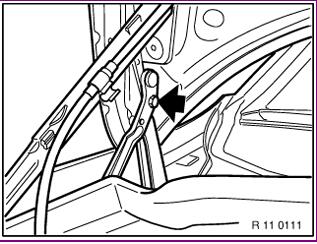 Version 1
(Acoustic cover screwed down)
Pry out sealing cap. Unscrew nuts.
Remove acoustic cover.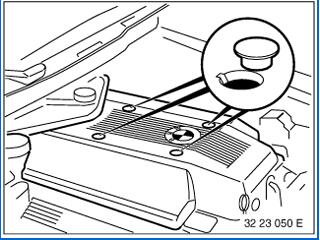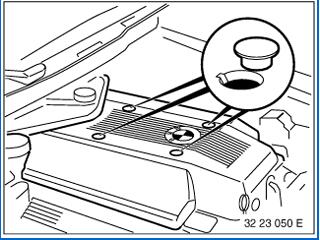 Version 2
(Acoustic cover with press-stud fastener)
Press press-stud fasteners (1 to 4) in succession and simultaneously raise acoustic cover slightly; remove acoustic cover once all four press-stud fasteners have been unlocked.
Installation:
Position acoustic cover and press downwards until press-stud fasteners (1 to 4) click into place.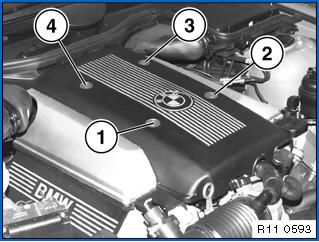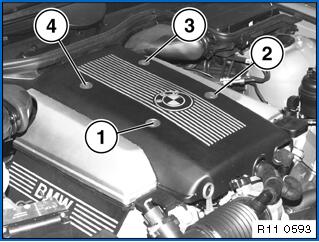 Remove connector for brake force booster.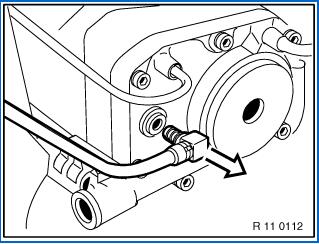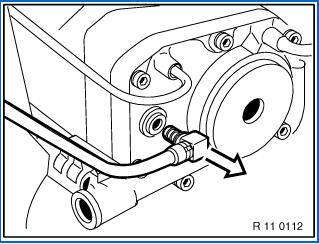 Unfasten main flow oil filter housing from bracket and attach to engine.
Note:Lines remain connected.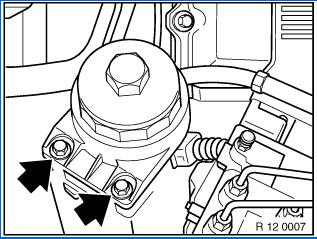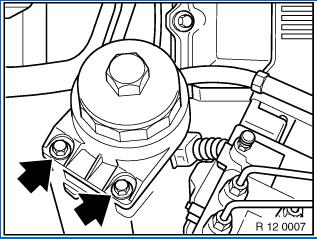 Caution!
Catch and dispose of fuel as it escapes.
Unfasten fuel feed and return lines to injector tube.
Follow instructions for removing and installing fuel hoses,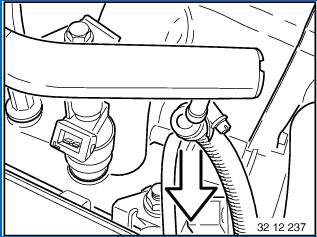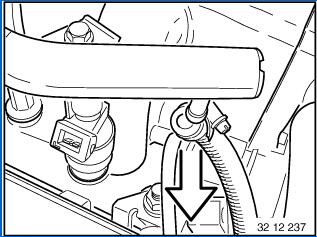 Remove intake filter housing with air-mass flow sensor,
Disconnect Bowden cables for throttle valve actuation. This task is described in the work step Removing and installing/sealing throttle assembly,
Disconnect plug connection (2) and vacuum hose (3) from tank vent valve.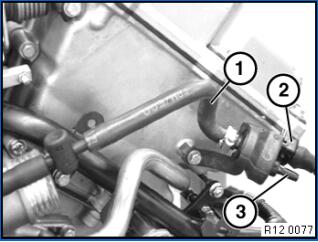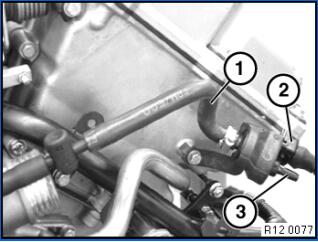 Release wiring harness section for engine and lay to one side with cable ducts
Unclip diagnosis connector on spring strut shock absorber and place to one side.
Unfasten heat baffle plate on left and right sides.
Unfasten drain plug for coolant in left and right engine block.
Drain and dispose of coolant.
Installation:
Replace sealing ring.
Tightening Torque
Remove radiator
Remove transmission.
Unfasten positive battery lead from starter motor.
Remove starter motor.
Unfasten positive battery lead from oil pan and unfasten left carrier bracket and alternator.
Remove cooling air duct for alternator.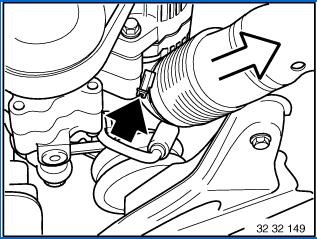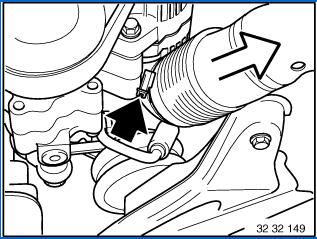 Remove alternator drive belt
Remove vane pump,
Remove A/C compressor drive belt,
Disconnect A/C compressor from mounting block and tie up to one side.
Note: Lines remain connected.
Unfasten ground tape from right of engine support.
Unfasten top left and right nuts on engine mount.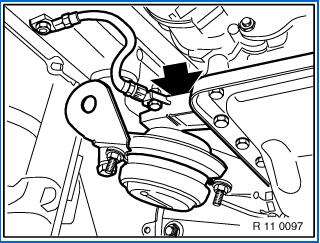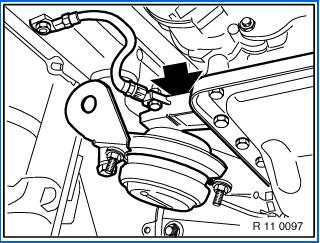 Unfasten coolant hoses from coolant manifold.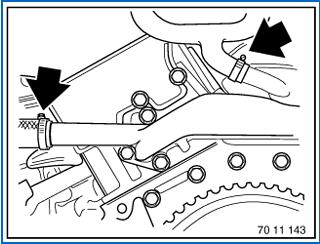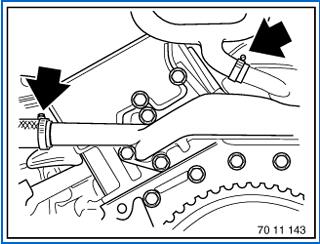 Remove left and right exhaust manifolds.
Caution!
Only raise engine on locating lugs provided for this purpose.
Layout of front engine mount.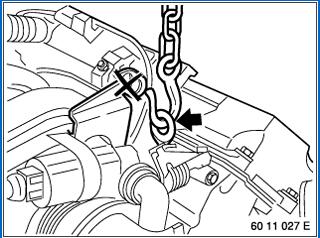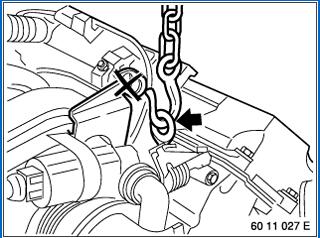 Layout of rear engine mount.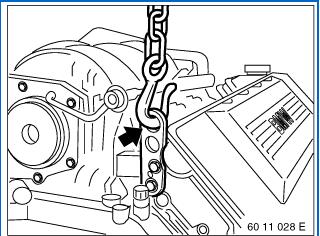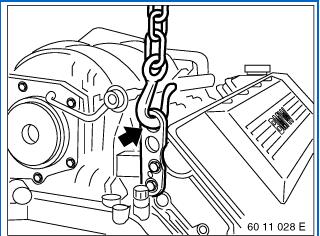 Secure engine to special tool 11 0 000.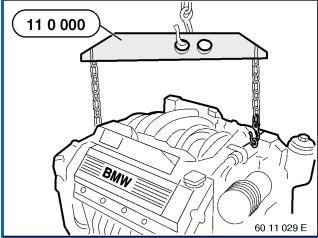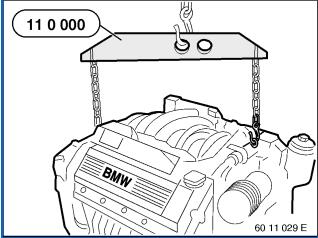 Caution!
Note narrow points between lines on ABS unit, air conditioner compressor with lines, cylinder head cover, steering spindle and heating valve.
Carefully lift out engine.
Installation:
E38
Install engine mount in rear bore (2) of mounting bracket.
E39
Install engine mount in front bore (1) of support bracket.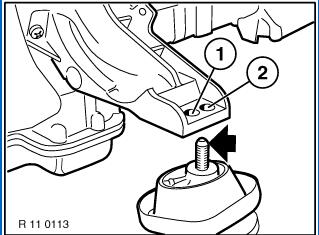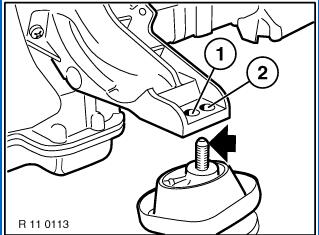 (Visited 4 times, 1 visits today)