This illustration show you guide on how to replace fuel system primary filter water separator element for Caterpillar 950F excavator.
Preparations:
Caterpillar ET 2022A 2019C 2018A Electronic Technician Software Free Download
Caterpillar SIS 2021 2019 2018 Full EPC+Service Manual Free Download
NOTICE
Care must be taken to ensure that fluids are contained during performance of inspection, maintenance, testing,adjusting and repair of the product. Be prepared to collect the fluid with suitable containers before opening any compartment or disassembling any component containing fluids.
Dispose of all fluids according to local regulations and mandates.
Do not fill fuel filters with fuel before installing them.
Contaminated fuel will cause accelerated wear to fuel system parts. Fuel system should be primed prior to starting the engine.
Procedures:
1.Open the engine access door on the right side of the machine.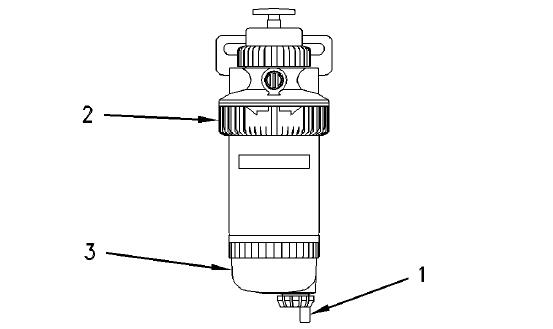 2.Open drain valve (1) on the bottom of water separator bowl (3). Allow the water and the fuel to drain into a suitable container.
3.Support the water separator element and rotate the retaining ring (2) counterclockwise. Remove the retaining ring (2).
4.Remove the water separator element from the mounting base.
5.Remove water separator bowl (3) from the filter element. Clean the water separator bowl and the O-ring groove.
Note: The water separator bowl is reusable. Do not discard the water separator bowl.
6.Inspect the O-ring seal on the water separator bowl. Replace the O-ring seal, if necessary.
7.Lubricate the O-ring seal with clean diesel fuel or with engine oil. Place the O-ring seal in the water separator bowl.
8.Install water separator bowl (3) onto the new filter element by hand until the filter element is snug.
Do not use tools to tighten the filter element.
9.Install the new filter element. Rotate retaining ring (2) clockwise in order to fasten the filter to the mounting base. Continue to turn the retaining ring until an audible click is heard. If a click is
not heard, the retaining ring has not been rotated far enough and the filter element is not in the locked position.
10.Close drain valve (1).
Note: The water separator element is under suction during normal engine operation. Tighten the drain valve securely in order to prevent air leakage into the fuel system.
11.Prime the fuel system in order to fill the water separator element with fuel.
12.Close the engine access door.
(Visited 36 times, 1 visits today)