Steering angle sensor is designed to last the lifespan of the vehicle.However, like any other sensor, the steering angle sensor can wear out or fail completely due to multiple factors beyond the control of most vehicle owners. For an educational purpose,i would elaborate on this process of how to repair and initialize Toyota steering angle sensor.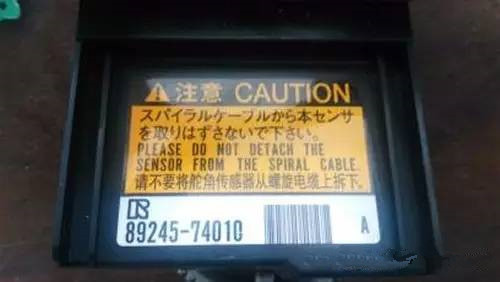 Diagnosis & Analysis:
We find VSC and anti skid light on.Use x431 get the DTCs C1433,it mean steering angle sensor interior circuit trouble.It maybe caused by one or more below :
Power interruption.
Disassembly of steering wheel.
Replacement of auto hairspring.
Replacement of Steering column.
…
If you don't know how to handle this problem,even you replace new steering angle sensor and hairspring.It not only cost you so much,but also doesn't work.
Remove steering angle sensor:
Steering Angle Sensor Location and Removal
Mercedes Benz C230 Steering Angle Sensor Removal Guide
Steering angle sensor resetting guide:
Ford Mondeo Steering Angle Sensor Reset & Calibrate Guide
How to Reset Nissan Steering Angle Sensor (2009~2014)
How to solve Toyota steering angle sensor trouble?
If you find this problem and trouble codes can't clean,you need to restore data and initialized adjust.
STEP 1:Data Restore.
Remove the steering angle sensor(module 89245-74010) and find the 93C66 8 pin chip on the PCB board.Remove the 93C66 chip from pcb and write in working initialized 93C66 bin data by programmer.And weld it back on pcb board.
If you want to get the Toyota Steering Angle Sensor  Initializing file,check here:Toyota Steering Angle Sensor Initializing bin file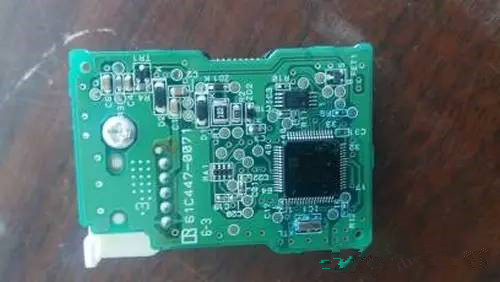 STEP 2:Initialized and mechanical adjust.
After writing data in 93C66,you need to do mechanical adjust.But you make sure on conditions:
Park the car on open space and make sure there is nothing in front of the car.
Straighten the steering wheel to make front wheel and rear wheel on a straight line.
Mechanical adjust:
       Vehicle wheel mechanical position adjust:
Fix one side of 6meters-long rope on central axis of left rear wheel.Then ask someone to pick other side tightly and make rope touch to central axis of left front wheel.Do it again on the right front wheel and right rear wheel.Turn the steering wheel to adjust space between wheel and rope of left front wheel and right front wheel,show as bellow picture.You need to make space 1 distance equal to space 2.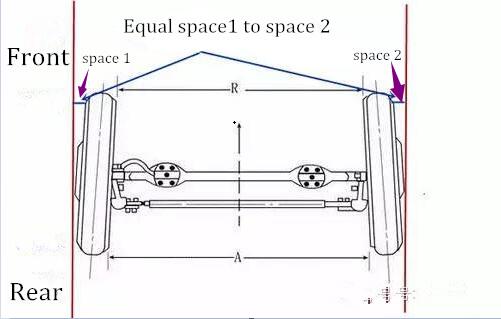 Install steering angle senor.
Be sure that you have finish above operation.If you install steering angle sensor with lacking mechanical adjust,the steering angle sensor will not work properly. Note:Ignition off when you install steering wheel angle sensor.
Steering wheel angle sensor angle adjust.
Ignition on,and connect X431 to the car to check sensor angle degree on x431.Kindly not that you don't to adjust steering wheel angle sensor on car ignition on status.It will damage the data that you write in 93C66 chip before. If you find the degree between 3 degree to -3 degree,it ok.Else you need to adjust sensor angle degree.Before you begin to adjust sensor,you need to ignition off car.
STEP 3:After you finish mechanical adjust,drive the car straightly about 10m,then the DTCs C1433 will disappear,it mean you have done!
(Visited 1,201 times, 1 visits today)