Some functionality can only be achieved through nettodata coding. To do so, read a nettodata trace file from the module you wish to change the coding of, load it in NCS Dummy, make the desired changes in the graphical trace editor and export the NETTODAT.MAN trace manipulation file. Then follow the instructions below to recode the module. If NCS Expert was still open after reading the trace file, start from step 12.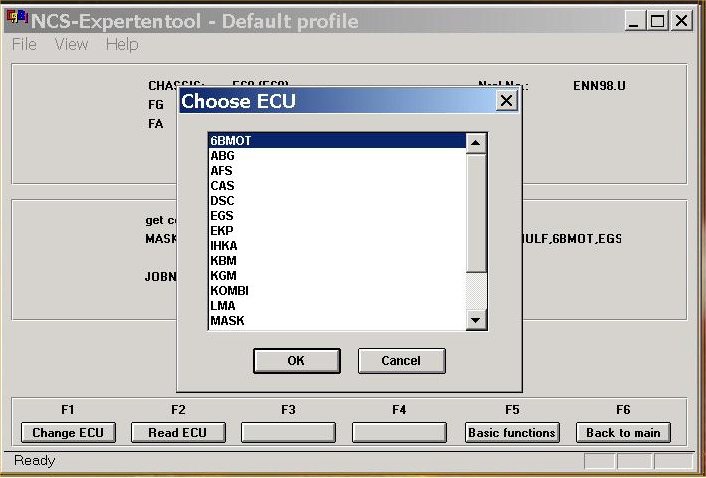 NCS Expert BMW Coding Software Download
1.Launch NCS Expert. At this moment no profile is loaded, so the screen is quite empty.
2.From the "File" menu, choose "Load Profil".
3.In the "Choose profile" dialog box, select "NCS Dummy profile" and click "OK". Nothing much happens, but you'll notice some of the buttons on the bottom now have labels.
4.Click the "VIN/ZCS/FA" button (F1). The button labels change once again.
5.Click the "ZCS/FA f. ECU" button (F3).
6.In the "Choose CHASSIS" dialog box, select your chassis and click "OK".
7.In the "Choose ECU" dialog box, select one of the presented modules (for example "CAS", "EWS" or"EKM") and click "OK".
8.After a short moment, the top groupbox should now show information regarding your car.
9.Click the "Back" button (F6). The middle groupbox now shows the available modules and default job name.
10. Click the "Process ECU" button (F4).
11.In the "Choose ECU" dialog box, select the desired module and click "OK". Make sure the NETTODAT.MAN manipulation file is for the same module.
12.Click the "Basic functions" button (F5).
13. In the "Choose basic function" dialog box, select "coapiCodeSgByNettoData" and click "OK".
14.In the following "coapiCodeSgByNettoData" dialog box, make sure the correct module is set for "CBD name" and enter NETTODAT.MAN for "Nettodatenliste". Click "OK" to begin the nettodata coding job.The module has been coded! Please note that some modules require the ignition to be switched off and on before the changes take effect. If you are happy with the result, keep a backup of NETTODAT.MAN for future reference.
If you get a COAPI-1063 error in NCS Expert, the module probably doesn't support nettodata coding. Click the "Change job" button (F2) and verify a job named "NETTODATEN_CODIEREN" is listed. If this job is not present, the module does not support nettodata coding.
(Visited 249 times, 2 visits today)