You need to register bmw battery after replacing bmw battery.Because BMWs need to know battery capacity and battery type….YOU DO NEED TO REGISTER battery replacements on BMWs with an IBS (Intelligent Battery Sensor).In this article you will get skill of how to register bmw battery with Rheingold ISTA.And here is another article about BMW Battery Registion:
How To Use INPA Register BMW 7 Series New Battery
Rheingold ISTA Register New Battery for BMW F10 
BMW Rheingold ISTA Software Free Download
2023.09 BMW Rheingold ISTA+ 4.43.23 4.23.14 ISTA-P 3.71 Free Download
Why need to register the battery after replacement? 
After installing a new battery, the service function 'Register battery replacement' must be run. The registration of the battery replacement is required to inform the power management (software in engine electronics and intelligent battery sensor) that a new battery was installed in the vehicle. If the battery replacement is not registered, the power management will not function properly and can lead to functions being limited by individual electrical consumers being switched off or having their power consumption reduced. Power management will charge the new battery as if it's the old worn out battery, causing premature failure of the replacement battery.
Important! If the new battery is not registered, incorrect readings may appear in the display of the on-board computer due to old data in the power management system (check control message "Recharge battery" appears even though the battery is new).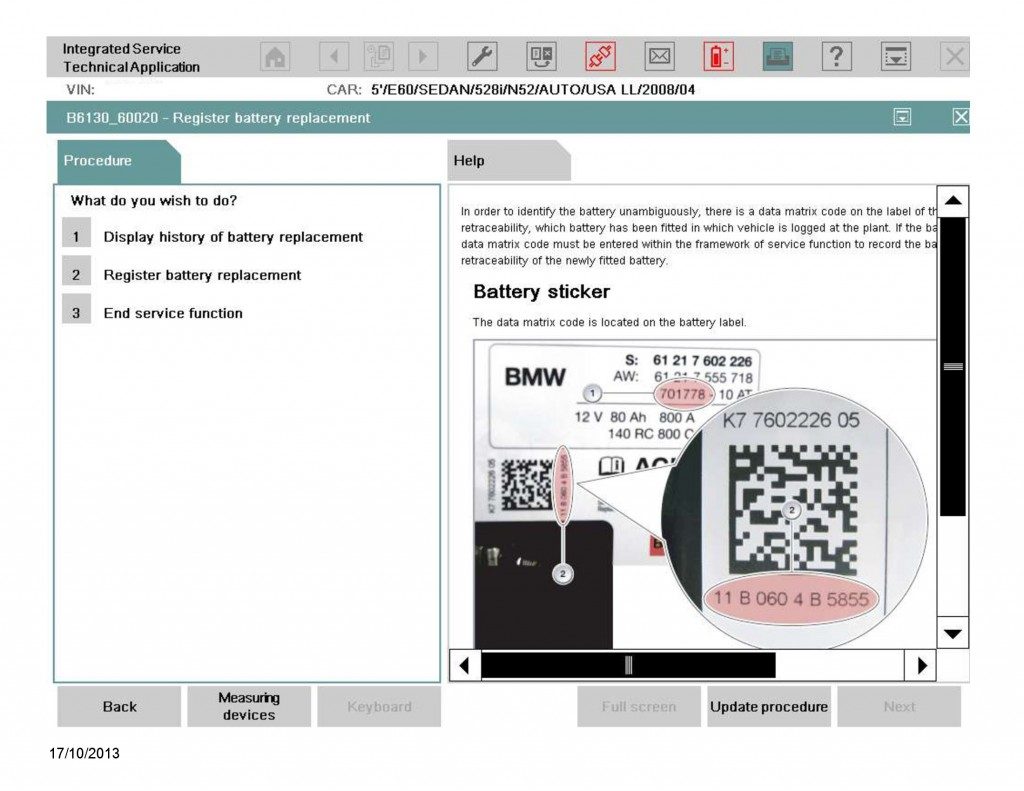 A service function informs the power management in the Digital Engine Electronics (DME) or the Digital Diesel Electronics (DDE) of a battery replacement. The following operations are performed:
-The current mileage reading is stored for the battery replacement.
-The stored measured values (battery charge statuses, current, voltage, temperature, etc.) are deleted.
-The power management is initialized.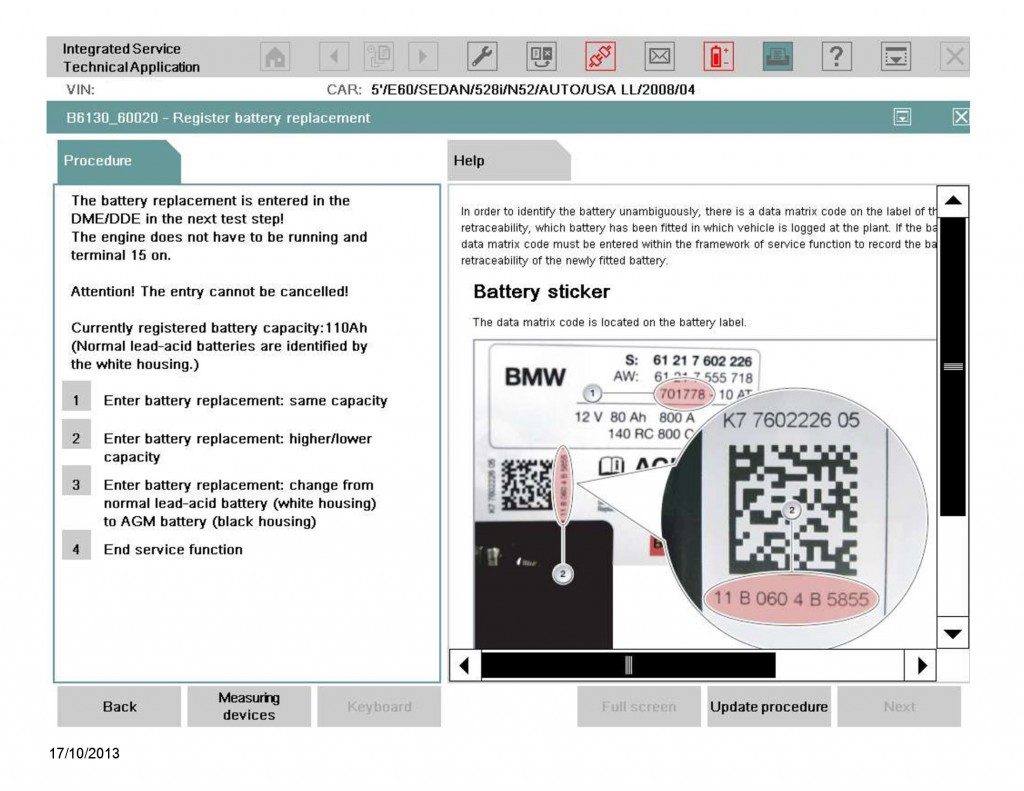 Available registration options:
Replacing battery with exact same type – (Simple registration)
Replacing battery with same type but different capacity – (Registration/Conversion)
Replacing battery with different type – (Programming/Conversion/Registration)
Updating software of complete battery management system
Changes to the charging profile also affects how the Start/Stop system works for vehicles with EfficientDynamics
Car 1:
You're renewing the battery with identical replacement. You register replacement to let the car know that the battery is new and the charging profile is adjusted accordingly. If you don't the vehicle will charge for an old battery and cause premature failure.
Car 2:
You fit an AGM in place of a Standard LA battery (or vice versa). If you don't register the replacement then it will toast the new battery for similar reasons to Car 1 but even worse as the charging profile will be for the incorrect type battery and cause even faster battery failure. In this case you MUST use a 'conversion' to change the battery type. Then, register a replacement.
BMW Register battery replacement
Notice! Determination of state of charge after a battery replacement
After a battery replacement, the vehicle must be left standing for at least 3 hours with its new battery. It is not possible to establish with any reliability the state of charge of the new battery until that time. Possible Check Control messages about total discharge of the battery are then no longer displayed.
BMW battery state of charge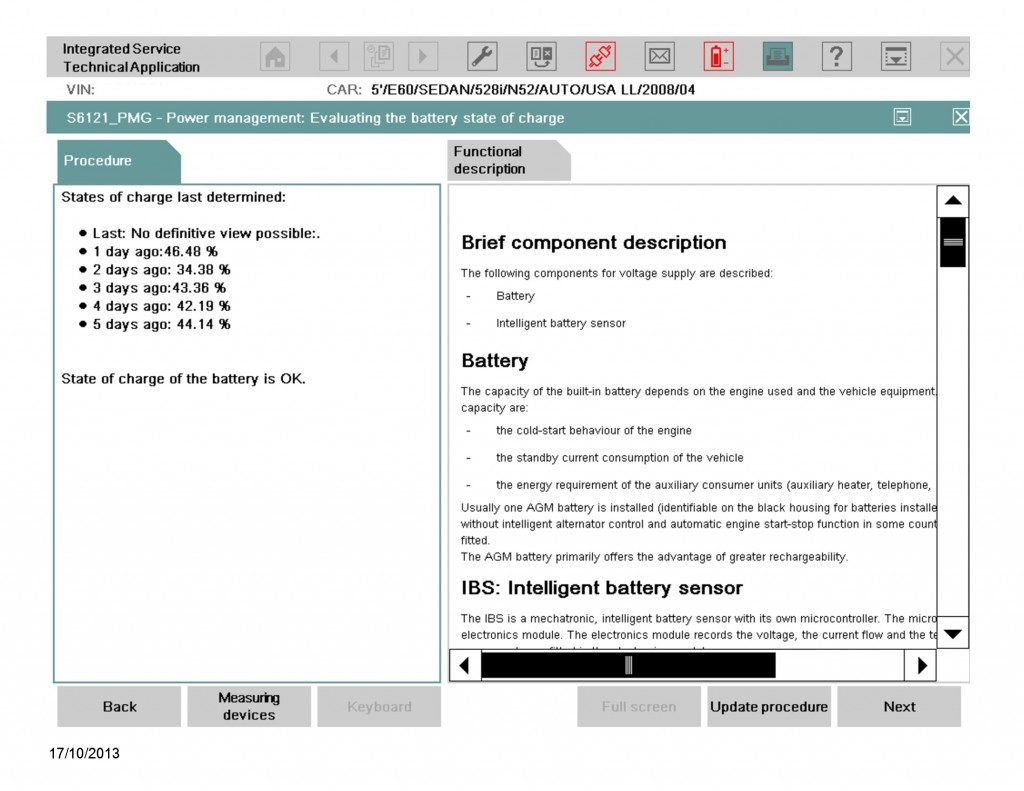 Notes for disconnecting and connecting battery
The scope of application of some systems may be restricted after a power supply interruption. Likewise, individual settings may be lost.
Settings or activations must be carried out, depending on the equipment specification. For example:
Vehicles with automatic engine start‐stop function (MSA): MSA function is active only after learning period (vehicle must not be woken for a period of approx. 6 hours
E46 Perform (four-wheel drive) / E53 / E83: steering angle sensor adjustment
If necessary, activate slide/tilt sunroof
If necessary, activate power windows
If necessary, activate mirror with compass
Only E60, E61, E63, E64, E70, E71, E90, E91, E92, E93: mount steering angle
Skipping the battery registration process can dramatically shorten the life of a battery in these vehicles, be it an AGM or a conventional battery. Several issues can cause premature battery failure, see post on Energy Diagnosis, but on a late model BMW, skipping battery registration can be one of them.
(Visited 136 times, 1 visits today)