This article show a guide on how to replace AGM battery and battery registration using Carly BMW for BMW 535i F10 2011 3.0 liter Turbo.And show it by pictures with text,any problem for detail info,please visit the video guide at end of article.
Usually one single battery registration costs 80 – 150€, depending on the model and workshop.
Commonly this does not include the costs of changing a battery.So if you perform battery replacement & registration by yourself,you will save a lot of money and time.
Tools You Need:
10mm,11mm,13mm sockets
1/4 and 3/8 extensions
Smartphone with Carly BMW App (Carly BMW Coding APP IOS & Android Download)
BMW Coding/Flashing/Progrmming PDF+Video Guide
2023.11 BMW Rheingold ISTA+ 4.44.20 4.23.14 ISTA-P 3.71 Free Download
Note:Carly BMW can be bought online at Amazon,it was $80 CAD
You will also need to buy the Carly BMW Pro App.It was $75 CAD+Battery in-app reg.modules $15 CAD (unless you can code your BMW in another way)
Dealer wants one hour labour to register your battery.It is waste of mony.You can use Carly BMW forever to pull codes or code your car.
Description:
My battery was original and after 6 years still stared the engine without issues.No error on the dash either.
The symptoms were:
1.My 12v equipment always complained about low voltage
2.Dealer scanned my codes during one visit and said one fault read:Aged battery,replace.
You can buy any AGM battery as longas:
1.It is either H8 or H7 group/size/design
2.It is 80,90 or 92ah (amper-hours)
A larger capacity (ah) battery may be OK too.
Some F10s come with 80Ah battery and some with 90Ah.Probably depends on climate.
Check your battery in the trunk.
Here is my stock OEM and new battery.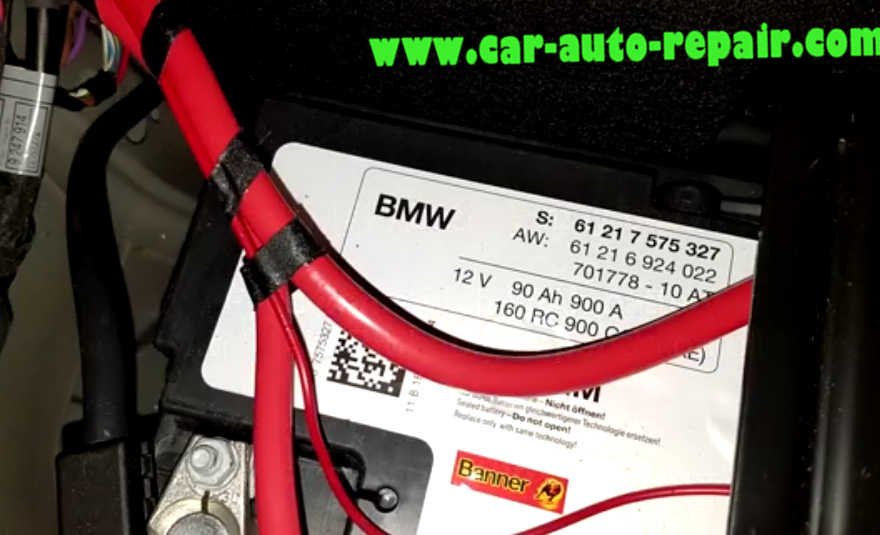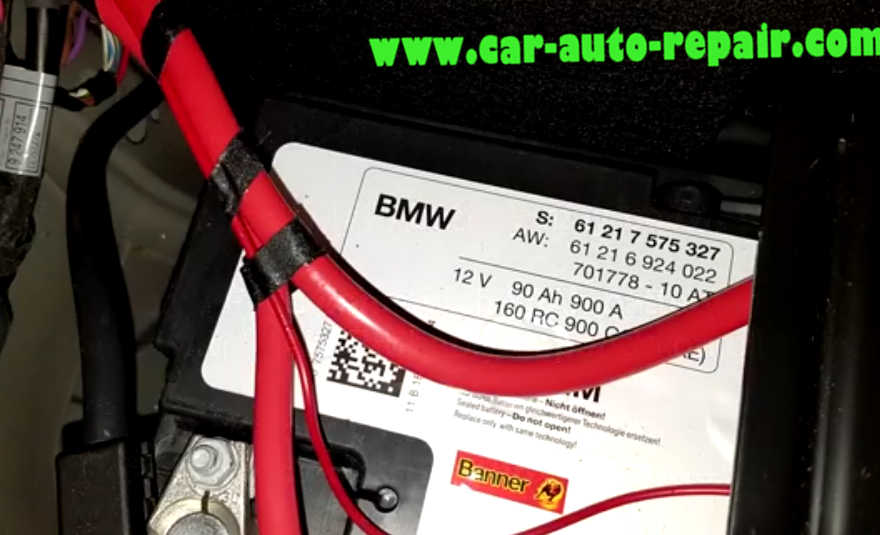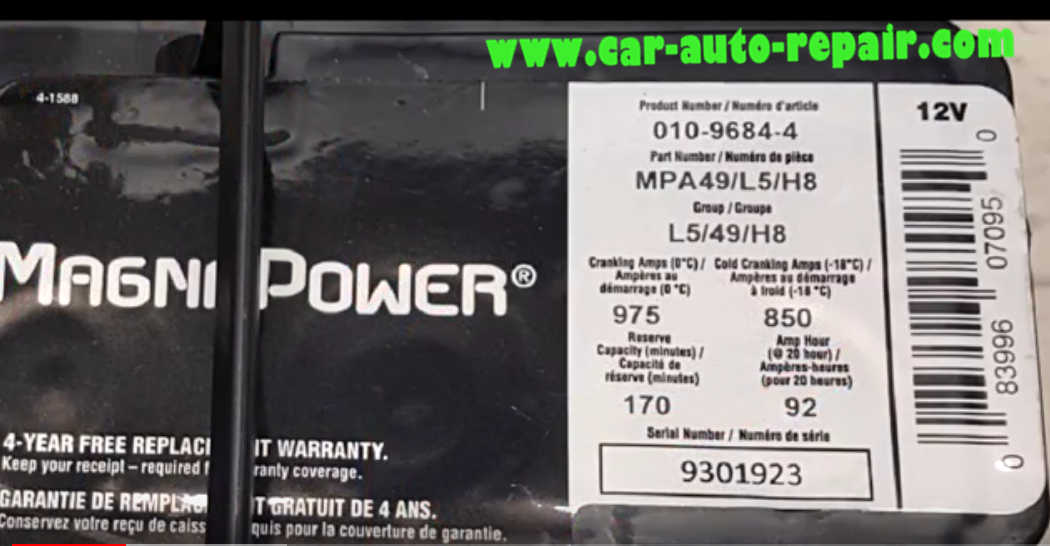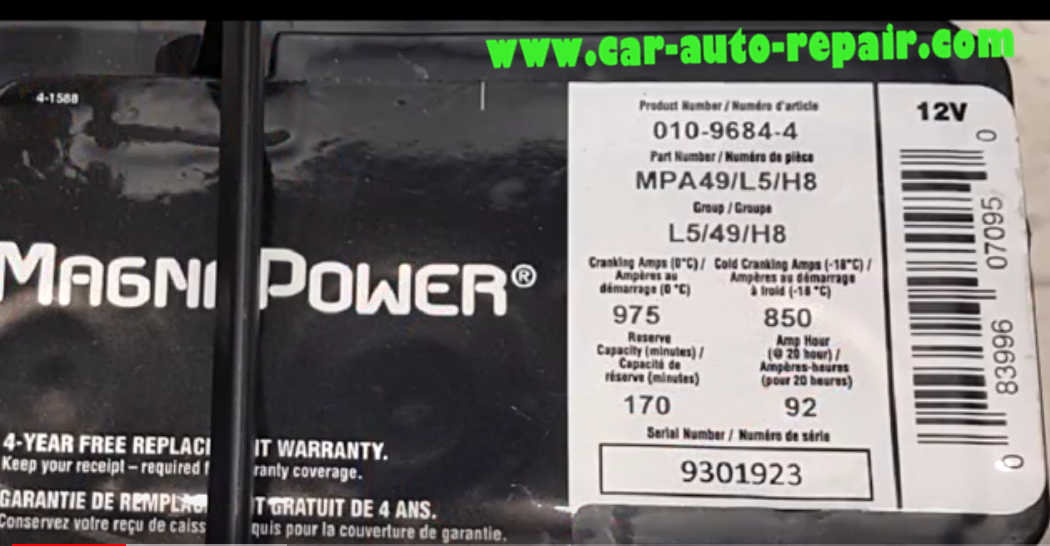 Part 1:Replace a new battery (You'd better to watch video for the removal operations)
For Battery replacement:How to Replace New Battery for BMW E90
Open your BMW trunk and open the cover under the spare tire.
Remove two 10 millimeter nuts at corner,this allow you to remove the entire cover.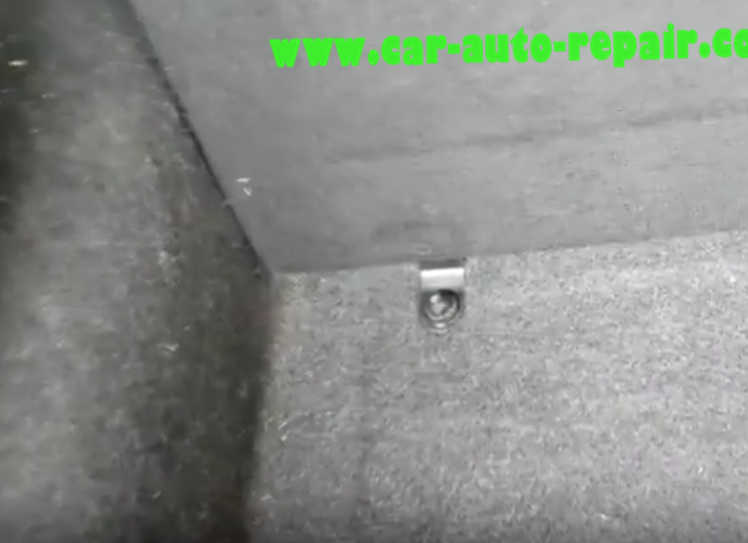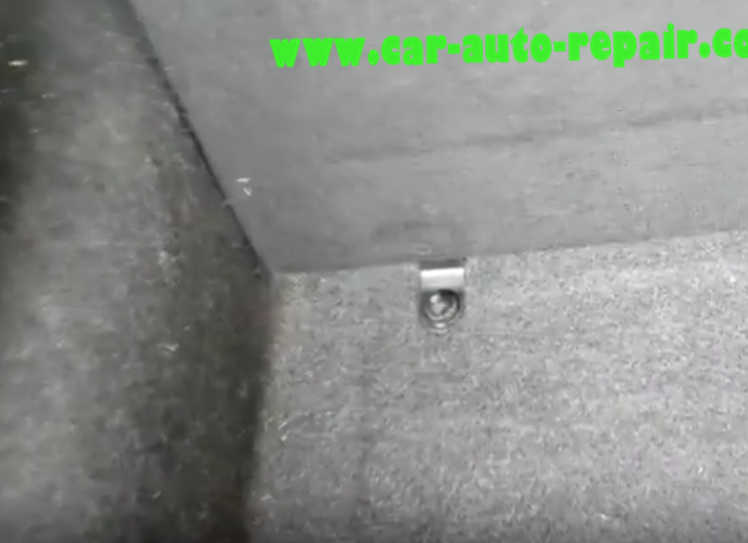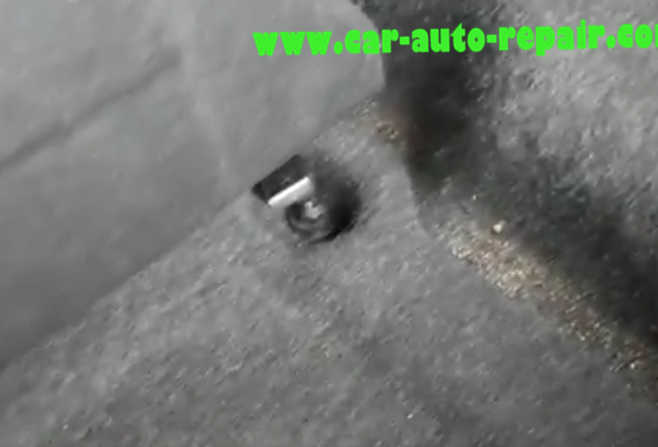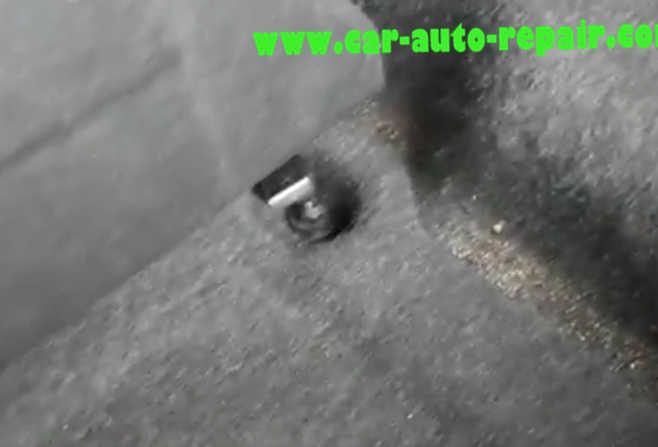 After remove the cover,you will find the battery here.And now you need to remove the 10,11 and 13mm bolts around the battery.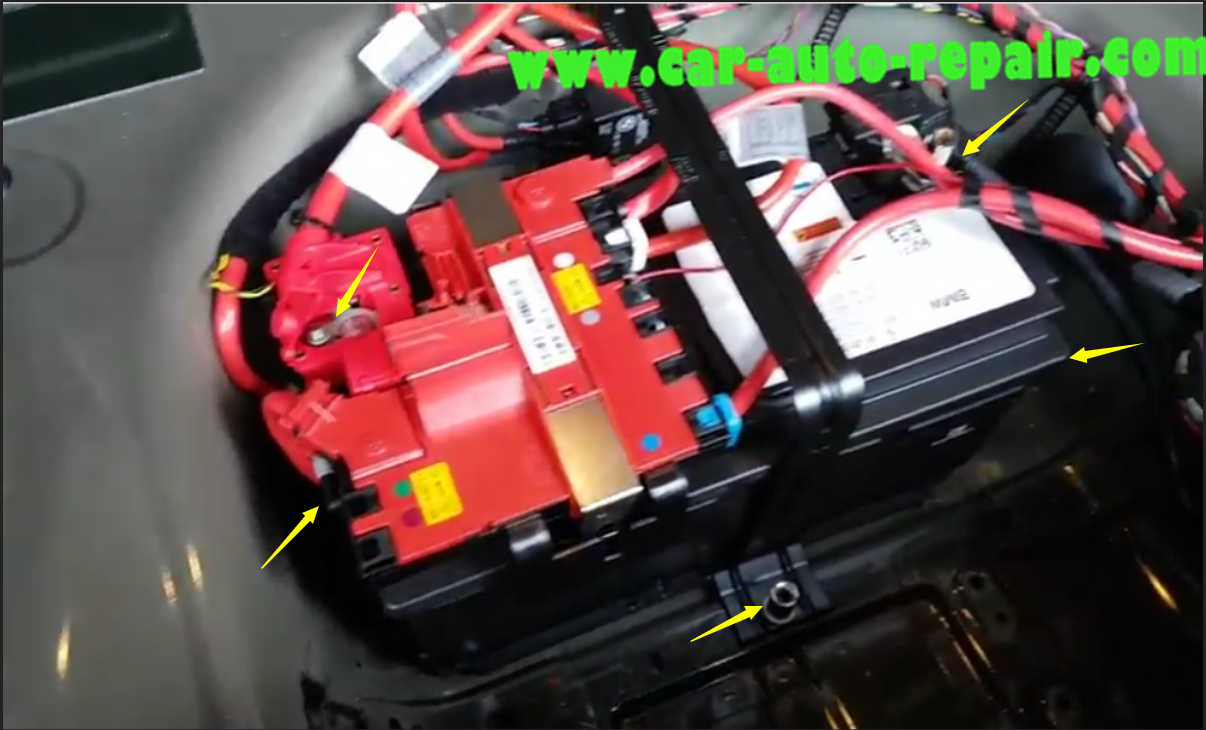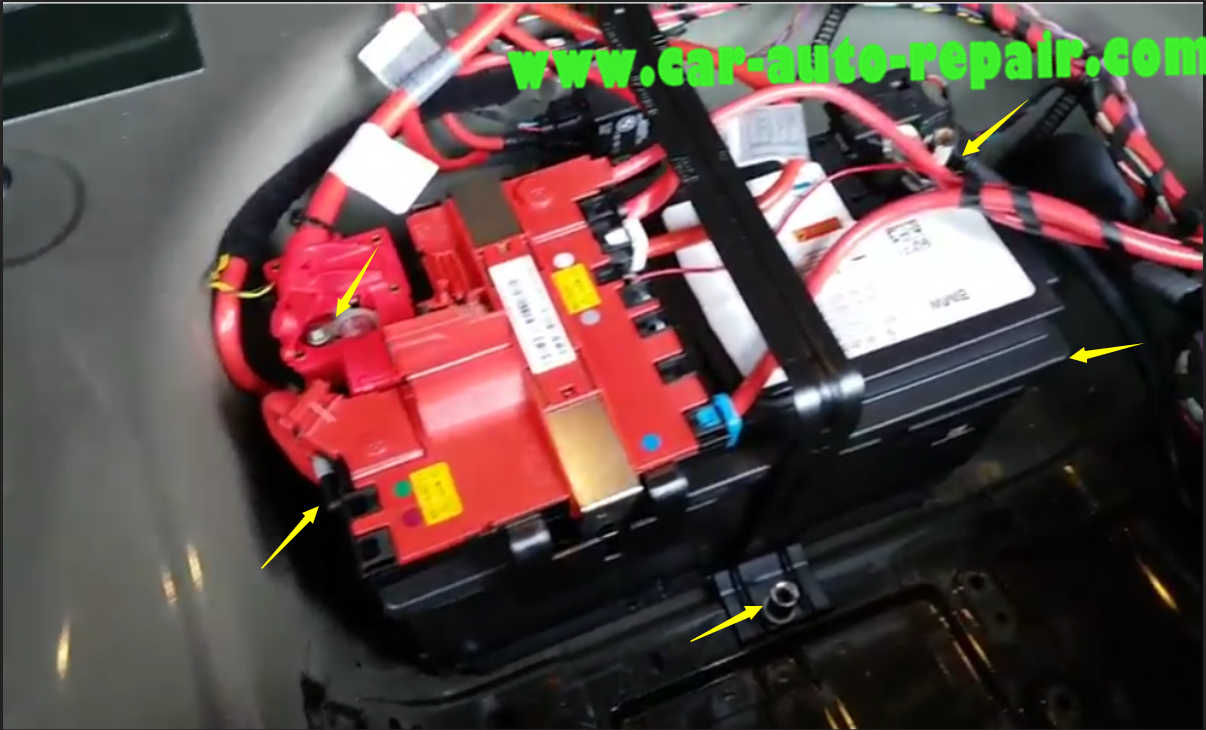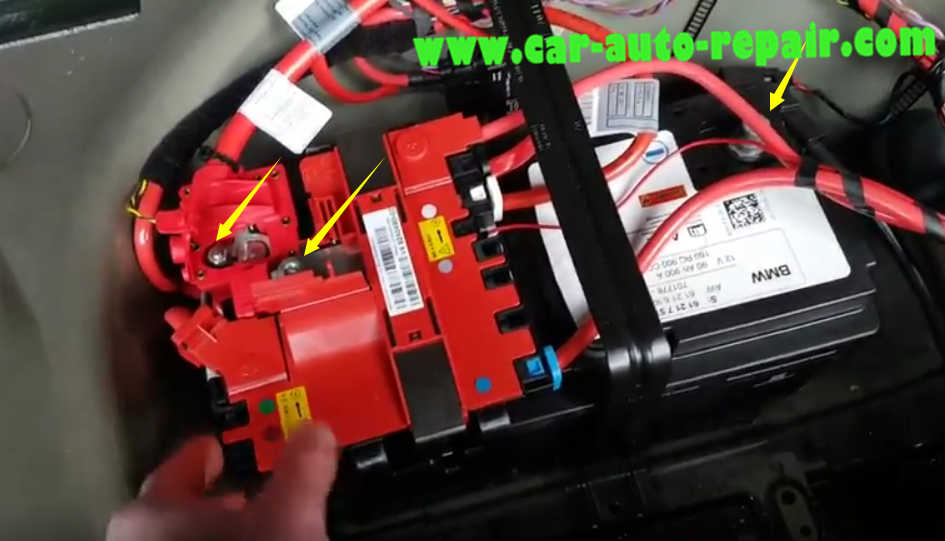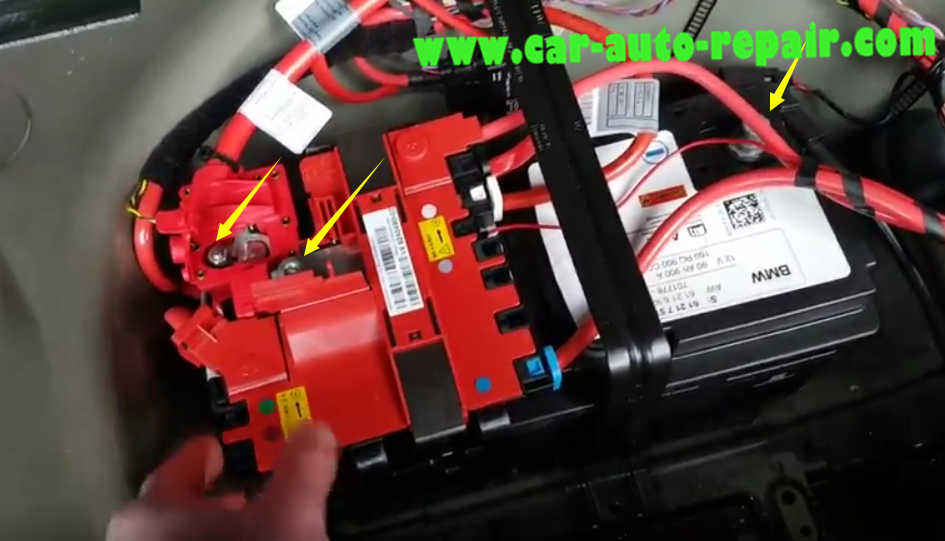 Lift up the power distribution center and only after removing the positive side is goona come off positive connectors gonna come up because it's one under the other.
After then remove the battery out.
The installation is reverse of removal.
Part 2:Register New Battery via Carly BMW
Plug in Carly to OBD2 port under the steering wheel.
Start ignition and connect Carly BMW using Bluetooth on your smartphone.My password was 1234.
No need to start the engine (since you have a new battery!)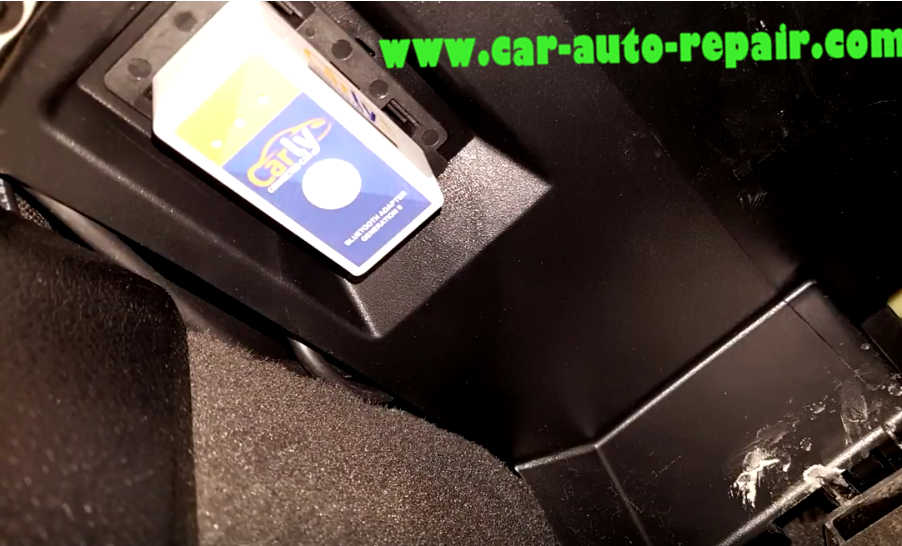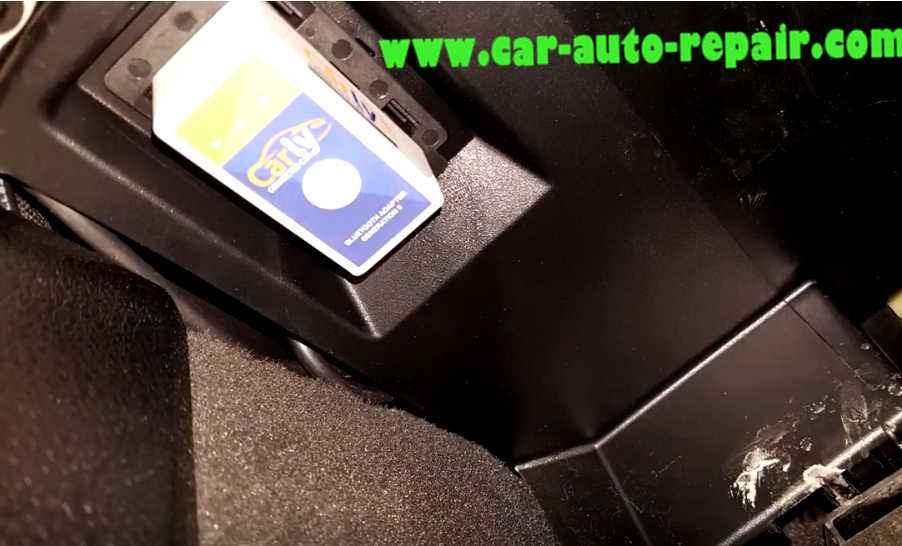 Tap "OK" for successful connection/Engine identified and see all functions in Carly Cockpit.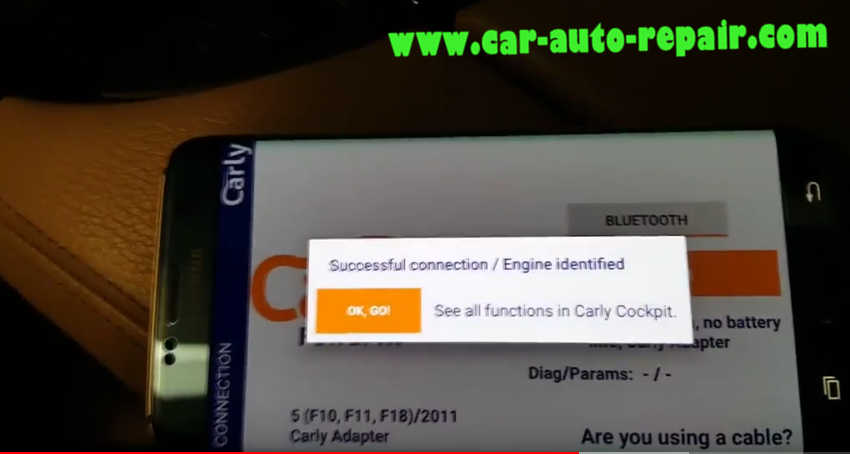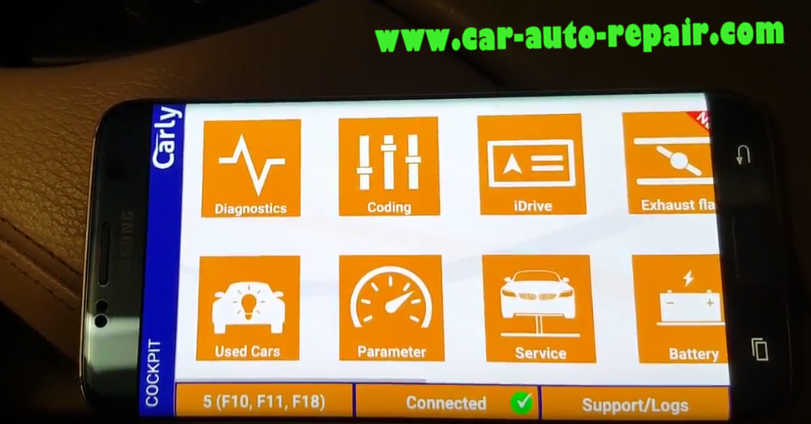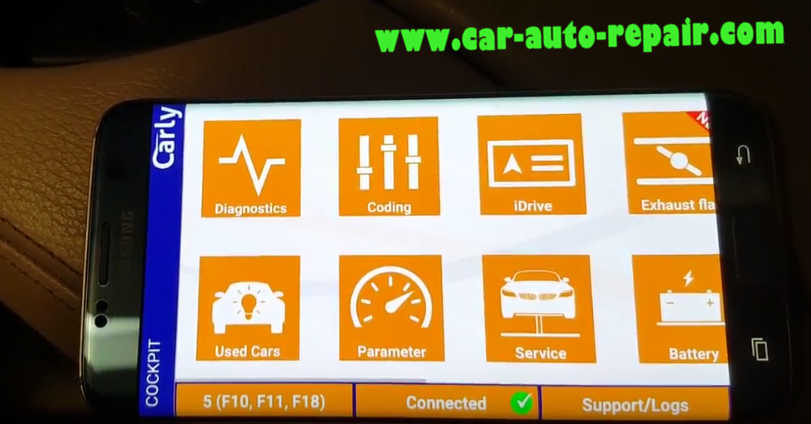 Scroll the screen to find the "Battery" function,if you are first time perform this function,you need to pay about $13 to buy this function.
Note:Buy once for unlimited usage!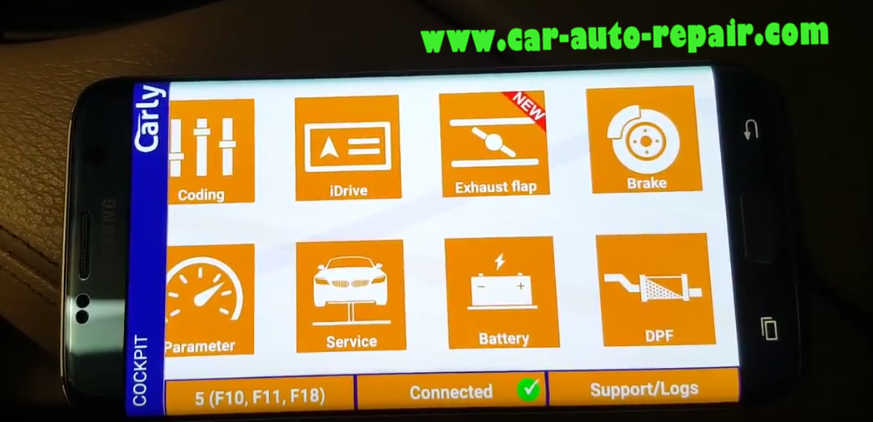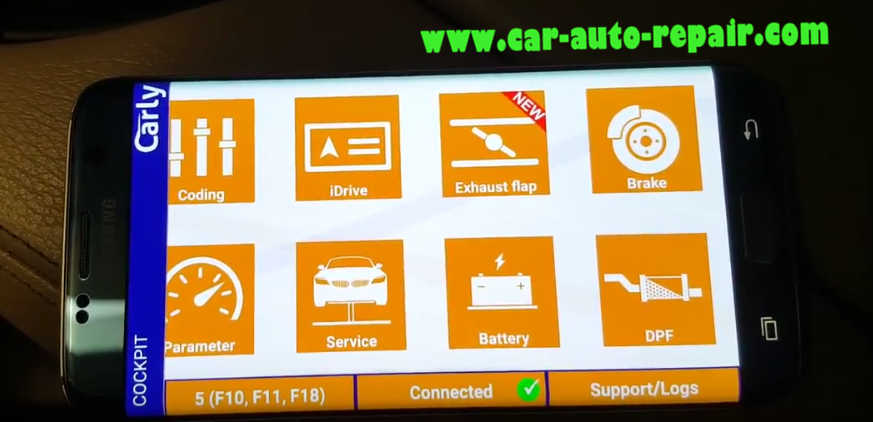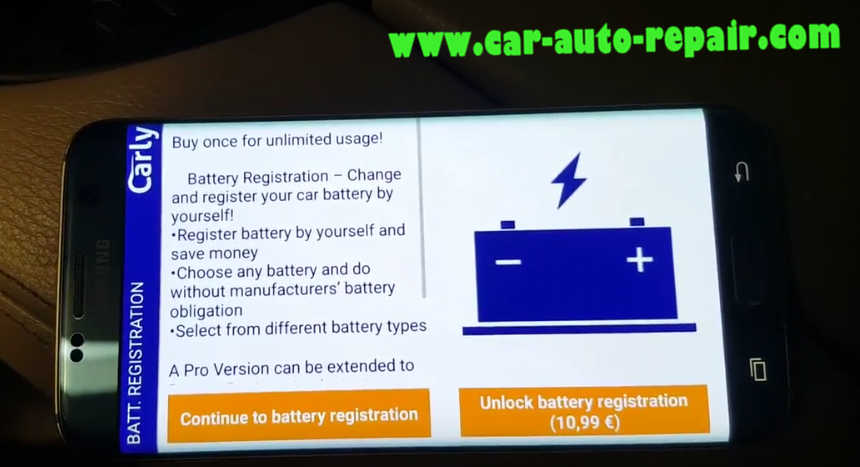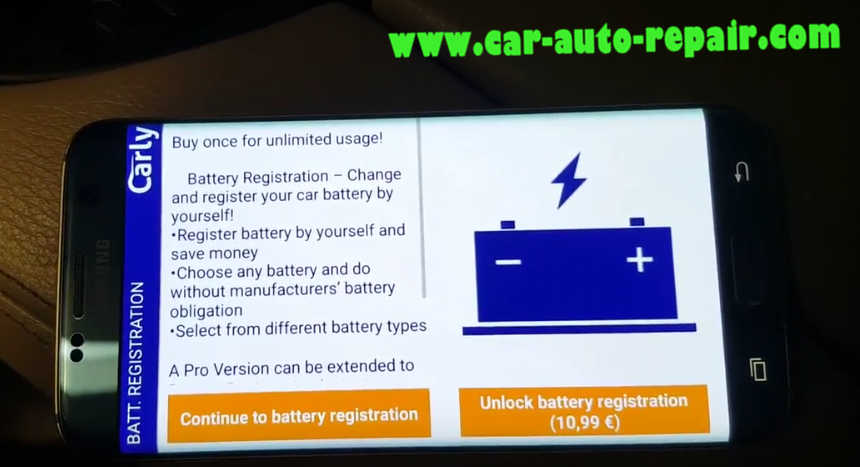 After you pay the cost,back to tap "Continue to battery registration"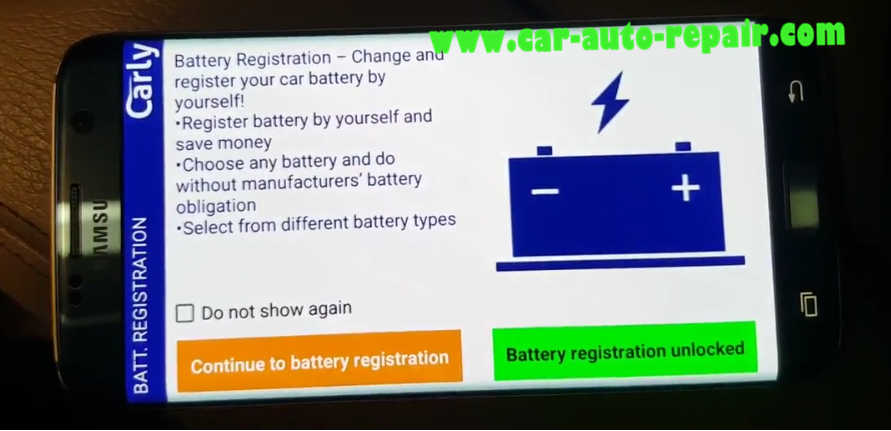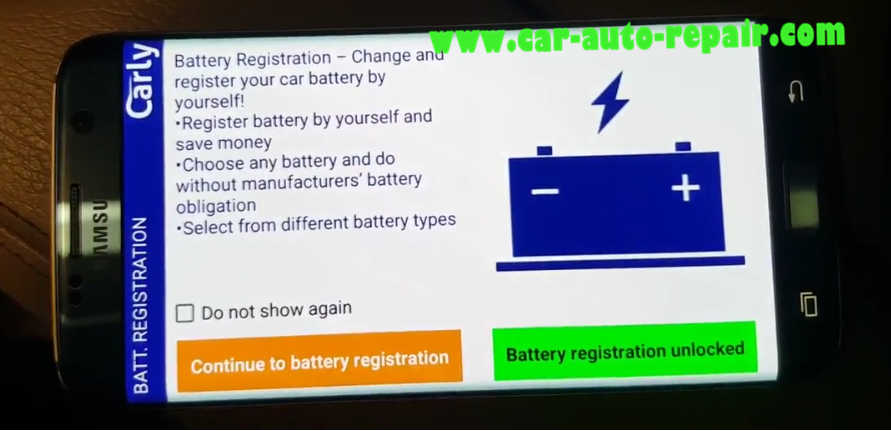 It prompt a warning massage as below pictures show.
Check the option,then select "OK" to continue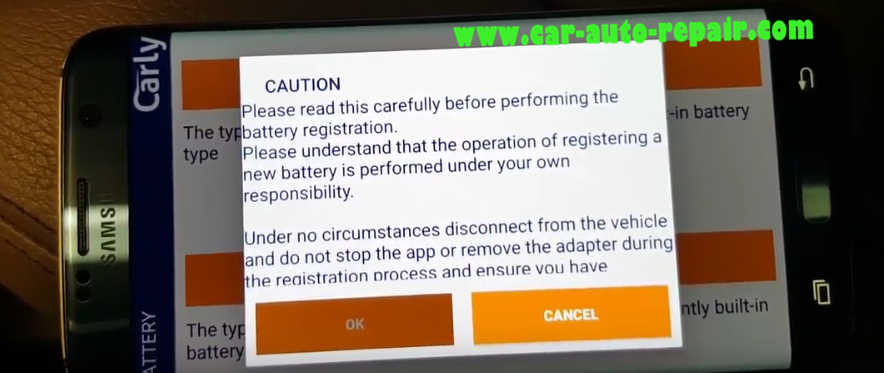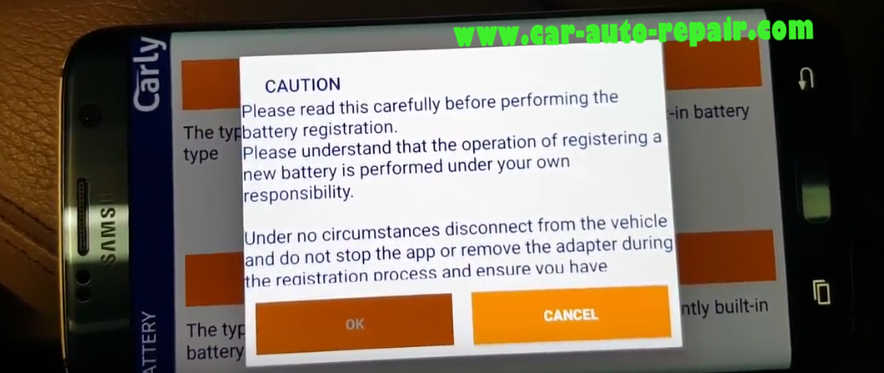 You will see two options: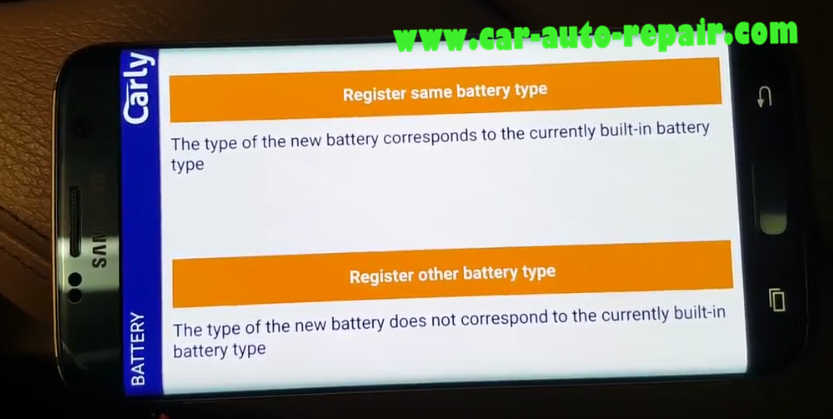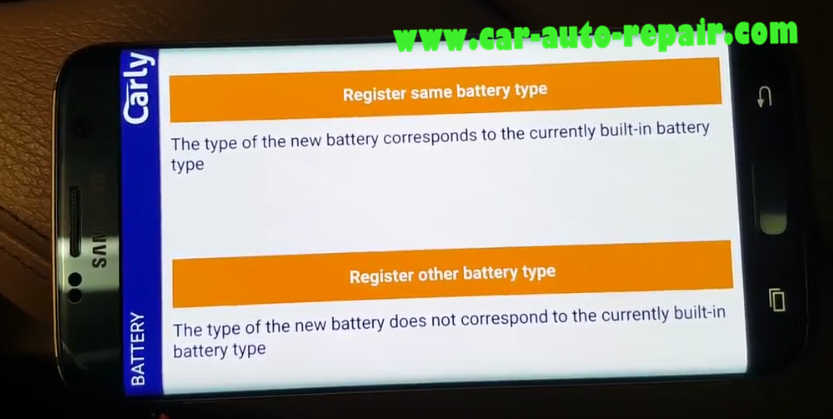 Register same battery type
The type of the new battery corresponds to the currently built-in battery type.
Register other battery type
The type of the new battery does not  correspond to the currently built-in battery type.
Here selet"Register same battery type",the Carly BMW will read current battery type.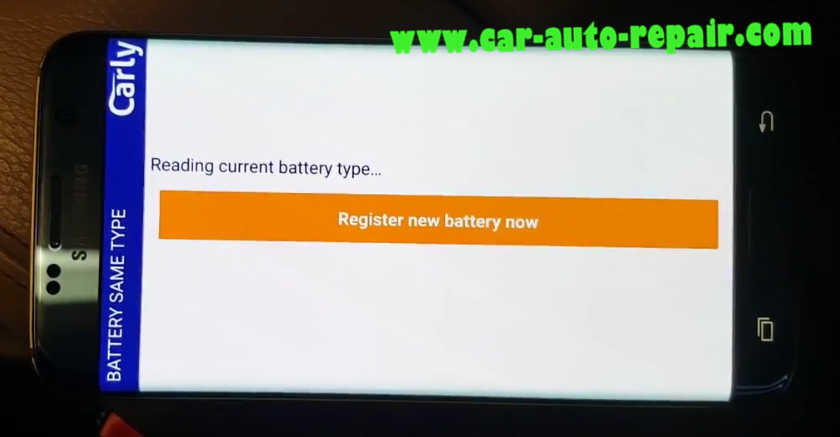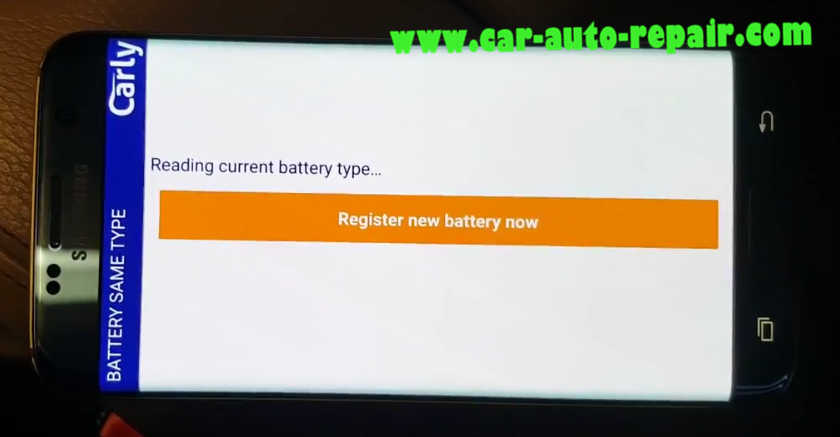 It show current battery type/-cdapacity :90ah agm.
Note:My battery is 92ah,but I cannot find the option in the menu "Register other battery type".Some I try it in the same battery type.Maybe the 92ah is close to 90ah AGM.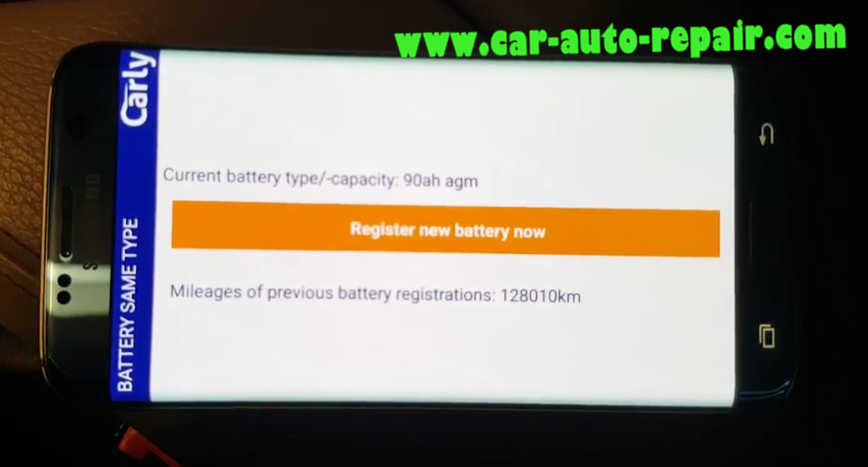 Then select "Register new battery now"
And after a moment,it prompt that new battery registered successfully.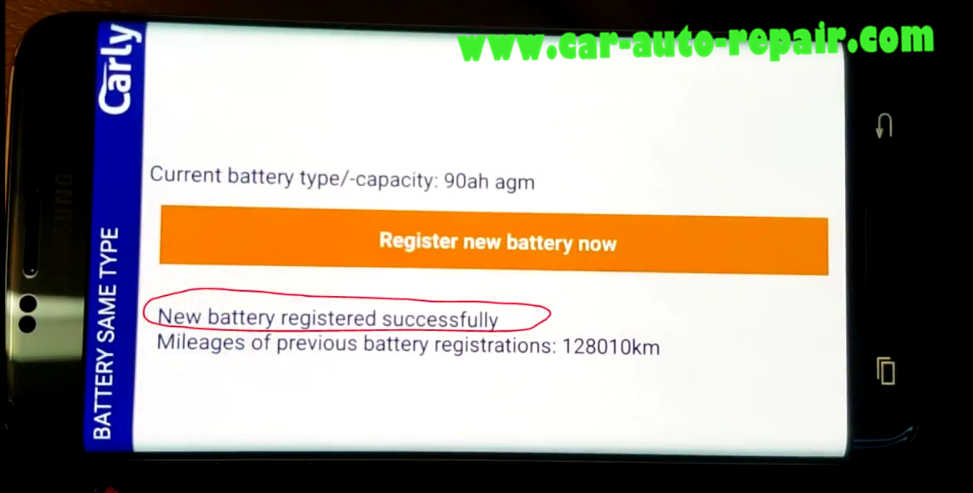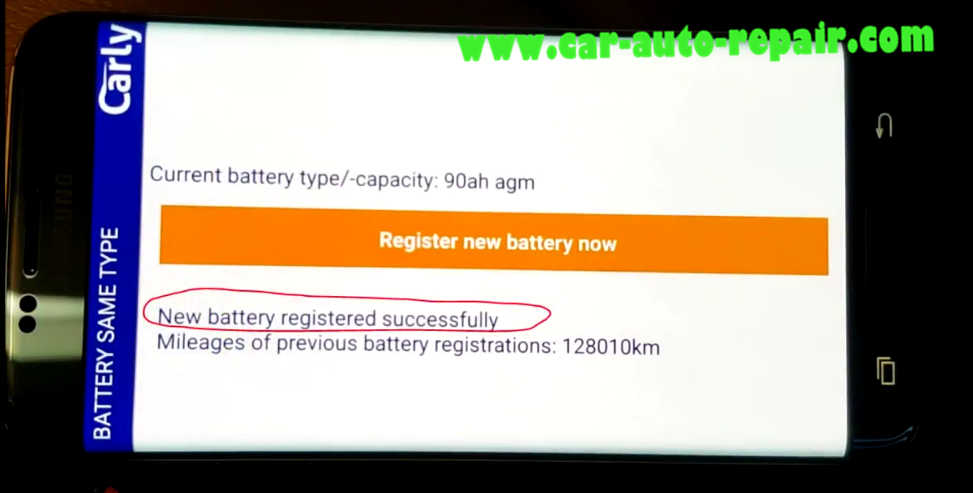 Essentially Carly BMW didn't have an option for 92ah AGM battery and it said if your battery is not listed choose next one lower type.So my 92 was registered as a 90.
And I share BMW New battery registeration by other devices before:
How to use Autel MD808 Pro Manage BMW Battery
How to register a new BMW Battery after replacement
Rheingold ISTA Register New Battery for BMW F10
How To Use INPA Register BMW 7 Series New Battery
FAQs:
A1: What is battery registration and how it can help you?
Q1:Battery registration – Change your battery yourself!
Register battery by yourself and save money
Choose any battery and do without manufacturers' battery obligation
Select from different battery types
The battery registration is part the full version.
With the aid of battery registration you can change your battery yourself and register it afterwards. Therefore you can save a lot of time and don't have to drive to a car workshop to get the battery registered.
The battery registration takes only a few seconds and you can even put in different battery-types and capacities.
A2: Will battery registration work on your car?
Q2: You can check directly with the lite version of the app, if the battery registration will work on your car:
Android:
https://play.google.com/store/apps/details?id=com.iViNi.bmwhatLite&hl=en
iPhone/iPad:
https://itunes.apple.com/us/app/carly-for-bmw-lite-obd/id467344155?mt=8
A3: Carly says that battery registration is not possible with your car yet: When is battery registration possible for your car model?
Q3: We constantly work on including new models and engines in the battery registration. Before we can include a model in the battery registration we need to implement the coding and engine parameter functions for this model.
A4: The battery registration doesn't work: What can you do?
Q4: If the battery registration fails, please try the following for an as stable as possible communication:
With a wireless connection:
Switch bluetooth off (iPhone/iPad)
Switch WiFi off (Android)
Let the engine run
Set communication speed to "slow"
The battery registration tells the car that a some battery-related values have to be determined again. Therefore never register or change the battery type while the car is driving!
If the battery registration still doesn't work, please contact us by using our contact form.
A5: You would like to change your battery: Which battery should you buy?
Q5: When changing the battery it is generally advised to put in the same battery type that was already in the car before.
If another battery type was installed, you have to make sure of the following:
The capacity of the new battery cannot be smaller that the one of the original battery
AGM batteries can only be exchanged with AGM batteries
In order to determine which battery type is currently installed, please follow these steps with the app:
1.Connect
2.Switch to "Battery Registration"
3.Select "Register same type"
4.The currently installed battery type is now visible in the app
In most cases the following battery capacities are available for compatible models:
Standard batteries:
55 Ah
70 Ah
80 Ah
90 Ah
110 Ah
AGM batteries:
40 Ah
60 Ah
70 Ah
80 Ah
90 Ah
Some newer cars also support 105 Ah AGM batteries. Please check with the lite version if your car supports this capacity as well.
A6: You don't find the capacity of your battery in the app: Which capacity should you select in the app?
Q6: The app determines directly from the car which battery capacities are supported by the ECUs. Therefore none other than these can be put in.
If the capacity of the built-in battery isn't selectable, the following applies:
Put in the next smaller capacity of the same battery type that was built in.
A7: How much does a battery registration cost in an official supplier or brand car workshop?
Q7: Usually one single battery registration costs 80 – 150€, depending on the model and workshop.Commonly this does not include the costs of changing a battery.The Battery Registration is part of the Full Version and can be used on all supported models.
A8: The history of the battery registration isn't visible in your case?
Q8: Please try the following for a stable connection:
Turn on the engine
Set communication speed to "slow" in the settings
With a wireless connection:
Switch bluetooth off (iPhone/iPad)
Switch WiFi off (Android)
If the history still can't be read, please write us by using our contact form.
Carly BMW Register Battery for BMW F10 535i 2011 Video Guide:
Visited 1 times, 1 visit(s) today