Several days ago,i found a topic about change 6NH to 6NH on bimmerfest forum.Someone ask help to change his new BMW the "H" to a "S" to coding and replace option with 6NS.Here i rewrite this method,hope it is helps!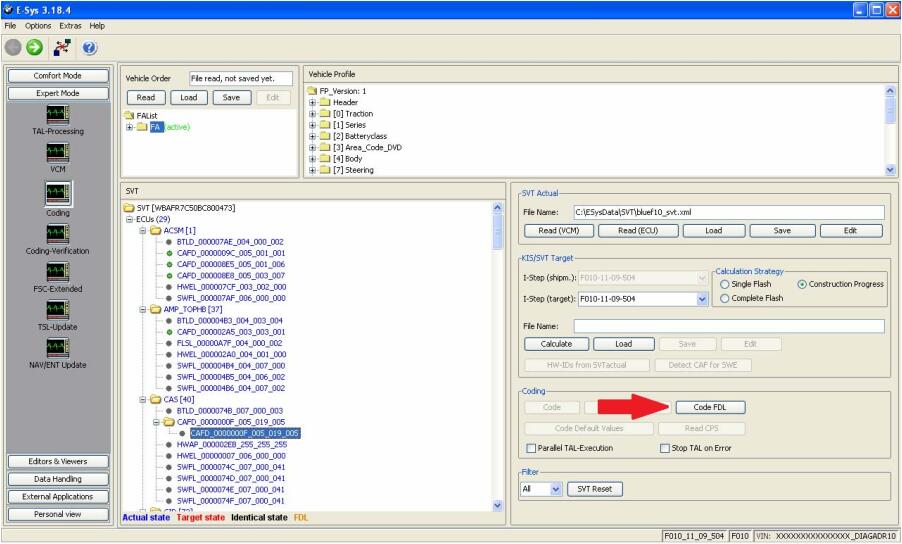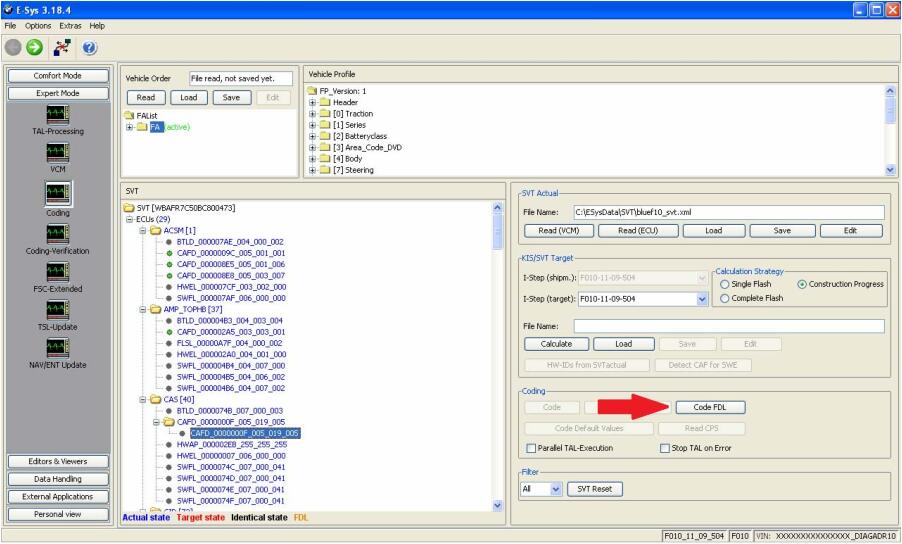 Step 1. Change FA from 6NH to 6NS:
Change FA,please read below article.
How to change BMW FA (VO) in F-series car
BMW Coding/Flashing/Progrmming PDF+Video Guide
Step 2. VO Code Head Unit and standalone Combox (CMB_MEDIA) if present:
Connect => Read FA (VO) => Activate FA (VO) => Read SVT (VCM) => Right-Click on Head Unit ECU (e.g. HU_NBT, HU_CIC, HU_CHAMP, HU_ENTRY, HU_ENTRYNAV, etc.) (the ECU itself not the underlying CAFD) => Select CODE (Not Code FDL).
Repeat Step 2 above for and standalone Combox (CMB_MEDIA) if present.
* Note: 6NS is used for NBT Head Unit. For cars with 6NH and ENTRY or CHAMP2 Head Units, use 6NK, or 6NL if car is equipped with BMW Assist.
FAQs:
Queastion:
When I look at the FA list I don't have option 6NH! I have 6NR (apps I think) but no other 6N option.
Should I just add 6NS?
I obviously have the standard Bluetooth and USB audio (which I think is 6NH) so don't understand why it isn't listed??
Could it cause any issues if I add 6NS? Or would it just not work and worse case I just delete and recode?
Ask:
Since 6NH is standard Equipment for ALL F15 builds, the 6NH Option Code does not appear in the VO. E-Sys and ISTA will know to encode it for 6NH based on the Chassis Code and Build Date. In contrast, cars where Basic Bluetooth isn't even standard equipment and the car comes equipped with 6NH, the Option Code will appear in the VO.
Yes, just add 6NS. You cant harm it, and you can easily remove it and return to factory coding.
Question:
I went through the steps and edited the VO by changing the 6NH in SALAPA elements to 6NS. ie I edited the H to be an S.
I then coded the ECU etc.
Now the office menu appears and it shows SMS messages but there is no option for showing Bluetooth streaming.
What else do I need to do? Pair the phone for Bluetooth again? Code something else? Add 6NS into the SALAPA elements along with 6NH?
Ask:
No. Just 6NS, not both.
Did you VO Code Head Unit and Combox if you had one with 6NS in the VO?
Is A2DP enabled on the Phone under your Bluetooth connection options?
Under iDrive, is Audio checked under both the Phone Option and the Bluetooth Option?
If you have any problem about this topic,please go to below link website to ask shawnsheridan for help.He is a expert in it.
http://www.bimmerfest.com/forums/showthread.php?t=722706
2023.05 BMW Rheingold ISTA+ 4.41.21 4.23.14 ISTA-P 3.71 Free Download
(Visited 41 times, 1 visits today)