If you want to repair pilot valve for Kubota U48-4,you have to disassemble pilot valve components.So here car-auto-repair.com show you guide on how to disassemble pilot valve components for Kubota U48-4 excavator.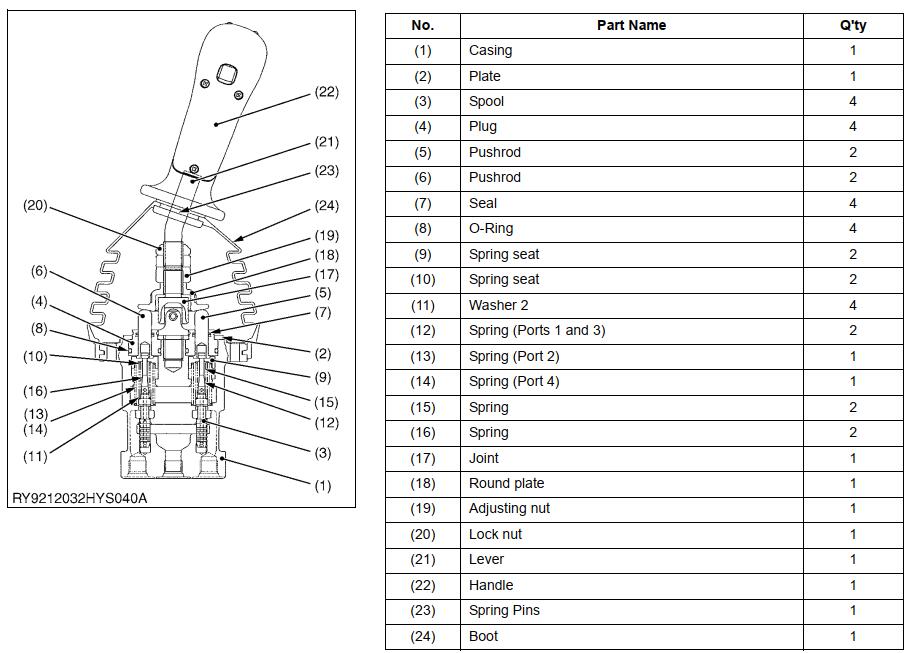 Related Contents:
Takeuchi Excavator Workshop EPC+Service Manual 2018 PDF Files
2022 Kubota Takeuchi Diagmaster v22.08.01 v4.1.2 Software Free Download
Kubota EPC Spare Parts Catalogue 2021.06 Download
CAUTION
• All of the parts are precisely made, so be very careful in handling them and taking care not to drop or hit parts against each other.
• If you hit a part too hard while working on it, it may result in burrs or other damage, thus preventing installation as well as oil leaks and/or compromised performance, so be careful when handling parts.
• If parts are left disassembled or left partway disassembled, humidity or foreign matter may cause rust, so if interrupting the work is unavoidable, take precautions to protect the parts from rust and dust.
Procedures:
1.Clamp the pilot valve in a vise.
IMPORTANT
• When clamping it in a vise, use a sheet of copper to prevent scratching the pilot valve.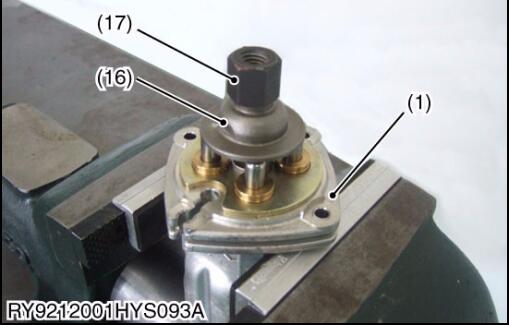 (1) Casing
(16) Nut (disc)
(17) Nut (adjustment)
2.Use two wrenches on the nuts (adjustment 16 and disc 17) to remove them.
• Tools to use : 22 mm and 32 mm (0.87 in. and 1.3 in.) wrenches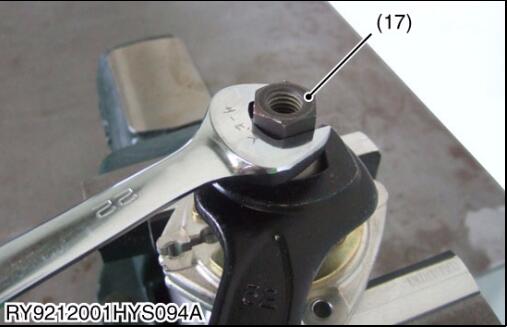 (17) Nut (adjustment)
3.Mark the relationship of holes to the casing.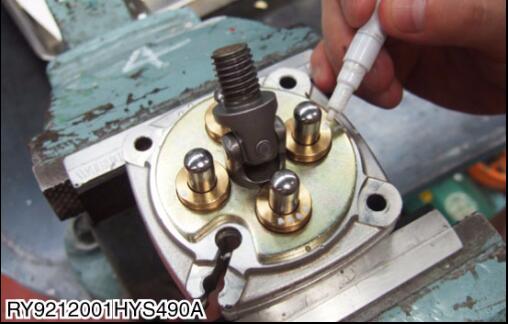 4.After mounting tool (B) on the U-joint (15), use tool (A) to turn the U-joint counterclockwise and loosen it.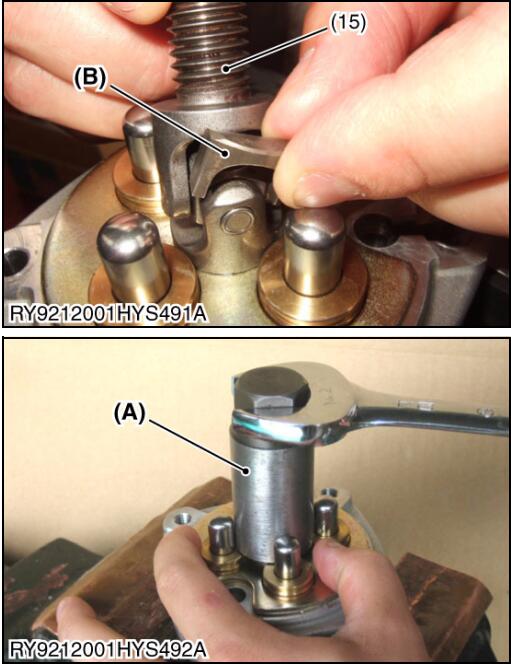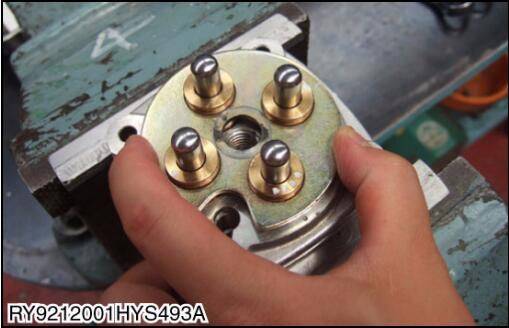 CAUTION
• When removing the U-joint, take care that it does not pop off
5.Remove the plate (2).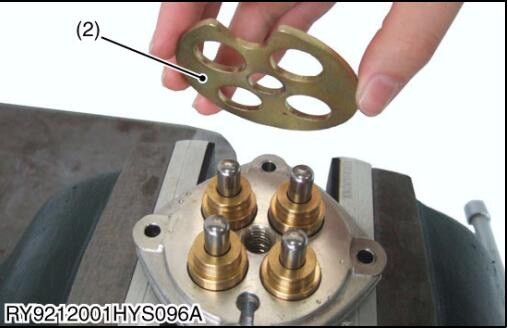 (2) Plate
6.Slip a slotted screwdriver in the groove in the plug (3) to remove the plug.
CAUTION
• Take care so the plug does not go flying.
• Take care not to damage it by exerting force unevenly.
• If a burr is formed, use a whetstone to remove it.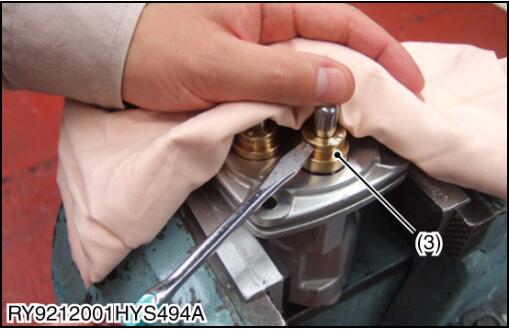 (3) Plug
7.Remove the reducing valve ASSY (a) and the return spring (11).
IMPORTANT
• Tag the springs to positively ID which port they go to.
(11) Spring (a) Reducing valve ASSY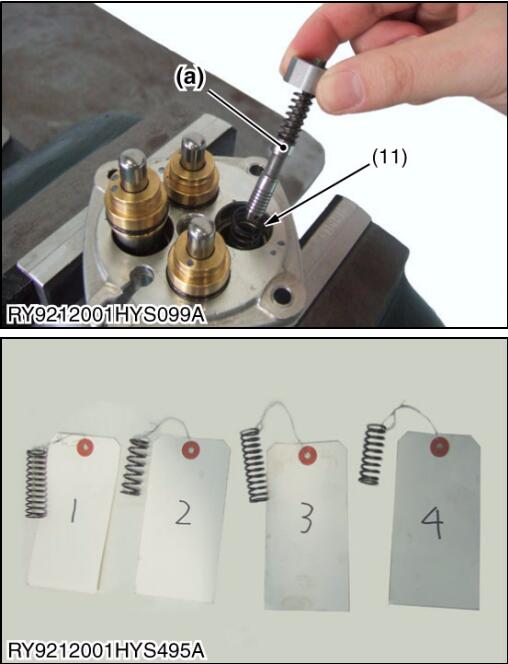 8.To disassemble the reducing valve, press the spring seat in and while compressing the secondary pressure spring, shift the spring seat to the side and remove it from the spool via the larger hole.
IMPORTANT
• Be careful not to scratch the surface of the spool.
• Do not depress the spring seat 6 mm (0.2 in.) ≤
• Do not disassemble the reducing valve unless there is a problem with it.
Components of the Reducing Valve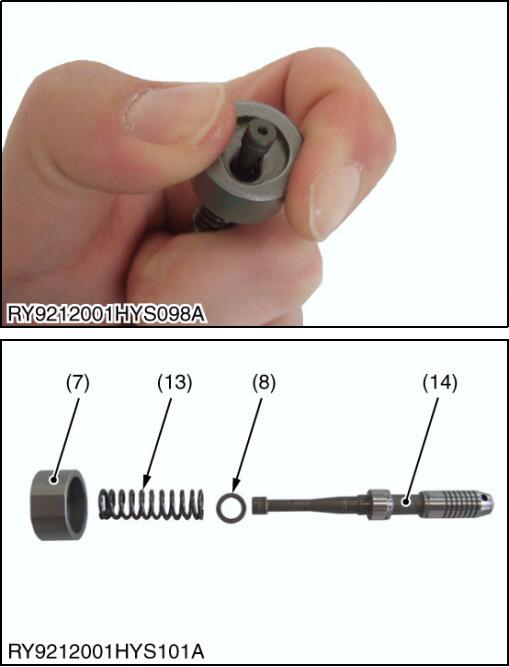 (7) Spring seat
(8) Metal washer 2
(13) Spring
(14) Spool
9.Remove the plug (3) from the pushrod (4).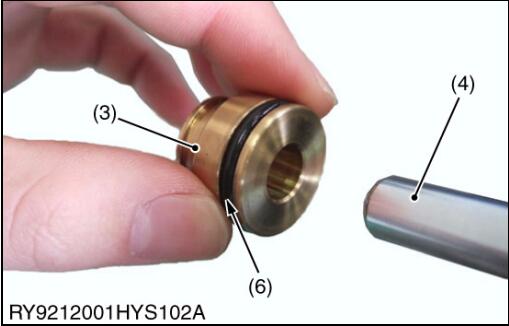 (3) Plug
(4) Pushrod
(6) O-Ring
10.Remove the O-ring (6) and seal (5) from the plug (3).
IMPORTANT
• Use a mini slotted screwdriver.
• Be careful not to scratch the inside surface of the plug.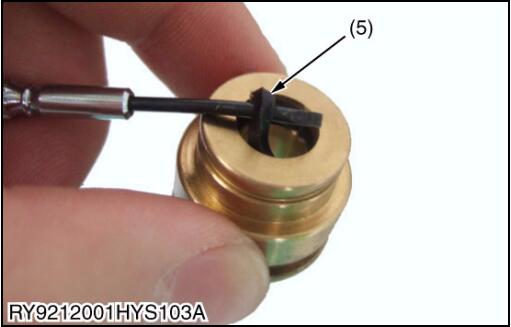 Components of the Plug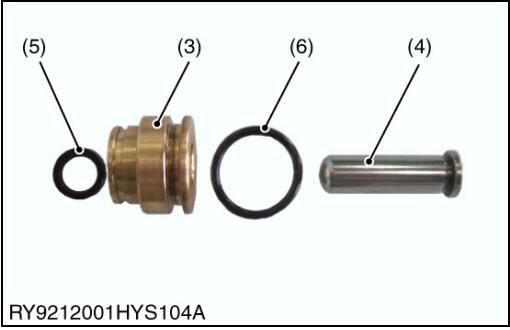 (3) Plug
(4) Pushrod
(5) Seal
(6) O-Ring
More repair case for Kubota,please refer to:Kubota Trouble Repair
(Visited 226 times, 1 visits today)