This instruction show you two ways to choose diagnostic data for VAG vehicle on ODIS Engineering.
Preparation:
Newest ODIS-E Engineering 17.0.1/12.2.0/9.0.1 Free Download
08.2023 VW ODIS 23.0.5 & 7.2.1 & 5.2.7 Diagnostic Software Free Download
Method 1: searching from below vehicle list if you know vehicle model
AUDI:
>AU21X: AU210/AU220(A1)/AU316(Q3)
>AU35X: AU35X(A3AB2)/AU324/AU325(TTNF)/AU714/AU715(R8)
>AU37X: AU37X(A3AB3)/AU334/AU335(TT3)
>AU48X: AU48X(A4/A5 B8)/AU416(Q5)
>AU56X: AU56X(A6 C6)/AU716(Q7)
>AU57X: AU57X(A6/A7 C7)
>AU64X: AU64X(A8D4)>AU724: AU724(R8NF)
>AU924: AU914/7(RSe)/AU924(R8e Tron2.0)
>MLBEVo: MLBEVo/AU736(Q7 NF)/AU49X(B9)/AU246(Q5 NF)/AU651(D5)
>MLBEVo_DolP: MLBEVo/AU736(Q7 NF)/AU49X(B9)/AU246(Q5 NF)/AU651(D5)
VW:
>MQBAB: MQB-A/B
>VN337E:E-Caddy
>VN35X: Caddy
>VN54X: Crafter NF
>VN75X:T5
>VN81X: Amarok
>VW019:1-Liter Auto
>VW120: Up! NSF
>VW21X: Suran
>VW23X: Gol
>VW250CS: Polo China
>VW2531CS:A-Entry China
>VW2532CN: Jetta A2 NF China
>VW25X: Polo
>VW26X: Polo GP(MQBAO)
>VW3111: Lavida China
>VW3112CN: New Bora China
>VW316C: Tiguan Lang China
>VW32X: New Beetle
>VW358C: Touran China
>VW36X: Golf 6
>VW36XCN: Golf 6 China
>VW37X: Golf 7
>VW37XCN: Golf 7 China
>VW37XCS:A+China
>VW411:New Midsize Sedan
>VW411CS:New Midsize Sedan China
>VW46XCN:Passat B7 China Lang
>VW47X:Passat B7
>VW48X:Passat B8
>VW51XCS:C-Modell Chian
>VW526:Touareg
>VW611GP3:Phaeton GP3
>VW62X:Phaeton NF
>VWVRTVPT:Konfigurationsdatei
SEAT:
>SE25X:Ibiza
>SE26X:SE26X
>SE35X:Altea/Toledo/Leon/Freetrack
>SE37X:PQ37
>SE41X:Exeo
Lamborghini:
>LB72X:LB724/LB725(Huracan)
>LB83X:LB83X(Aventador)
SKODA:
>SK25X: SK25X(A05-Fabia+Roomster)
>SK25X1: SK25X1(A-Entry)
>SK26X: SK26X(A06-Fabia ll)
>SK35X: SK35X(A5-Octavia+Yeti)
>SK37X: SK37X(A7-Octavia ll)
>SK46X: SK46X(B6-Superb)
>SK48X: SK48X(B8-Superb ll)
>SKSVW: SKSVW(Skoda China)
Method 2: How to use ODIS choose vehicle model if you can not find model from above list.
Running ODIS, then click "Start Diagnostic"–"Diagnostic"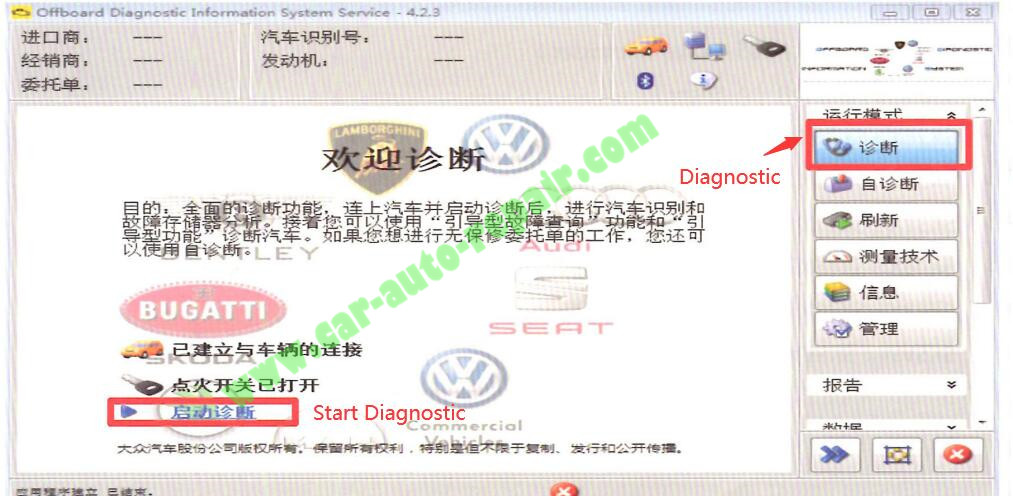 After diagnosis click "Report"—>"Save"–>"Long record", then click "OK"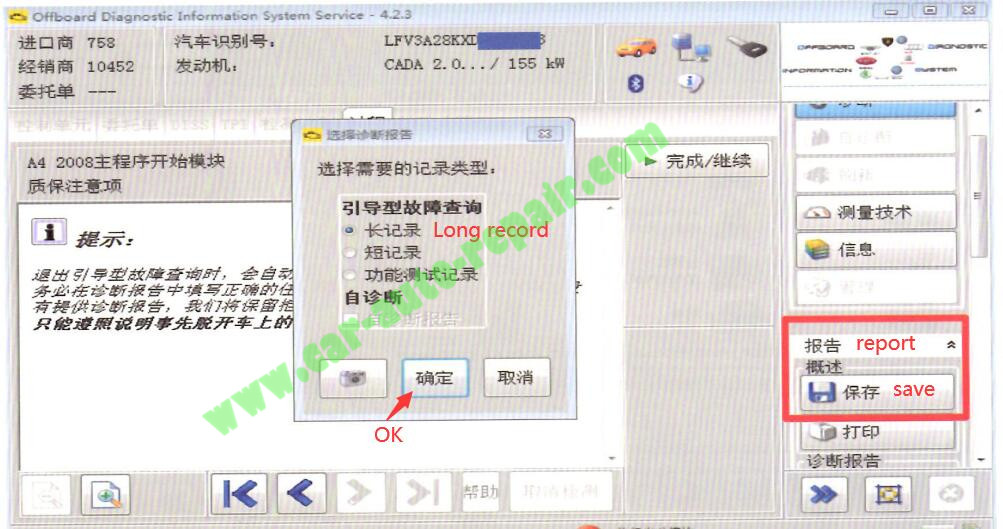 Save file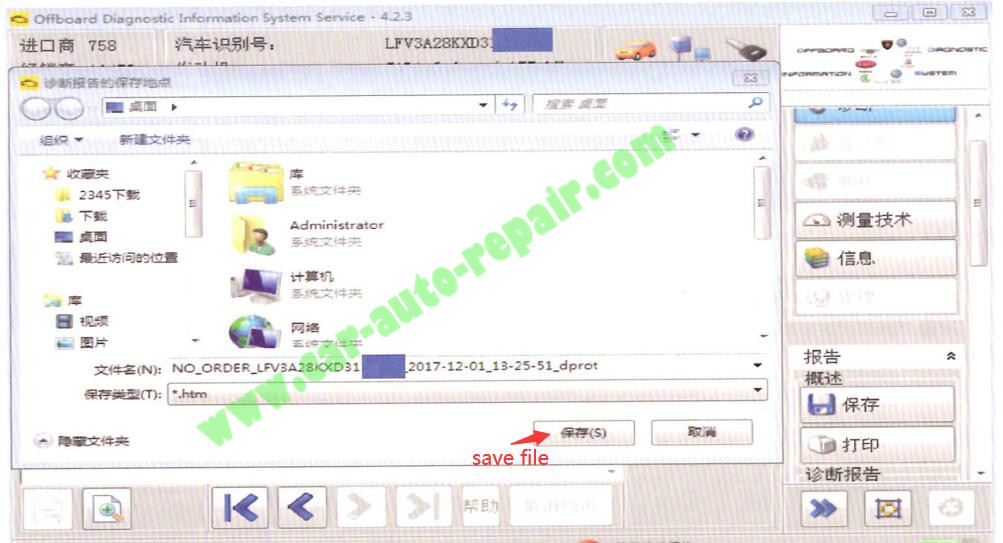 Open this file you saved via IE browser, check the name of ASAM project, AU48X is the data what we need.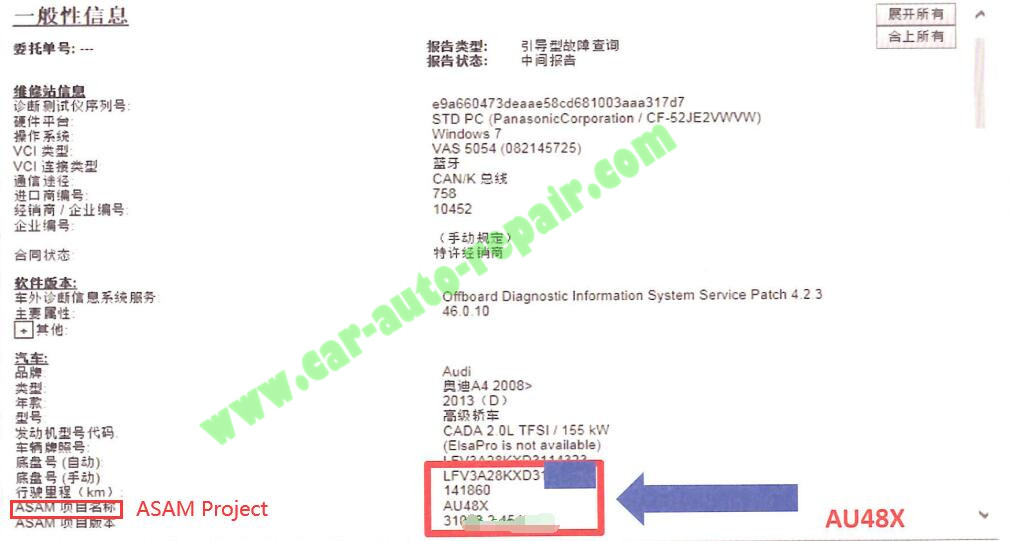 Visited 1 times, 1 visit(s) today