This is an instruction show you guide on how to do regeneration troubleshooting for Detroit Diesel GHG14 DDEC VI engine.
Related Contents:
2023 Detroit Diesel Diagnostic Link DDDL 8.17 8.09 Free Download
Procedures:
Note : This diagnostic should be completed first for regeneration issues.
Verification: Verify Parked Regeneration Completes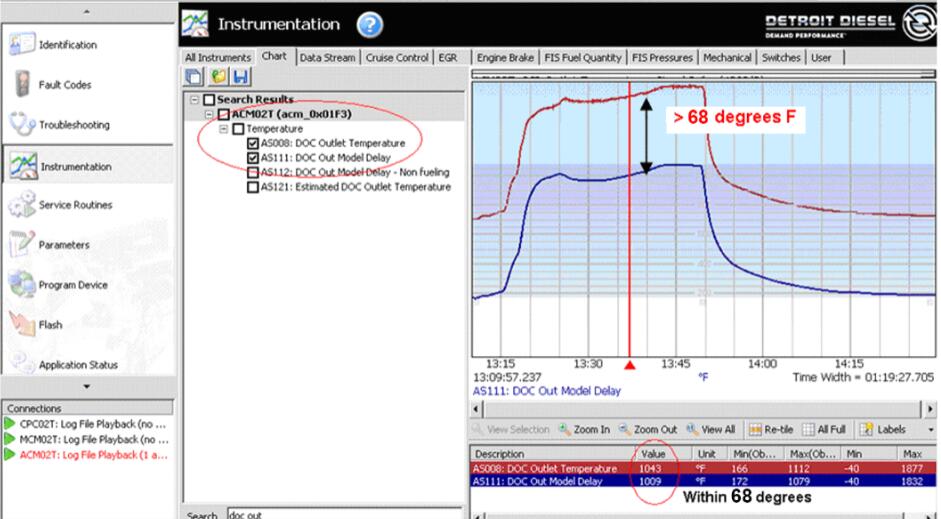 1.Connect using DiagnosticLink ®  and then turn the ignition ON (key ON, engine OFF).
2.Using DiagnosticLink, check for fault codes. Are any Fuel System or Air System fault codes present?
2a Yes; troubleshoot those codes first.
2b No; Go to step 3.
WARNING  
HOT EXHAUST
During parked regeneration the exhaust gases will be extremely HOT and could cause a fire if directed at combustible materials. The vehicle must be parked outside.
Note : If the unit is in zone zero, the system will not initiate a parked regeneration without using DiagnosticLink.
3.Using DiagnosticLink, go to Service Routines/DPF System/Perform Parked Regeneration/Start. Does the regeneration start successfully by reaching at least 1,100 rpm?
3a Yes; let the regeneration continue to run and Go to step 4.
3b No; Regeneration – Unable to Start a Parked Regeneration
4.Does the regeneration end at any time without a fault code coming active?
4a Yes; Regeneration – Regeneration Ends Abruptly.
4b No; Go to step 5.
5.Using DiagnosticLink, monitor DOC inlet temperature. Does the DOC inlet temperature reach 280 °C (536 °F)?
5a Yes; Go to step 6.
5b No; Regeneration – DOC Inlet Temperature Unable to Reach HC Dosing Temperature .
6.Using the chart tab in DiagnosticLink, monitor DOC outlet temp and DOC Out Model Delay. After 30 minutes into the regeneration, is there a difference greater than +/- 55.5°C (100°F)?
6a Yes; Regeneration – DOC Outlet Temperature Unable to Meet Model Delay .
6b No; Go to step 7.
7.Using the chart tab in DiagnosticLink, monitor AS077: Fuel Cut Off Valve. At 30 minutes, does Fuel Cut Off Valve stay steady at 100%?
7a Yes; troubleshooting is complete.
7b No; stop the parked regen and start a DOC Face Cleaning service routine, found under Action – Aftertreatment. Let the routine run for one minute, then stop it. Start another parked regen and verify it completes successfully.
More repair cases for Detroit Diesel engines,please refer to:Detroit Diesel Engine Repair
(Visited 4 times, 1 visits today)