In this article,I will share step by step guide on How to retrofit BMW E90 NBT EVO.Hope this article can provide information what you want.
What you need for BMW E90 NBT EVO Retrofit?
Standard NBT EVO Retrofit kit e90
Head unit display 8.8″
CID video cable
eNBT retrofit adapter
Map (NA), Video in motion
Video streaming from USB armrest
Sports display, M-lap timer, BMW Apps
Touch controller+ PNP touch wiring
Apple CarPlay
Pre-wired LAN cable
Wiring Kit:Bluetooth antenna and cable, microphone cable, USB cable, touch controller PNP wiring
Infotainment System Cover #65129270248 (North America) or 65129270250 (Europe)
Stereo Dash Trim #51459120979
iDrive Touch Control Unit #65829371374
Fiber Optic system jumper #61136917541
***Note: if you don't have this already, you will need it as well
USB and Auxiliary Input Socket #84109237654 (6 pin aux cable); #84109237653 (4 pin aux cable)
Trim/Moulding Tool Kit #PHR-05S
***Note: there is a known in call bluetooth echo issue with the eNBT ID6 and LCI amps that can be fixed with a logic 7 amp swap. I'll personally test this issue once everything is installed and report back (I wanted to post this here so I don't personally forget about it)
Infotainment cover (North America – notice the AM/FM mode buttons)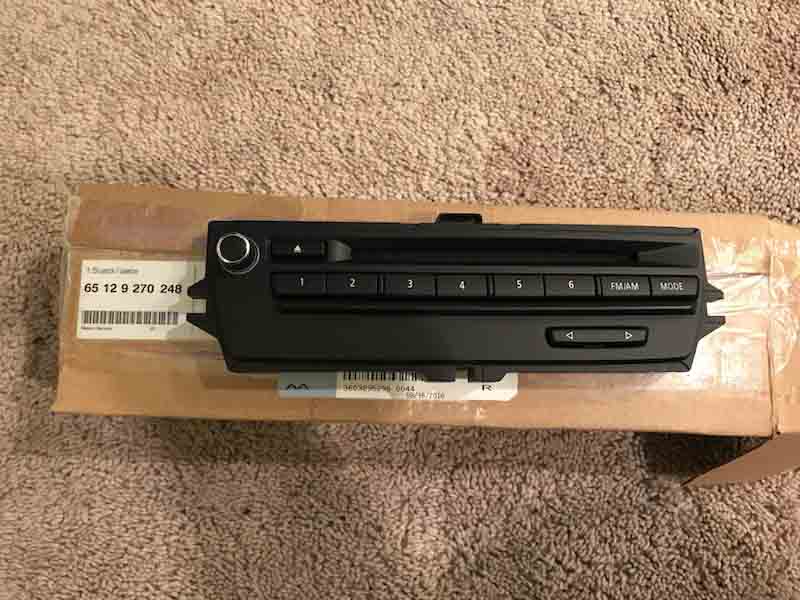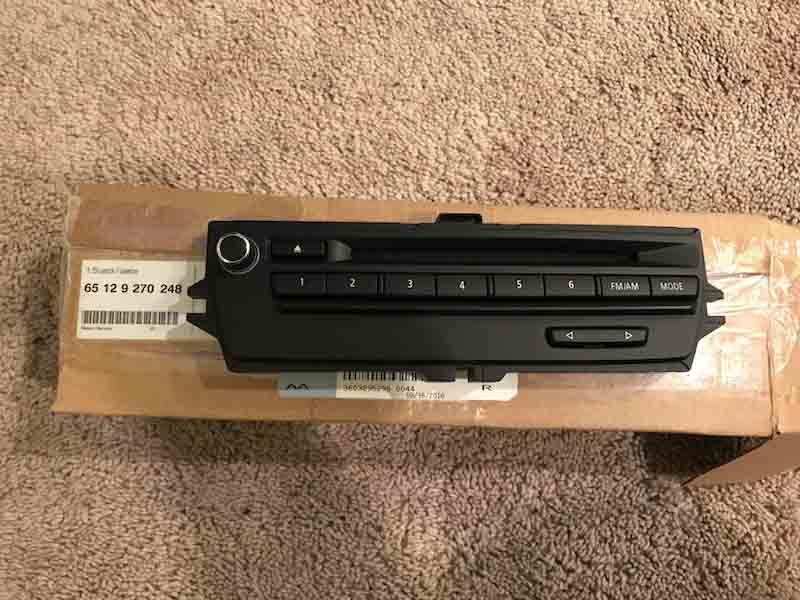 Dash Trim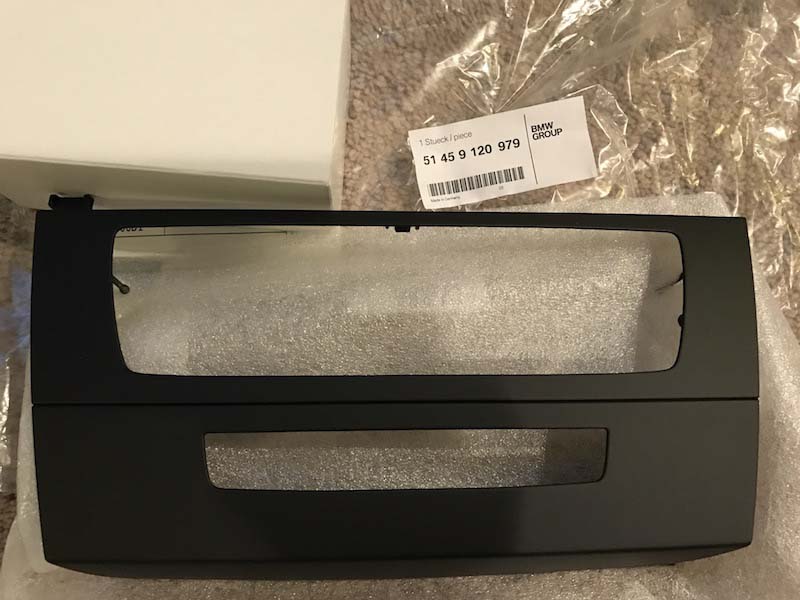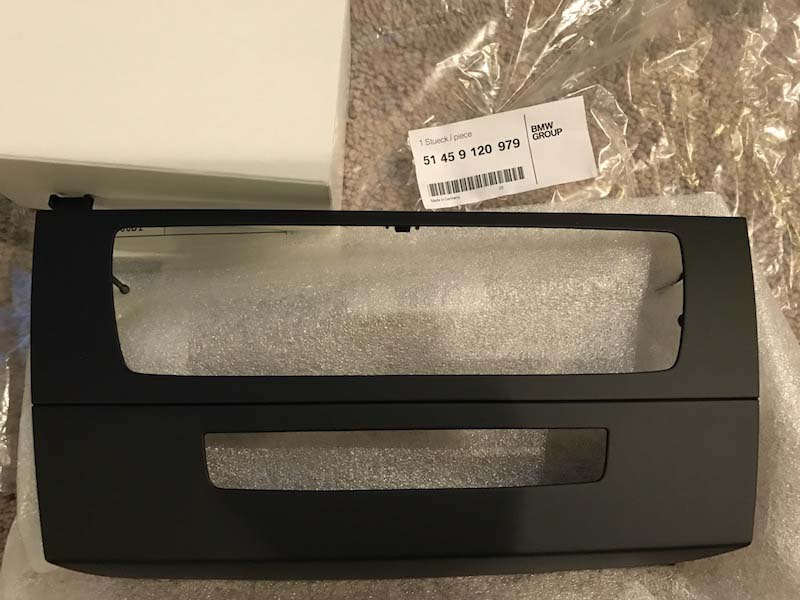 USB Auxiliary Input socket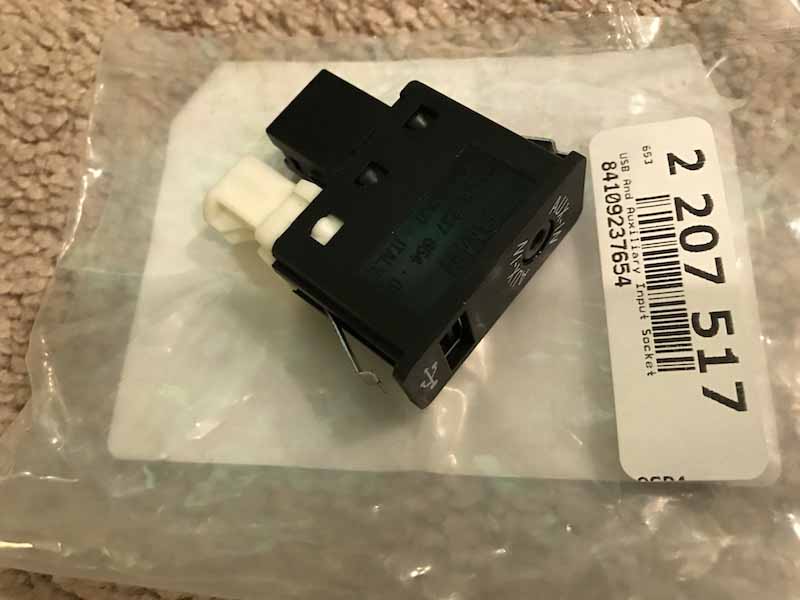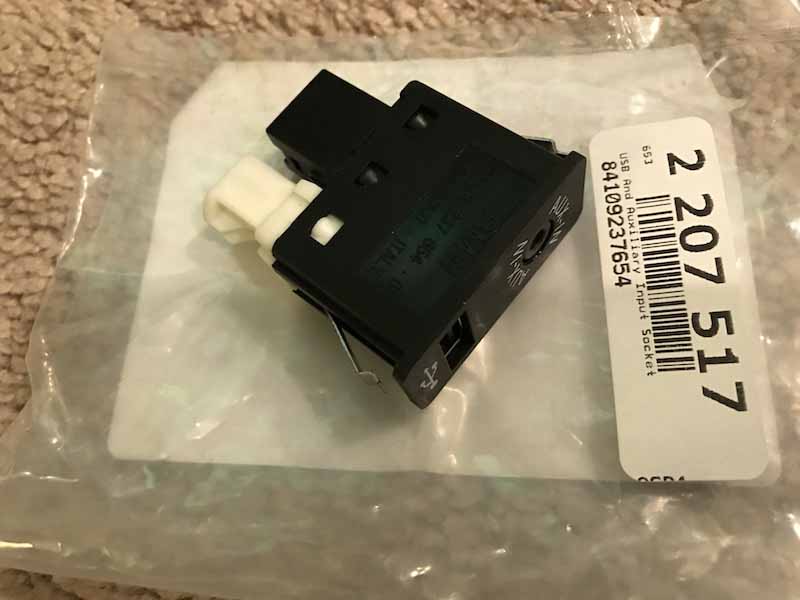 Fiber optic system jumper (terminating loop)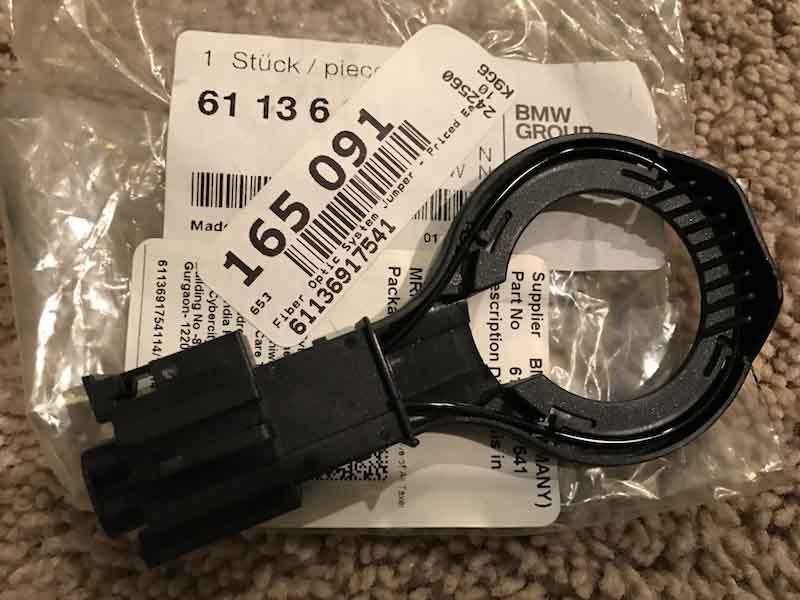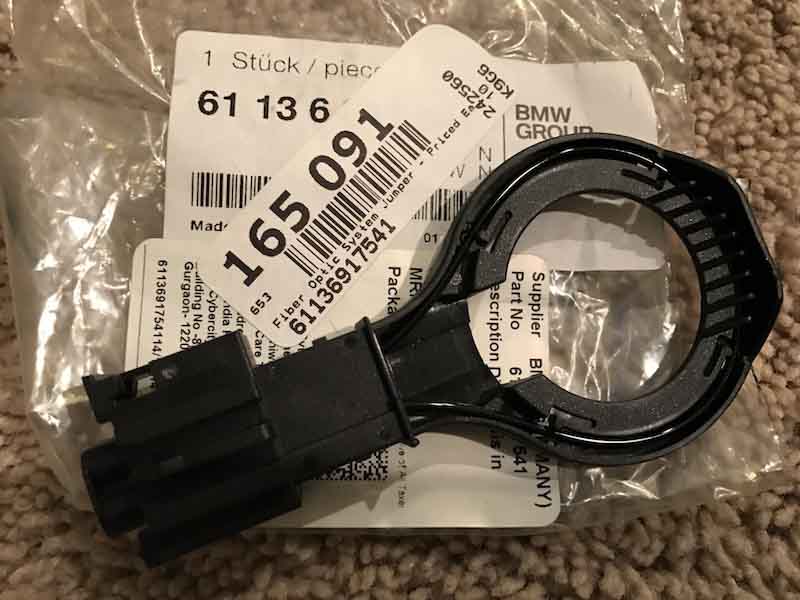 iDrive touch control unit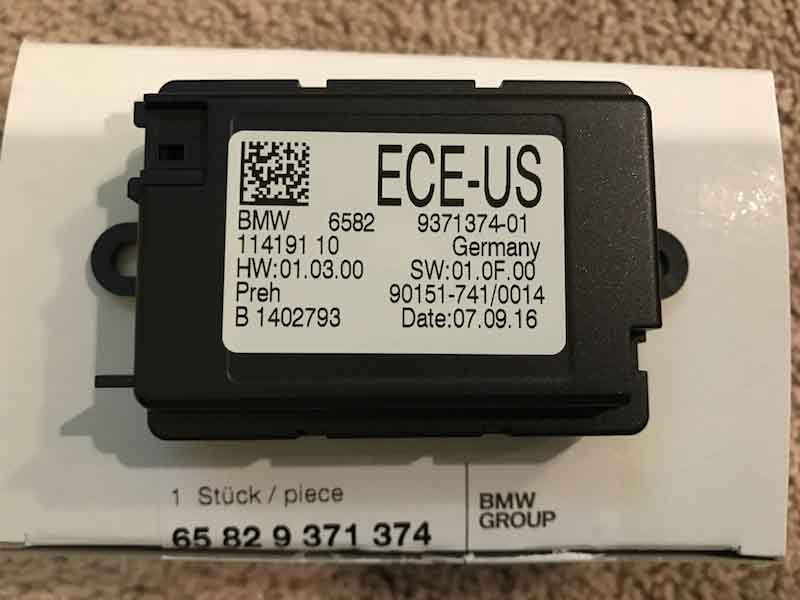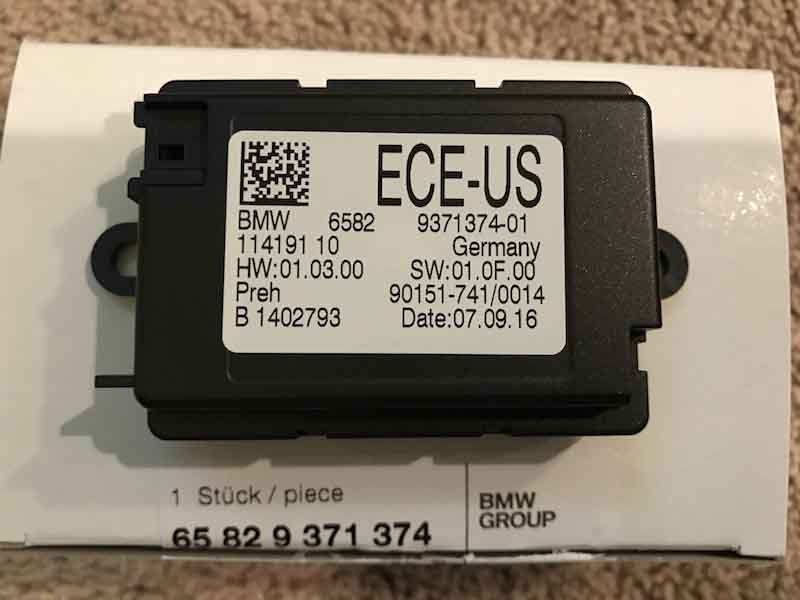 How to retrofit BMW E90 NBT EVO?
Step 1:Removing climate control panel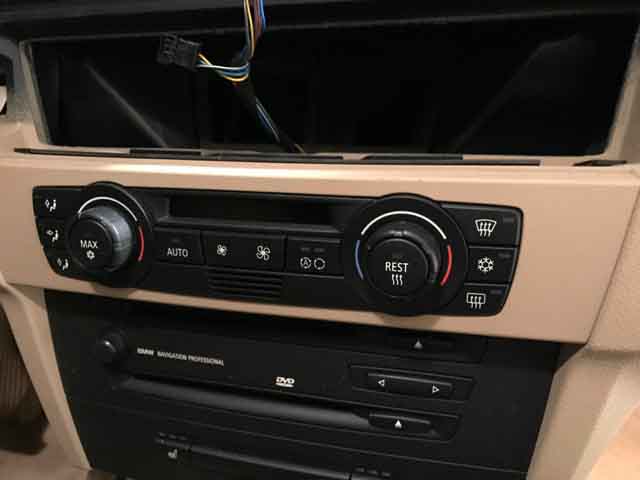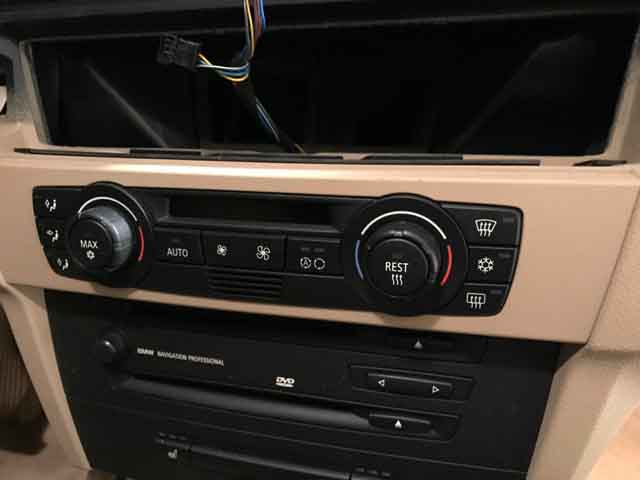 Everything up to this point is pretty straight forward. Removing this panel requires very little effort.
Place your finger behind the panel as pictured. Place your other hand in front to catch it (if it should fall). Flick your finger forward and it should pop out (yes it requires that little effort).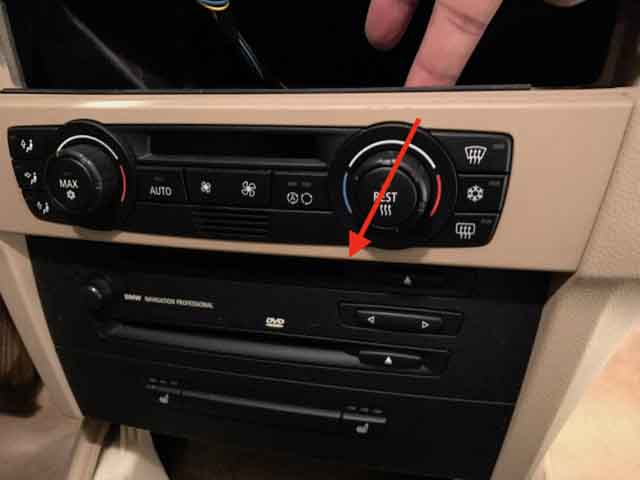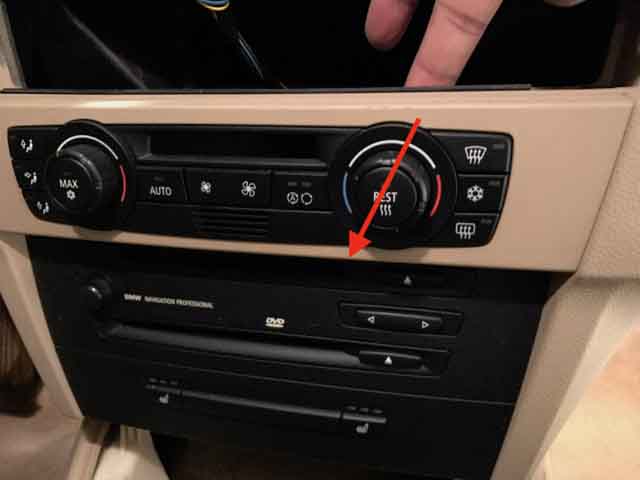 This is what it should look like after.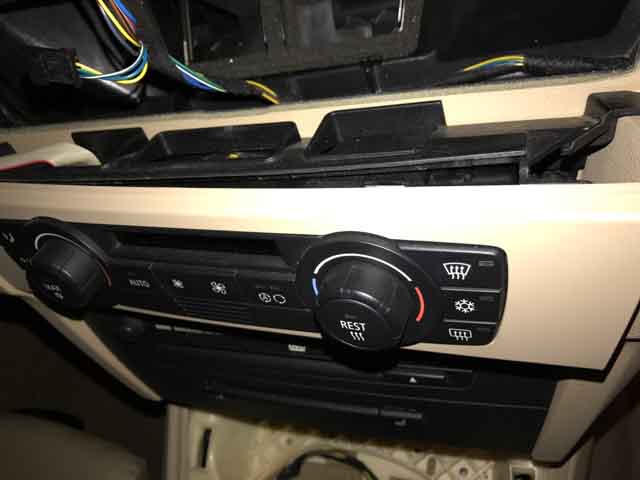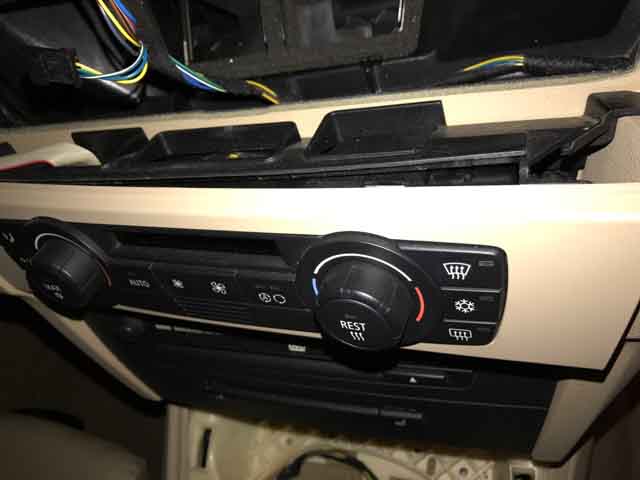 Step 2:Removing climate control panel wiring clips
This is what the clip looks like installed behind the climate control panel. Depress the clip retainer (red arrow); swing the clip arm over the retainer (green arrow); the entire clip as you swing the arm will eject from the housing (yellow arrows)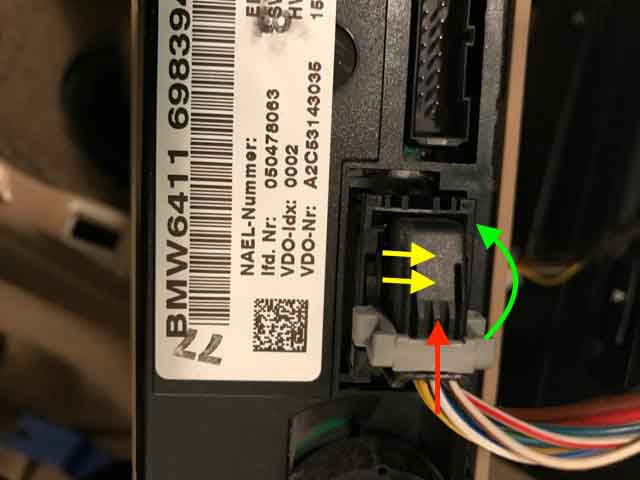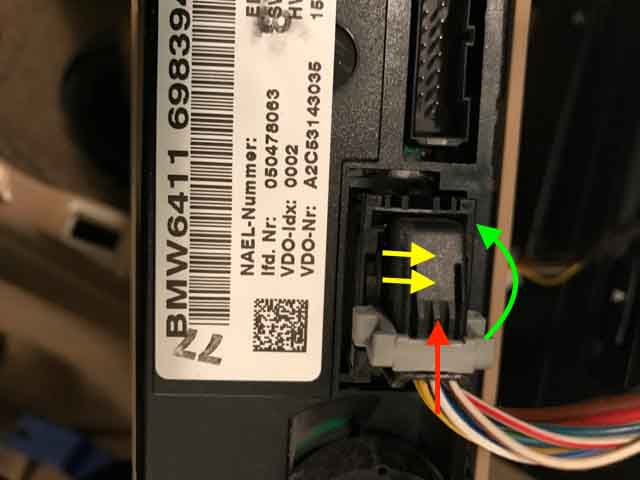 This is what the clip looks like removed and in the closed position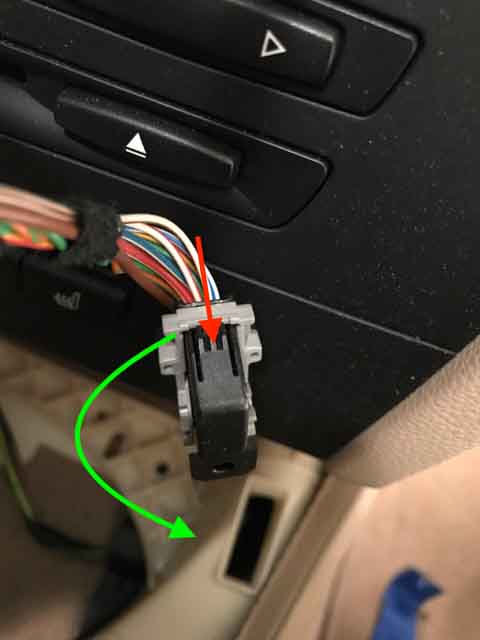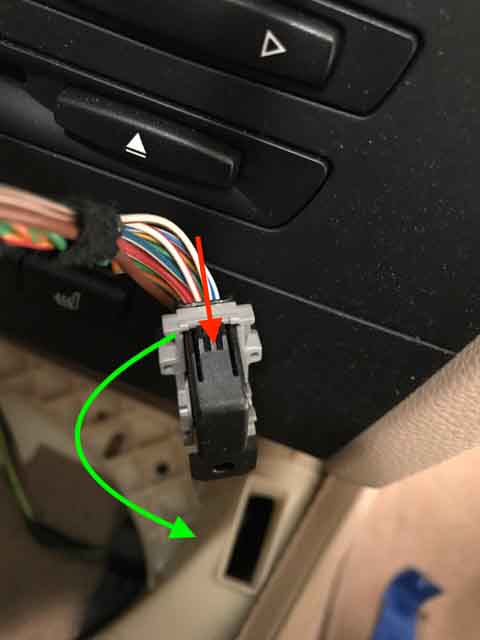 This is what the clip looks like removed and in the open position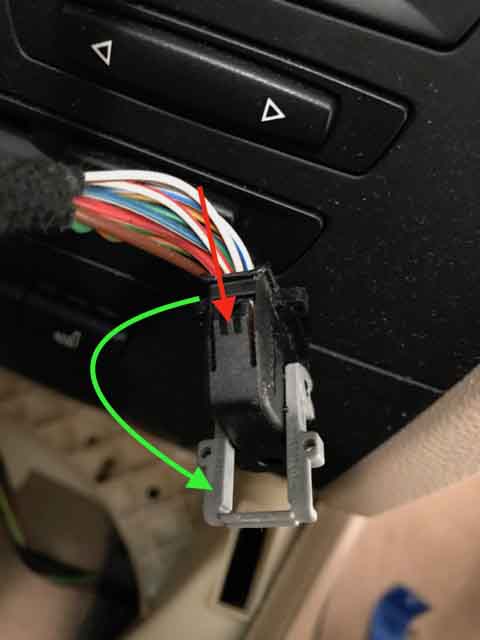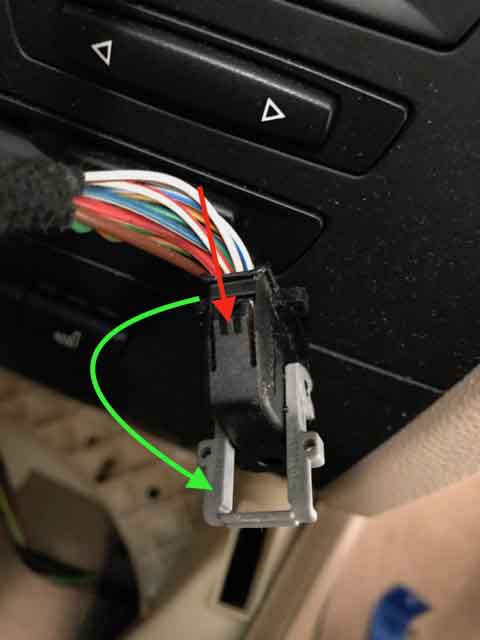 This is the profile of the same clip. Notice, when reinstalling the clip, it must be in the fully extended position (90 degrees purple lines); in order to line up the bottom portion of the clip to the socket (notice the teal arrow). As you reinsert the clip, the arm will begin to swing into the closed position – don't resist it's movement.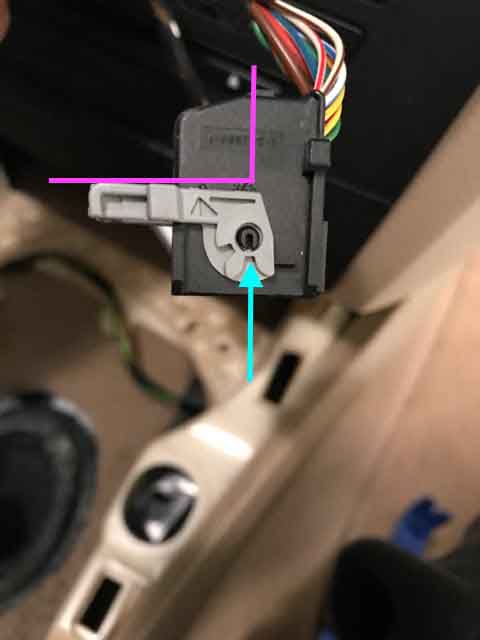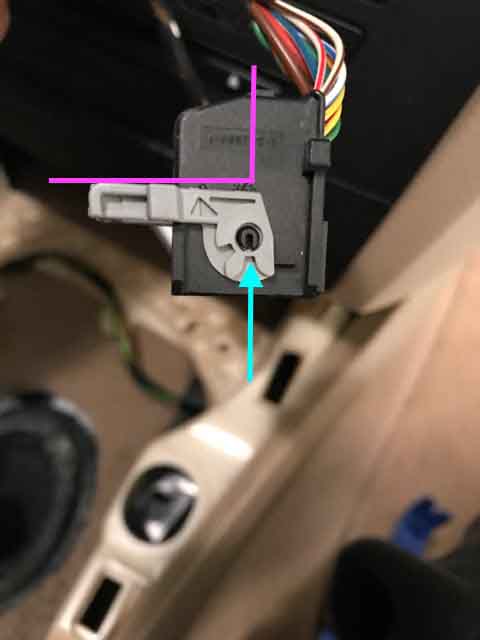 Step 3:Removing fascial cover
This requires very little effort. Excessive force will break the cover. If you do not intend to sell the old unit, you can disregard these removal instructions.
Place your trim removal tool as picture above, ensuring that a portion of the lower section of the trim tool is placed behind the fascial cover. Apply minimal force in the direction of the green arrow. In a fulcrum like fashion, the lower portion will pop outward (yellow arrow)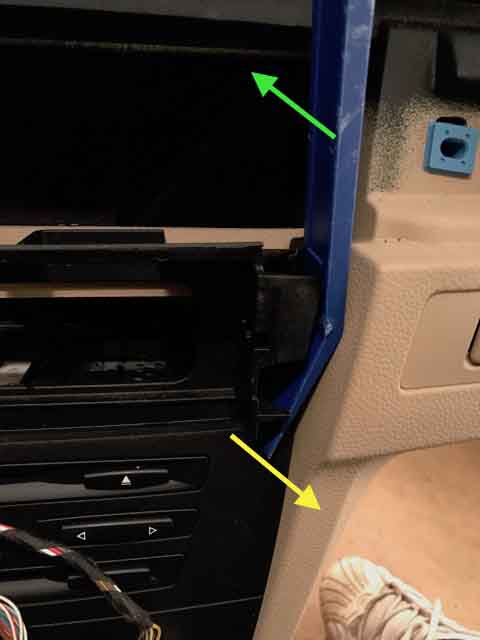 Move the trim removal tool and again place it as pictured. Again apply gentle force in the direction of the green arrow. Again, the fascial cover will pop out in the direction of the yellow arrow.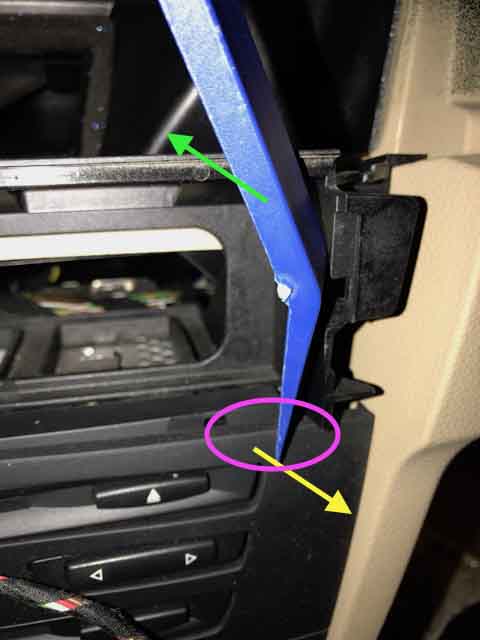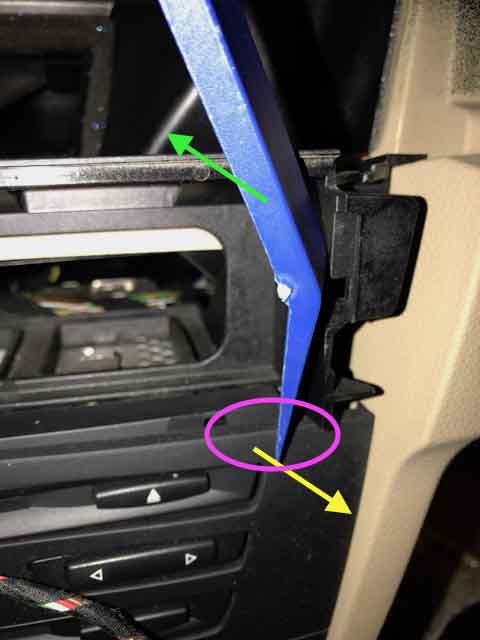 Place the trim removal tool again as pictured. Apply force in the direction of the green arrow. The fascial cover will pop forward and will permit manipulation to remove the entire cover. Note: If you have the seat heater option, the ribbon runs along the left side and snakes its way to the top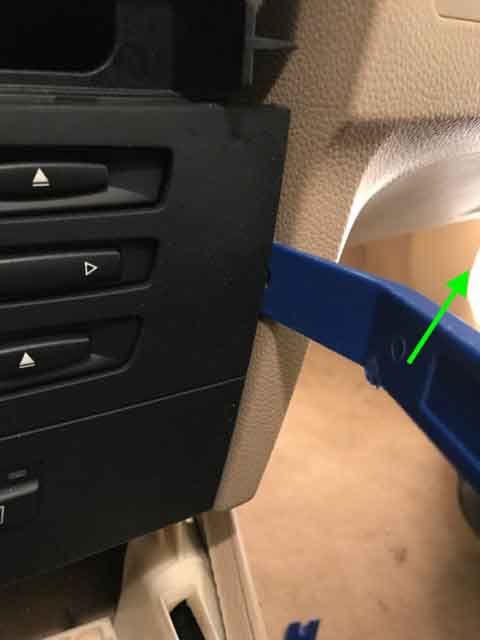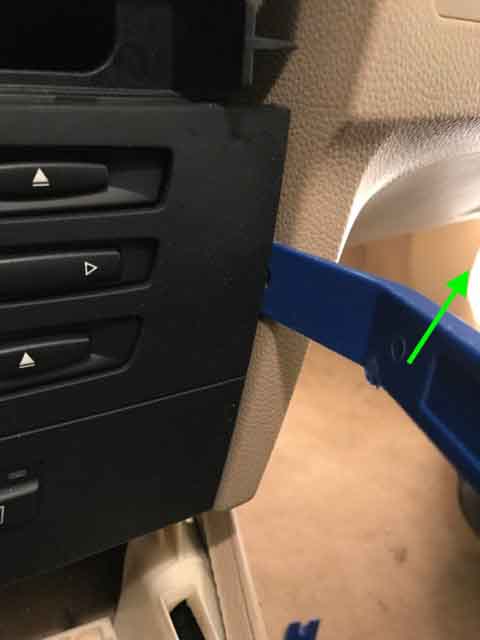 Step 4:Wiring the microphone from the center overhead panel
This was actually easier than I thought. During my planning phase, I removed the trim from the A-frame and ran the wires with existing BMW wiring. The first task – how to remove that pesky overhead panel.
A.Don't bother with the panel. Unclip both sun visors and swing them out.
B.Unscrew the sun visor clips (for both sun visors) It should look like what is pictured below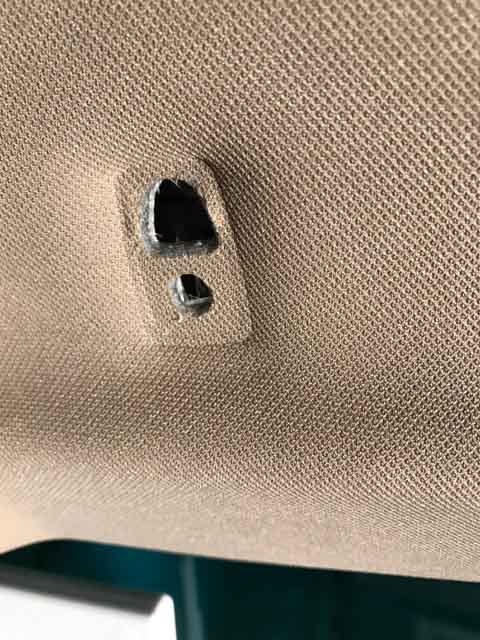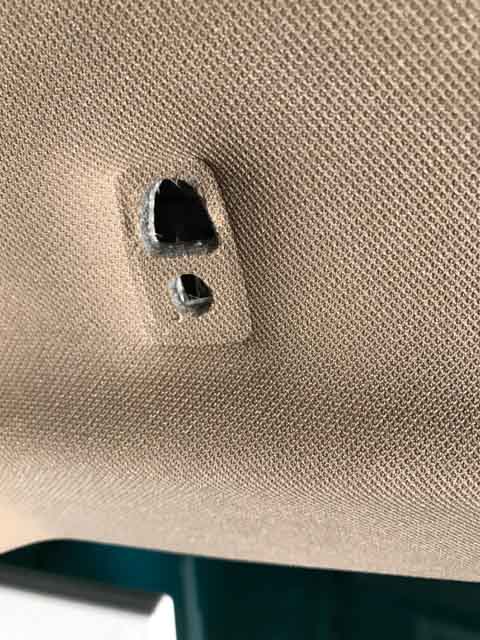 C.This is the difficult part. Which isn't that difficult if you know what you're feeling for. Below is a picture of the panel removed, so you know what you will be feeling for. There are 2 metal springs which when depressed simultaneously (see green circles), the entire panel literally falls out. Since both of your hands will be placed behind the roof covering. It is very pliable, and is flexible enough to fit both of your hands without deforming it's shape.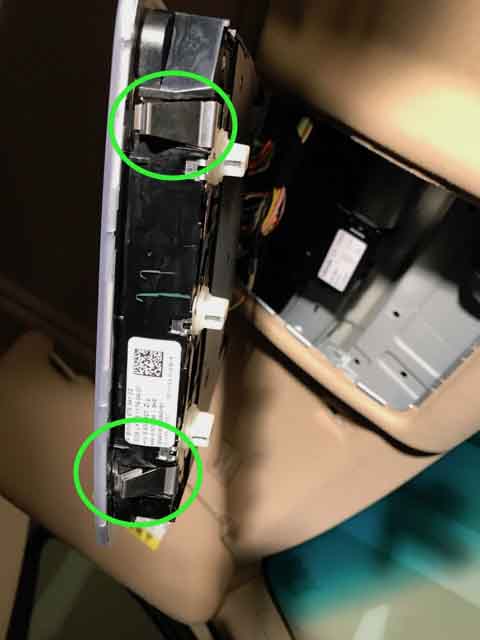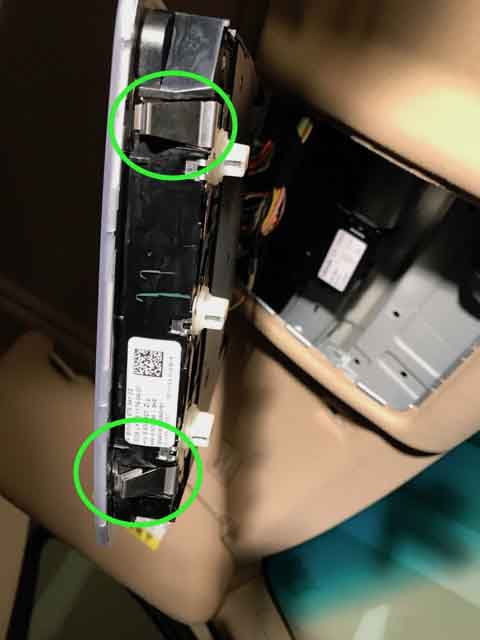 This is a side view so you can closely see how the clips move, and how much the clips can be "depressed".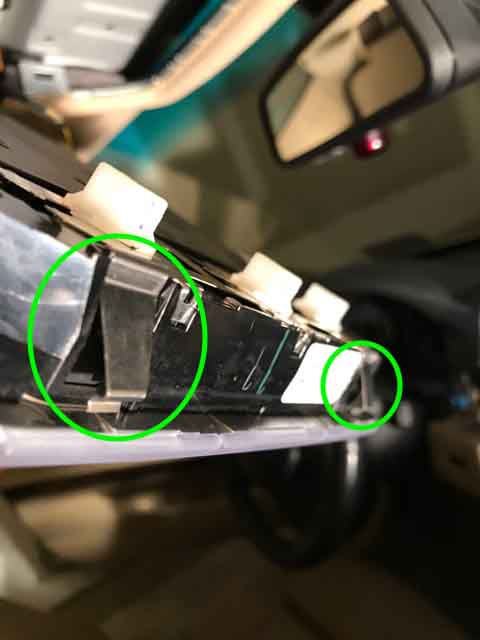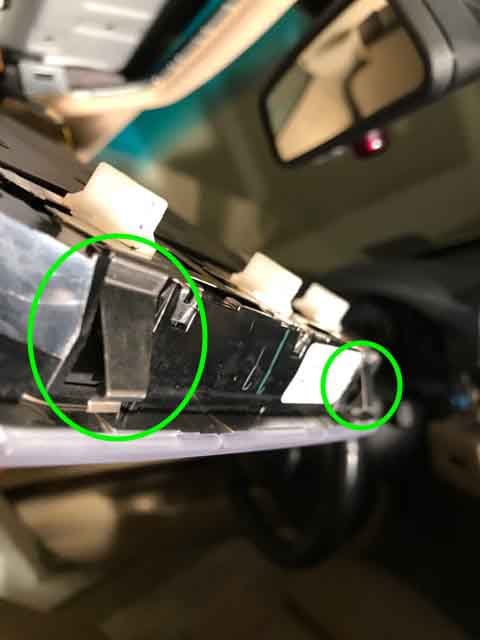 There are some who say it can be removed from below, but this way was so easy, I had to include as the most effective and efficient way to get this component removed without risking damage to the aluminum opening (yes where the panel clips, is aluminum and can be damaged if you pry it open with a flat head), also, removing the diffusing light cover (over the centerconsole light) does nothing and only risks breaking clips that secure it in place.
Here is a video about How to remove E90 Center Ceilling Consol
Done!This NBT EVO retrofit is simply amazing. Super fast. The struggle with my prior Professional DVD Navigation was real. It's a pleasure to drive now – and stream over bluetooth with CarPlay!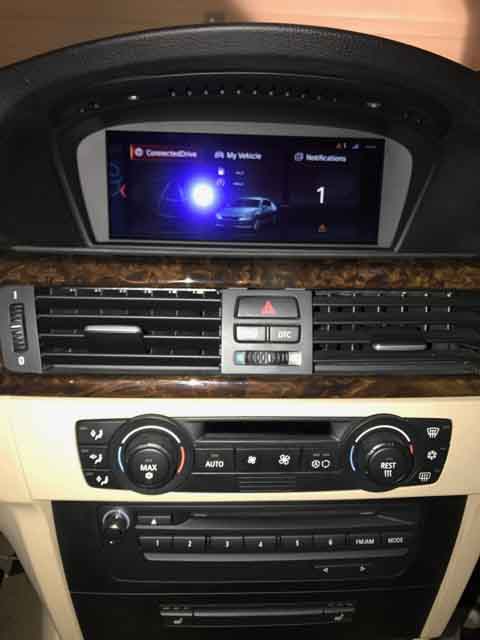 Thanks to bimmerfest forum member iceweasel69,he write the orginal post,and I re-write and modify it :http://www.bimmerfest.com/forums/showthread.php?t=954202
Visited 1 times, 1 visit(s) today