What is Landini EPC Galileo?
Landini EPC Galileo is Landini Galileo – Spare parts catalogue for Landini tractors.Parts catalog contains spare parts and accessories information, part book, technical information for Landini vehicles.Parts catalog icnludes detailed and clear illustrations, pictures and drawings, that help to install and dismantling of certain parts of Landini vehicles.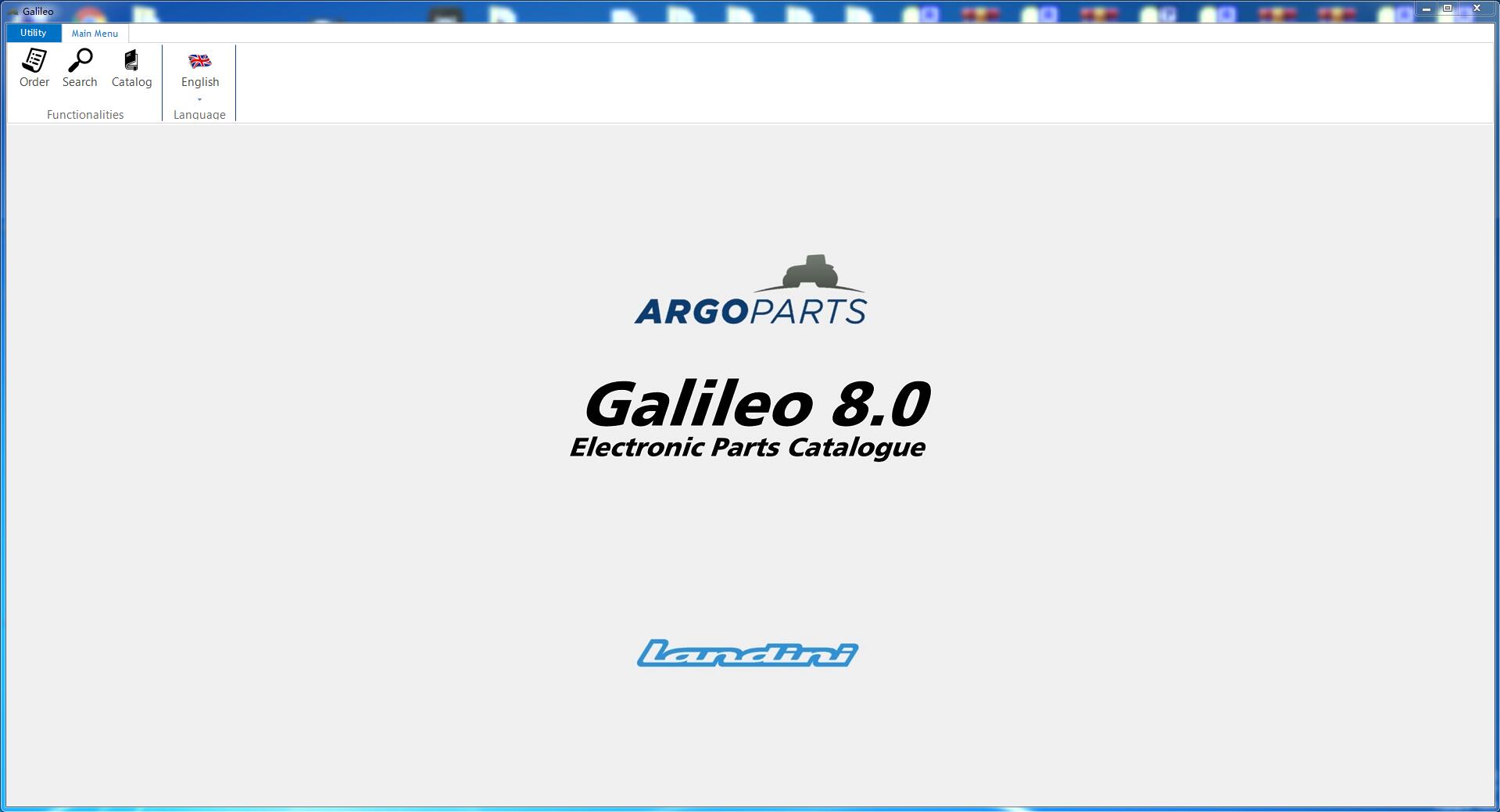 Landini EPC Galileo Support Languages:
German,English,Spanish,French,Italian.
Landini EPC Galileo Installation Requirements:
– O.S.: Windows XP; Windows Vista; Windows 7; Windows 8
– CPU: Pentium/Athlon 1.8 GHz or higher
– RAM: 256 MB of system memory
– Hard Drive: 5 GB of available space
– DVD-ROM
Landini EPC Galileo 2015 v8.0 Free Download:
Landini EPC Galileo 2015 v8.0 Free
https://mega.nz/file/jSYQRDwC#nWbsamOClilhRxBvcrNhvghk5RUcDHl8gdg7y9fEF1Y
Landini EPC Galileo 2015 v8.0 100% Work
Landini EPC Galileo Support Models:
30
40
4500 restyling (2011-2012) -rs01
4600 (2012- ) – rs02
50 (1988-1996)
500
505
60 (1988-1999) – 4068
6400-6600 isr-ism-vrm (2011- ) – rs43
6600 arm (2011-2013) – rs42
70 (1988-1996) – 4069
80 (1988-1999) – 4070
Advantage 3 cyl cab (1993-1999) – I003
Advantage 3 cyl f.s. (1992-1999) – I004
Advantage 4 cyl cab (1992-1999) – I003
Advantage 4 cyl f.s. (1992-1999) – I004
Advantage vigneti cab (1994-1999) – I004
Advantage vigneti foot step (1994-1999) – rt00
Alpine (2004-2007) – rp21
Alpine tier3 (2007-2013) – rp22
Atlas – (atlantis) (2000-2004) – rt50
Blizzard (1992-1999) – I002
Caricatori
Cingolati meccanici
Frutteti 530 f-l-v
Frutteti 560 f – 4076
Frutteti 560 l-v – 4076
Ghibli (2000-2004) – rp60
Ghibli new tier2 (2004-2006) – rp63
Globalfarm (2007- ) – rt62
Globalfarm tier3 (2011- ) – rt64
Globus (1998-2004) – rp20
Landforce (2013- ) – rt70
Landpower (2006-2007) – rp72
Landpower iveco tier 3 (2007-2012) – rp74
Landpower tier 3 new cab (2012- ) – rp75
Large (1977-1995) – 4048-4044
Large importato 1
Large importato 2
Legend (1995-2001) – rp10
Legend n-g (2001-2004) – rp70
Legend n-g tdi (2004-2006) – rp71
Mistral (1998-2003) – rs10
Mistral america (2004-2007) – rp81
Mistral epa2 (2003-2008) – rs11
Mistral tier 3 (2009-) – rs12
Mythos (2000-2004) – rp40
Mythos tier 2 (2004-2007) – rp41
Powerfarm meccanico tier 2 (2003- ) – rs20
Powerfarm meccanico tier 3 (2008- ) – rs22
Powerfarm rps tier 2 (2004-2012) – rs21
Powerfarm rps tier 3 (2008- ) – rs22
Powermaster (2006-2009) – rp90
Powermax (2006-2009) – rp91
Powermondial (2009-2014) – rp64
Prima serie
Rex cab (2000-2003) – rp50
Rex foot step (2000-2003) – rt40
Rex techno restyling (2010- ) – rp56
Rex techno tier 2 (2003-2008) – rp52
Rex techno tier 3 (2008-2009) – rp54
Rex tier 2 (2003-2008) – rp51
Rex tier 3 (2008-2009) – rp53
Rex top restyling (2010- ) – rp55
Serie 1 (2011- ) – rpk1
Serie 4 (2014- ) – rs52
Serie 4 small range (2015- ) – rs53
Serie 5-d tier 4 (2013- ) – rs26
Serie 5-h (2009- ) – rs23
Serie 5-h t4i (2014- ) – rs28
Serie 5-h tier 4 (2013- ) – rs25
Serie 6 tier 4i (2013- ) – rpd2
Serie 60 epa2 (2005- ) – rt61
Serie 60 new (2002-2005) – rt60
Serie 6c tier 4 (2014- ) – rp66
Serie 6l t4i (2014- ) – rp76
Serie 7 145-165-185 (2009-2013) – xtx3
Serie 7 190-210-230 (2009- ) – xtx4
Serie 7 tier 4 (2012-2013) – rpe1
Serie 7 tier 4i (2013- ) – rpe2
Serie 9-7 (2014- ) – rs37
Starland (2002-2004) – I934
Technofarm europa tier 2 (2007-2008) – rs50
Technofarm europa tier 3 (2008-2015) – rs51
Technofarm mondial f.s. tier 2 (2007- ) – rt30
Telescopico
Trekker (1991-2000) – 4078
Trekker compact tier1/tier2 (2001-2009) – ct00
Trekker new (2000-2003) – cp00
Trekker new tier 2 (2003-2007) – cp01
Trekker new tier 3 (2007-2010) – cp02
Trekker restyling (2011- ) – cp03
Vigneti rex cab (2000-2003) – rp01
Vigneti rex cab tier 2 (2003-2005) – rp02
Vigneti rex cab tier 2 new generation (2005-2007) – rp03
Vigneti rex cab tier 2 new generation (2007-2009) – rp04
Vigneti rex foot step (2000-2003) – rt01
Vigneti rex v-s restyling (2010- ) – rp05
Vision (2002-2003) – rp61
Vision new tier 2 (2003-2008) – rp62
Vision tier 3 (2008-2010) – rp65
(Visited 179 times, 1 visits today)