What is Orange 5 Programmer?
Orange 5 / Orange5 is a professional programming device for memory and microcontrollers,it is the Unique series programmers, and built-in macrolanguage for writing down protocols.Orange5 device programmer gives fast and easy capability to add new types of microschemes, precisely meeting manufacturers' requirements to read/write algorithms.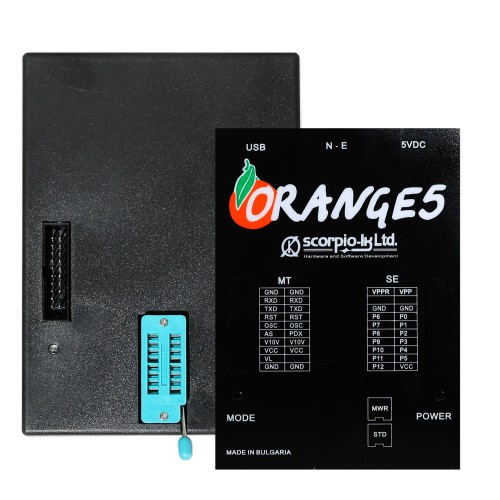 Orange5 Programmer Features:
– Languages:Only English and Russian
– Universal easy to plug panel ZIF16 for EEPROM
– Control of contacts in the sockets
– Two expansions compatible with Orange4 and Omega MTRK
– Protection against overcurrent
– Overload voltage protection
– Two types of power supply: Standart (USB) and enhanced (USB + external power supply)
– Three 3 adjustable voltage and current control
– High-speed bidirectional pin drivers with adjustable voltage
– Wave cycle generator with frequency ( up to 24 Mhz) and out voltage adjustment
– Capability of functional emulation of class CDC USB devices
– Built-in 32-bit virtual machine
– Supported interface: I2C, SPI, MicroWire, JTAG, UART, BDM, ISO7816, K-LINE (via adapter), CAN
– Programmer is encolsed in a functional box. Supported working under Windows XP/7 32bit.
Orange5 Programmer Software Download:
https://mega.nz/#!zFY0gZ5Z!hnwPFYHtygbmlNW14gxLJIwM1XW7ueST-ylIAsz0qco
Orange5 Programmer Reviews & Feedbacks:
2j74y ok
35080 ok
TMS immo opel ok
HC05 immo old vw ok
HC908az60 ok
68HC11 OK
93c66,46,56, 24c02,04
S190, hc08(1j35d)ss read eeprom and flash
Hc05x32 ss and read all went good.
I have it 5.7 too and work perfect iven on win 10 x64..cas4-cas4+ and many more done no problem.. I also want to buy orange5
I buy Orange5 china clone. Work great. Now i check in hc05b8, hc11e9, and eeproms. All read and write very fast.
It's almost the same as the price on the Orange website. Besides – on the webpage is written OEM.
Clone but includes – Immo HPX 9V0
confirmed that oem orange 5 comes with immo hpx 9.0 and adapter set
On Hc908az60 secured it work's good.
I have 4 secured mcu, and they work ok.
I have tried 68hc11, a lot of eeproms, and it work's just perfect
First very easy to install, then I start tested it: all functions open 1-10 except car radio get error, tested reading usual EPROMS all good, tested tms370 with adaptor board did not read so maybe bad adaptor board, tested IMMO login code from dump, TMS VW works.
IMMO SW included and also activation for other sw. Only one minus is not have updates , I have original also get this to play with it , and can't say bad for it , till now first I read with original after that with the clone and no problem till now , of course I not test all but with some NEC all ok
Original Orange 5 and China Orange 5
Do not get confused by Orange pricing. Orange charge separately for the device, the immo software, the airbag software and the radio software, plus a few specials.
All this comes with the clone.
To compare the two, you must add up all the costs from Orange. There is a very large saving if you buy the clone. But you cannot update it and you have no support from Scorpio. It will suit some people for sure. The adapters are poor quality, and for many the hardware does not work. No doubt as time goes by will will see huge threads about how to fix them. The company who makes it does not have a good reputation for quality or support
Orange 5 Programmer Interfaces:
Orange5 Programmer Support Chip/Immo List:
EEPROM
I2C
24C01,24C02,24C04,24C08,24C16,24C32,24C65,24C128,24C256,24C512,24LC21
MicroWire
93C06,93S06,93C46,93C46,93S46,93C56,93C56,93S56,93C66,93C66,93S66,93C76 WP0
93C76 WP1,93C76 WP0,93C76 WP1,93C86 WP0,93C86 WP1,93C86 WP0,93C86 WP1
4Wire
59C11,59C22,64C10,64C20,64C40,64C80
SPI
25C010,25C020,25C040,25C080,25C160,25C320,25C650,25C128,25C256
Adesto
AT25SF041
AKM
AK6410,AK6420,AK6440,AK6480,AK93C55,AK93C65
Altera
EPCS1,EPCS4,EPCS16,EPCS16,EPCS128
Amic
A25L512,A25L40,A25L080,A25L80,A25L016,A25L16,A25L032,A25LQ16,A25LQ32
Atmel
AT17C65 FPGA configurators,AT17C128,AT17C256,AT17LV65,AT17LV128,AT17LV256,AT24C01
AT24C01A,AT24C02,AT24C04,AT24C08,AT24RF08,AT24C16,AT24C164,AT24C21,AT24C32,AT24C64
AT24C128,AT24C256,AT24C512,AT24C1024,AT25010(8),AT25020(8),AT25040(8),AT25080,AT25160,AT25320,AT25640,AT25128,AT25256,AT25DF021,AT25DF041,AT25DF081,AT25DF161,AT25DF321,AT25F512,AT25F1024,AT25F2048,AT26DF081,AT26DF161,AT26DF321,AT26F004,AT34C02,AT45D011 * Data Flash,AT45DB011 *,AT45D021 *,AT45DB021 *,AT45D041 *,AT45DB041 *,AT45D081 *,AT45DB081 *,AT45DB161*,AT59C11,AT93C46,AT93C56,AT93C56A,AT93C56B,AT93C57,AT93C66
AT93C66A,AT93C66B,AT93C86
BOSCH
B34AB,B43AB,B46AJ,B49AJ,B52AP,B54AH,B81AB,B58252,B58253,B58256,B58258,B58379,B58380,B58608,B58813
Catalyst
CAT1023,CAT1024,CAT1025,CAT24WC08,CAT24FC32,CAT24WC32,CAT24C44,CAT24WC64,CAT25C32,CAT34C02,CAT35C102,CAT35C102,CAT35C104,CAT35C104,CAT59C11,CAT64LC10,CAT64LC20,CAT64LC40,CAT93C46,CAT93C56,CAT93C57,CAT93C57,CAT93C66,CAT93C76,CAT93C86
More detail chip list and immo list please check here:
https://drive.google.com/file/d/0BzMEvK0bAD0eWk1QLVpvMzdnXzg/view?usp=sharing
(Visited 744 times, 2 visits today)