What is Yanmar Smart Assist SA-Direct?
Yanmar SMARTASSIST-Direct is the application for supporting installation and maintenance services of electronic control product (hereinafter referred to as ECU) of Yanmar.
The SMARTASSIST-Direct software supports the error diagnosis, and mounting and maintenance services of electrical control devices. It runs on Windows personal computers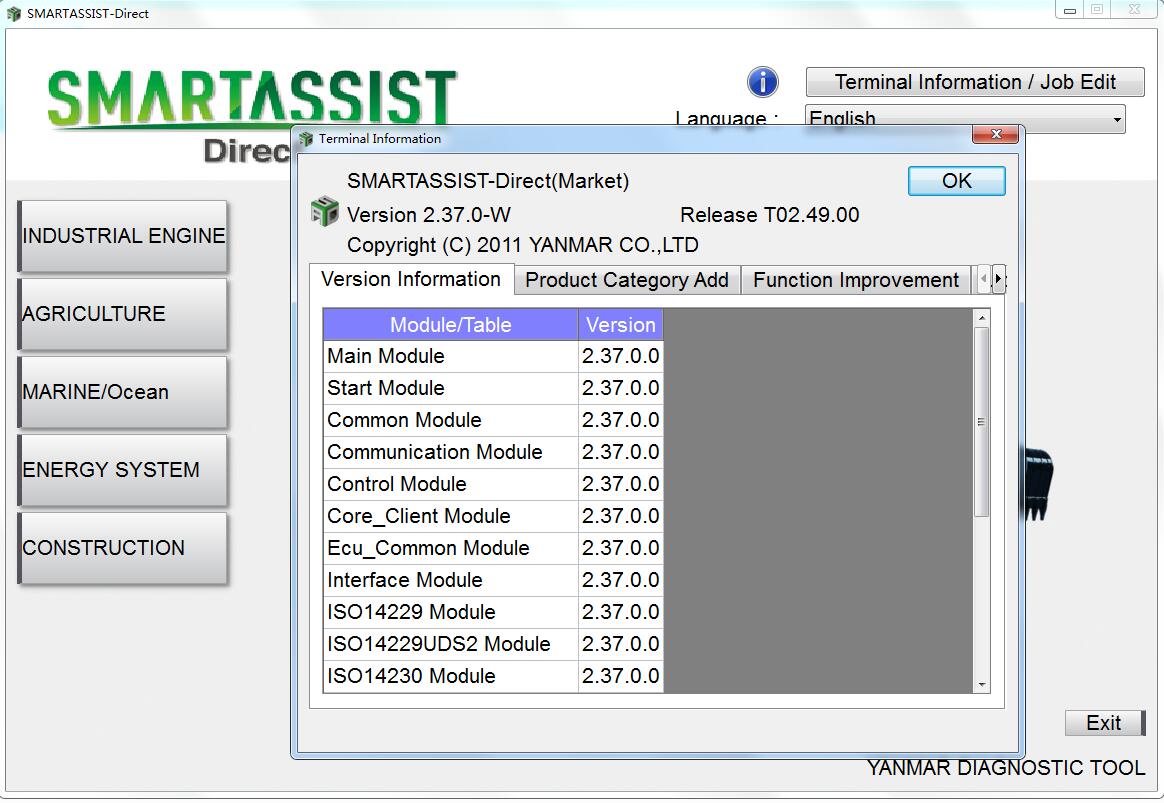 Yanmar Smart Assist SA-Direct Functions:
ECU Access
Diagnostics (Execution)
Product Operation Data
ECU Reprograming (Flash)
Set Value Copy
Component Replacement (Execution)
Data Management
Diagnostics Data (Display)
ECU Soft Download
Trim Data Download
Manual Search
Saved Data
Yanmar Smart Assist SA-Direct Contents Program:
Software
The engine ECU (hereafter ECU), the 3G controller (hereafter ECU) and the drivers connect to the PC via the interface box (a signal converter) ([Figure 3-1 Connection to the product]). The software performs error diagnosis, writing of software, and initial settings.
Training Mode
In this mode, you can practice how to use SMARTASSIST-Direct on your PC without connecting to the ECU. The operation of the software and the ECU are simulated using data that is stored on the PC in advance.
Displaying measurement data and operation data
All data collected during maintenance can be displayed with the provided software.
The data can be compared to other data of the same kind.
All collected data can be displayed on other SMARTASSIST-Direct workstations.
Communication with the Center
The software uses the Internet to download required data and updates, and to upload collected data.
Detail Settings
The settings allow to change the communication speed to the ECU and other conditions. It is also possible to select the training mode and confirm software updates.
As a basic rule, do not change the communication settings unless instructed to do so by YANMAR.
Yanmar Smart Assist SA-Direct Installation PC Requires:
CPU: Intel Pentium 4 2 GHz or more recommended
HDD: 200 MB or more recommended *1
OS/Memory: Windows XP SP3 1 GB recommended
Windows Vista SP2 2 GB recommended
Windows 7 SP1 2 GB recommended
Display resolution: 1024 x 768 or higher
USB 1.1: 1 port
Microsoft Excel 2000 or higher (for the display of operation data)
Internet Explorer 6.0 or higher, or Mozilla Firefox 5.0 or higher (for the manual link)
*1 Does not included memory for data storage.
Yanmar Smart Assist SA-Direct Diagnostic Tool:
Interface Box (YANMAR Diagnosis Interface Box)
1R1999-25000
Yanmar Smart Assist SA-Direct Free Download:
Yanmar SmartAssist SA-Direct 2.20
Only installer file,it is no crack
https://mega.nz/file/9X5kiDxQ#_SgYDVFgEIl0h3KBxQecwwiYdn5Wo1KrHHEV192P8SI
Yanmar SmartAssit SA-Direct 2.37
YANMAR SA-Direct 2.37 2023 Installation Service 100% Work
(Visited 428 times, 1 visits today)