Some 2009 – 2011 model year RAV4 vehicles equipped with the 2AR-FE engine and four speed automatic transaxle (2WD and 4WD) may exhibit a rattle noise from the transaxle assembly between 25 and 35 mph. The Engine Control Module (ECM) (SAE term: Powertrain Control Module [PCM]) logic has been revised to address this condition.
Preparations:
Latest Toyota TIS Techstream V15.10.029 Software Free Download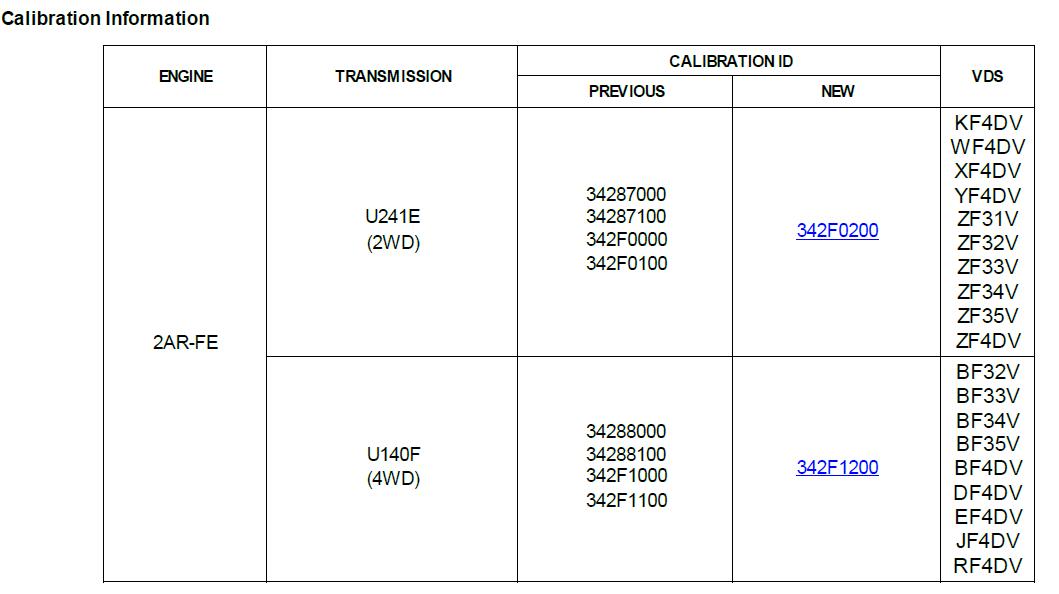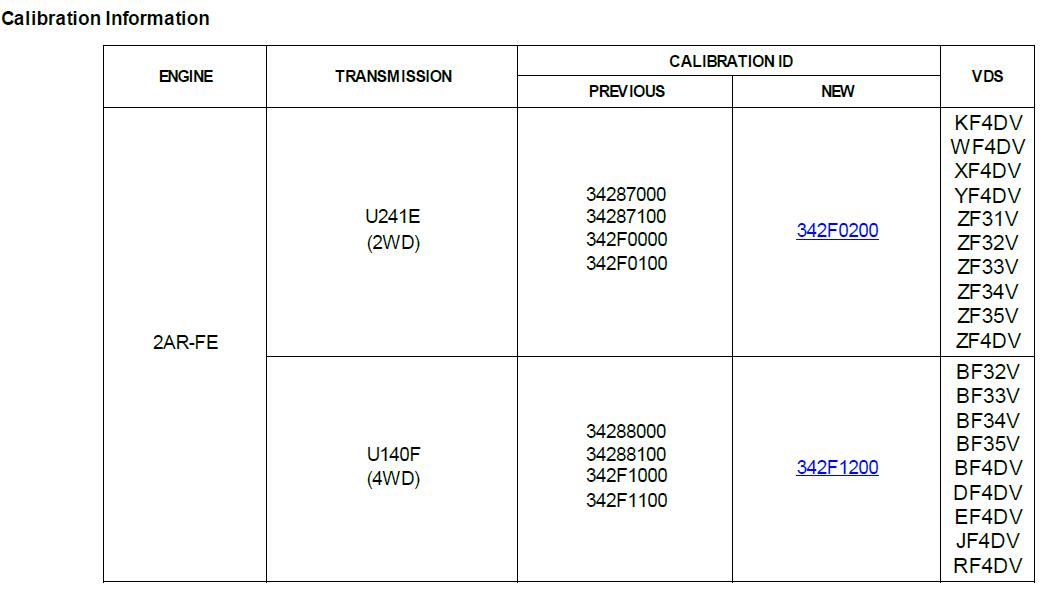 Procedure
1.Check for the Authorized Modifications Label affixed to the vehicle in the location shown 1.below. Confirm if the ECM (PCM) calibration has been updated.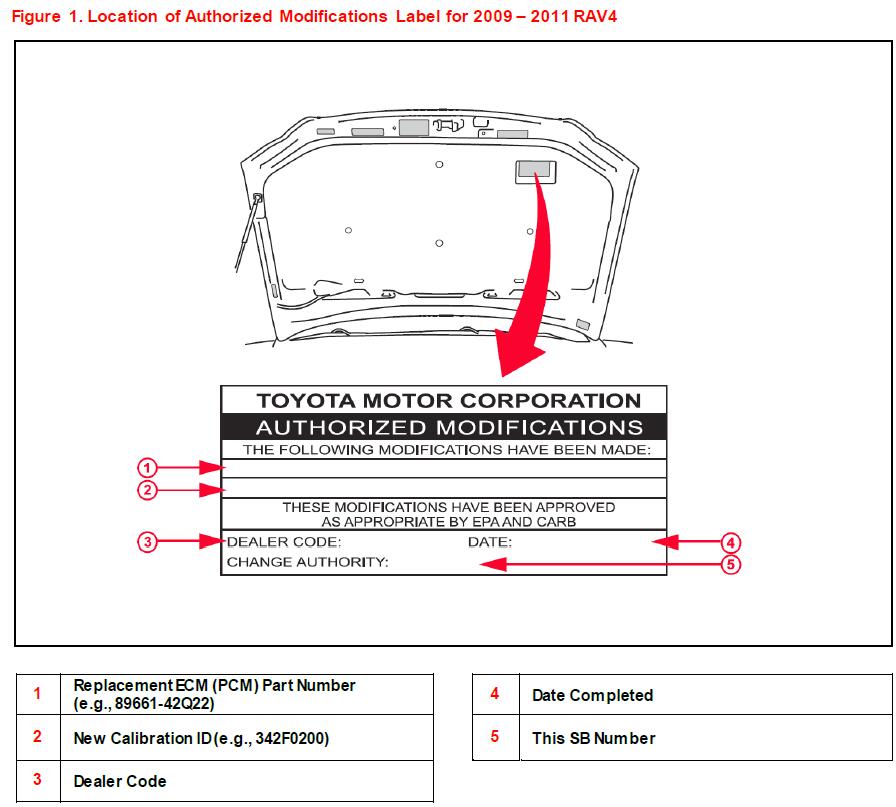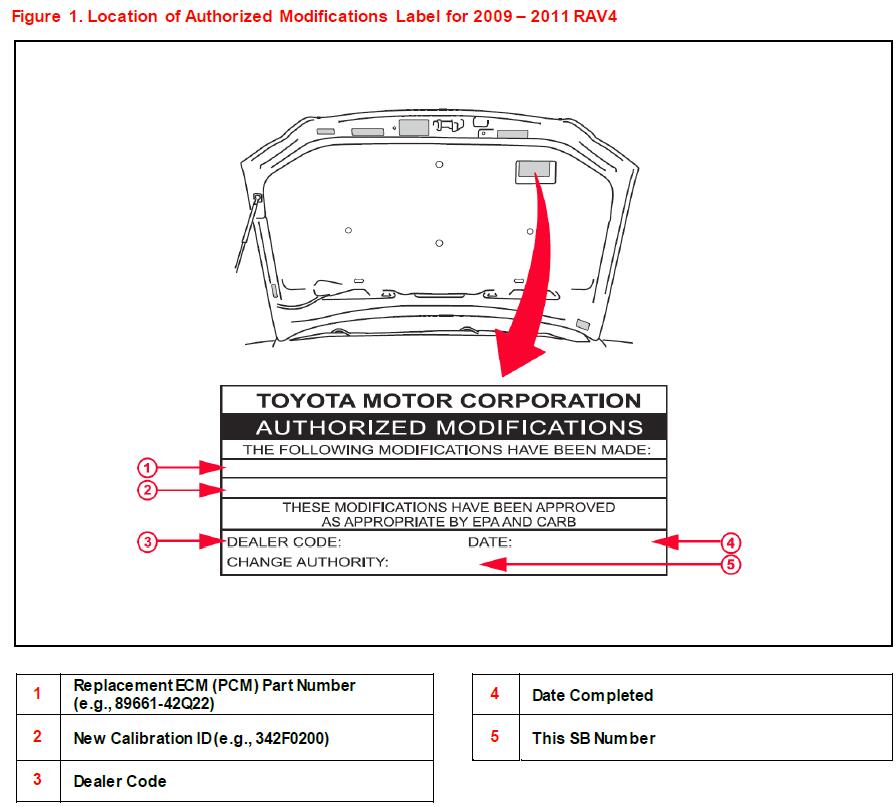 Is the calibration ID listed the latest ECM (PCM) calibration?
YES — This bulletin does NOT apply. Continue diagnosis using the applicable Repair Manual.
NO — Continue to step 2.
2.Use Techstream flash reprogram the ECM (PCM).
3.Start the engine and warm it up to normal operating temperature.
4.Prepare and install the Authorized Modifications Label.
A.Using a permanent marker, enter the following information on the label:
ECM part number [Refer to the Parts Information section for the NEW PART NUMBER]
Calibration ID(s) [Refer to the Calibration Information section for the NEW CALIBRATION ID]
Dealer Code
Repair Date
Change Authority [This bulletin number]
B.Affix the Authorized Modifications Label to the vehicle at the location shown in Figure 1. The Authorized Modifications Label is available through the MDC, P/N 00451-00001-LBL.
5.Reset the transaxle memory prior to test driving the vehicle.
6.Test drive the vehicle to confirm proper vehicle operation and ECM (PCM) initial learning.
(Visited 24 times, 1 visits today)