JPRO Vehicle diagnostic software Maintenance Mode test is available on:
✓ Intellipark systems
This test puts the Intellipark ECU into maintenance mode, which locks the ECU to its current state and disables all advanced features.
NOTE: When enabled, Intellipark will remain in maintenance mode when exiting this test. Maintenance mode can be disabled by performing this test again, cycling the ignition, or when steer axle wheel speeds are detected.
Related Contents:
JPRO Noregon Commercial Fleet Diagnostics 2023 2021 Free Download
Procedures:
1 Select Maintenance Mode and press Enter or the Start Button.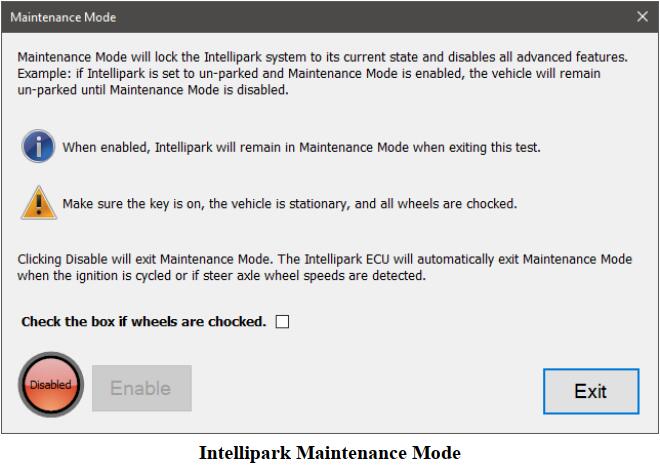 2 The test dialog will be displayed.
NOTE: Vehicle must be secured from rolling before enabling maintenance mode.
3 Click the checkbox to confirm that the vehicle's wheels have been chocked. The Enable button will become available.
4 Click Enable to set maintenance mode to the Intellipark's current state. Maintenance mode will remain enabled even after this test dialog is closed, allowing other tests and maintenance procedures to be performed.
5 Maintenance mode will remain enabled until this test is run again to disable maintenance mode. Maintenance mode will automatically disable if the ignition is cycled or if steer axle wheel speeds are detected.
6 When done, press the Exit button to return to the test selection dialog.
More topics about JPRO Diagnostic,please refer to:JPRO Diagnostics Guide
Visited 1 times, 1 visit(s) today