This instruction show you guide on how to install Freightliner ServiceLink 4.96 diagnostic software.
Note:
1Administrative Rights are required for proper download and installation of this new version of ServiceLink. If you do not have administrative rights, please contact your IT department.
2It can not  support for WINDOWS XP and VISTA operating systems.
Preparations:
Freightliner ServiceLink 4.96 Diagnostic Software Free Download
Prerequisite Browser Settings
Open IE browser. Delete browser cache under IE Browserà Toolsà Internet options àDelete Browsing historyà Check all the boxes except Preserve Favorites website data and Passwords and then click delete.
Delete Temp internet files (Cookies) under: IE BrowseràToolsà Internet optionsàSettingàUnder Temporary Internet files click View files and delete all temp internet files.
Popup should not be blocked. Go to ToolsàInternet optionsàPrivacyàclick <Settings> button in the 'Pop-up blocker' sectionàtype 'freightliner.com' in the white box for 'Address of website to allow'àClick <Add> buttonàClick <CLOSE> buttonàClick <OK> button.
For Non Daimler Users in addition to above Prerequisites:
Add following URL to Trusted sites under Toolsà Internet optionsàSecurity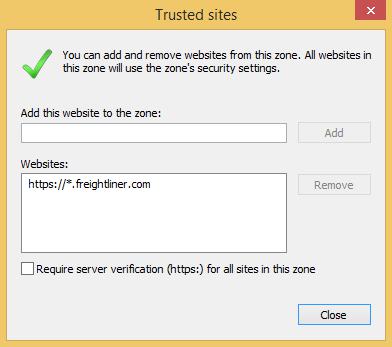 Keep Security level to low or medium-low and uncheck Enable Protected mode under Internet optionsàSecurity
Installation steps:
Go to DTNAConnect.
Add domain URL to Compatibility View settings: Toolsà Compatibility  View settingsàAdd
Login to ServiceLink.
Download SlinkSupportInstallSetup.msi and save. It is essential that you save the file to your Desktop or Documents or Downloads folder.
Once completed close ServiceLink in IE. Close all open browser windows.
Install SlinkSupportInstallSetup.msi from the saved folder. Do not run it directly from the browser.
Go to DTNAConnect –> ServiceLink
Start ServiceLink
When you are asked, if you would like to update, follow the prompts to install these important updates
Clean Installation steps:
Goto Control Panel\Programs\Programs and FeaturesàSelect ServiceLink support Installà Uninstall.
After uninstalling manually check and delete ServiceLink folders if available under following path:
C:\Users\Public\Daimler.
64 bit machines:
C:\Program Files (x86)\Daimler.
32 bit machines:
C:\Program Files\Daimler
After completing uninstallation, follow Installation procedure as described under Installation steps.
Vehicle Adapter Setting.
After Installation is complete, click Admin tab
Update Adapter and Baudrate Settings.
Under protocol settings CAN is disabled and will not be visible.
Under Baudrate settings: Default will be Auto. User can select either 250K or 500K for forced communication speed.

Note:
Microsoft Edge Browser and Google Chrome are NOT supported. ServiceLink Windows 10 users are advised to open ServiceLink application in IE 11 only.
ServiceLink will NOT support the CGW02T ECU. This ECU may be equipped on Model Year 2017 and later M2, SD, Coronado, and WST vehicles. DiagnosticLink 8.03 or higher is required.
The Nexiq USB-Link1 and 2 are the only supported adapter devices by the Dealer Help Desk (DHD). For other adapters (i.e. Dearborn and Noregon): The DHD will provide limited support to ensure that ServiceLink is functioning as expected. If it is determined that the adapter is the issue, users will need to contact the appropriate provider for further assistance.
The following are recommended for best results:
IE11 is recommended for Windows 7 OS.
Remove browser cache and cookies before a flash. Close all browser windows other than ServiceLink before starting a flash and during a flash.
Upgrade Nexiq USB-Link driver to 9.5.0.1 or Nexiq USB-Link 2 driver to 2.1.0.12
Available in ServiceLink: -> Admin -> Download -> Download Nexiq USB-Link Dual CAN driver
REMINDER: Administrative Rights are required for proper download and installation of Nexiq USB-Link driver.
USB-Link Adapter Settings must be updated when the Nexiq Driver is updated.
Windows 7 users may see a dialog box indicating that install files are in use. If this occurs, click the continue box and the upgrade will continue successfully.
Whenever you encounter updates and are asked if you would like to update, follow the prompts to install these important updates.
(Visited 145 times, 1 visits today)