With this dealer level service you can calculate FDOK encrypted random numbers for programming protected parameters in DAS and passwords for MR download.This service can help to remove AdBlue in the truck.
Note:Click "Purchase" at bottom,after payment you will get download link.If you can not get  it please contact us ([email protected])
During installation,please disable your anti-virus software.Because anti-virus detect unknow software as virus.Please do not worry,it is clean with any virus.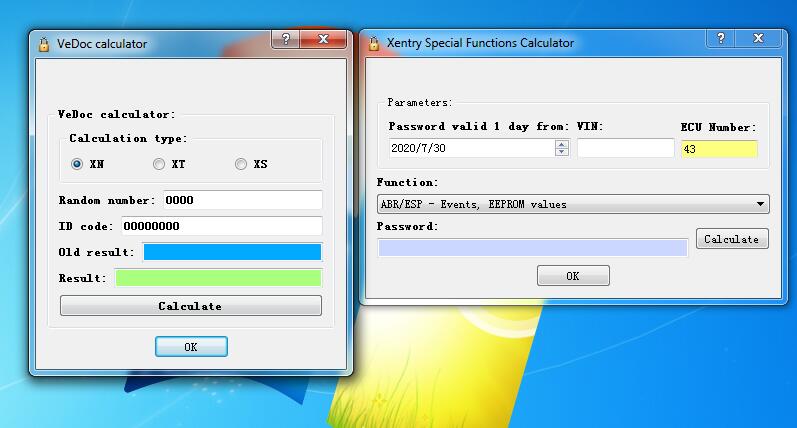 FDOK VeDoc Calculation ENCRYPTED RANDOM NUMBER work for New version DAS Password KG
Supports versions:
DAS 2012.11 and earlier versions (old)
DAS 2013.01 and newer versions (2013-2018)
Supported Calculation Types:
XT:Changing of NOx Torque Limit
XN:Erasing emissions-relevant fault codes in accutations of SCR exhaust aftertreatment system.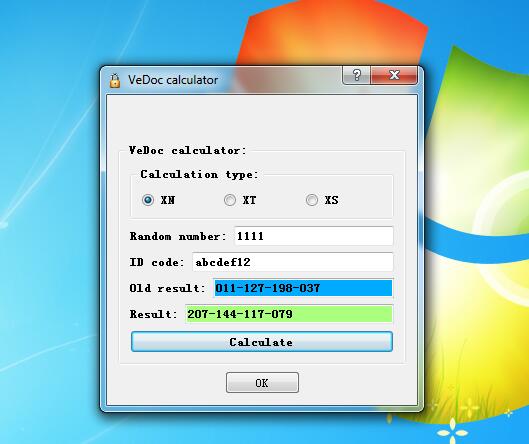 Xentry Special Functions Calculator Functions: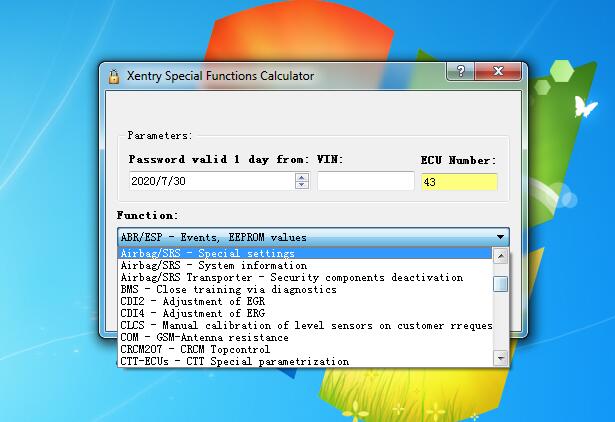 1.ABR/ESP – Events,EEPROM values
2.ABR/ESP – VIN manual writing
3.ABR/ESP – VIN resetting
4.ACM – Regeneration speed threshold DPF
5.ASSYST  PLUS – Re-arrange service memoory
6.AWF/SG-AWF – Obeject recognition
7.Air conditioning/ACC – Special settings
8.Airbag/SRS – EDR
9.Airbag/SRS – Roadside Assistance Vehicle
10.Airbag,SRS – Special setting
11.Airbag/SRS – System information
12.Airbag/SRS Transporter – Security components deactivation
13.BMS – Close training via diagnostics
14.CDI2 – Adjustent of EGR
15.CDI4 – Adjustement of EGR
16.CLCS – Manual calibration of level sensors on customer rreques
17.COM – GSM-Antenna resistance
18.CRCM207 – CRCM Topcontrol
19.CTT-ECUs – CTT Special parametrization
20.Codings for Citan
21.EcallRus – VIN writing
22.EZS – Teach-in of new car keys 451/454
23.EZS Temperature correction
24.EZS/FBS4 – offline locking of key or key track
25.Edison – Programming
26.Engine – Fault memory
27.Engine – Regeneration DPF,flashing\
28.FDOK – Blocked vehicles
29.FDOK – Unlock documentation
30.GS Special parametrization
31.GS2 – Programming
32.Immobilizer code model range 415,453
33.KI/IC – 120kmh warning deactivation for Gulf countries
34.KI/IC – Adaptation maintenance interval
35.KI/IC – Belt warning
36.KI/IC – Reset to the global encodings
37.KI/IC – Deactivating of the mirros functions
38.MBConnect – Deactivation
39.MCM – EOL valves
40.Manoeuvring – Special calibration and other special measures
41.MoTelDis – Telephone cradle recover-flashing
42.MoTelDis – logging
43.NAG – Adaptation data
44.NAG – EEPROM values
45.NAG – Kueb lockup
46.ObL22kw – Vehicle-Homepage update
47.Offline activation
48.Powertrain Gateway – Extended
49.Powertrain Gateway – Force flashing
50.RWTS – Desensitize tailgate closure S211
51.SAMF – Chassis
52.SAMF – Interior light function
53.SAMF – Outdoor light function
54.SAMF – EDW-Alarm
55.SAR – System information
56.SGR – system information
57.Seats – special setting
58.Stationary heater/STH – Special setting
59.TGW4 – HU internal logfile creations
60.TGW4 – Video-AUX activation for special protection vehicles
61.TP – Fleet Board support
62.TP5 – TP5 bras default settings
63.TSG – Adjustment of window lifters 212
64.Mbrace – Current VIN writing for ECU
65.Mbrace – Login details for cellular network
Visited 63 times, 2 visit(s) today