Several days ago,one of my friends repair a Audi Q7 transmission trouble,so here car-auto-repair.com show this real repair case here.
For Audi repair,please check more cases here:Audi Trouble Repair Projects.
Trouble symptoms:
1.All dashboard shift potion light light on
2.Shifting stuck and does not shift properly
Trouble Codes:
P0715 – Input/Turbine Speed Sensor Circuit Malfunction
P0720 – Output Speed Sensor Circuit Malfunction
Audi Q7 Transmission P0715 & P0720 Diagnosis:
Measure Input and Output Speed Sensors voltage,both of them work well.In some cases,after cleaning the sensors connector,the trouble maybe repaired.But if you find the sensors voltage valve is incorrectly.It meaning the transmission control module does not work well.According to the diagram to measure the terminal of TCM to check inner PCB trouble.One of internal chip marked as below can not work properly.After a new one chip replacement,the problem was repaired.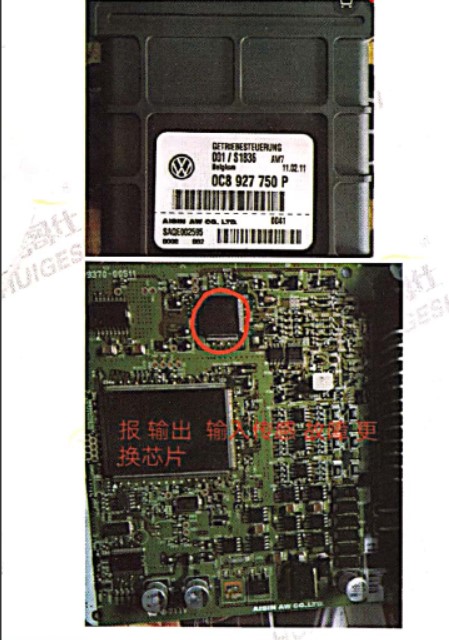 (Visited 178 times, 1 visits today)