Failed wipers are quite a common fault that can be caused by the J519 but not necessarily the only one!More VW trouble topics,please check here:VW Trouble Reqpair
The bad news is the VW retail price is £380 + VAT. Second hand units go on ebay for around £100 but there is no guarantee that they will work fully. The suddenly failing wipers is just one common fault you could inherit. The replays cost around £2-3 and take about 5 minutes with a soldering iron to replace – definitely worth a try before buying a replacement module.
It's important to get the correct part number for your van, the part number should be on a label on the unit or can be found via diagnostics. You may need a new J519 if you are adding cruise control or want to in the future. Some J519's already support cruise control.
If you buy a new or second hand J519 it will need coding. A dealer or anyone with VCDS can do this. If it will still communicate, get the coding from the old unit via diagnostics. It's easier if you already have the correct coding ready for the new unit.
On the facelift vans (2010 on) the J519 is combined with the comfort module under the seat to become the body control module (BCM).
If you have any problems with wipers, horn, indicators etc start by checking all fuses before buying anything. Sometimes systems have more than one fuse so check every one with a meter or test lamp. There is a second fuse box under the bonnet down beside the battery.
A failing J519 can produce it's own fault code or can cause other fault codes on the electrical system depending on the type of failure.
The connectors labelled B,D & E are the high current (switched) side of the relays,
Relay 1 – Heated mirrors, Pin B1 (white/yellow) & B2 (white) are the outputs, Pin B4 (red/lilac) live feed from fuse SC20
Relay 2 – Interior lights, Pin B5 (red/black) output, Pin B6 (red/green) live feed from fuse SB7
Relay 3 – Wiper motor, Pin D2 (green/yellow) output 1, Pin D3 (green) output 2, Pin D4 (brown) earth, Pin D5 (red/lilac) live feed from fuse SB32
Relay 4 – Horn, Pin E2 (black/green) output to horns, Pin E3 (red/lilac) live feed from fuse SB31
Relay 5 – Heated Rear Windows, Pin E4 (white) output to HRW, Pin E5 (red/yellow) live feed from fuse S41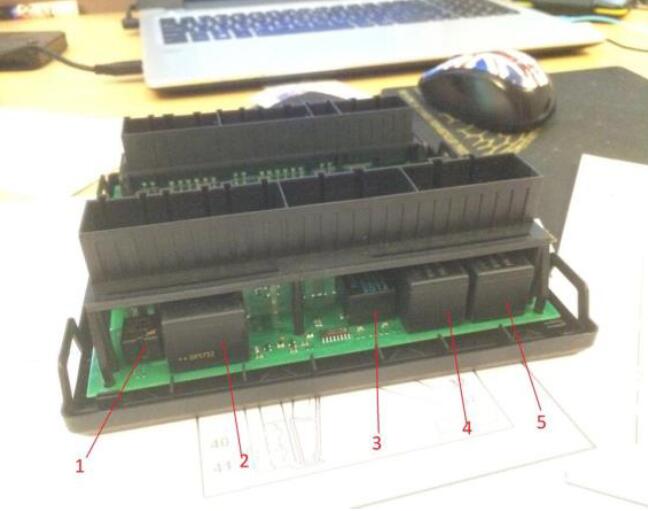 The Onboard Voltage Control unit (J519) lives behind the dash on the drivers side roughly above the drivers right foot. It supplies voltage to many things including:
Wipers
Horn
Cruise control
Alternator load management
Heated rear window
Indicators
Mirror heating
Interior lights
Reverse light
Hazard lights
Screenwashers
Bonnet switch
Door switch position recognition
• Tow bar
(Visited 84 times, 1 visits today)