What is ScanMaster-ELM?
ScanMaster-ELM is an OBD-II / EOBD Diagnostic Tool for vehicle diagnostics compatible with OBD-II / EOBD standards and has been developed specifically for ELM Electronics' ELM327 chip and supports all 10 OBD-2s defined in SAE J1979 Diagnostic modes $ 01- $ 0A and all communication protocols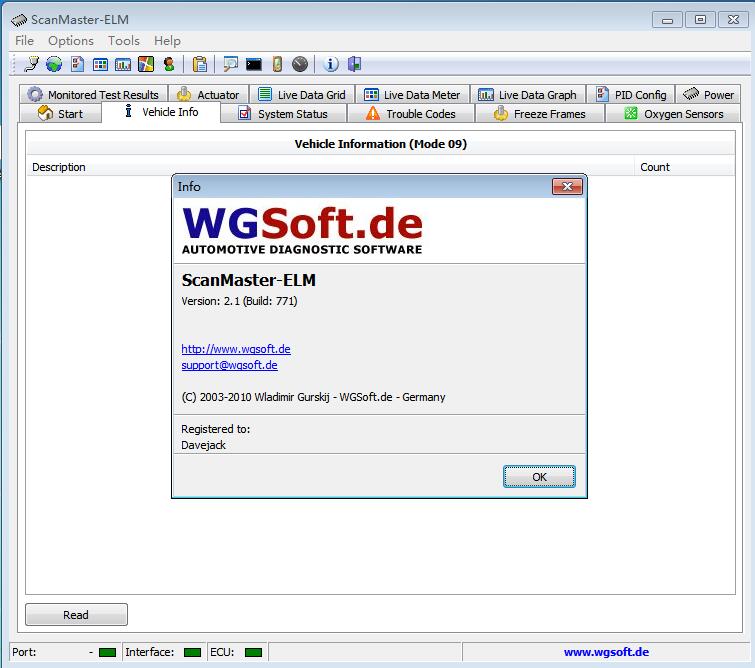 ScanMaster-ELM Functions and Features:
Automatically determines and identifies to the user the vehicle communication protocol under test.
Supports generic SAE J1979 (Mode $01) parameter identifiers (PIDs) $00 through $87.
Displays all or custom list of diagnostic data parameters supported by the vehicle's OBD II controller with line graphs and meters.
View the condition of the vehicle system at the time when an emission related diagnostic trouble code was stored with Freeze Frame mode.
Read emission DTCs (and their common SAE descriptions) that cause the MIL to be illuminated. Plus, display the DTC number for the non-SAE defined DTC numbers and
descriptions that are reported by OBD II emission ECUs.
Supports over 4200 generic diagnostic trouble codes descriptions from SAE J2012 and over 3600 enhanced OBD-II codes, or a codes defined by the Original Equipment
Manufacturer (OEM).
Clear all emissions-related diagnostic information. (Mode $04)
Review the results of the oxygen sensor testing performed by the vehicle's
powertrain control module with "Oxygen Sensors" mode (Mode $05).
Displays non-continuous diagnostic test results specific to the vehicle manufacturer (Mode $06 data) with the "Monitoring Tests Results" mode.
Reports vehicle's continuously monitored emissions-related tests that have failed during a drive cycle and have not matured to indicate a diagnostic trouble code with
"Pending Diagnostic trouble Codes" mode.
Displays specific information applicable to the vehicle under test (VIN, Calibration ID,Calibration Verification Number, In-Use Performance Tracking).
Metric and English units of measure.
Shows Readiness for State Inspection.
Shows Fuel Consumption since version 1.3.
Drag Measurement since version 1.8.
Power and Torque Measurement since version 1.9.
Direct connection methods for USB, Bluetooth® and WLAN interfaces since version 2.0.
ScanMaster-ELM Support Protocols:
ISO9141-2
ISO14230-4 (KWP2000)
ISO14230-4 (KWP2000) slow init
SAE J1850 VPW
SAE J1850 PWM
ISO15765-4 (CAN bus) 11/250
ISO15765-4 (CAN Bus) 11/500
ISO15765-4 (CAN bus) 29/250
ISO15765-4 (CAN bus) 29/500
ScanMaster-ELM Minimum Platform and Software Requirements
You must have Microsoft Windows 98/ME/2000/XP/7 with Microsoft Internet Explorer 5.01 or
later or Firefox installed on your computer as well as Acrobat Reader.
Minimum hardware requirements:
. Pentium 200MHz or faster
. 64MB of RAM or higher
. CD-ROM or DVD-ROM Drive
. Free COM or USB Port
. For Bluetooth® or WLAN interface the computer must have Bluetooth® or WLAN
ScanMaster-ELM Free Download:
ScanMaster-ELM V2.1 Free Downlaod
https://mega.nz/#!jokjSKII!u_XBl4Tp45ksRPoGgL55B5R4RsCKWjYF5w9jaBHqKxE
(Visited 1,368 times, 2 visits today)