What is XPROG?
XPROG is a programmer used for read and write data for controller chip,include erial EEPROM's, Microcontrollers (MCU), Electronics Control Units (ECU), DashBoards, Immobilizers, Calculators and others).And you need have XPROG software and XPROG box interface to perform data reading and writing.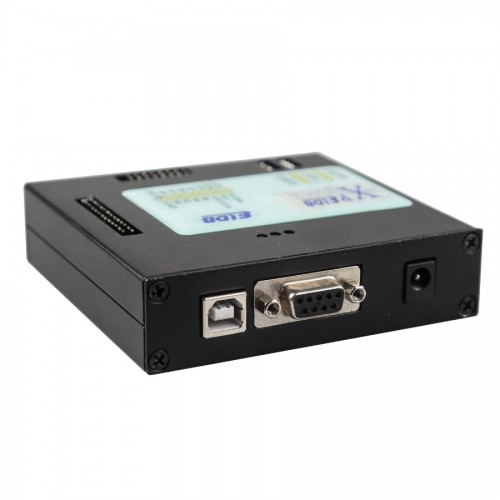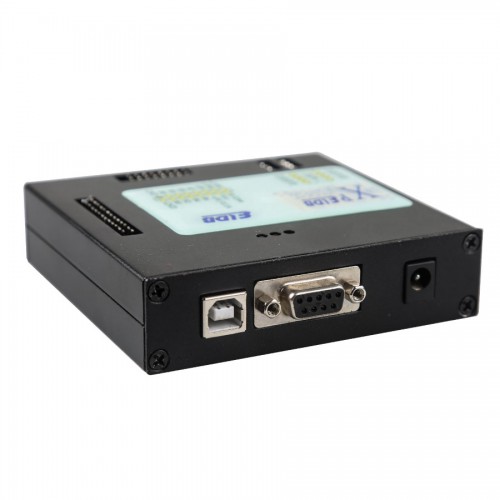 XPROG Features:
Software:
Fully compatible with all software versions of " Device Programmer Desktop"
Software update (ATMEGA) – directly from "Device Programmer Desktop"
Software version control mechanism
Error handling :
Self check for error handling
High speed:
High speed RS232 communication interface, fully compatible with USB to RS232 adapter
High speed hardware engine (PLD)
Connector:
Fully upward-compatible XPROG connector
Multi functional XPROG-m connector
Programming:
8 pin DIP socket for on- board programming
Supports many PLCC, QFP, LQFP adapters for on- board programming
Regulate:
Two PWM regulated and ADC controlled voltage regulators
XPROG PC System Requirements:
Processor:INTEL Pentium 60MHz or faster (depends on operating system)
Memory (RAM):64MB (depends on operating system)
Hard Drive: 20MB free space
Communication:One free physical COM or USB port
Operating system: Microsoft Windows NT/ME/2000/XP/VISTA/WIN7/WIN8
XPROG Support Languages:
Only English and Chinese
XPROG Software Free Download:
XPROG V6.12 Download
https://share.weiyun.com/5m5Vkw0
Password:fxo5qz
or download from google drive here
https://drive.google.com/open?id=1kJQot_4d_m3i4RlFCW00Nh9O3dZbgm4L
XPROG v5.84 Download
https://mega.nz/#!ZARADapS!lUY7sR-HXN-HuvCNqCU1AYXOm-V5F3ujyOhJeOCwQ40
Latest Version X-PROG Box ECU Programmer
http://www.uobdii.com/wholesale/xprog-m-v584-with-usb-dongle.html
How to Install XPROG V5.84?
Tips for installing Xprog V5.84.
1.Disable anti-virus program when downloading software and running software.
2.Uninstall all the software and USB drivers of the old version xprog-box on your computer, then install the new XPROG5.84 software.
3.Run 5.84Regsisty program for several times when installing software
4.Run  5.84Regsisty file for 2 times before you run software everytime .
XPROG 6.12 Software Update:
AUTH-0001 Motorola HC05 family authorization (allows to read/write EEPROM)
AUTH-0002 Motorola HC08 family authorization (allows to read/write EEPROM)
AUTH-0003 Motorola HC11 family authorization (allows to read/write EEPROM)
AUTH-0004 Motorola HC12, 9S12 family authorization (allows to read/write EEPROM and flash memory)
AUTH-0005 Texas Instruments TMS370/TMS374 family authorization (allows to read/write EEPROM)
AUTH-0006 Motorola HC05Bxx and HC05Xxx family bypass security authorization (allows to read/write secured EEPROM and flash memory)
AUTH-0007 ST M35080 authorization. Read/Write/Erase device to delivery state.
AUTH-0008 BMW EWS3 authorization
AUTH-0009 ATMEGA family authorization (allows to read/write EEPROM and flash memory)
AUTH-0010 MB ZGS001 authorization
AUTH-0011 Motorola HC11EA9/E9 bypass security authorization (allows to bypass security bit and read EEPROM and RAM memory)
AUTH-0012 National CR16 authorization (allows to read/write EEPROM memory)
AUTH-0014 ST7, ST10 family authorization (allows to read/write internal flash)
AUTH-0015 MPC5xx authorization (depending on device program automatically detects MPC5xx, M95xxx device type, flash, external flash and configuration memory size)
AUTH-0018 Motorola HC12, HC912, MC9S12, MC9S12X bypass security authorization (allows to read/write secured EEPROM and flash memory)
AUTH-0020 ARM (Micronas, …) Family authorization (allows to read/write internal flash and external serial EEPROM)
AUTH-0021 ARM (Micronas, …) Family bypass security authorization (allows to read/write secured and non-secured internal flash and external serial EEPROM, view/change mileage, Chassis number (VIN), serial number and PIN code).
AUTH-0023-1 MAC7xxx
AUTH-0023-2 XC23xx
AUTH-0024-1 MC9S12Cxx
AUTH-0024-2 MC9S12XE
AUTH-0024-3 9S12XE SECURITY
AUTH-0024-4 MC9S12HA/HY/P
AUTH-0025-1 MPC/SPC5xxx Authorized 2016/3/13
AUTH-0027-1 HC(S)908 update Authorized 2016/3/13
AUTH-0027-2 HC(S)908 sercurity Authorized 2016/3/13
AUTH-0028-1 Renesas V850 Authorized 2017/10/9
AUTH-0028-2 Renesas SuperH Authorized 2017/10/9
AUTH-0028-3 Renesas RL78 Authorized
AUTH-0028-4 Renesas M32C Authorized
XPROG Programmer Support ECU:
MC68HC05 MC68HC05B6 (0F10V, 3D33J), MC68HC05B8, MC68HC05B16, MC68HC05B32 (0D60J, 3G96A) , MC68HC05X32(0D53J, 0D69J, 1H52A, 1D69J), MC68HC705X32(2D59J), MC68HC705B16(0D28J), MC68HC705B16N, MC68HC705B32, MC68HC05E6(0F82B, 0G72G), MC68HC05H12(0H57A), MC68HC05P3(1E25B), MC68HC705P3(1F75B) , MC68HC05K3(S105078003).
MC68HC05(bypass security) MC68HC05Bxx, MC68HC05Xxx..
MC68HC08 + (Bypass security) MC68HC08AS32, MC68HC08AZ32, MC68HC08AZ32(0J66D), MC68HC908AZ32(0L72A), MC68HC08AZ32A(1L52H), MC68HC08AZ32A(2L52H), MC68HC08AS60, MC68HC08AS60(8H62A), MC68HC908AS60(3J74Y), MC68HC08AZ60, MC68HC08AZ60(2J74Y), MC68HC08AZ60A, MC68HC08AZ60A(1L87J), MC68HC908AZ60A(3K85K), MC68HC908GR4(2M70Z), MC68HC908GR8(2M70Z), MC68HC908GR16(0M76Z, ), MC68HC908LJ24, MC68HC908LK24, MC68HC908LJ12 (AUTH-0027-1), (AUTH-0027-2)
MC9S08 MC9S08DZ16, MC9S08DZ32, MC9S08DZ48, MC9S08DZ60, MC9S08DZ98, MC9S08DZ128, MC9S08DV96, MC9S08DV128, MC9S08AW8, MC9S08AW16, MC9S08AW48, MC9S08AW32, MC9S08AW60, MC9S08JM8, MC9S08JM16, MC9S08JM32, MC9S08JM60, MC9S08AC/EL/FL/SH/SG/SL/ (AUTH-0027-1)
MC68HC11 MC68HC11A1(C11W), MC68HC11A8(AB95T), MC68HC11E1, MC68HC11E9(4E28B,0F36W), MC68HC11EA9(0D46J,1D47J, 2D47J), MC68HC11F1(2F37E), MC68HC11F1(E87J), MC68HC11K4, MC68HC11K4(0E75J), MC68HC11K4(1E62H), MC68HC11K4(3E74J), MC68HC11KA4, MC68HC11KA4(0E57S), MC68HC11KS2(1E59B), MC68HC11KS2(0H95B), MC68HC11KW1, MC68HC11L6, MC68HC11P2(3E74J), MC68HC11P2(1E53M), MC68HC11P2(0G10V), MC68HC11PA8, MC68HC11PH8, MC68HC11PH8(3D64J), MC68HC11PH8(0H30R).
MC68HC11(bypass sercurity) MC68HC11A1(C11W), MC68HC11A8(AB95T), MC68HC11E1, MC68HC11E9(4E28B,0F36W), MC68HC11EA9(0D46J,1D47J, 2D47J), MC68HC11F1(2F37E).
MC68HC(9)12, MC9S12 + bypass sercurity MC68HC12BL16 (only EEPROM), MC68HC12B32, MC68HC912D60, MC68HC912D60A, MC68HC912Dx128, MC68HC912Dx128A, MC9S12C64(0M66G), MC9S12HZ128(2L16Y, 3L16Y), MC9S12HZ256 (2L16Y, 3L16Y), MC9S12DT128(1L40K, 3L40K, 4L40K, 0L94R, 1L59W,5L40K), MC9S12DG128 (0L58S), MC9S12DB128B (0L85D), MC9S12DJ64 (0L86D), MC9S12D64 (1L86D,2L86D), MC9S12DJ64 (3L86D), MC9S12DJ64 (4L86D,0M89C), MC9S12DP256 (0K79X, 1K79X, 2K79X), MC9S12DT128 (1L85D), MC9S12DT256 (0L01Y), MC9S12H256 (1K78X), MC9S12B128 (0L80R, 1L80R, 2L80R, 3L80R ), MC9S12H256 (2K78X), MC9S12DP512 (0L00M , 1L00M, 2L00M), MC9S12C64 (0M66G), MC9S12T64 (L42M)
MC9S12C MC9S12C16, MC9S12C32, MC9S12C64, MC9S12C96, MC9S12C128 Supported Masks: 0M66G, 2L09S, 2L45J (AUTH-0024-1)
MC9S12C + bypass security MC9S12C64 Supported Masks: 0M66G (AUTH-0024-1)
MC9S12T + bypass security MC9S12T64 Supported Masks: L42M (AUTH-0024-4, AUTH-0024-5)
MC9S12HA/HY/P 9S12HA32/48/64(P-FLASH, D-FLASH), 9S12HY32/48/64(P-FLASH, D-FLASH), 9S12P32/64/96/128 (P-FLASH, D-FLASH) (AUTH-0024-4)
MC9S12G 9S12G(A/N)16/32/48/64/96/128/192/240(P-FLASH, EEPROM) (AUTH-0024-4)
MC9S12VR 9S12VR16/32/48/64(FLASH, EEPROM) (AUTH-0024-4)
MC9S12X + bypass sercurity MC9S12XD128, MC9S12XD256, MC9S12XDT384, MC9S12XDP512 (0L15Y, 1L15Y, 0M84E, 1M84E, 0M42E, 1M42E, 2M42E)
MC9S12XHZ MC9S12XHZ256, MC9S12XHZ384, MC9S12XHZ512
MC9S12XE MC9S12XEG128 (PFLASH, DFLASH, EEPROM), MC9S12XET256 (PFLASH, DFLASH, EEPROM),MC9S12XEQ384 (PFLASH, DFLASH, EEPROM), MC9S12XEQ512 (PFLASH, DFLASH, EEPROM), MC9S12XEP768 (PFLASH, DFLASH, EEPROM), MC9S12XEP100 (PFLASH, DFLASH, EEPROM) Supported Masks: 0M53J, 1M53J, 2M53J, 3M25J, 5M48H, 1N35H (AUTH-0024-2)
MC9S12XF MC9S12XF128, 256, 384, 512 (PFLASH, DFLASH, EEPROM) Supported Masks: 0M64J, 1M64J, 2M64J(AUTH-0024-2)
MC9S12XE + reset security MC9S12XEG128 (PFLASH, DFLASH, EEPROM), MC9S12XET256 (PFLASH, DFLASH, EEPROM),MC9S12XEQ384 (PFLASH, DFLASH, EEPROM), MC9S12XEQ512 (PFLASH, DFLASH, EEPROM), MC9S12XET512 (PFLASH, DFLASH, EEPROM), MC9S12XEP768 (PFLASH, DFLASH, EEPROM), MC9S12XEP100, SC667095, SC667249 (PFLASH, DFLASH, EEPROM) Supported Masks: 0M53J, 1M53J, 2M53J, 3M25J, 5M48H, 1N35H (AUTH-0024-3)
MC9S12XF + reset security MC9S12XF128, 256, 384, 512 (PFLASH, DFLASH, EEPROM) Supported Masks: 0M64J, 1M64J, 2M64J(AUTH-0024-3)
MC9S12XHY 9S12XHY128(P-FLASH, D-FLASH) 0M23Y, 9S12XHY256(P-FLASH, D-FLASH) 0M23Y (AUTH-0024-4)
MC9S12XS 9S12XS64/128/256(P-FLASH, D-FLASH) 0M04M, 1M04M, 0M05M (AUTH-0024-4)
MC9S12XS + reset security 9S12XS128(P-FLASH, D-FLASH) 0M04M, 1M04M, 0M05M (AUTH-0024-5)
ARM Micronas + bypass sercurity CDC3217, CDC3272, CDC3297, CDC32xx + 24C32
MPC5xx MPC555, MPC556, MPC561, MPC562, MPC563, MPC564, MPC565, MPC566.
CR16 CR16MCS9V
ST7/ST10 ST72321, ST72F321, ST72521, ST72F521, ST10F168, ST10F269, ST10F272, ST10F275, ST10F276, ST10F280
MPC5xxx/SPC56xxx MPC5515(FLASH, Shadow), MPC5516(FLASH, Shadow), MPC5517(FLASH, Shadow), MPC5554(FLASH, Shadow), SGMPPC6121F(MPC5565), MPC5602B/C, MPC5603B/C, MPC5604B/C, MPC5605B (1M03Y), MPC5606B (1M03Y), MPC5607B (1M03Y), MPC5602S (2M25V), MPC5604S (2M25V), MPC5606S (2M25V), MPC5603P, MPC5604P (0M26V), SPC560B40/50/54/60/64, SPC560C40/50, SPC560P44/50, SPC56AP54/60: Code FLASH, Data FLASH, Code FLASH Test, Code FLASH Shadow, Test FLASH Block, SPC5632M, SPC5633M, SPC5634M FLASH, Shadow, OTP0, OTP1, OTP2, SPC560P30, SPC560P40, SPC564A70, SPC564A80, MPC5642A, MPC5644A, SPC56EL70 (AUTH-0025-1)
MAC7xxx MAC7111 FLASH/D-FLASH, MAC7112 FLASH/D-FLASH, MAC7116 FLASH/D-FLASH, MAC7131 FLASH/D-FLASH MAC7241 FLASH, MAC7241 Shadow Block, MAC7242 FLASH, MAC7242 Shadow Block (AUTH-0023-1)
XC16x XC164-F16, XC164-F32
(Visited 3,427 times, 2 visits today)