This article show the methods to solved VW Tiguan "Immobilizer Activated!" problem.Sometimes,you notice that the dashboard displays "Immobilizer Activated!" and can not start the engine.This problem is a typical problem of VW Tiguan.If you ask your dealer to solve this problem,it will cost you more than 1500+ dollars.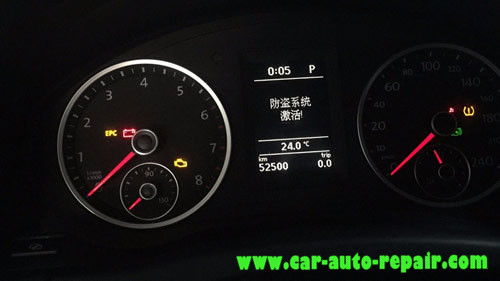 What Caused "Immobilizer Activated!"
This problem is most likely caused by data locking of dashboard immobilizer.And if you check the data digits locked,all of them follow the regularity.This problem can be solved by locked data digits fixing,but your dealer will never to solved it by this method.Most of them will recommend you to replace parts that they believed was damaged,so it will cost you a dozen dollars.
How to Solved VW Tiguan Immobilizer Activated:
Method 1—Fix it by VVDI2
Try this method first,if it doesn't work try method 2.
Connect VVDI2 to your vehicle OBD socket,enter the dashboard menu to read out immobilizer data and save it on your laptop.
Note:If the VVDI2 prompt you that immobilizer data was damaged or have other problem in your data.Try method 2.
Then,VVDI2 will prompt you to fix the immobilizer data if your dashboard is old version.Just select "Yes" to fix the immobilizer data.It will fix your immobilizer data,then save the data and re-write the fixed data into the dashboard pcb,re-learn the keys.Done!
But if you see below pop-up window,it mean you should try method 2 to solve this problem.
Below VVDI2 warning massage translate into English:
Warning:Immobilizer data error!If you continue to generate keys,learn key or odometer correction,it will lead to your car will not start.
If you odometer model is 5ND920873B,please stop operating,it is can not support.
Please don't continue any operations about immobilizer or odometer!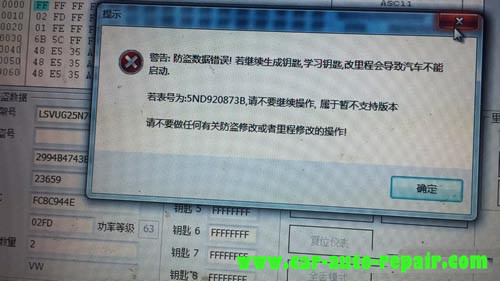 Method 2–fix it by manually
Remove your dashboard pcb,and locate the 8 pins chip model:95320.And use programmer to read out the data file and save it on your laptop.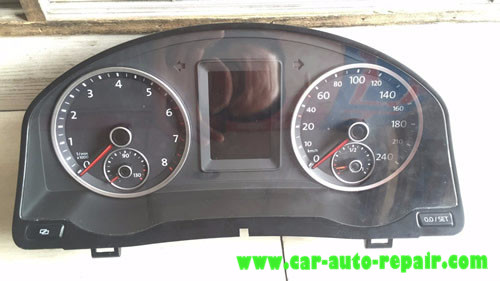 Now,we need to modify the data file read out from 95320 chip.
I get another data file from another VW Tiguan that work normally show as below.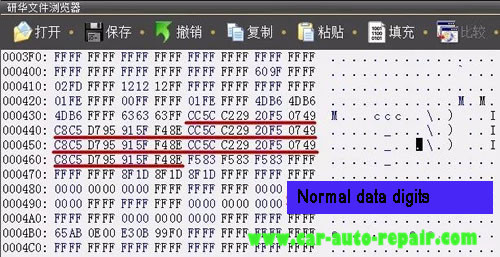 And the data file locked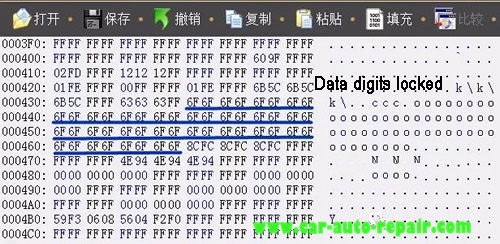 You will see the data file locked from 430 line to 460 line were abnormal.Many digits display "6F"
Here we check the normal data file from 430 line to 460 line,the digits is same to BB0 line,and repeat 3 time "CC5C C229 20F5 0749 C8C5 D795 915F F48E"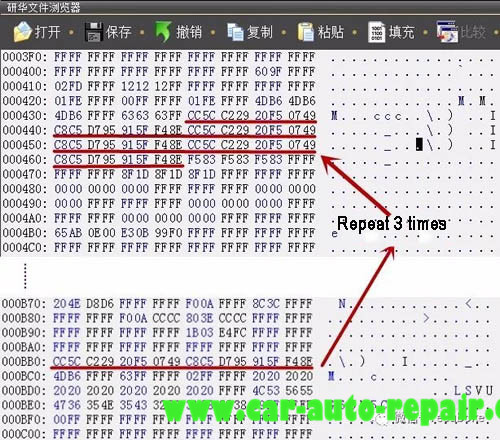 According to this result,we can get the original data digits in the data locked file.
Locate the BB0 line digits "338C BB19 7F6F DBCA 1CDE 9E06 BA2F 2590",and repeat it to cover data "6F" at 430 line to 460 line.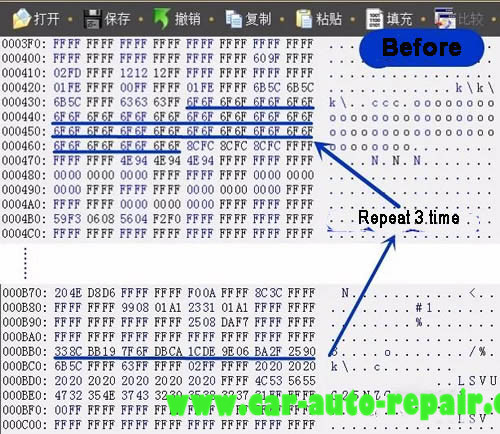 After data digits modifying,re-write the data file into 95320 chip,and weld it back to dashboard pcb.You will find the "Immobilizer Activated!" disappeared,and engine can be started.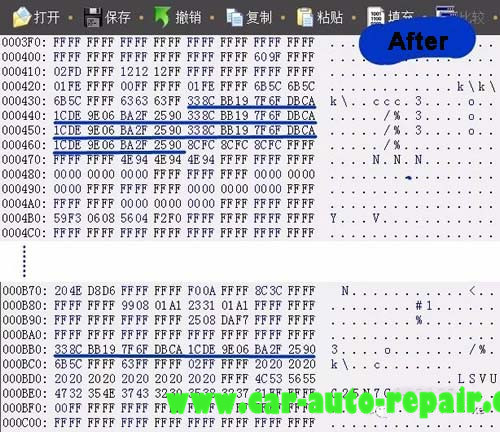 (Visited 286 times, 1 visits today)