One of my bloger reader sent e-mail to me about BMW E-sys error.Several days ago his BMW E-sys software was out of work,so he searched on internet for help.Finally,he find some errors and solution on BMW forum, and share how to solve BMW E-sys errors  with us.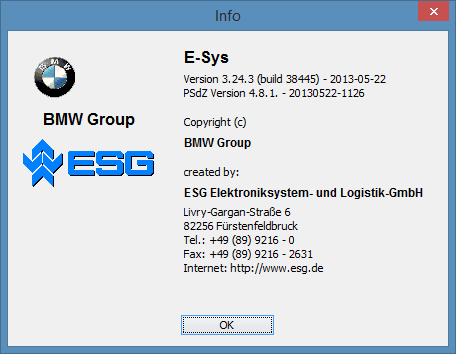 BMW E-sys error 1:
When choose "Read Coding Data", get this error:
Transaktions-Report: Aktion: Codierdaten lessen
CAS [40] [C271460]
readCPS o.k.
cafd_0000000f-005_022_007 Fehler:
File for "cafd_0000000f-005_022_007" not found! [C012]
Solution:
Make Sure you have copied the SWE contents from PSDZData/SWE to C:/EsysData/SWE (You should have it in both the locations)
BMW E-sys error 2:
Open E-Sys and when hit connect get the pop up which has my VIN next to that radio buttion, but nothing shows up in the Target box.
Solution:
More likely that the "dist" folders missing from your installation. The folders should be empty, but they need to be there:
make sure the folder names/directory is correct.
BMW E-sys error 3:
Ethernet Connection Problems
Solution:
Disconnect and Reconnect
BMW E-sys error 4:
Read FA failed! Possibly there is no FA stored in the VCM. [C060]
Solution:
There must be some OS or WLAN Adaptor setting that keeps the Wired and WiFi connections isolated or combined that is not set to isolate them.
(Visited 310 times, 1 visits today)