What is BMWAiCoder?
BMWAiCoder is a program that makes it easy to lower the entry barriers and make coding easier. Just install BMWAiCoder and you can start to use it in English, but each button has a number so you can easily code by following the numbered steps. However, it has the disadvantage that it is limited in functionality compared to E-Sys and it is not stable. It is better to use it to fix some coordinates quickly and easily, rather than using it as a full-scale coding tool.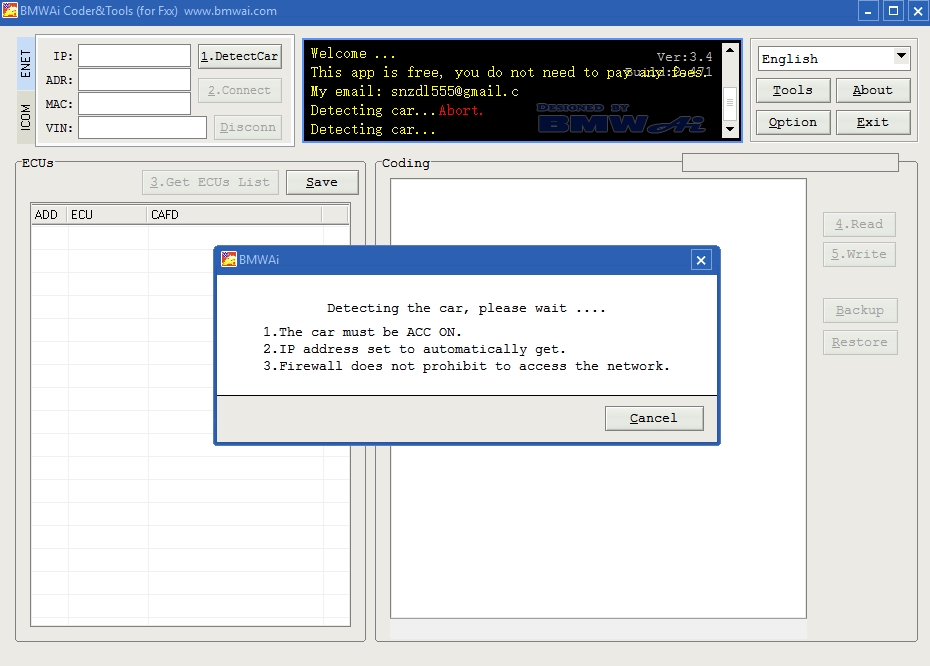 BMWAiCoder Free Download:
BMWAiCoder 4.4:(Add Read DTCs)
https://mega.nz/#!u1cHnA7K!1ADYJEEN-6MUN6Miv8RwpKmGcRKcZaNgGRWygNsP_LY
BMWAiCoder 4.6:(Add Change the Bluetooth device name.Fixed bugs.)
https://mega.nz/#!YUEWAQiJ!yChazS-0_JjnhaiJtL_HU0uuoROMOZb6TjtZb0ssKrg
BMWAiCoder 5.0:
https://mega.nz/#!ZN0CnA5Q!bDaWmR756oQL3enHNEHxMgf8xPfxIbfAPrGOv7ZoVE0
Note:This version is only tested in China,it need you can read Chinese and this version is beta version can not work well,it is risk on your vehicle's ECU.
Related Software Download:
BMW E-sys 3.32.1 3.30.01 3.29.0 Coding Software Free Download
BMW ITool Radar Free Download and Installation
BMW Dr.Gini B021 B014 Free Download
NCS Expert BMW Coding Software Download
Note:Before you download,please disable the you anti-virus software,most of them will deleted BMWAiCoder software files.I had to turn off AV and use Internet Explorer to download. Haven't had any virus problems after download and use…
BMWAiCoder Update Log:
[2016-04-10]
New version 4.6
Add Read DTCs. (As shown.)
[2016-04-08]
New Version 4.5
Add Change the Bluetooth device name.
Fixed bugs.
[2016-02-28]
New version 4.4
Adjust timing parameters, greatly improving the success rate of writing.
[2016-02-22]
New version 4.3
Add Change the headunit phone numbers (in tools).
Fixed bugs.
[2016-02-12]
Fixed bugs.
[2016-01-20]
Provide Esys coding style.
You can define your own keywords.
How to Use BMWAiCoder?
Connect the hardware interface to vehicle and laptop
Run the BMWAiCoder software,the keyword download window will open automatically. The process of downloading additional items to be coded on the Internet. Since it will be used in English, press button English while is selected Download.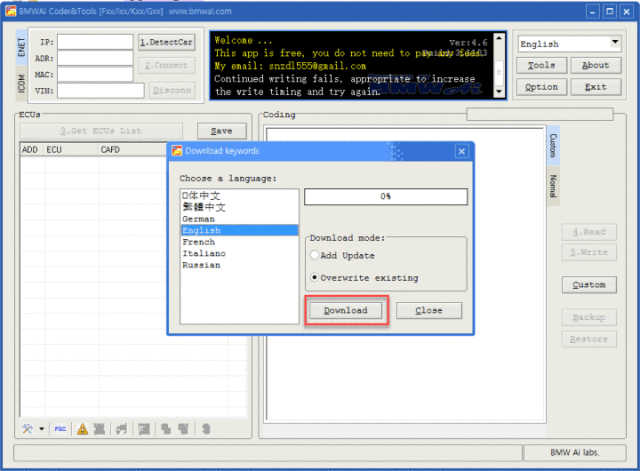 If you do not see this screen when you first run it, or if you accidentally hand it over, do not worry. Custom You can download it again at any time by pressing Menu.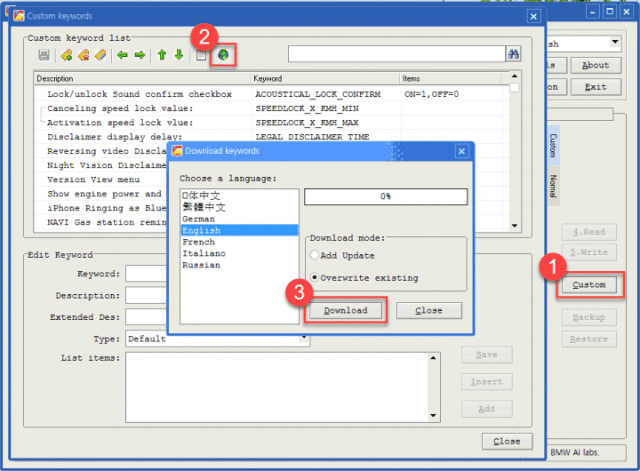 The program execution screen.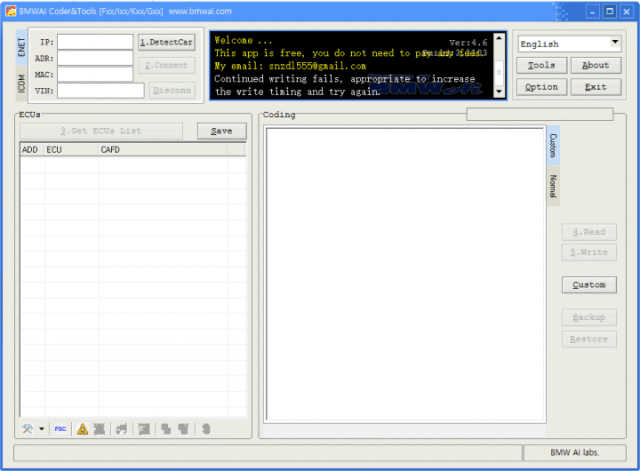 The coding process is easy to explain. You will see a button with a number, you can follow this button in order to complete the coding. Of course, with understanding of coding coordinates and basic coding concepts.
1.Detect Car
2.Connect Press and press to connect to the vehicle.
3.Get ECUs List Press to bring up the entire module list.
Select one of the modules you want to code from the ECU list.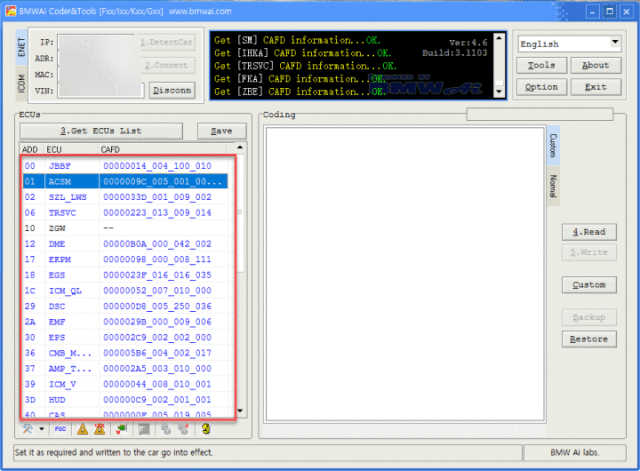 4.Read Button to call up a list of coding coordinates that can be made in the module [1]. After changing the value of the desired item, press the [2] 5.Write button to raise the modified value to the vehicle [3].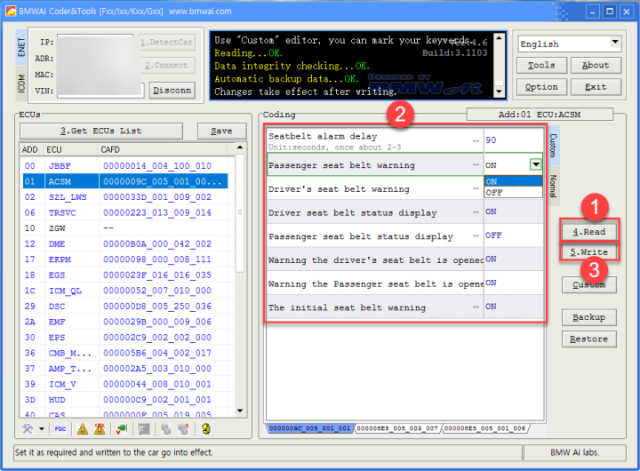 If you want to cancel the modification and return to the original value, Restoreclick the button.
If you want to see the coding coding for each module, please refer to the document below.
BMWAiCoder Reviews:
Review 1:I used previous version before. it is a great tool and very simple coding procedure.
Review 2:Don't use other version than 4.6! This one is most stable and has massively improved timing settings (for coding)
(Visited 7,176 times, 27 visits today)