What is ACTIA Multi-diag?
ACTIA Multi-Diag is high performance software, it diagnoses all major brands, and is a user-friendly software that will quickly make you a "Pro Diag"! With the help of Multi-Diag Office software vehicle diagnostic, maintenance and repair operations can be done in just a few clicks without being an electronic expert.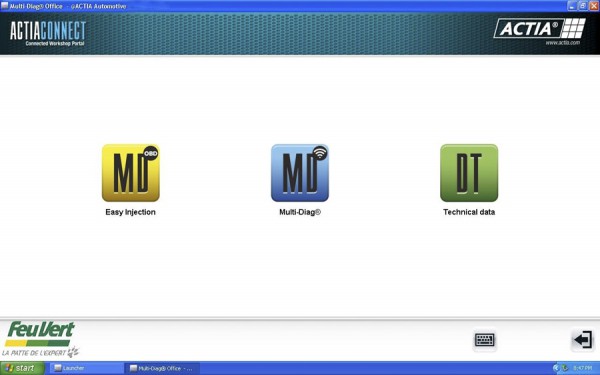 ACTIA Multi-diag Function and Features:
–Diagnostic of all leading makes of HGVs (truck electronic equipment and trailers), buses, coaches and utility vehicles:Mercedes, Iveco, Renault Trucks, Scania, Volvo, Man, Nissan, DAF, Volkswagen, Askam, Avia, BMC, Ford, Freightliner, International, Kenworth, Mack, Peterbilt, Bova VDL, Setra, ERF, Knorr-Bremse, Wabco, Haldex, etc.
–Key maintenance and repair functions: resetting, fault code reading/clearing, parameter reading, actuator testing, ECUconfi guration, calibration, etc.
–Diagnostic of main vehicle systems: injection, ABS, EBS, EDC, suspension, retarder, gearbox, brakes, central ECU, dashboard, comfort systems, tyre valves, immobiliser, airbag system, electronic tachograph, air-conditioning, steering, etc.
–Quick and simple to use: step-by-step diagnostic methods and procedures, user-friendly interface and intuitive browsing.
–Interactive technical documentation: technical vehicle data, wiring diagrams and other technical information are accessible at different stages of the diagnostic procedure.
ACTIA Multi-diag Support Vehicle List:
Alfa-Romeo, Audi, Autobianchi, BMW, Cadillac, Chevrolet, Chrysler, Citroën, Dacia, Daewoo, Daihatsu, Fiat, Ford, Honda, Hyundai, Jaguar, Kia, Lada, Lancia, Land Rover, Lexus, Maybach, Mazda, Mercedes, MG, Mini, Mitsubishi, Nissan, Opel, Peugeot, Porsche, Proton, Renault, Rover, Saab, Seat, Skoda, Smart, SSangyong, Subaru, Suzuki-Santana, Toyota, Volkswagen, Volvo, Zastava…
ACTIA Multi-diag Support Languages:
English/ Spanish/ German/ French/ Italian/ Portuguese/ Bulgarian/ Croatian/ Czech/ Danish/ Dutch/ Finnish/ Hebrew/ Hungarian/ Polish/ Romanian/ Russian/ Serbian/ Slovenian/ Swedish/ Turkish
ACTIA Multi-diag Support Protocols:
Compliant to SAE J2534 & J2534-1
Either RS 232 or USB interfaces to PC
K-Line ISO 9141 (100 mA)
KWP 2000 ISO 14230-4
SAE J1850 PWM
SAE J1850 VPW
CAN 2.0B ISO 11898
CAN ISO 15765-4
SCI SAE J2610
Actia Multi-diag Installation Requirements:
*O.S.: Win XP; Win 7 32bit,Win 8,Win 10 (Depend on OS version)
*CPU: Pentium/Athlon 1.8 GHz or higher
*RAM: 256 MB of system memory
*Hard Drive: 10 GB of available space
*VCI (vehicle communication Interface)
*DVD-ROM
ACTIA Multi-diag 2018 Software Download:
https://mega.nz/#!croCEKIQ!7PHYKUAWkVqKBfc1DTzmQtJUEcYx9iQ0KsNLXrYi2ew
ACTIA Multi-diag SoftwareInstallation Guide here:How to Install  ACTIA Multi-diag Software
2018-III Service Pack 6 43.61 Download:
http://spd.multi-diag.com/download.php?f=III-2018_SP6_43.61.zip
2019 DVD Actia 44.07:
http://spd.multi-diag.com/download.php?f=DVD_I-2019_44.07.zip
2019-I Service Pack 1(44.11)
http://spd.multi-diag.com/download.php?f=I-2019_SP1_44.11.zip
2019-I Service Pack 2(44.21)
http://spd.multi-diag.com/download.php?f=I-2019_SP2_44.21.zip
(Visited 2,569 times, 9 visits today)